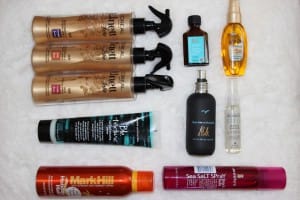 So lately I've been inspired to write about all things summery 🙂 The UK has been blessed with some amazing sunshine and it's got me into a bit of a summer frenzy! As a result, I've been mixing up my hair styling routines and thought I'd share some of my favourite products for summer hair styling…
First up it's the oils…
Moroccanoil
has, and probably always will be, that one hair product that I just can't live without. I use this from winter right through to summer and I cannot sing its praises enough! A new oil into the ring however, is the
Schwarzkopf got2b Oil-licious with Argan Oil
, this is a new purchase I got a few weeks ago and I absolutely love it. It is a bit of a lighter oil I would say than the Moroccanoil, and it is the hair equivalent of Estee Lauder Bronze goddess perfume (
review here
)…summer in a bottle! I like to use both oils on damp hair before blow drying and afterwards to smooth any flyways. I try not to use as much heat on my hair in the summer, so this is also perfect for smoothing down any little frizzy bits of hair if I don't want to straighten it.
I tend to switch between the both of these, but in the past week I've been leaning more towards the Schwarzkopf version mainly because of the price tag and its summery coconutty scented goodness!
Next up is the the sea salt sprays…
I cannot get enough of salt sprays. My hair is long and quite fine so with the vast amount of salt sprays on offer, summertime is the chance for me to spruce up my locks for that beach babe kinda look that I just adore. My favourite (and most expensive) is the Bumble and bumble Surf Spray, followed quickly by the Lee Stafford Sea Salt Spray and Bamboo Style Boho Waves. All three, give that textured 'I've been at the beach' tousled wave – not crunchy or sticky in the slightest. I don't quite know how they do it but it works and I love it!
Now onto texturising…
Another favourite of mines is the Bumble and bumble Texture hair (un) dressing creme. The consistency of the cream is quite sticky and I use it by squeezing a 20p sized dollop onto my hands before rubbing together and working the majority into the roots of my damp hair, and spreading the rest through the lengths of my hair. If you don't like the feeling of a product being in your hair then this isn't for you as this definitely gives a certain not sticky, but texturised feel (if that makes sense!) It's really hard to explain, but even although I don't particularly like the feel of this I love the finished look…'I've just woken up and my hair looks good, now I'm off to the beach' kind of feel! This looks best in my hair when I apply it to damp locks and rough blow dry. I usually put my hair up in a high pony with some little wispy strays and voilà! 🙂
Onto heat protection…

I used to be a big fan of the Aussie heat protecting spray but ever since discovering the L'oreal Elnett Satin Heat Protect Styling Sprays I have never looked back. As far as I am aware there are only the 3 versions – Straight, Waves and Volume (there used to be a curl one too I think). I use heat protect sprays all year but I think it is important even more so in the summer due to all of the heat stress our hair is under whilst in the sun. I use 'volume' (in the roots) and 'straight' (on lengths of hair) before blow drying, and use the 'waves' spray when I want to curl my hair. The 'straight' spray leaves my hair feeling silky smooth; the other two give a bit of texture and volume whilst still leaving my hair soft and bouncy. These are also great to spray on damp hair before plaiting hair (as is the salts sprays) before going to bed, to give a bit of texture to wavy locks in the morning! 🙂
Lastly, the humidity spray…
My favourite of the humidity fighting bunch is the Mark Hill Stay Straight Anti-Humidity Spray Holiday Hair (jeez that's a bit of a mouthful!) This beauty usually only makes an appearance when I'm going abroad, but due to the humid conditions in the UK, I have been carrying this about in my handbag and giving my locks a little spritz on the go when needs be. This one is particularly good for sleek and straight fuss free locks and gets rid of frizz…and who likes frizz, right?
All this talk about summer hair has made me want to ditch the work and skip down to the beach, does anyone know of any near Glasgow? 🙂
Have you tried any of these products? What are your favourite summer hair styling products? 🙂