Hi everyone, hope you are all having a great weekend! Sorry I've been a bit quiet on the blogging front lately, the weather has just been so great so I have been out enjoying every minute of it while it lasts!!
As you might know, my birthday was over 2 weeks ago and I promised to do a little birthday haul post with some of my favourites so here it is! I know some people might not like posts like this but I love seeing what other people have been buying so if you are a bit nosey like me, then hopefully you will enjoy seeing what I treated myself to…if you can't treat yourself on your birthday, when can you?! 🙂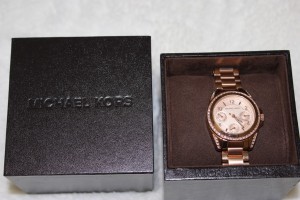 I finally got my MK watch! Yippeeeeeeeeeeeeeeee! If any of you read my '
wishlist post
' back in February, you will know how much I have wanted to buy this watch. Although I am quite an impulsive shopper, when it comes to buying an expensive jewellery item, I always
try
to hold out until a special occasion like my birthday, and this year I think I have done amazingly well haha! I know every blogger and their dog seems to have an MK watch but that doesn't bother me because I genuinely have wanted it for ages, I just love love love it. I originally was going to buy the MK5165 which is an identical version of this only larger, but when I tried it on it looked ridiculously huge on my wrist so I decided on this one which suits my skinny wrists a million times more 🙂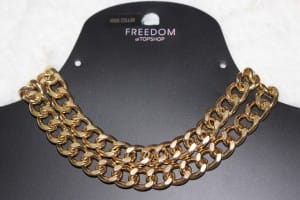 I love love love this double curb chain collar style necklace from Topshop, I have been wearing it every day since I bought it. The price was so reasonable too – £14! I would definitely have paid about £25 for this, considering how much wear I will get out of it as it looks great with practically anything!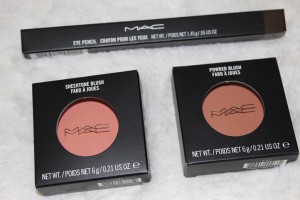 One of my friends gave me Mac gift vouchers (she knows me too well) so I treated me to these 2 blushes – 'Peaches' and 'Coppertone', and an eyeliner which I needed. I'll do a separate post on these later but I love them, both blushes are great shades for summer.
This is by far one of my favourite and most bargain buys of all…wait for it…£8 from Primark! 😮 I couldn't believe it when I seen this in Primark, I actually walked past and did a doublet-take! It looks and feels like real leather and I have had so many comments on it since I bought it! I've been using it as a clutch on night outs, and wearing it with the long strap during the days with maxi skirts – a perfect all rounder!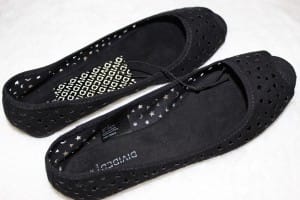 With all of the nice weather we've been having lately, I wanted to pick up some every day shoes and these little ones from H&M are just perfect, they are so comfy and look great with skinny jeans or maxi skirts.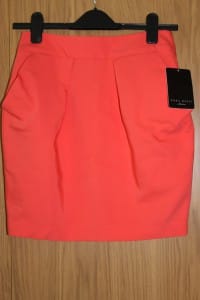 I love everything about this Zara skirt, the tulip shape is so flattering and love the bright coral colour. Perfect for summer with tanned legs. 🙂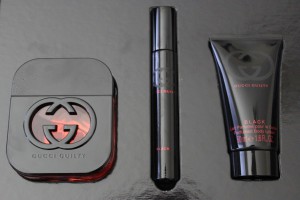 This was actually a gift from the boy's mum and dad and I've been switching between this and my Estee Lauder Bronze Goddess since my birthday. I'm terrible at describing scents but I think it's a kind of sweet, slightly spicy scent which I absolutely love. I love how the gift set came with a little purse spray which is perfect for nights out.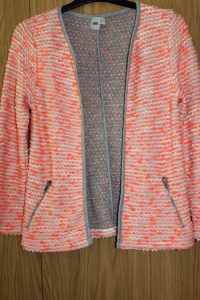 How much do I love this boucle neon blazer from ASOS…a little too much perhaps! I love the neon orange with white and contrast of grey around the edges. It looks amazing with jeans and a white top to smarten up an outfit or add a pop of colour. I actually wore this on my girls cocktail night 🙂 (OOTD post will be up soon).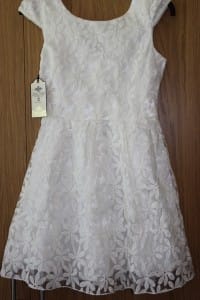 This little dress is so me, it's unreal. This was from a little boutique in Glasgow called Stons which I absolutely love. I can imagine wearing this to a day at the races, or my sisters birthday night out which is coming up soon 🙂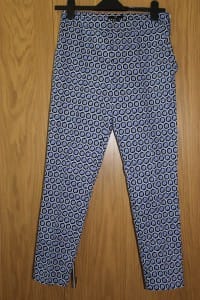 You know when you've had your eye on something for absolutely ages and you can't find it anywhere then just when you've almost given up hope you find it and are ecstatic?! That's exactly how I feel about these ha. They came out a couple of months ago in H&M and I have never been able to get my size, then when shopping with the boy, HE spotted them for me, with only one size left…it was meant to be 🙂 🙂 I love the geometric print and the fit is just perfect. They look great with a plain white t and vans for a day out shopping, or dressed up with wedge sandals, a white shirt and leather jacket for evenings.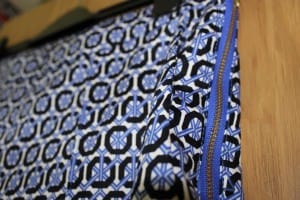 Last but certainly not least, my amazing sister bought us both tickets to see Wicked! It comes to Glasgow next year and guess what day we're going…the exact day of my birthday!! I can't wait! It was quite funny opening this gift as there was literally about 10 layers of green tissue paper with loads of green and white sweets with the leaflet in the middle…I would genuinely have been happy with the box of sweets (I love chocolate limes haha).

So here's to another year older (cries into handkerchief). I had such a great birthday, and loved sharing it with my amazing boy, friends and family. I am so lucky to have them all.
I hope you enjoyed my little haul post. I'm trying to build myself up to do a video for my next haul so watch this space 🙂
Do you have any of these items? Would love to hear how you style them 🙂