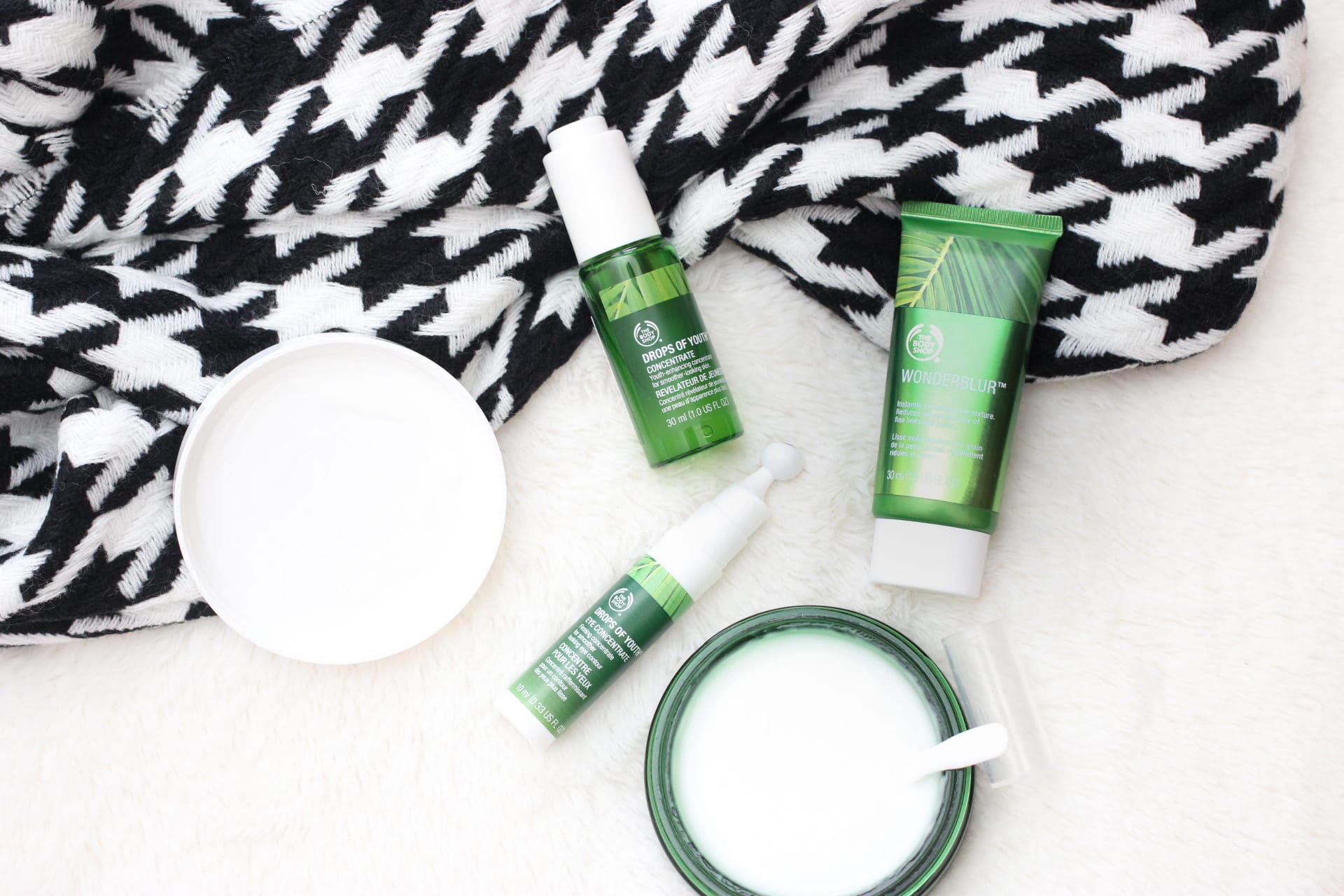 It's no surprise that I love The Body Shop, so when a certain little package arrived at my doorstep it's safe to say I was a tad excited. The little package contained The Body Shop Drops of Youth range. I'm already a major fan of the Wonderblur primer (review here) and have used it every day since got it. Needless to say, I was excited to try out the rest of the products. Enriched with Edelweiss plant stem cells, the range has been formulated as a preventative measure to combat the first signs of ageing – fine lines and wrinkles. You know the ones. I'll be thirty next year so I'm all for trying out new skincare products that'll help wind back the clock a few years (prays). It wasn't until my mid-twenties really that I began to realise the importance of a good skincare routine and I've come to realise that The Body Shop really does bring it in terms of skincare, whatsmore it isn't likely to break the bank.
Drops Of Youth Bouncy Sleeping Mask* – £24 – from The Body Shop: I'll start off with the sleeping mask, as this is probably the most intriguing of the range. Yes, it is in fact 'bouncy'. I can't describe it in any other way, the formula is like nothing I've came across before. It comes with a tiny little spatula and has a sort of gel type, slippery texture to it – and the award for best description goes to…sorry, it's the most difficult thing to describe! What I will say though, is that you really do need the spatula to get a grip of it. If you think of a memory foam mattress, that's what it's like. You scoop some out, and watch the formula come together again neatly to look exactly as it was before you scooped some out. I really hope that made some sort of sense. Think Illamasqua hydra veil but a completely different formula. Sorry, I'm not helping am I. What I can tell you though is that it comes in a huge 90ml tub, you only need the tiniest amount overtop your night time serum and you wake up with beautifully soft hydrated skin. If you're looking for hydration, you're going to love this. Whatsmore, it's free from parabens and mineral oil. I do find it a tad tacky when you first apply so I wouldn't apply it right before bed otherwise, like me, you'll be forced to lie looking at the ceiling for several minutes. Stickiness aside though, I've been loving using this and so has my dehydrated skin.
Drops Of Youth Concentrate* – £25 – from The Body Shop: This has to be my joint favourite alongside the primer. It can be used both am and pm underneath your favourite moisturiser. Its gel type consistency absorbs really quickly, and immediately gives a sort of tightening effect to the skin (not of the dry, uncomfortable type though). I love how soft it makes my skin feel too, and the gel formula is really cooling and refreshing, especially first thing in the morning. Although, this can be used pm too, I've been sticking to using it in the mornings. It's actually one of the steps in my morning routine that I look forward to.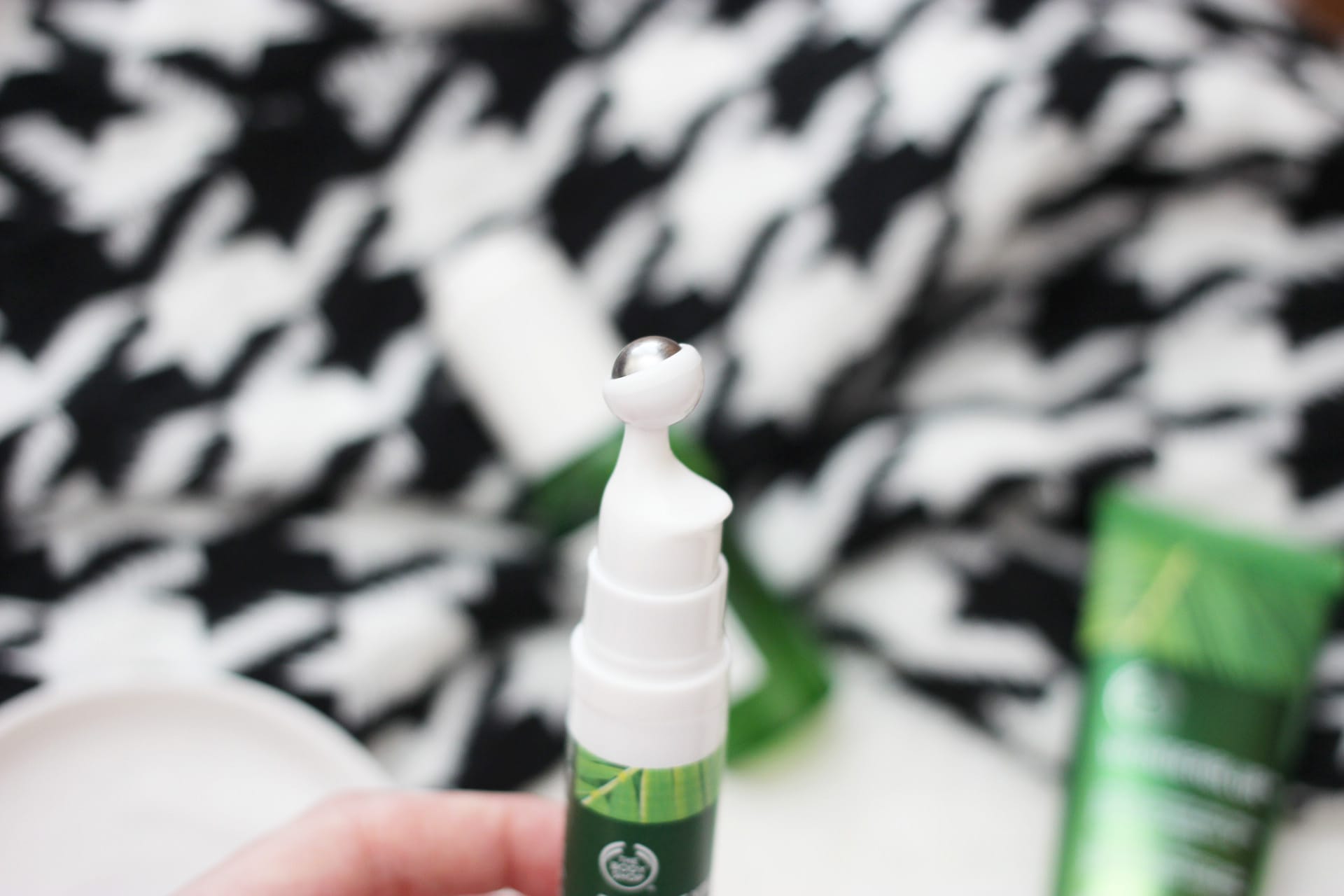 Drops Of Youth Eye Concentrate* – £19 – from The Body Shop: Equipped with a cooling little roller ball, this is another part of my morning routine that I look forward to. I don't know if it's the dark mornings but my eyes have been telling stories of missed nightly curfews recently. Dark circles, how I hate you. Although I wouldn't say this has made the darkness disappear, come on it's not a miracle worker, it definitely makes my eyes feel and look a lot fresher and less puffy in the mornings. The formula is really light and once it sinks into the skin it makes everything feel a lot smoother and tighter. As someone who suffers from really dry under-eyes, I do like to use something a little heavier on top so I've been using this somewhat as a little eye serum and have been finding that the Kiehls Creamy Avocado eye treatment works a treat over top.
Drops Of Youth Wonderblur* – £17 from The Body Shop: Ok, so you've already heard my rave review about this (here) and you're also probably sick of seeing it pop up in all of my makeup tutorials but it's safe to say I LOVE this stuff so I'll keep it short and sweet. Hydrating – yes, smoothing – yes, skin perfecting – yes, pore reducing – yes, non oily – yes. Need I say any more? If you'd like to hear more about this make sure you check out my previous blog post but if if you're looking for a new primer that perfects skin and also has added skincare benefits, I'd urge you to give this a go.
So The Body Shop has gone and wowed me again with another fantastic range. Not only does it tick all of the boxes in terms of the actual products and their skincare benefits, but it's really one of those brands that can't be beaten in terms of price. I mean £24 for 90ml hydrating face mask that actually works – are you kidding me?! If I could give my younger twenty-something self a piece of advice it would be to invest in some decent skincare, and check out more affordable products such as The Body Shop rather than blowing all of my hard earned cash on expensive products that often didn't live up to the hype, oh and also to leave my eyebrows alone…
Have you tried anything from The Body Shop Drops Of Youth range?
What's your one must-have 'can't live without' skincare product??
Lots of love,
Chantelle xx
This is not a sponsored post.
The Body Shop did however give me these products for PR purposes.
All opinions expressed are 100% my own.