View from the back garden
Sheep having a morning drink from the river! 🙂
Back garden at night
Log fire
Winter Onesie
Girly goodie bags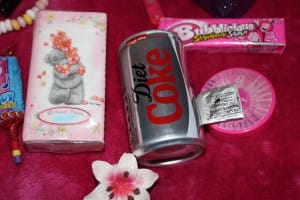 Mini can of diet coke and 2 paracetamol for any hangovers!
This weekend, I went on a little girls road trip to Loch Lomond for an overnight stay and thought I'd share some of the snaps I took whilst I was away 🙂
There was a group of 6 of us and the whole point was to just get away, leave the hustle and bustle and stress of city life behind, have some good food and let our hair down and that's exactly how the weekend went!
The cottage we were staying in was absolutely gorgeous. It was out in the middle of nowhere pretty much, located in a beautiful riverside setting, with views across open fields to the Dumgoyne hills and the Campsies and totally secluded from civilisation! Despite being 400 years old it was beautifully kept and had recently undergone a renovation but all of the traditional features had been kept. When we finally arrived (I'm surprised we got there at all since I was in charge of the navigating) it was dark and a couple of inches of snow had fallen – the picture looked like something that should have been on a Christmas card!
I had planned to get some good outfit snaps outdoors but it was absolutely freezing (sorry I know that shouldn't be an excuse) and I spent most of the time sitting in my onesie and slippers on the sofa, watching chick flicks and stuffing my face with mini milkyways, crisps and dips, while talking about boys and sipping on some prosecco and Chambord (my new tipple)! So hope you can forgive the lack of beauty and fashion snaps!!
Even although I do love Glasgow, it was so good to just get away and forget about all the stresses that city life brings. I always forget how beautiful Scotland actually is and a lot of the countryside locations are only a 40-45 minute drive from where I stay!
After my little trip, I think I am going to add a late new year's resolution to my list and that is to plan more little trips like this in Scotland with Darren and my friends, to just take time out and enjoy spending time with each other.
I know this is a little different from what I usually blog about but I hope you enjoyed it! 🙂