Some outfit snaps before our trip… Jacket: Topshop | Jumper – primark | Dress: River Island | Scarf: Zara | Boots: Topshop | Necklace: Topshop
Yesterday, Darren and I went for a little trip to Edinburgh. Darren had some meetings in the morning and I tagged along so that I could do a spot of shopping whilst he was in his meetings then we could meet up afterwards for a spot of lunch and a wander around Edinburgh.
I haven't actually been to Edinburgh that often, considering it's less than an hour car ride from Glasgow so I don't know my way around there at all (this wouldn't be hard though because I have thee worst sense of direction and could get lost inside a plastic bag).
A travel pic of me and Darren (Darren complained that his head looks ridiculously huge here Ha!)
Capturing some scenery on our travels.
It was such a gorgeous day yesterday, there was a nice crispness in the air and it was such a sunny day – I love days like that. It was the perfect day for shopping around, not too hot, not too cold…just right. We were quite lucky actually because the past few weeks the weather has been crazy, and we've had snow on and off for the past few weeks!
When we arrived in Edinburgh, Darren left me in Princes Street which is full of shops so I felt pretty much at home. I was probably only left for around an hour and a half but this was plenty of time for me to pick up a little bag of goodies in Topshop and a new foundation from Frasers (obviously I was going to pick up another foundation because it's not like I have enough already, right? WILLPOWER CHANTELLE!!!) This was pretty good going I think, because I even had a little browse around the beauty counters and had time to get colour matched from the lovely man at the Giorgio Armani counter!
Some goodies I picked up.
When I finally met up with Darren (all shopping antics then thrown out of the window) we went for lunch in a gorgeous little bistro called The Olive Branch where we had the most amazing fish and chips, then had a wander around Edinburgh soaking in the sunshine and taking some snaps.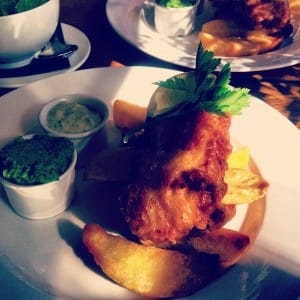 Fish & Chips…Mmmmm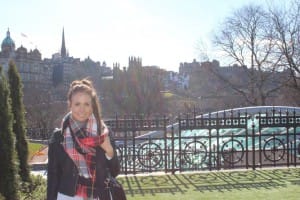 Taking some snaps with Edinburgh Castle in the distance.
Now you're probably wondering why the word 'lucky' is in the title…well it's quite a funny story, in fact just check the photo below to see why!
YUK!!!
We actually only discovered this little 'surprise' when we were on our travels back home to Glasgow and Darren had been walking around with this for at least a couple of hours! I even managed to capture it in this photo and never even noticed!! This amused me for hours last night, especially the photo of Darren grinning whilst holding my shopping bags while it was on his leg all along! And I didn't even notice?!
Darren always sees the funny side of things though and it could be worse right…it could have landed on his head and well, it is a sign of good luck anyway so hay ho!
Anyway, I hope you enjoyed my slightly different post today. Have you ever been to Edinburgh? If you are planning on a visit…look out for seagulls!! 🙂
Chantelle
xx