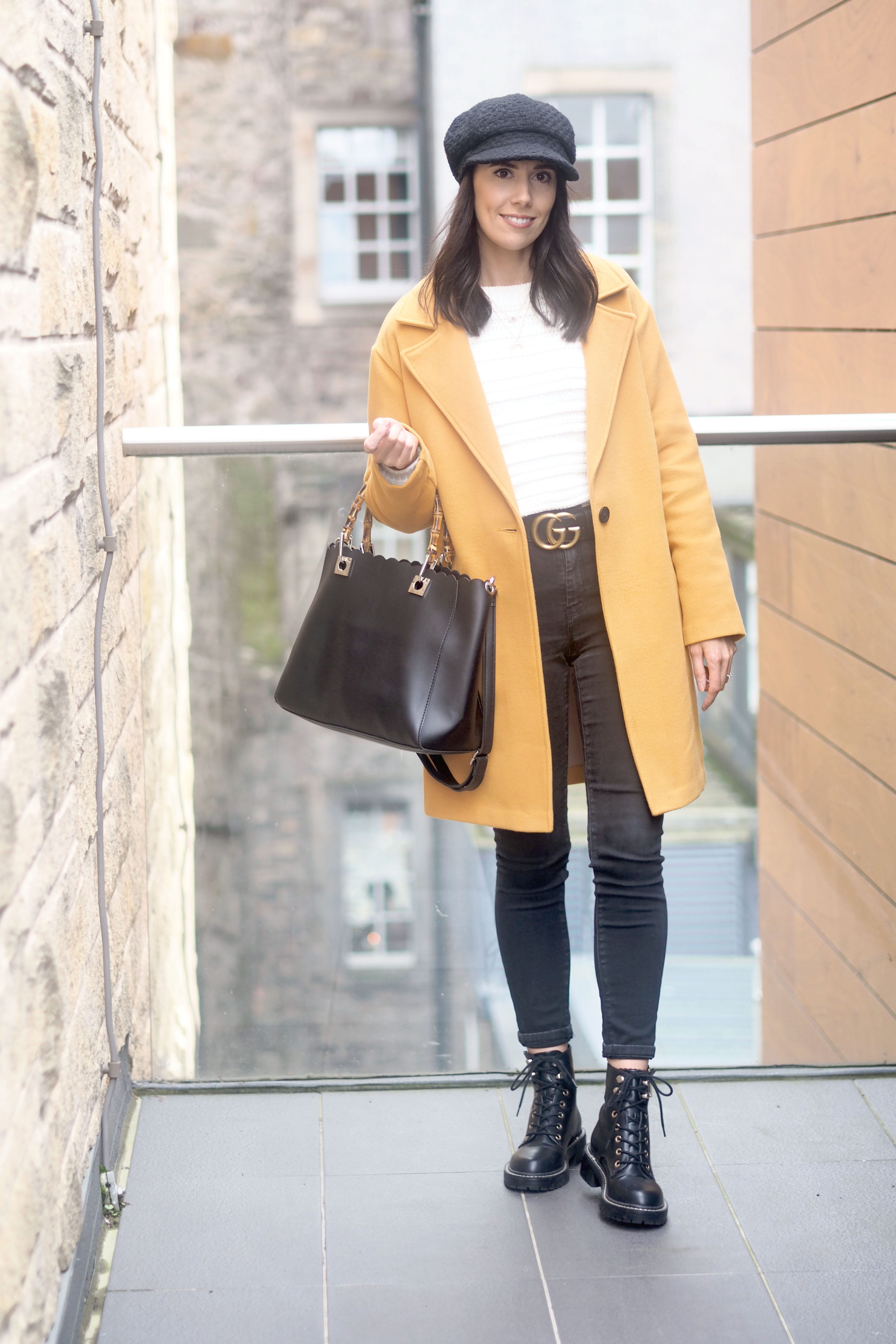 Have you ever wondered what it would be like to stay in a 15th century medieval building in the heart of Old Town Edinburgh? Yes you say?! Then keep reading! Edinburgh is one of my absolute favourite cities to visit. With only a short 50 minute train ride from Glasgow, it's easy to just hop on a train and visit for the day. I love nothing more than walking through the cobbled streets of Old Town imagining all the goings on back in the 'old days'. It's just so old worldy and beautiful!
You can imagine my excitement then when the lovely guys and gals over at Lateral City Apartments got in touch to see if me and two of my favourite blogging gals – Jess and Lyndsey would be up for a luxury girly overnight stay at one of their stunning penthouse apartments situated right on The Royal Mile!!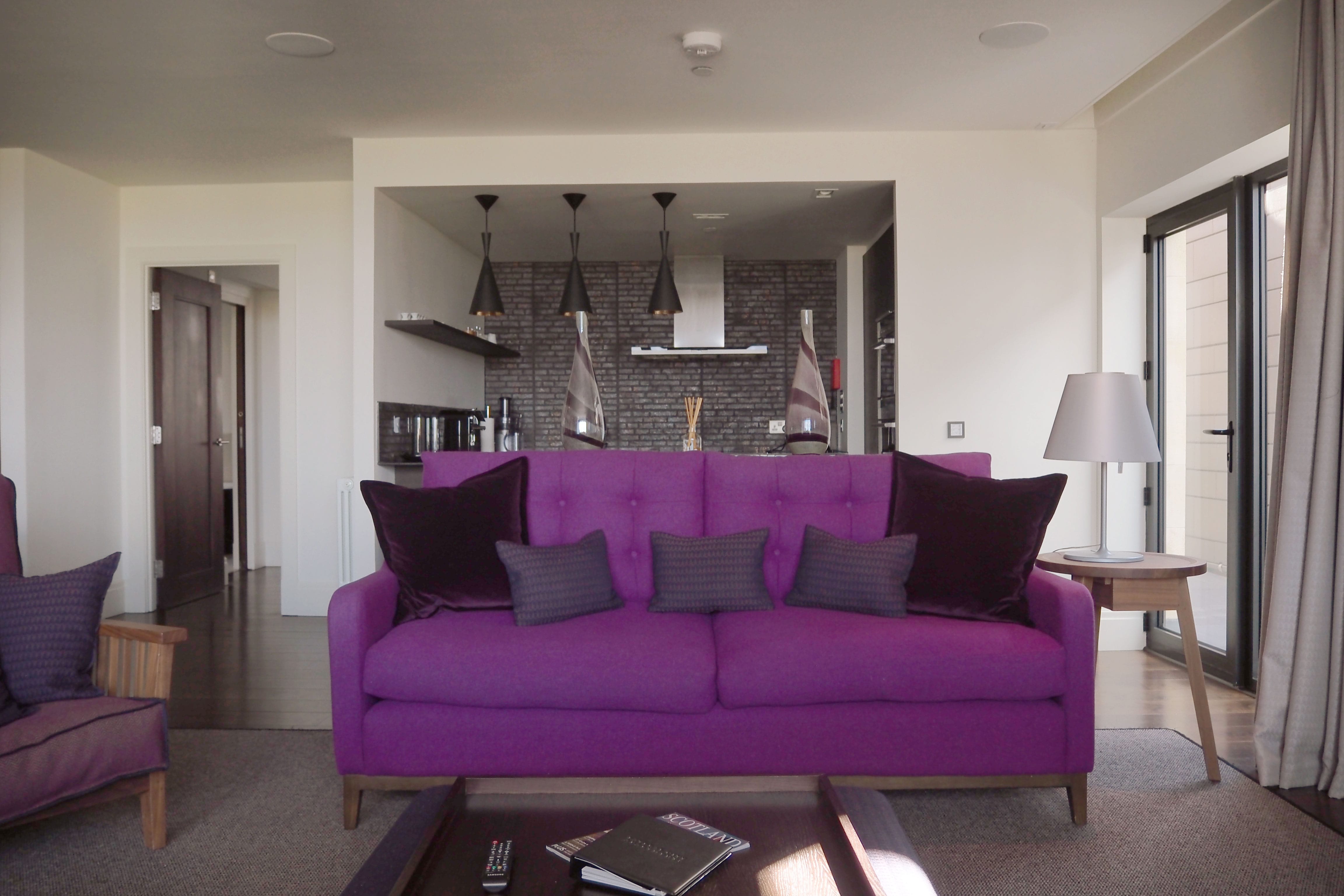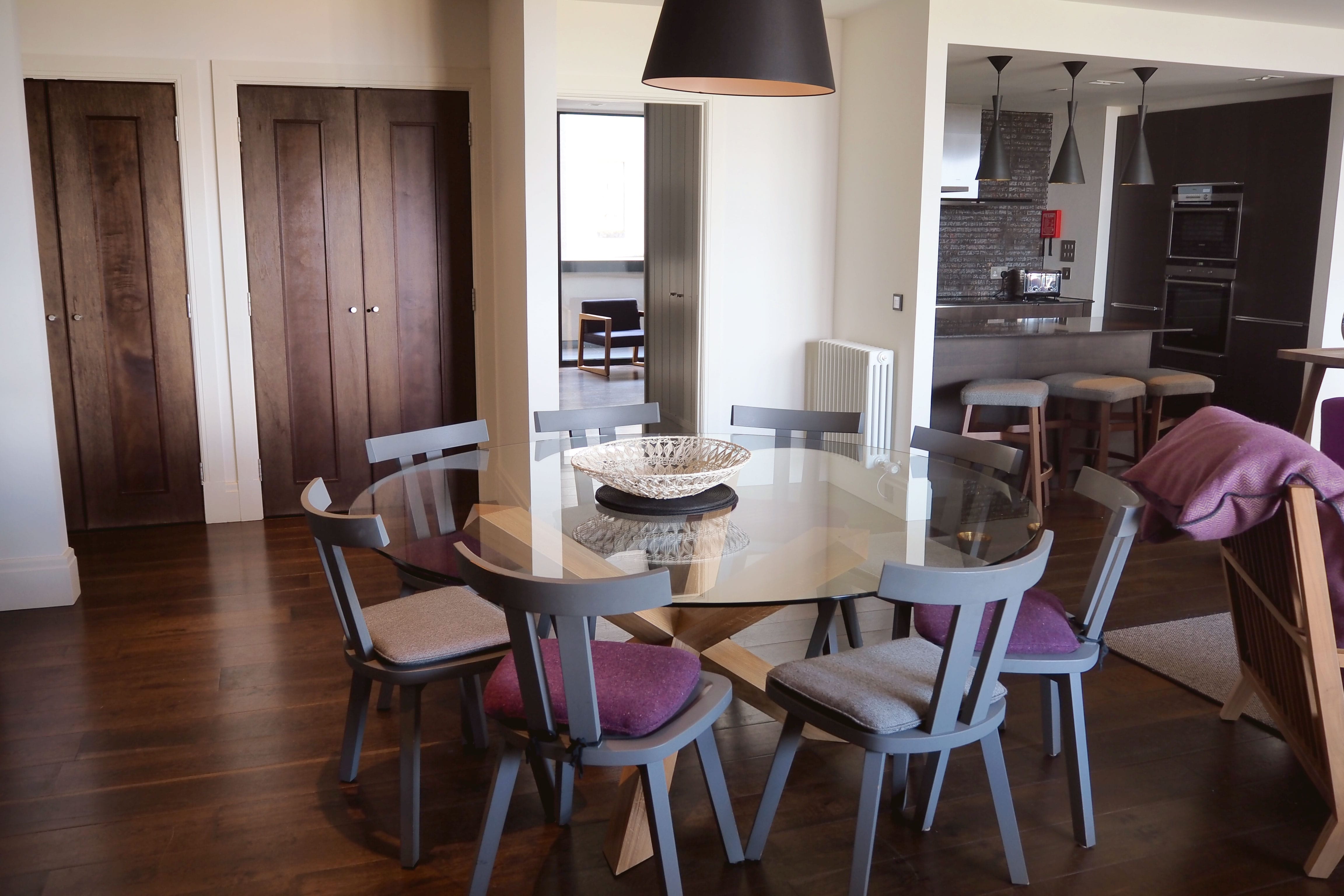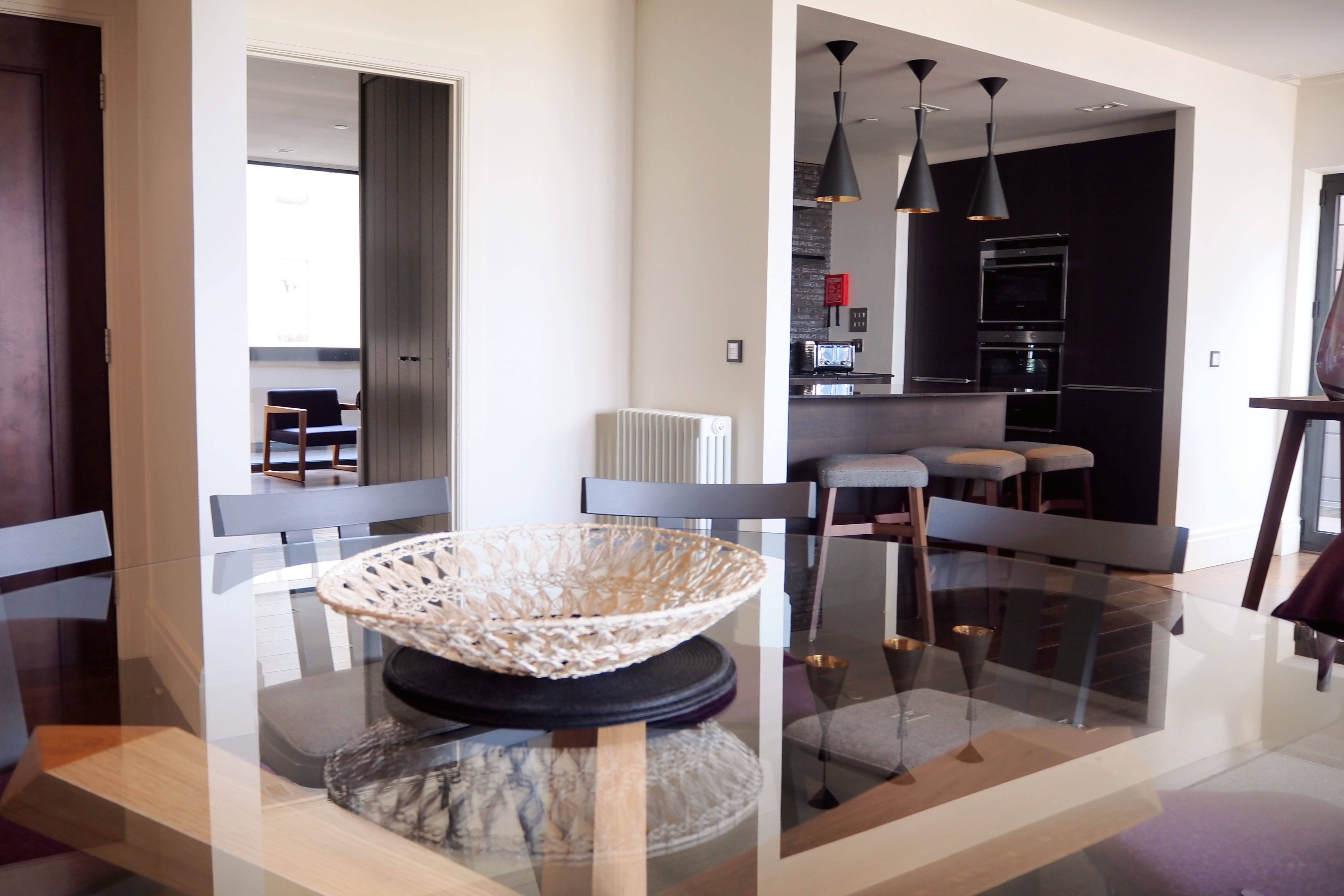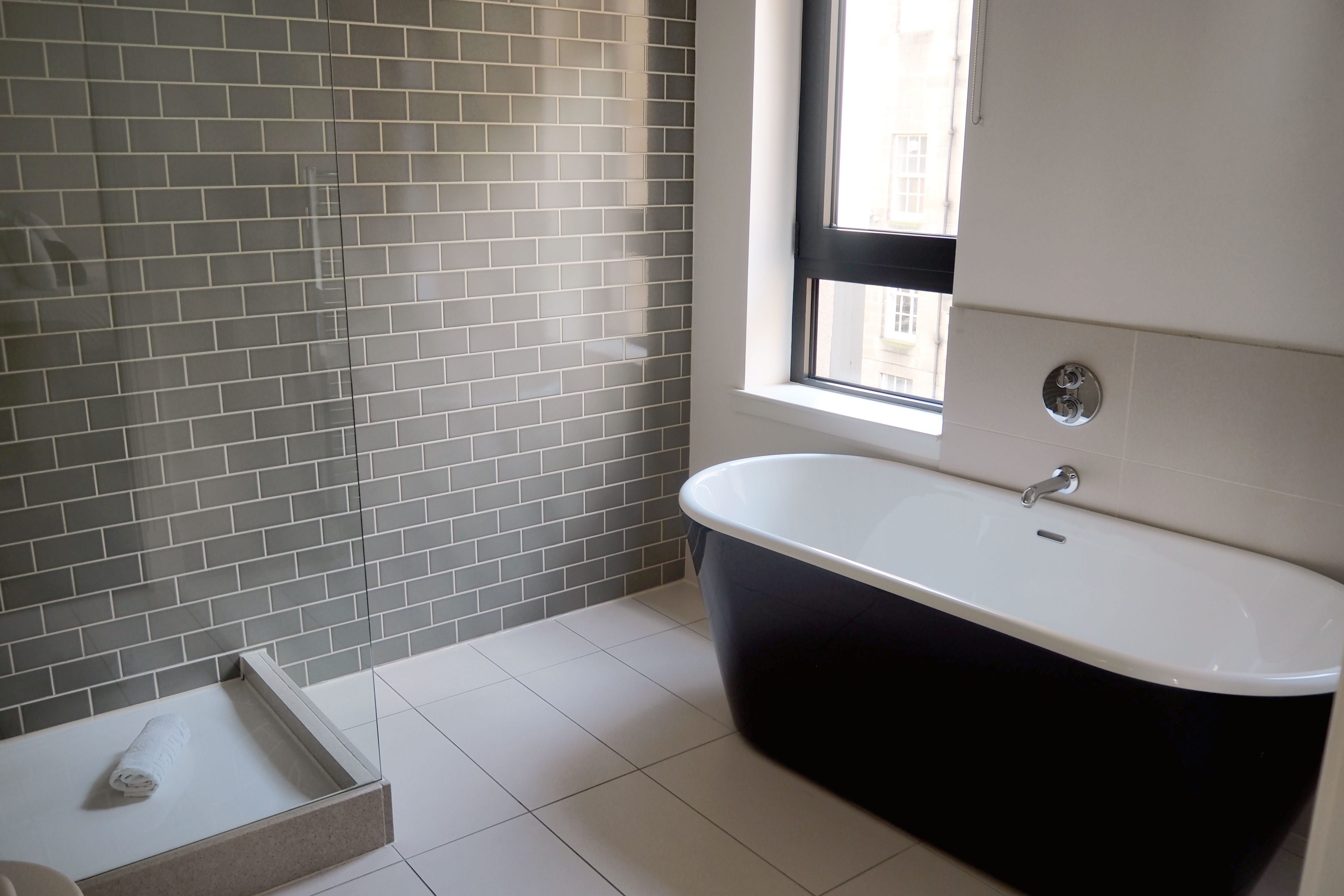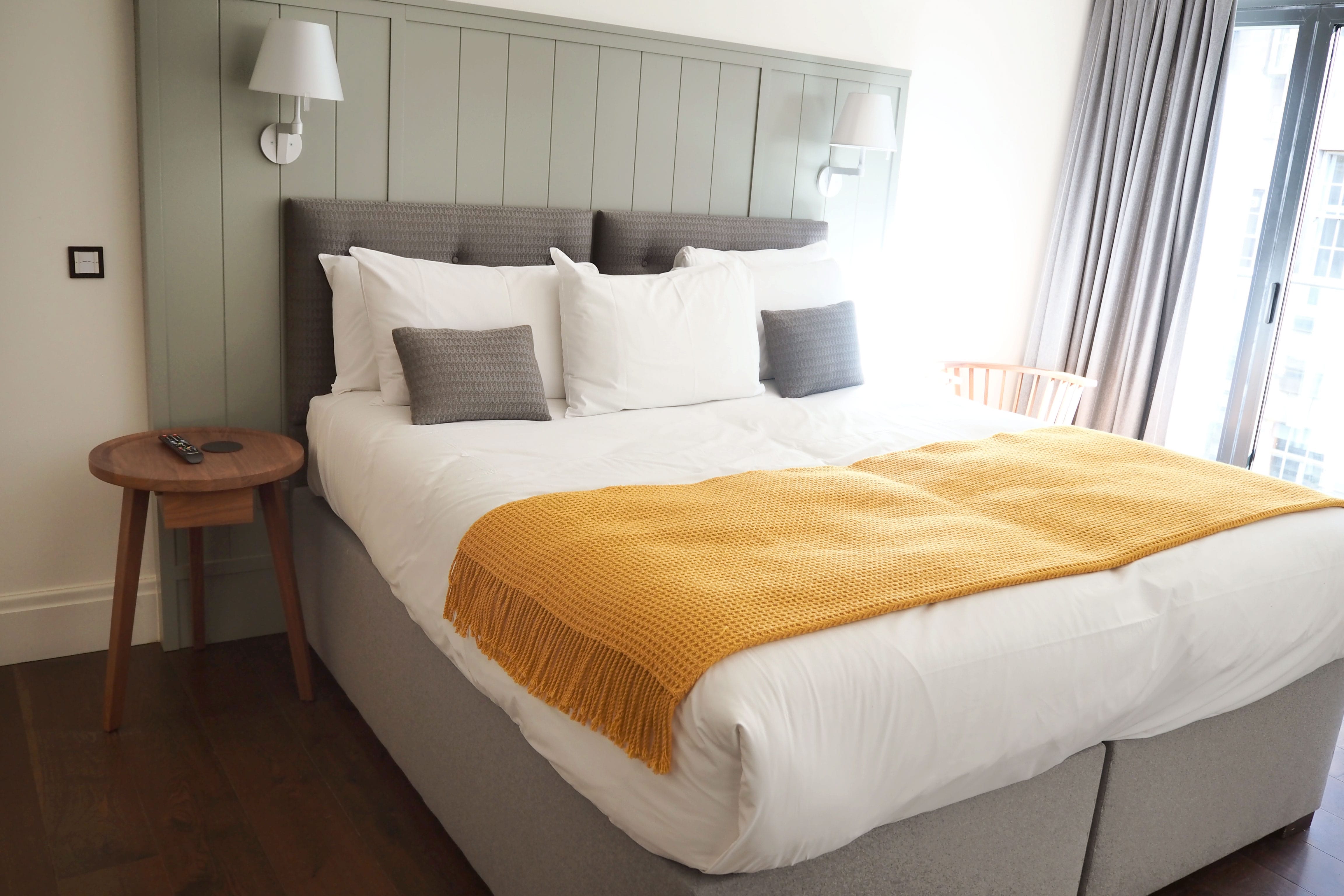 ---
THE PENTHOUSE
Tucked away in Advocates Close in the heart of Old Town Edinburgh lies Old Town Chambers. A block of 50 apartments, including our stay for the night – a stunning three bedroom apartment (double ensuite), boasting four – yes FOUR balconies! If you saw my insta stories on the day you'll have known how excited I was. The apartment was seriously stunning!
The penthouse we stayed in was modernly furnished and decorated beautifully, however Old Town Chambers is comprised of 50 apartments each bringing together a mixture of both modern and historic features so no two are the same – think exposed brickwork, large stone fireplaces and gabled ceilings! One of my favourites is their townhouse apartment (which I LOVE) and offers a mixture of medieval features combined with contemporary living. I've already tried to talk Darren into another visit to one of their town houses, they're just stunning! Anyway, I digress! Back to the furnishings – how beautiful are the bedrooms?! Two of the three with their very own ensuite bathrooms (filled with gorgeous Cowshed goodies) and balconies offering spectacular views of Edinburgh! Swoon!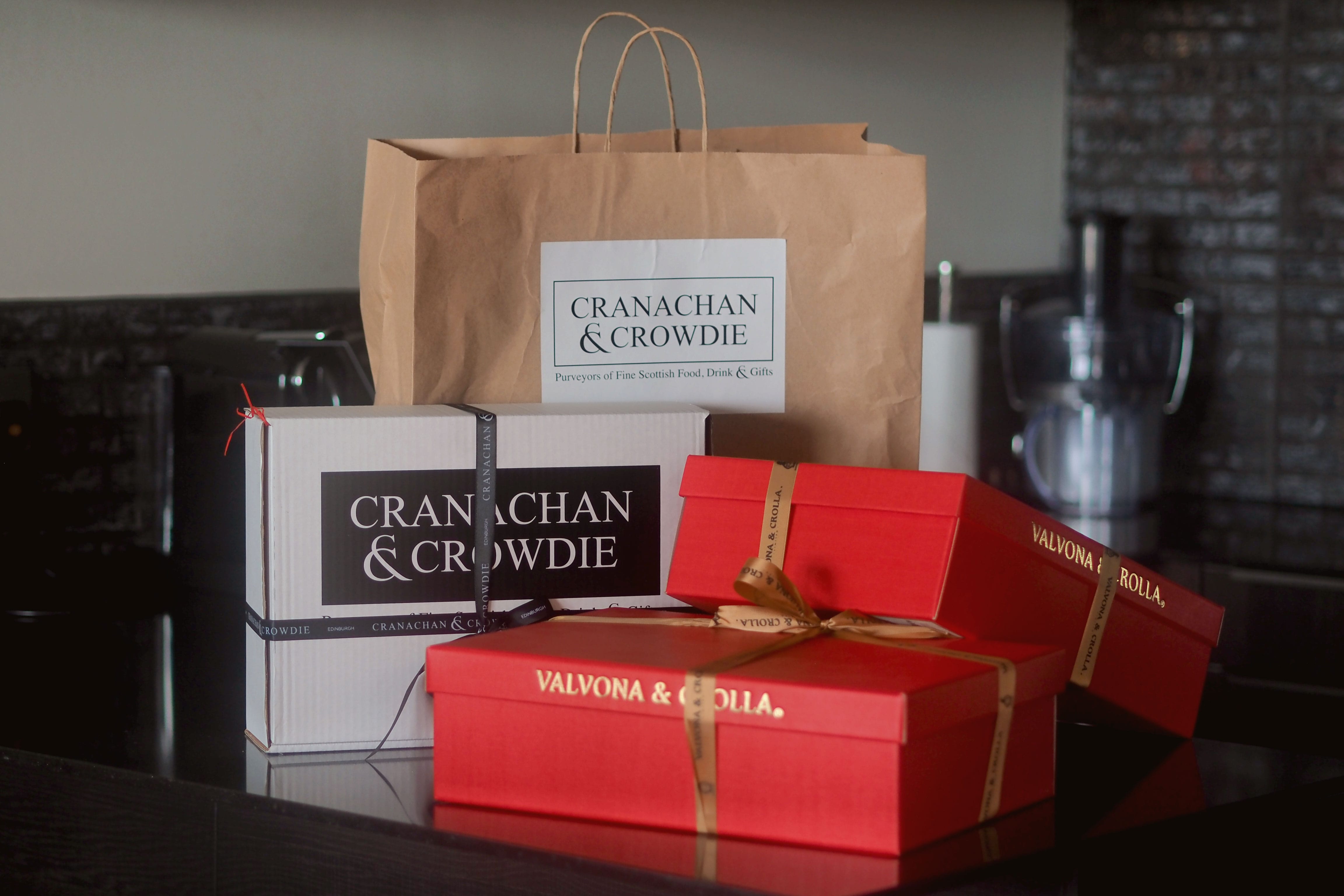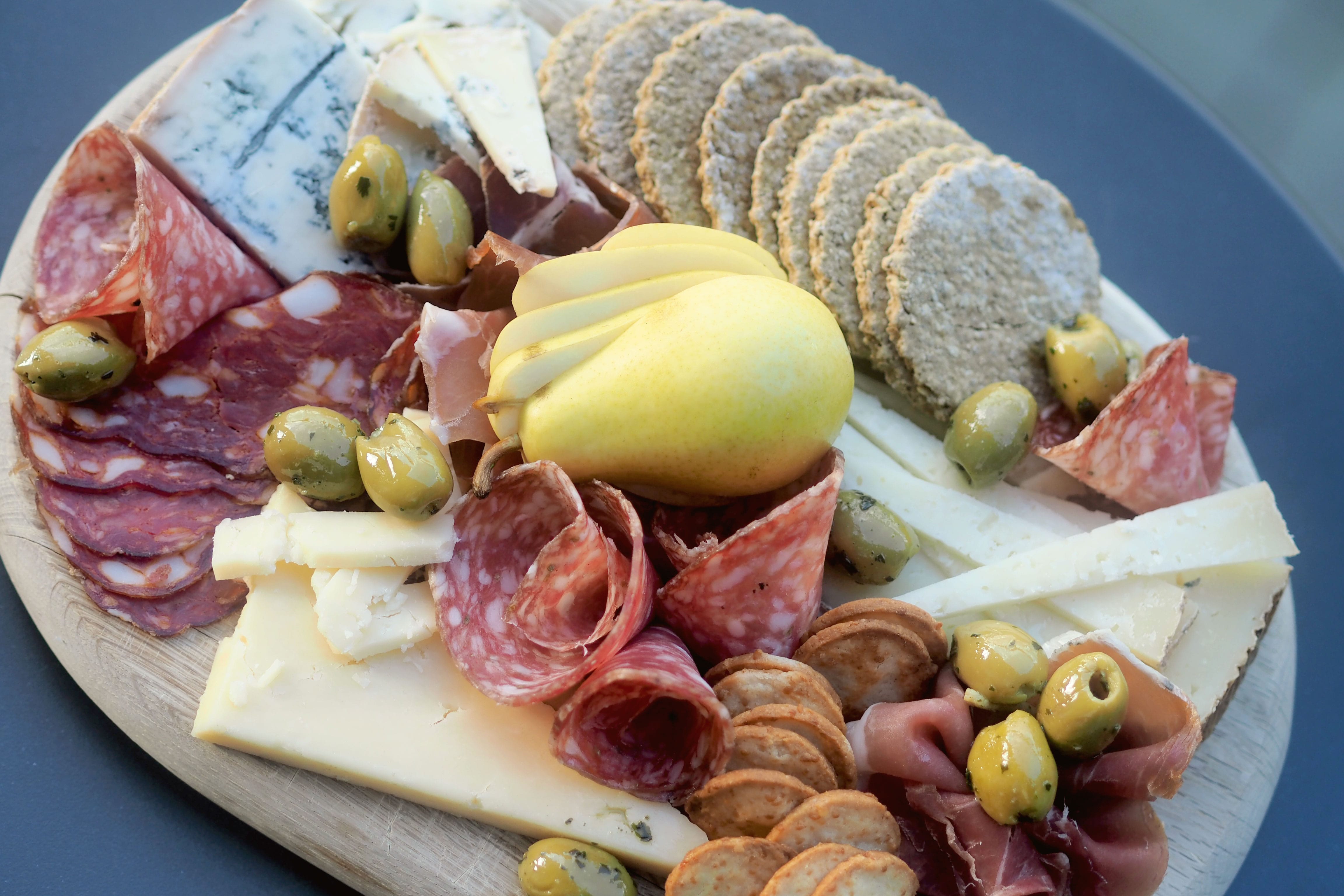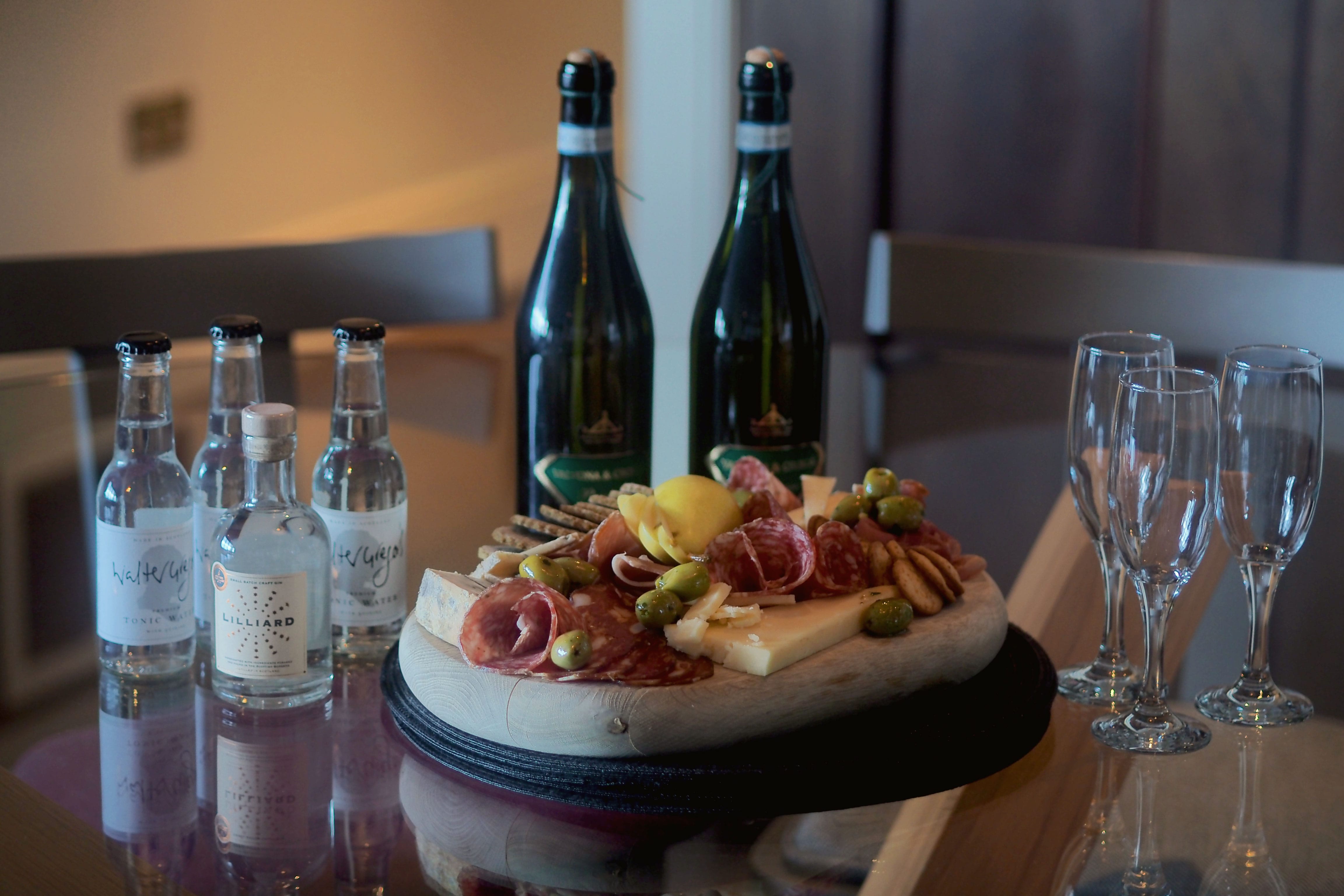 ---
THE FOOD
What kind of girls night in would it be without food…and bubbles? We truly were spoiled on our trip by two of Edinburgh's finest – Valvona & Crolla and Cranachan & Crowdie. Lyndsey gave a little squeal when she noticed the hampers because as an Edinburgh gal she already knew how good they were and oh boy, they really were!! Just look at that cheese board (made up by the very talented Jess I might add!) all supplied by Valvona & Crolla; and then washed down with some bubbles and Lilliard Gin – so delicious – supplied by the beauts over at Cranachan & Crowdie. If you know any foodie lovers, definitely check out these guys for some Christmas hampers. Neither the cheese board nor the gin lasted long let me tell you! It was such a beautiful crisp sunny Autumn day in Edinburgh so the three of us sat out on the largest of the balconies, taking in the stunning views, each with a big blanket draped over our shoulders talking all things food, blogging and a bit of everything else in between. Perfect.


---
THE ATMOSPHERE/LOCATION
I need to give a special mention to the location of Old Town apartments because it truly is perfect. Advocates Close really does take you back to another century and if you're looking for a unique venue to host a girls night in for you and your best gals or even wanting to entertain out of town visitors and give them a true Scottish experience then it really is perfect. I know my overseas relatives would love it there! One of the best things is that you get the best of both worlds – historic Edinburgh full of traditional and quirky bars/cafes, ghost tours, but then it's only a stones throw away from Princes Street for shopping – and great shopping at that!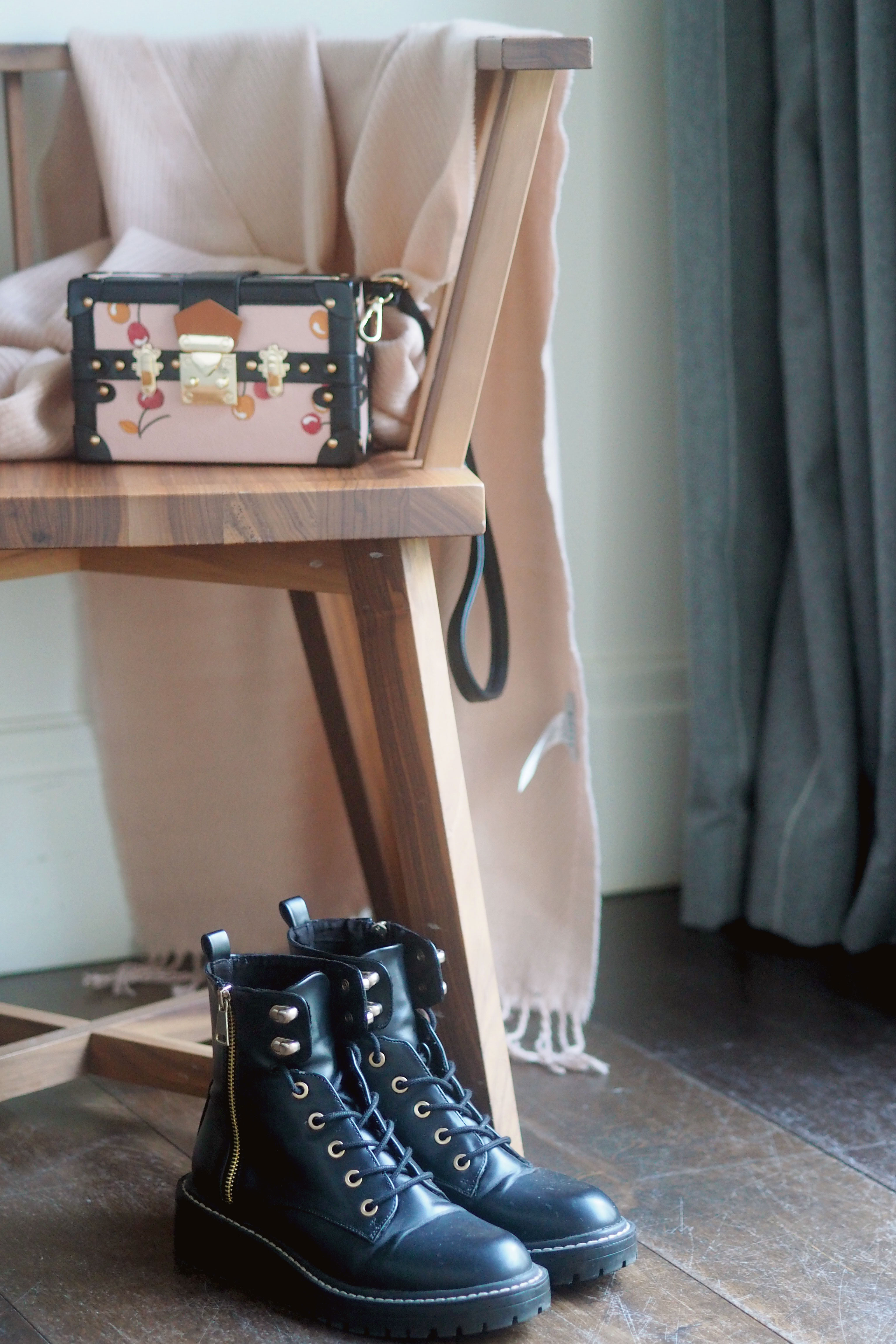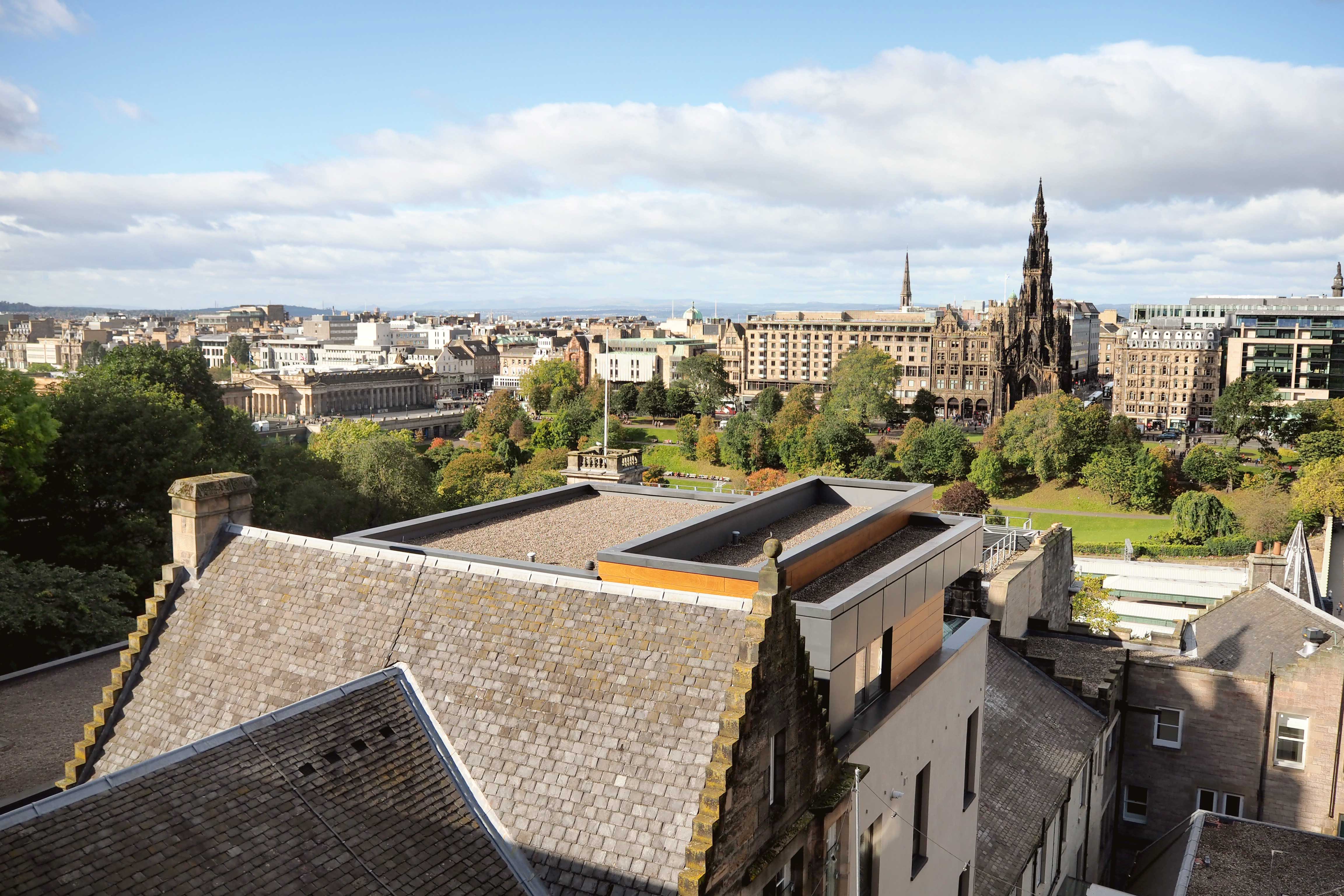 ---
THE COMPANY
Last but most certainly not least I have to give a special mention to Jess (Almost Chic) and Lyndsey (The Quiet Resolution) for such a fun filled overnight – I honestly haven't laughed so much! These two truly are two of the best so definitely check out their blogs for a peak at their experiences at Old Town Chambers and show them some love!
A huge thanks again to Lateral City apartments for such a wonderful experience; and of course Valvona & Crolla and Cranachan & Crowdie for the delicious hampers!
Remember to follow me on Bloglovin and subscribe to my youtube channel so that you never miss a blog post/video!
Lots of love,
Chantelle xx
All opinions are my own.
PIN ME!