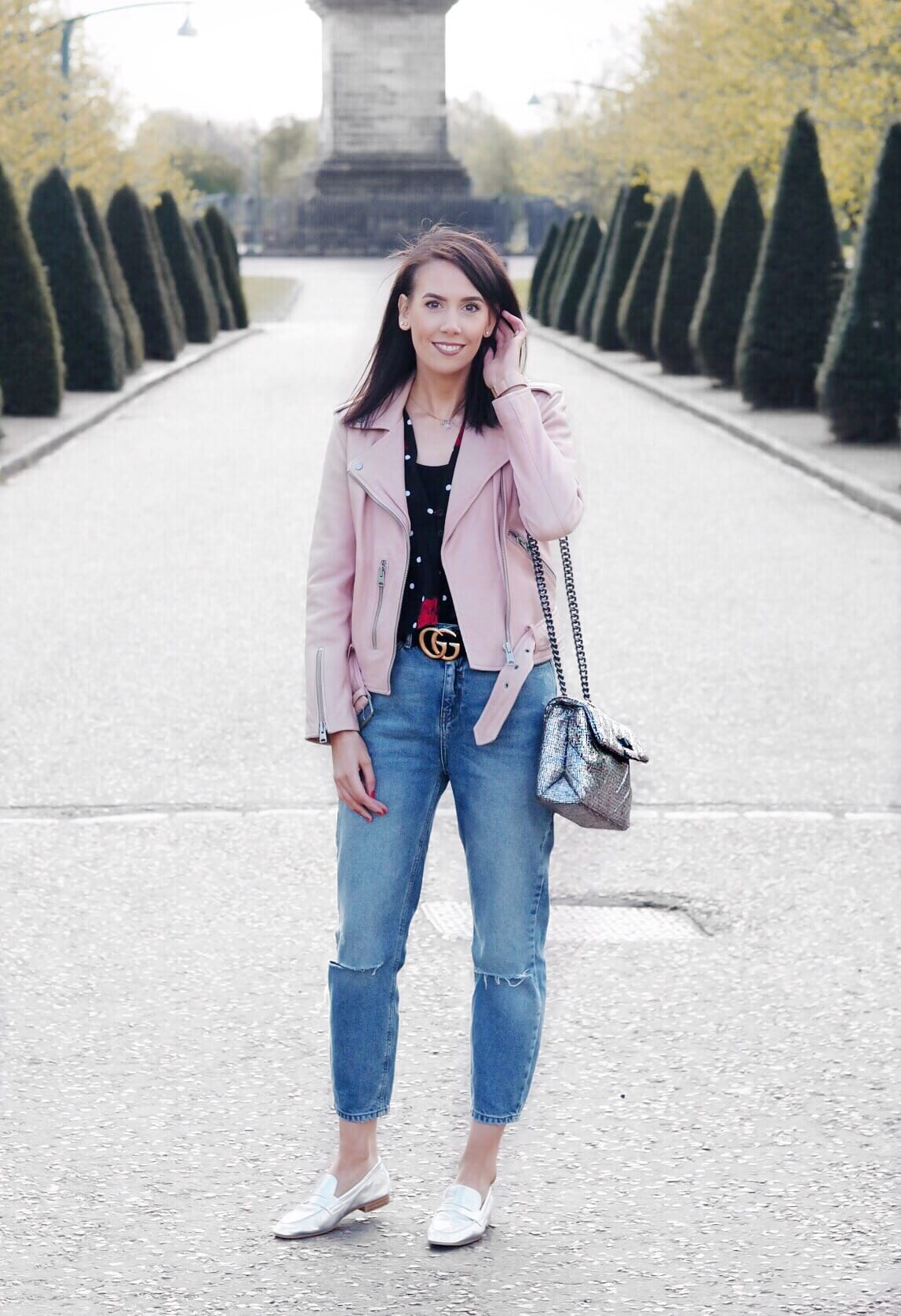 Ahhh there's nothing that puts a Spring in my step more than a new handbag and date night in one of Glasgow's most stylish hotels – the lovely Grand Central Hotel. To celebrate the – ahem – return of Spring and some much needed sunshine last weekend, off wee trotted into Glasgow's city centre for some cocktails and to sample Grand Centrals brand new theatre menu.
THE OUTFIT
First things first, let's talk about the outfit. Before heading for food we wanted to go for a walk around town. The great thing about Grand Central is that it's located right in the middle of Glasgow's city centre (adjacent to Glasgow Central Station) so you can literally hop on a train or bus and get to it really easily. As the sun was shining I opted for my All Saints pink leather biker jacket, some silver loafers, my trusty New Look cropped mom jeans and my new Kurt Geiger silver tweed Kensington bag…more on this another time but oh my I'm obsessed with it! Now onto the good stuff…
THE HOTEL
I can't skip to the food without sharing some snaps of the hotel itself because oh my it's stunning! We dined in the Tempus Restaurant and Bar which combines a mixture of original features and contemporary design. It really is such a beautiful restaurant with a lovely atmosphere. As for the champagne bar…wow, there are no words! This is probably one of the most pinterest worthy bars in Glasgow – fashion bloggers, bar Champagne Central is the place to be! Just look at that marble floor…and don't even get me started on the chandelier!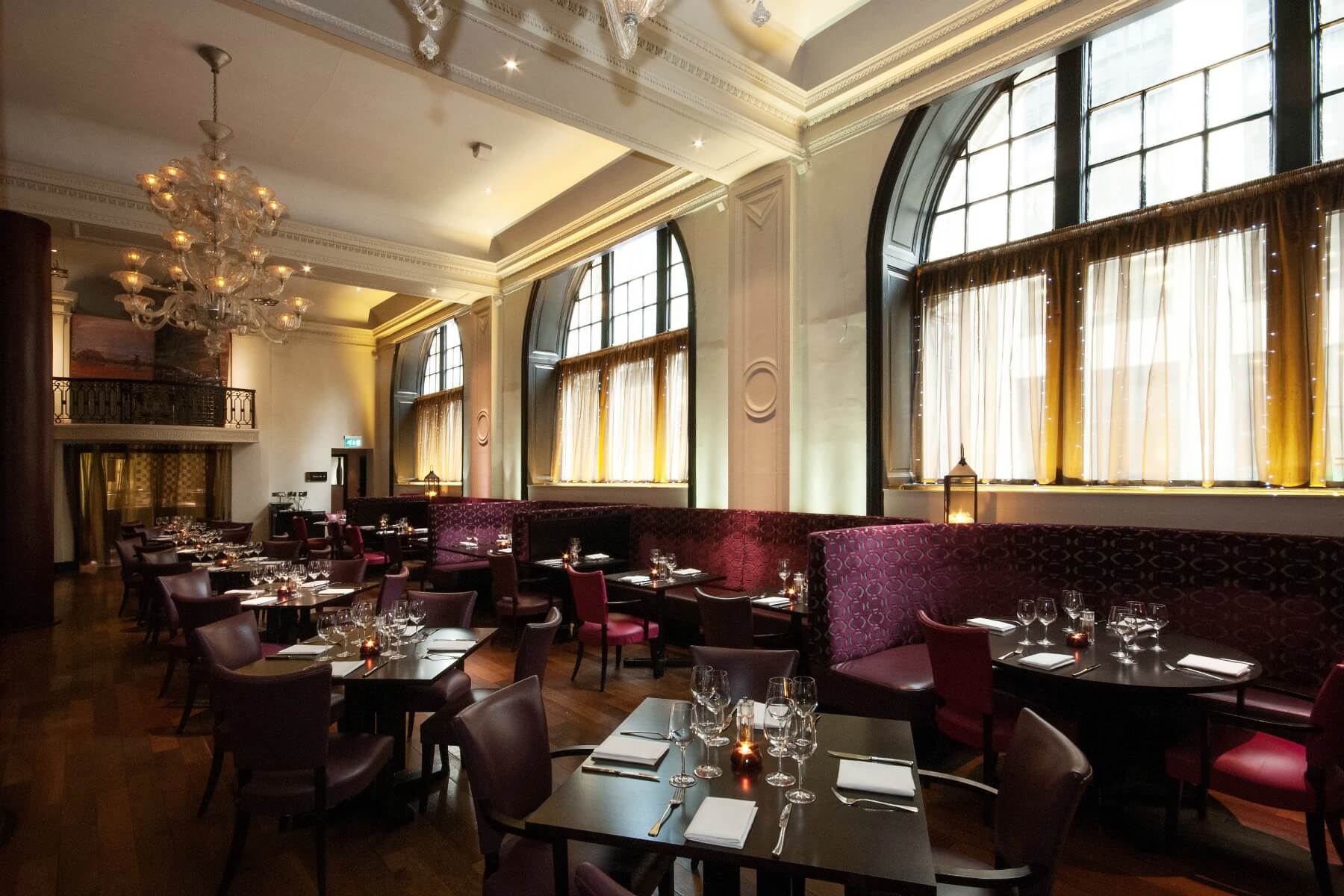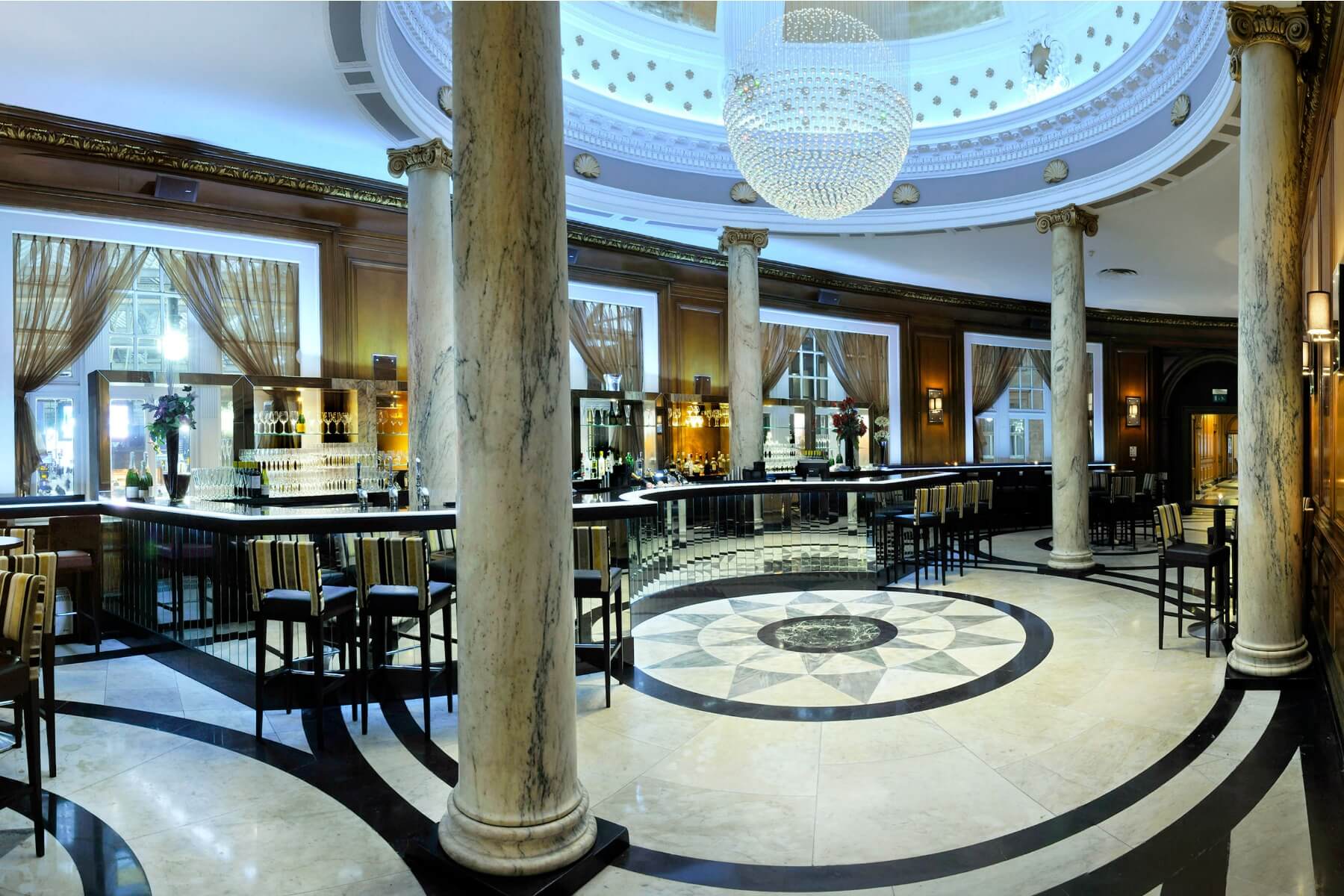 Photo credit: Grand Central Hotel
THE COCKTAILS
I'm wondering why I didn't put this as my first point because let's be honest, the cocktails are the most important part am I right? I jest, I jest. I was being good (since I had an early morning gym session on the cards) so I only opted for the one but oh my it was delicious. I can't for the life of me remember what it was called but I know it definitely had champagne, strawberries and loooots of syrup…what more can you want in a cocktail really?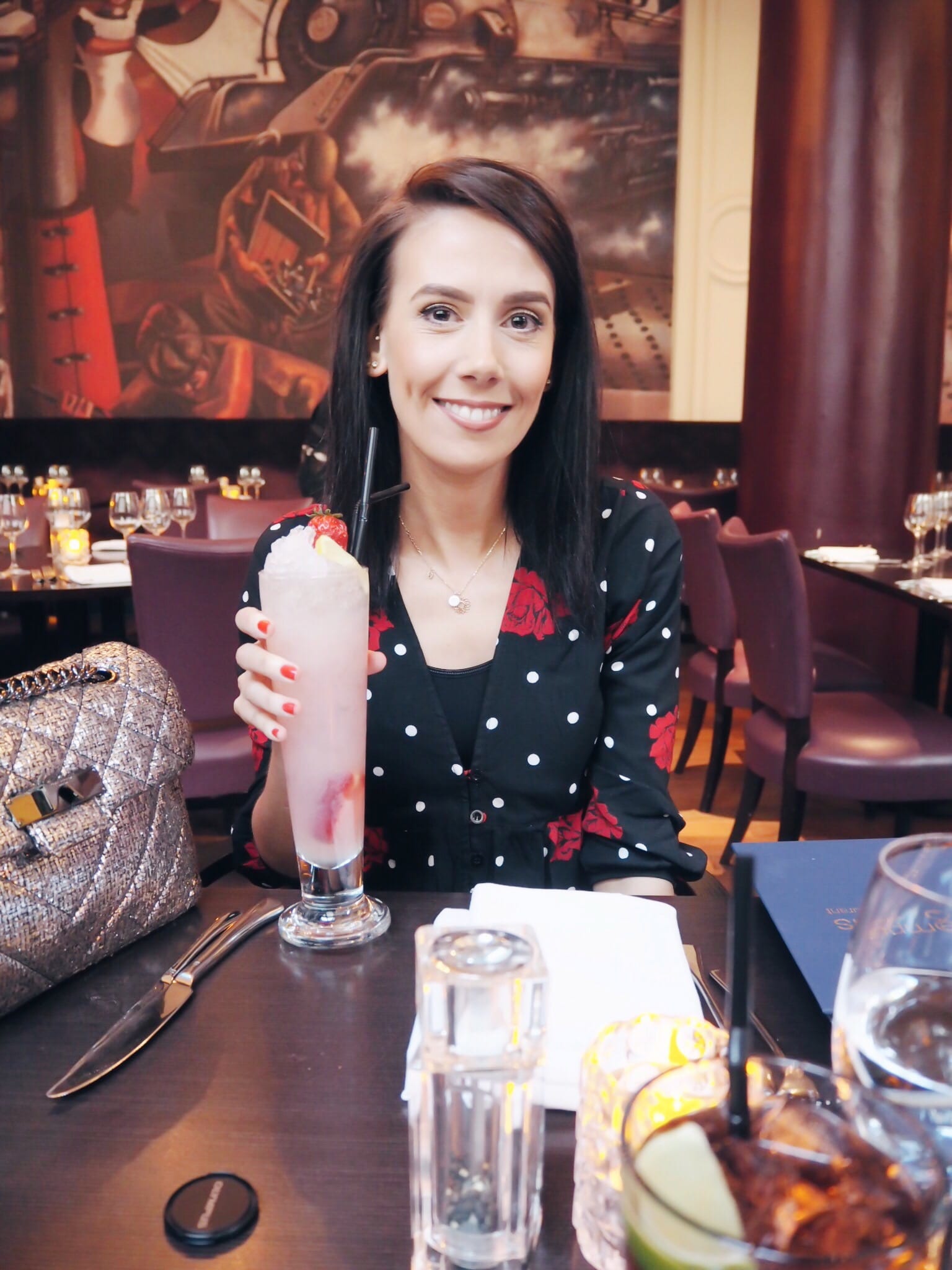 THE FOOD
Onto the good stuff – the brand new menu! Now I won't lie, I was quite surprised to see that Grand Central offer a theatre menu available on a Friday and Saturday evening…that's right, available at the WEEKEND! As a pretty swish hotel, I didn't expect to see that you could get a three course meal for less than £20! I KNOW!
For starter we had the chicken liver parfait and haggis fritter – we were meant to be sharing but I can't resist haggis and it was too delicious to share. Sorry Darren. For mains, I had good old steak and chips, whilst Darren opted for the roast breast of chicken with black pudding bon bon, chorizo and chickpea casserole – both were incredible!
By the time dessert came both of us were pretty stuffed but that didn't stop us tackling the trio of 'Chocolate Indulgence' treats and raspberry cheesecake – definitely my favourite part of the meal. I'm a sweet toothed gal at heart.
For less than £20 per person, I definitely could not complain. The food, atmosphere and service were all fantastic and I've already suggested a little gals date with my favourite ladies! Champagne Central…we're coming for ya!
Check out Grand Central's Theatre Menu – here.
All Saints Pink Leather biker jacket | New Look ripped knee mom jeans | Motel Rocks top | Gucci Belt |
Office Silver leather loafers | Kurt Geiger Silver Tweed Kensington Bag
SHOP THE LOOK:
Have you been to Glasgow's Grand Central Hotel?
Remember to follow me on Bloglovin and subscribe to my youtube channel so that you never miss a blog post/video!
Lots of love,
Chantelle xx
Grand Central Hotel kindly invited me to sample their new menu.
All thoughts and opinions are 100% my own.