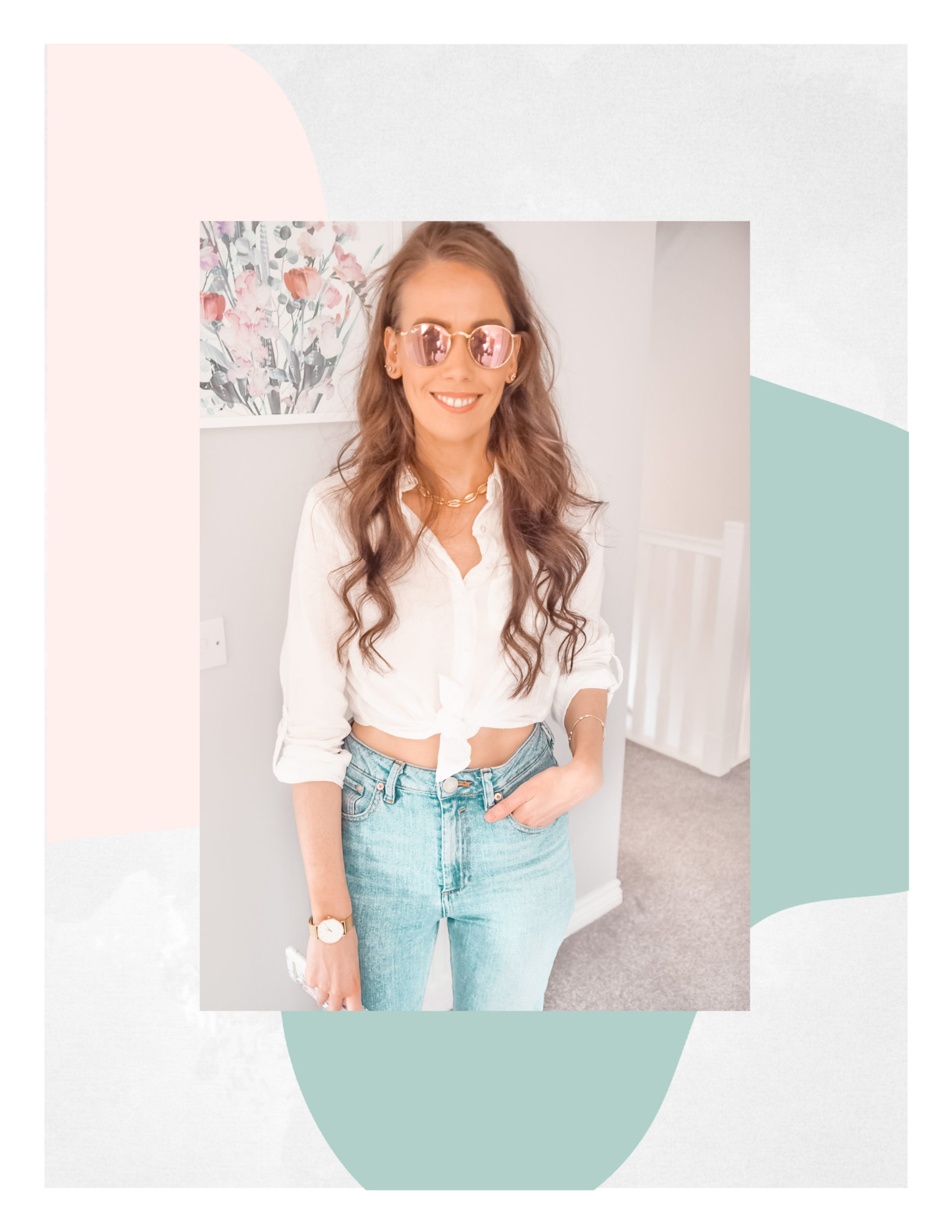 Yay for warm weather and double yay for a Summer wardrobe refresh! It really doesn't feel like much time has passed since last year and my last wardrobe refresh, although things are definitely a lot different this time around. The past year has definitely given me a new perspective on a lot of things particularly my attitude to clothes – and my usual need to 'invest' in new bits and and pieces for the coming season. I really haven't felt the need to shop at all the past few months, which I'm so happy about. I've been adopting more of a shop my wardrobe approach which has made me find a fair few beauties stashed in the depths of my wardrobe! However it's also made me realise how much 'stuff' I actually have and do not need so I've started doing a drastic clearout which involves: things to sell, things for charity and basics to invest in. I feel like I've got most Summer wardrobe staples already covered, however I've noticed I'm missing some basic essentials that I really do need to pick up so I thought I'd share them with you today.
SUNGLASSES
Let's face it, it wouldn't be a Summer wardrobe refresh without picking up some new sunnies. Now like I've said above, I've been frugal lately which is why I feel I deserve some new ones! My all time favourite style is the Ray Ban round sunglasses – I wear these throughout the year and have a variety of different lenses. The ones pictured above are from Smartbuyglasses.com and these are in the pink mirror lens which I just love! They're so fun and perfect to add a little somethin to a Summer outfit. You'll have seen me mention smartbuyglasses before as I've bought so many sets from them already – they always have great discounts on designer sunglasses. The ones that I've picked up recently are the Ray Ban Hexagonal sunglasses (above). These are a similar size to the Ray Ban rounds and I was able to try them on using the handy 'selfie' function on the website to check whether they'd suit my face shape – bonus, they did! And double bonus….they were discounted! I'm warning you in advance…these will be popping up a lot on my instagram 😉 If you're looking for some new sunglasses I'd highly recommend checking them out.
UNDERWEAR
I feel like this is something that's usually an afterthought when doing a wardrobe refresh but it's so important! Now I'm not talking super cute, all the frills, pastel numbers – although some of those would be pretty nice too – but we'll start off with the functional ones first because this is where I am seriously lacking. Whilst clearing out my wardrobe I came across a couple of pairs of super cute white trousers I picked up last Spring and I have NEVER worn them. Do you know why? Because I hate hate hate vpl with white trousers. I just can't! So the first thing I added to my list was some lightweight body shapers. Let me tell you guys…what.a.difference. I decided to size up in these SKIMS ones and opted for a 'short' version so that they'd be comfortable to wear everyday but of course if you wanted some 'sucky in' action too then knock yourself out. These ones are particularly great because the fabric is so thin/lightweight yet incredibly smoothing. They look amazing under my trousers (which are quite tight at the bum and thighs) and there's not a single vpl in sight, hooray!
Next on my list are some bras which I still need to get, so suggestions are greatly welcomed! I would particularly like some strapless bras to go underneath vest tops and some cute but comfortable t-shirt bras. My go-to for bras is currently Boux Avenue. You might remember me visiting my local Buchanan Galleries store around a year ago, in fact I think it was around this time of year or maybe Summer and omg their shop is actual heaven. I went in to get measured (which I completely recommend btw) and ended up leaving with a completely different bra size to the one I was previously wearing and the fit was ah-ma-zing. The fitting service is also completely free and the girls are all super lovely – not sponsored fyi, it really was just such a lovely experience. When I need to get my wedding underwear I'm 100% going to be visiting Boux. I'm totally digressing here but yeh, new bras are needed!! I feel like I always revert to my 'old reliables', does anyone else do that?
WHITE TEES
During Spring/Summer I live in white tees. I bought a few from the men's department in Primark last Summer as the fit is always a bit baggier and allows you to tie a knot at the front – pro tip there lol. However it didn't take long before the neck started to stretch out a bit in the wash so I'm now on the hunt for some better quality ones this year. I like a crew neck and looser fit and something that't not totally see through…I'm looking at you Topshop. If you have any recommendations then send them my way!
GOOD QUALITY JEANS
I know, I know, do I really need another pair of jeans? My go to for jeans is usually Topshop. Their mom jeans are the best fit ever. I love them. However when decluttering my wardrobe I came across so many pairs that I'm either going to donate to charity or sell. I just don't love them. My go to styles at the moment are my trusty Topshop mom jeans, jamie jeans and GAP girlfriend jeans. And I wear them all the time so I feel like I really need some new ones, maybe a new style. I don't think I'm ready for the balloon jean just yet but I've seen some really lovely Levis: the wedgie fit (great name haha) or the 501 crop jeans. Have any of you tried them? They look super flattering so once lockdown is over I might need to add one of these to my collection. You really can't beat a good fitting pair of jeans and crisp white shirt in Spring.
WHITE KICKS
So I thought I'd struck it lucky the other week when I bagged myself some white Nike Air Force 1 Jester trainers on sale from Office. The fit was tiny. Why didn't I read the reviews first? Sigh. They're now sold out so it clearly wasn't meant to be. I'm planning on selling loads of shoes/trainers when the dust settles a bit and the only footwear I'd really like to add to my collection is some nice crisp white trainers to see me throughout the whole of Spring/Summer. My adidas superstars have definitely seen better days however they're the epitome of comfort so I need to replace them. Nike or Adidas…which camp are you?
LIGHT KNITS
I was having a bit of a moment the other day in the garden. The sun was shining, the sprinklers were on watering the new grass seed we'd laid, book was in one hand, wine in the other then the wind started to blow and it was actually freezing! I know, total first world problem. I was determined that I wasn't going to let this ruin my perfect setup so I ran indoors and had a rummage to see if I could find a light knit to throw on. Could I find a single one? Nope. I'm now on a quest to find some light neutral knits to throw on for windy days. There's nothing I hate more than to be cold and I'm pretty much one of those people who is always cold; even when the sun is shining. Yip, I used to be the one closing all the office windows. I hold my hands up. I ended up resorting to my fleecy teddy bear hoodie from H&M which I can tell you was a look.
GYMWEAR
I don't know about you but I don't think I've worn gym wear so much in my entire life until now! I practically live in my Fabletics leggings and hoodie (this grey hoodie is next on my list!). They're the perfect balance of comfy and 'acceptable' outerwear when venturing outdoors…and answering the door to the postman…and of course exercising in too 😉 Ok I'm a big believer in "dressing the part makes you feel the part" so I've been trying my best to get properly dressed and do my hair every day during lockdown, however some days you just need to throw on your leggings and oversized hoodie and that's ok too. Anyway, I have a drawer full of gym wear but reach for my Fabletics ensemble every time. The leggings are just so comfortable, not to mention super flattering so I need to invest in some new ones pronto.
And that's pretty much everything I'll be adding to my wardrobe this Summer…maybe not straight away but definitely at some point. I hope you're all keeping well and staying safe. Lots of love and hugs to you all.
Chantelle xx
Remember to follow me on Bloglovin and subscribe to my youtube channel so that you never miss a blog post/video!
This is not a sponsored post.
All thoughts, opinions and creative direction are my own.