Hello! This is my first post on my first ever blog and I have been racking my brain for ages trying to think of what should go in a 'first blog' post?! It is so difficult to try and fit everything into one blog post to summarise your personal style, taste in beauty and makeup, general interests etc so I've decided to have my first blog as 'About Me' and throw in a few recent outfit photos, face shots, what's in my makeup bag at the moment and the perfume I'm wearing to give you a little insight into me!
I hope you enjoy finding out a little bit more about me, and if you decide to follow me, you will expect to find stuff on here about beauty, fashion, wish lists, thoughts on what I buy or intend to buy and some random posts about me 'out and about' and any mischief I've been getting into.
Thanks for reading! 🙂
Daywear (weekend):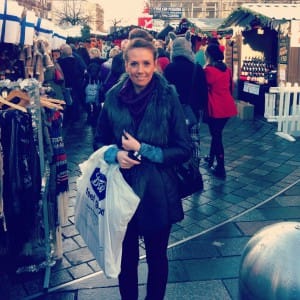 Jacket – River Island | Jeans – Topshop | Pashmina – Tie Rack
As my daywear at the weekend is a lot different to my workwear, I have decided to show you two different pics. At the weekend (when I'm going for a jaunt out and about) I tend to dress smart/casual. I'm loving faux fur at the moment (in fact I've always loved faux fur so the fact that it's very 'in' this winter is just a bonus!!). In the photo above, I went into Glasgow City Centre for some Christmas shopping but in true 'Chantelle style' I got sidetracked in boots (hence the very large Boots bag)and ended up coming home with more gifts for myself than anyone else…I will do individual posts on what I bought! The above photo was taken at the Glasgow Christmas Market in St Enoch's Square. I wasn't really feeling in the Christmas spirit until I went to the market and when we left town, the first thing I wanted to do when I got home was watch Elf!
I'm wearing a jacket I got from River Island (which I love btw, it is so cosy – perfect for this time of year). I actually got this around April this year even although it wasn't that cold as I loved it so much and wanted to put it away until winter. I'm also wearing dark berry coloured jeans that I got from Topshop. I was also wearing a berry pashmina from Tie Rack, which I never leave home without!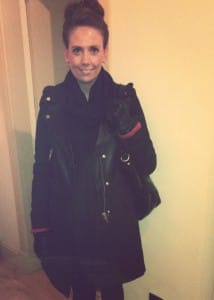 Coat – Zara | Pashmina – Tie Rack
As you can see, my workwear is a whoooole lot different to my weekend wear! I got this jacket from Zara, mainly for work because it is quite smart but I particularly like how it is a little bit different with the leather on the top half and more like a dressy suit jacket sort of material on the sleeves and bottom half of the body. I bought this about 4 weeks ago but hadn't worn it until today because I was worried I would freeze to death in it! In a mad rush this morning to catch my train, though, I grabbed it on my way out the door and was pleased to find that I did not turn blue on my journey to and from work! You can't see my outfit underneath, but I was wearing a plain black dress from Zara and a rusty orange coloured wooly cardigan that I got from Primark and flats from Primark also (they're the best if I need to make a quick sprint to catch the train).
Casual face: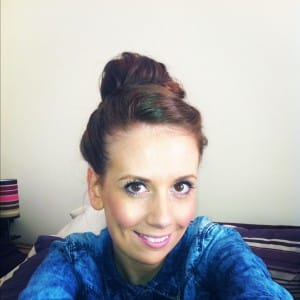 When I'm not going on a night out or out for dinner etc, I tend to keep my makeup 'look' minimal – foundation, bronzer, a little bit of blush, eyeliner and mascara. I then finish off with some natural coloured lipstick or gloss – I will do individual posts on my makeup routines at some point!
'Going out' face: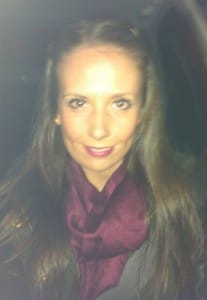 The above photo was taken on the way to the cinema to see Breaking Dawn Part 2 a few weeks ago! I'm sporting the bold lip in this photo which I really like just now. As I was only going to the cinema, I wasn't overly made-up, but I had been indoors studying all week (with a heavy dose of cabin fever) so when my boyfriend told me he bought us tickets to see Breaking Dawn, I was ecstatic and decided to put a little more makeup on than I would usually when going to the cinema, however, I think the vampy, bold lip was appropriate on this occasion! The lipstick I'm wearing here is Revlon Super Lustrous in No 477 – Black Cherry, which you can get from Boots.
All dressed up: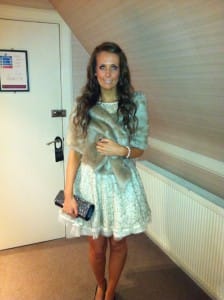 A few weeks ago, I was at my friend's wedding. As it was a winter wedding, I wanted my outfit to have a winter 'feel' to it so what gives a winter feel more than a bit of faux fur?! It was actually by luck that I found this scarf/stole in Zara when I was having a stroll about town and it matched my dress perfectly! As you can see, I tend to wear a lot more eye-makeup when I'm dressing up, and usually wear golden/bronze eye shadows as I feel they compliment my skin tone. Again, I will do individual posts on my favourite makeup.
My favourite perfume: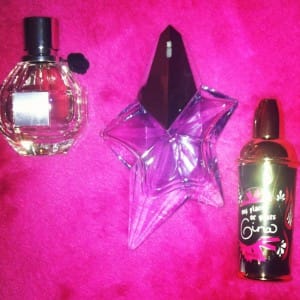 I found choosing my favourite perfume very difficult because I love so many different perfumes and have a drawer full of them! The perfume I wear really depends on my mood…sooo, I have decided to tell you some of my favourite scents at the moment (so if I change my mind next week, don't judge me!) I think it's really difficult to describe how perfume smells but I tend to buy similar scents…I think I quite like strong/sweet/floral/spicy/fruity scents and this winter I have been mixing my scents between the following…Viktor & Rolf Flowerbomb , Thierry Mugler Angel and Benefit Gina.
What's in my makeup bag: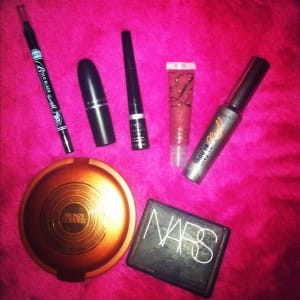 My typical makeup bag (the one I usually throw in my handbag for touch-ups) contains the following items:
–
Estee Lauder Bronze Goddess Soft Matte Bronzer
–
Rimmel Exaggerate liquid eyeliner in 001 Black
–
Barry M Waterproof Eyeliner in Bold Black
–
Mac Cremesheen lipstick in Crème D'nude A62
–
Estee Lauder Pure Color High Gloss in 03 Berry Lush
–
Benefit They're Real mascara in black
The above usually make up my daily face, although I don't always wear the black eye pencil on my waterline. I also like to mix up my makeup every once in a while so this is just what's been in my makeup bag over the last couple of months!
I hope this post has given you a little insight into me, it is probably a bit longer than what I will intend to put in future posts, but I just wanted to give you a flavour of my personality and a little snippit of my style so I hope you enjoyed it! I welcome any comments you might have about any of the clothes I'm wearing or makeup, thanks for reading!
Chantelle xx