OPI Bring On The Bling | OPI Goldeneye | OPI Extra-Va-Ganza! |
OPI Sparkle-Icious| OPI Show It And Glow It | OPI Rainbow Connection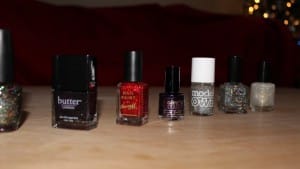 Butter London The Black Knight | Barry M 150 Red Glitter | Claire's Purple Glitter | Models Own Juicy Jules |
NYX Ice Glitter | Ultra Pro Opal Elegance
OPI Bring On The Bling | OPI Goldeneye | OPI Extra-Va-Ganza! |
OPI Sparkle-Icious| OPI Show It And Glow It | OPI Rainbow Connection
Butter London The Black Knight | Barry M 150 Red Glitter | Claire's Purple Glitter |
Models Own Juicy Jules
NYX Ice Glitter | Ultra Pro Opal Elegance (both used as a topcoat over black nail polish)
I'm not one to shy away from glitter nails at any time of the year but during the festive period I really bring out the big guns. Before I decided to do this post I didn't actually realise how bad my glitter nail polish obsession was…it's very bad.
For this post I have picked out my favourite glitter nail polishes, and I actually have duplicates of some of these because I love them so much (so if you ever need a glitter nail polish I'm your gal)! For NYE I intend to go all out glittericious but for those of you who prefer a more subtle glitter look, a glitter accent nail looks really good. Most of these nail polishes were bought this year but some of the OPI ones are from last winter and possibly the winter before. OPI bring out a new glitter collection every winter though so you should be able to pick some similar ones up (my favourite one from the 2012 Skyfall Collection is Goldeneye).
What's your favourite glitter nail polish? What nail polish are you going to be wearing this NYE?
Chantelle xx