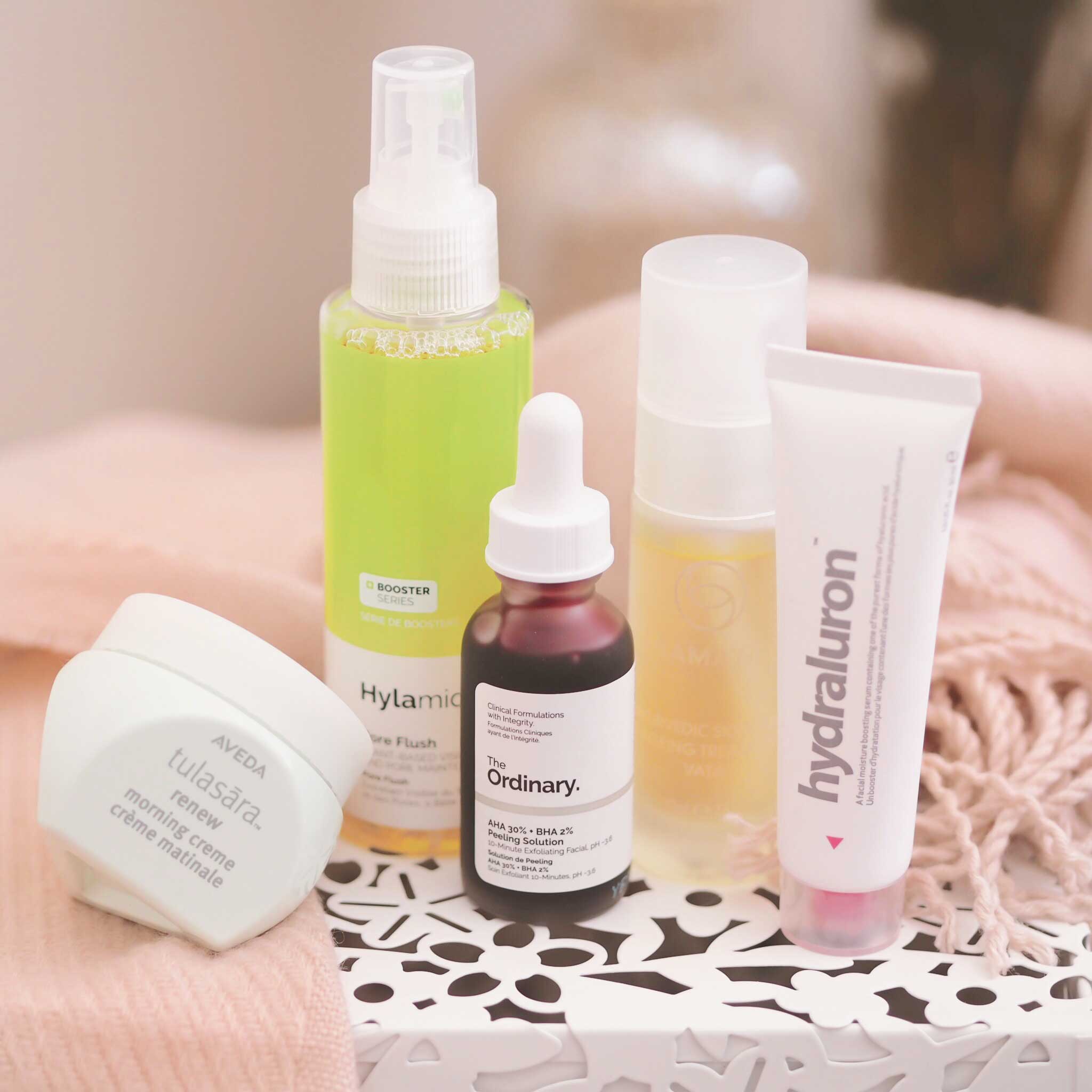 When Autumn arrives I always switch up my skincare – it's kinda a necessity for me because my skin always acts up whenever the cold weather hits. This year has seen the return of my dehydrated, dull skin – lovely. Fear not though because I have some awesome skincare treats to help combat all my skin-related woes.
First up is the Samaya Anti-Ageing oil. My skin loves facial oils – like seriously loves them so I couldn't wait to try this out and what do you know…I love it.
"A concentrated blend of Ayurvedic botanicals and clinically proven active anti-ageing ingredients, this powerful treatment oil comprehensively targets the signs of skin-ageing, visibly reducing the appearance of wrinkles. High-performance Ayurvedic infusions such as Rose, Turmeric, Tulsi, Gotu Kola and Ashwagandha are harnessed in a quick-absorbing formula, resulting in skin that appears youthful and radiant, whilst its calming aroma imparts a deep sense of tranquillity."
Looking at the bottle you would think I've hardly touched it but I've pretty much used it every second or third night for the past 3 weeks! A little really does go a looooong way which is good because at £79 it isn't the cheapest of my picks. However, it really is a gorgeous product and leaves my skin feeling incredibly hydrated, smooth and bright come morning. I do feel like the fine lines on my head have been a bit more prominent, and around my nose has been a little dry with the colder weather but since using this I've definitely noticed a difference – everything just seems a lot tighter and dare I say it, more youthful! I could be wrong but I think this might be due to the Spilanthes Acmella aka 'Natures Botox' which helps to relax facial tension and reduce the appearance of wrinkles – see I told ya it was good'un!! I also have to give a mention to the spa like aroma – it's gorgeous and such a treat to apply just before bed. If you're in the market for some new skincare I'd definitely check them out. They're a London based company and their products are all made in England. They also have a really cool way of helping you choose which skincare products are suited to you based on your 'dosha', i.e. the energies that govern us.
"When our particular dosha is balanced, our mind, body and soul are in perfect harmony, which is revealed through healthy, radiant skin. Yet when our dosha is imbalanced, we notice the ill-effects, including on our skin. Being aware of our dosha type means we can make choices to help balance these energies to achieve wellness, peace and calm, all of which contribute to younger-looking, stress-free, beautiful skin."
My dosha is vata-pitta in case you're wondering! I'd urge you to try it out (here) for yourself if you have a spare 30 secs, it's so interesting!
This seems to have a bit of a cult status and for very good reason! It's specifically for dehydrated skin and promises to help plump, smooth and soften. This is something I use as part of my morning skincare routine before I apply moisturiser and SPF and again I've noticed an amazing difference to the general look of my skin and makeup as the day goes on. Usually I'd get pretty oily in my t-zone throughout the day but I definitely haven't needed to powder as often and my skin has just been generally looking a lot better. The gel consistency contains one of the purest forms of hyaluronic acid which sinks into the skin so quickly and immediately. I definitely feel like this has helped me with hormonal breakouts this month too so that in itself means a huge thumbs up from me. If you suffer from dehydrated skin and you're looking for a new serum I'd definitely check this out, it's well worth a try.
It's no lie I love The Ordinary. In the past few weeks I've definitely added to my forever growing stash and I finally got my hands on the thing I've been dying to get a hold of for the longest time – the Peeling Solution! It's sold out – ALWAYS, which is usually a tell tale sign that a product is pretty good. Good news for me though, when The Ordinary decided to come to Glasgow House of Fraser last month I was first in line to pick this bad boy up. Well actually I couldn't have been first in line since there was only 2 bottles left when I got there – I KNOW!! I almost screamed when I finally got my hands on it. I can't give a lengthy review on this just yet since I've only used it twice but I have to say I've pretty much fallen hard for this stuff. OK, so it's pretty scary – it looks like I'm straight up smearing blood on my face. However if you can just close your eyes, or hide all the mirrors in your house for 10 mins then it's definitely worth it. I decided to leave mines on for around 5 mins rather than the full 10 and I definitely noticed a result in how smooth and more even my skin looked after use. I did experience a tiny bit of tingling but nothing major and my skin didn't have any averse reactions to it. I should note though that I don't have particularly sensitive skin so if you do I'd maybe try starting out at 3 mins and working your way up. I'll keep you updated on this one but so far I feel like this is the thing that's been missing in my skincare routine so I'm so happy I finally got my hands on it!
Sticking with another product from The Abnormal Beauty Company, because y'know – obsessed – I've been trying out their new Hylamide Pore Flush spray. This is a plant and marine based mist formula with bio-derivatives of Bucha and Bridewort in a base of natural marine polymers to help visibly reduce pore size and sebum overactivity. Although I haven't been using this long enough to see any huge difference in the appearance of my pores I have been loving using it. Firstly it smells amazing – very fresh, natural and plant(y) if you know what I mean? I have read some reviews and I think you will either love or hate the scent so it's something to bear in mind. However, what I can tell you is that it is all natural – no fragrance whatsoever has been added. For application, I prefer to spray some onto a cotton pad and apply it just as I would a toner after cleansing, before I apply any other skincare. I did originally spray it directly onto my face to start but I felt like it took a little while to sink in this way so it's much better to just spray a little onto a cotton pad and swipe over my t-zone. Doing it this way, I feel like it helps to mattify without leaving my skin feeling dry and just gives my t-zone a little bit of extra help throughout the day. With continued use it's said to help prevent enlarged pores as it prevents the over-production of sebum – I am fully on board with this!! Enlarged nose pores, be gone!! I'll definitely keep you updated with this but so far I'm really enjoying using it and I do feel like it's definitely helping keep oil at bay on my forehead.
To finish I need to talk about a daily moisturiser that I simply cannot get enough of – the Aveda Tulāsara Renew Morning Creme. When this arrived on my doorstep I was so excited. I absolutely love Aveda hair products but I hadn't tried any of their skincare until now! I've been testing it for around three weeks now so I feel like I can give a good opinion on it. First we need to talk about the scent – that signature Aveda Pure-Fume scent with jasmine, chamomile, grapefruit and other pure flower and plant essences. I love it. It's so calming, very spa-like and so natural in scent. I could honestly sit and sniff it all day! Onto the product itself…Aveda states that this:
"Renews your skin by instantly brightening and smoothing the appearance of fine, dry lines while boosting skin's defenses for the day ahead".
I can 1oo% vouch for the brightening and smoothing part…oh my goodness, whenever I apply this my skin immediately looks amazing – plumped, rejuvenated, smooth and glowy – like seriously glowy!! It's like magic because there isn't an ounce of shimmer or fine glitter in the product but whenever I apply it my skin just has that immediate glow from within look and all without looking greasy. I'm seriously in love with this product and can see me repurchasing it as soon as I run out of this pot. I also love how soothing it is on my skin. In the mornings, especially now that it's getting colder, my skin can feel quite tight after cleansing but I feel like this just calms everything down and makes my skin feel so hydrated and plumped. I'm seriously impressed and have already been looking into some other Aveda products – the Tulāsara Wedding Eye and Face Masques are next on my list!! Have you tried anything from them?? I'd love to hear your recommendations!
And that's some of the new Autumn skincare pieces I've been trying out recently and loving! Let me know what products you've been reaching for this Autumn, I'd love to read your recommendations!
Lots of love,
Chantelle xx
This is not a sponsored post.
Some products may have been received free of charge for review purposes.
All opinions are 100% my own. Affiliate links may be used.