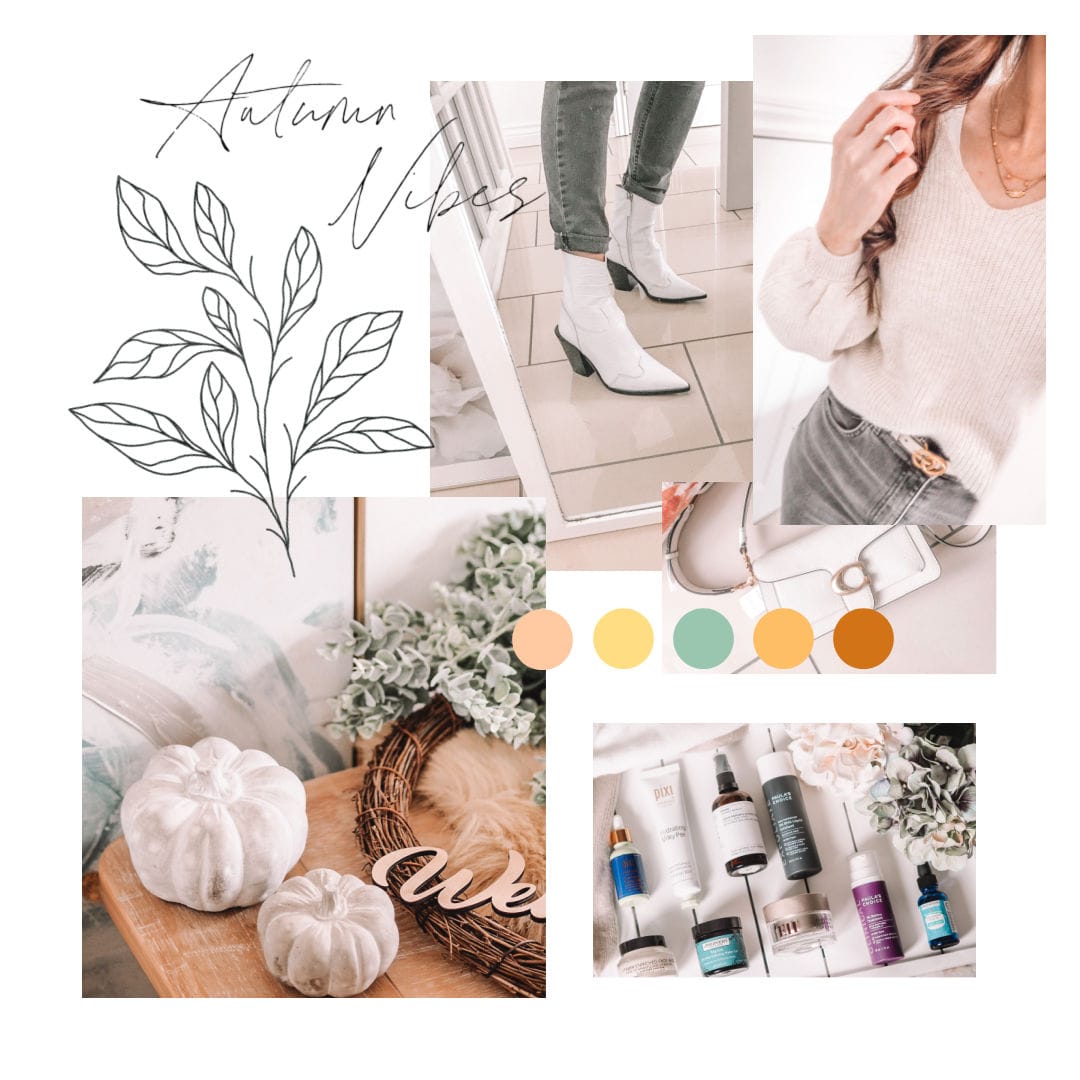 Who else can't believe it's officially the start of Autumn?! If truth be told, I was already fully embracing Autumn since the middle of September…it really is the best season! And let's be honest, if there was ever a time you didn't need to feel guilty about staying at home, watching Netflix all day and eating from the comfort of your bed with a wee candle in the background, that time is definitely now!

STYLE
As I mentioned in one of my last posts I've been making a huge effort to clear my wardrobe and invest in key pieces (only when actually needed) and get out of this constant fast fashion buying cycle. I've been really good this year and feel amazing for it. I feel like I'm starting to actually curate a wardrobe that will see me through season after season rather than buying trend pieces for the coming season and feeling 'the guilt' afterwards. It also makes getting ready each day so much easier. With that said, the only thing I've really invested in for Autumn is my Coach Tabby 26 handbag, some knitwear, the most gorgeous tan wool fedora (I'm still waiting on this arriving!) and some gorgeous jewellery bits, including the Daisy London knot charm necklace* above (kindly gifted). How gorgeous is it?! I love gold jewellery and this is just perfect for the coming season. I teamed it with my Daisy sunburst necklace that I wear almost every day and love how both of them look layered together.
I uhmmed and ahhed about the Coach handbag for so long but my everyday bag is on it's way out. The handles are about to fall off, and since I heard somewhere that Coach bags should last you 10 years minimum I thought now was the perfect time to invest. I love Winter whites and the Tabby 26 in this gorgeous chalk white shade is definitely a bit of me. I love the nod to the seventies and I already know I'm going to get so much wear out of it this A/W and it will look good with everything for any season really!
As for my white croc western boots, these are Topshop last Summer (similar here) but I'm pleased to say that Western style, especially footwear, will be around for a while longer. I'd still take a round or square toe for comfort over a pointy toe any day but you can't deny these immediately add some style points to an otherwise pretty standard everyday outfit…I'll maybe just need to try and stretch them out with a couple pairs of socks because I still don't feel that they're the comfiest!
HOME
I'm itching to make myself an Autumn door wreath! I was actually itching to make one in August but with work and other commitments (ahem, wedding) I haven't really had a minute. We've managed to get some DIY done in the house though and I made time to paint our front door in preparation for the wreath so watch this space. I also picked up these cute concrete pumpkins for a bargain of £15 for the pair from Nordic House. These ones are sadly sold out but I've found some similar ones for even cheaper (these ones) and I think I might need to pick up some more! I have some more ornamental pumpkins in the loft too that I'll need to dig out for the fireplace so that's also on my to do list. Is anyone else pumpkin daft like me at this time of year?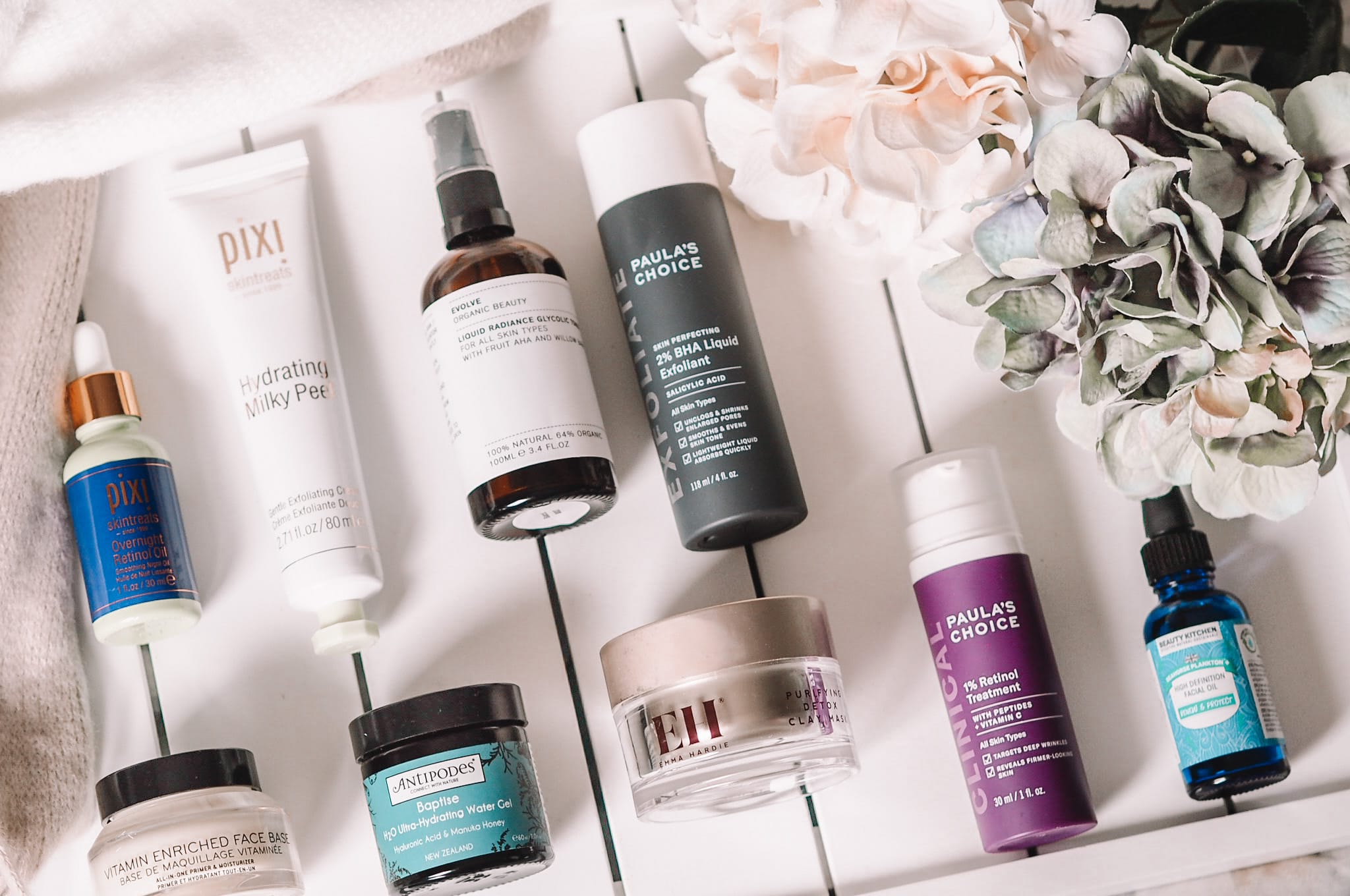 BEAUTY
With the wedding approaching in 5 months I've been really trying to up my skincare game so have been using these products on rotation. I've brought out some of my favourite oils in time for the colder weather including the Pixi Overnight Retinol Oil* (love this so much!) and Beauty Kitchen High Definition Facial Oil (I'm on my second bottle of this). I love alternating between the Pixi Retinol oil and Beauty Kitchen oil before bed and also like to use the Beauty Kitchen HD facial oil in the AM (a little goes a long way) and it keeps my skin super hydrated and plumped throughout the day. I've talked about Beauty Kitchen before but they're a really lovely brand with a great ethos promoting ethical and sustainable beauty, not to mention their products are fantastic. I highly recommend a wee look into their products if you haven't heard of them as you won't be disappointed.
Paula's Choice 1% Retinol has been on my list for the longest time so I thought it was time to bite the bullet and finally got this for myself. Although it's still early days I've loved incorporating this into my routine. I read somewhere (I think from the skincare queen, Caroline Hirons) that the amount of times you apply retinol per week depends on your age so if you're in your thirties then it would be 3 times per week; forties would be 4 times per week. As I'm just starting out with Retinol I've decided to just use it once per week, the same with the Paula's Choice Skin Perfecting 2% BHA Liquid Exfoliant (on different evenings) which is ah-mazing. I'm talking instant results the next morning. If you suffer from congestion, spots, black heads and just generally dull skin needing a pick me up…this is the one. For toner, I've been reaching for Evolve's Liquid Radiance Glycolic Toner*. I've talked about this quite a few times on my instagram and just love this stuff. I love liquid exfoliants in general and this has quickly become a new favourite. It's 100% natural, 64% organic and just a lovely AHA liquid exfoliator.
My beloved Antipodes is always somewhere in my routine. If you follow me on social media you'll be sick of me talking about them but if you've tried any of their products then you'll know why. Their serums are my faves but their latest launch, Baptiste H2O Ultra hydrating water gel*, is what I've been using the past month and I've been absolutely loving it. It's full of hyaluronic acid and manuka honey and is the perfect daytime moisturiser for dry or dehydrated skin, especially with the colder weather coming. As you know, I have oily/dehydrated and this works so well for me. It's super moisturising, sinks in really quickly and doesn't feel heavy on my skin.
For evenings I've started using my Bobbi Brown Vitamin Enriched Face Base* again. I used to only wear this during the day but have actually started noticing a real difference with how glowy and plumped my skin looks in the morning since using it in the evenings. Again this is another longterm favourite – I recommend this a million times over if you're in the market for a new moisturiser. FYI this is amazing as a makeup primer too.
I've been really bad this year at regularly applying face masks but on the days when I've been good, I always reach for my Emma Hardie Purifying pink clay Detox mask or Pixi Hydrating Milky Peel*. The EH pink clay mask is lovely and if you have oily/combo skin and like a clay mask this is definitely one to try. The Pixi milky peel is a new discovery but I really love it. It's formulated with coconut and probiotics and gently exfoliates away dead skin cells, and cleans out pores. My skin always feels instantly amazing after using this. It makes my skin feel really clean and bright but doesn't make it feel dried out which is perfect for this time of year.
LIFE
Other than, ahem, the big C word (and no I'm not talking about Christmas lol) wedding planing is in full swing. I had intended to share more of the planning process on here but with all the uncertainty surrounding weddings at the moment due to Covid I've just been getting on with it and taking each new 'rule' as it comes! Who knows what will be happening by the time February comes but all we can do at the moment is hope for the best and prepare for the worst. We have booked all of the big things so I'm now just trying to sort out all the little things – which actually always takes up more time than you'd think – and I'm praying that everything just comes together on the day. If you'd be interested on hearing about more wedding planning then let me know. Despite Covid making things difficult I've still really enjoyed the planning process and have picked up some good tips along the way. So let me know if you'd be interested in hearing about them?
Anyway I hope you're all doing well in these crazy times. I know I haven't been posting as regularly on here with everything that's been going on but remember to follow me on Instagram if you aren't already. I'm on there most days and always post when I've uploaded a new blog post so you'll always be kept in the loop with any newness as well as just seeing what I'm getting up to on the daily…if you're nosey like me 😉
Remember to follow me on Instagram and subscribe to my youtube channel so that you never miss a blog post/video!
Speak soon, lots of love,
Chantelle xx
This is not a sponsored post.
All items marked with * have been kindly gifted.
All thoughts, opinions and creative direction are my own.
Affiliate links may be used.