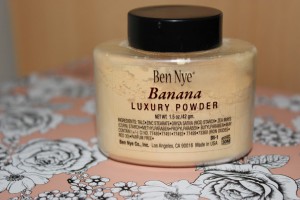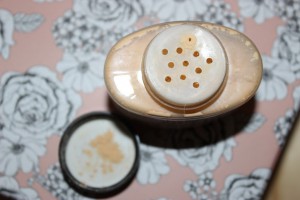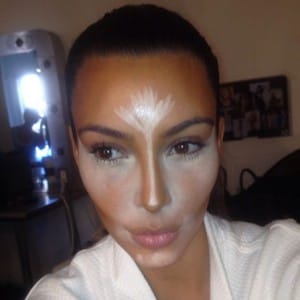 A photo Kim posted of herself with Banana Powder to highlight and set concealer
I'm always envious of celebrities and their flawless camera ready skin, so when I heard about a certain Miss Kardashian's beauty secret to beautifully highlighted and concealed skin I had to give this a try…enter Ben Nye Banana Luxury Powder.
This is a finely milled, yellow loose powder and its main uses are to highlight and conceal, with one of the main ingredients being talc. The yellowness neutralises dark tones so can be used under the eyes to set concealer, as well as being used to help highlight.
I must admit, I was a bit dubious to start off with because I would never dream of putting a loose powder under my eyes as it tends to always set into fine lines and looks cakey. However, with the banana powder, as it is so finely milled it skims over fine lines and creates a lovely soft focus. It makes my skin look and feel extremely smooth and photographs beautifully – no bounce or flashback which is probably why Kim Kardashian loves it.
I know some people like to use a brush to apply this but I prefer to use cosmetic sponges (you can get a pack of 4 in Boots for around £1.99) and I like to slightly dampen this before pressing onto the areas I need it…under the eyes (on top of concealer), between eyebrows, cupids bow (similarly to the photo of Kim Kardashian above). Once I have it in all of the places I need it, I blend it in with the dampened sponge. Using a slightly dampened sponge means that it won't lift off my foundation or concealer. A little tip is to use the lid to pour into when applying. The banana powder can also be used all over the face as a setting powder but I tend to just stick to using where I need it. Once blended the finish is translucent, however there is a warmer cast to it so I think it is probably best suited to warm medium/dark skin tones with a yellow tone to skin rather than pink, otherwise it could leave you looking ill! Not to worry though, as this powder comes in different shades to suit a range of skin tones.
Overall, I really do love this product and can see me using it for a very long time. I think personally, this works better as a concealer and under eye brightener for me rather than an overall highlighter but I still love it nonetheless. The great thing about this is that you get so much for your money and it is so cheap considering Kim K uses it! You can get these from loads of places online including Amazon, but the cheapest I found was the one linked above.
Have you used Ben Nye Banana Luxury Powder or any of the other Ben Nye Luxury powders? What do you think of them??