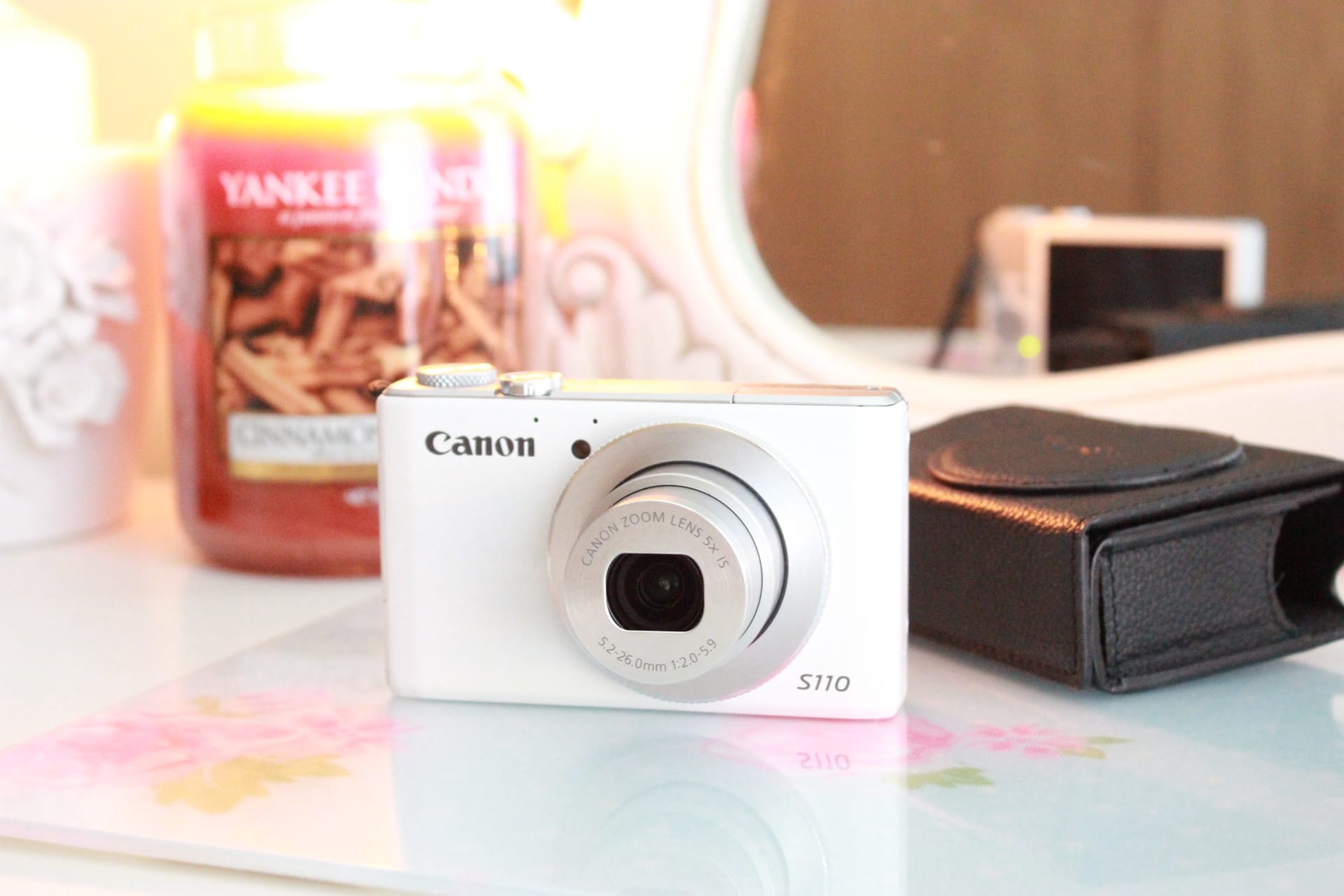 As some of you may know, I've recently ventured into the world of Youtube and vlogging so after a very long time of deliberating I decided that I should invest in a decent vlogging camera. Now if I'm being honest, as much as I love photography and making YouTube videos, I'm not an expert so it's all quite a bit of trial and error with me. I've had my Canon 600D SLR for around a year now and I
absolutely love it. I use it for my blog photography and recording at home but for vlogging and taking photos on the go it's quite a hefty piece of equipment to lug around! After a lot of to-ing and fro-ing and a lot of research (I mean a LOT…I'm thorough that way) I decided to go for the Canon Powershot S110 and I've been really enjoying using it when I've been out and about. I used it for my London vlog and the video quality is amazing (1080p HD). The sound is really great too and it even has a function to reduce wind. Another quirky little feature, is the 'Movie Digest' function which allows you to take a short video clip with each photo you take which I also think is a nice little extra. I recently used it to take some snaps whilst I was out and about it Glasgow doing all things festive too (post will be up within the next week) so look out for that if you'd like to see the photo quality, but I'm really pleased with how they all turned out. The screen is 3 inches too which is a big plus.
I'm not going to go into any more detail because I don't want to bore you all to sleep. I just thought I'd share this with you in case like me, you're looking for a new compact digital camera, perhaps to start doing vlogs or for taking photos when you're on the go and you aren't sure which one to choose. I found it really hard choosing so hopefully this helps someone out there! At around £250 it's not cheap, but it's certainly cheaper than an SLR and it seems to perform better than a lot of other compact digital cameras I was researching (mainly for recording) and I personally think it's a great investment for me. I think if you are looking for a camera solely for taking photos then you could probably get another digital camera that will perform just as well for cheaper, but for me this one just ticks all of the boxes. I bought mines
from Amazon
and to find out more about the model, I found that the
Canon website
was best for the full product specifications.
I know this is quite a short post, and I haven't gone into too much detail but if you do have any specific questions just leave them in the comments section below and I'll do my best to answer them for you.
Are you looking for a new compact digital camera? Will you be adding the Canon Powershot S110 to your Christmas wishlist? 🙂
Chantelle xx