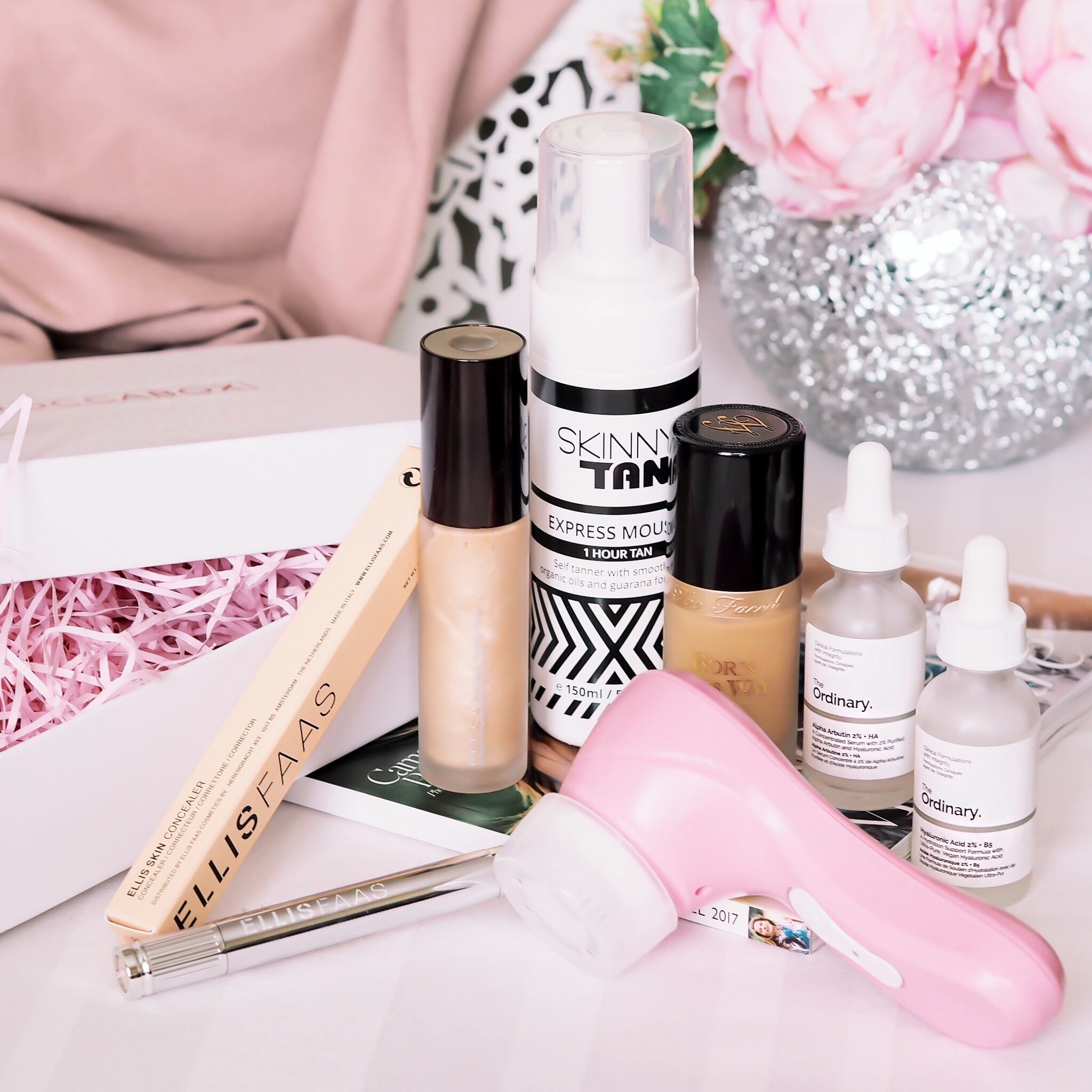 It's been a good old while since I shared a favourites video/post with you. It's actually one of my favourite things to do so with this in mind I decided to put pen to paper (or fingers to keys) and get cracking. If I was to share everything I've been loving since my last favourites post, let's face it I'd be here all year! So instead I've whittled it down to 6!
Magnitone Barefaced Facial Cleanse + Tone Brush*
I'm reasonably new to the whole facial cleanse brush thing. To be honest, when it comes to things like this I'm always a bit cautious – they're not exactly cheap! So I like to spend a good bit of time doing some research before I invest and in this case I had just never got around to trying out the Magnitone. So when the lovely guys and gals over at Magnitone HQ popped their Barefaced Cleanse + Tone in the post for me I was delighted to say the least. This nifty travel sized, vibra sonic cleansing brush (try saying that fast!) is waterproof, suitable for all skin types and can be used daily. It has two modes, comes with a wireless USB travel charger and travel bag. And the most important part? I LOVE it!
Ever since I received this I've been using it constantly. It can be used daily but I tend to use it every other day and within the first 7-10 days of using it I could definitely notice a visible difference in my skin's appearance. Everything just looks so much more smoother, less congested and bright. It's definitely a new staple in my skincare routine and I can't recommend it enough. I also love how travel friendly it is – it's the best size and is really light so there's really no excuse to let the cleansing routine slide whilst travelling. It's definitely one to check out if you're in the market for a cleansing brush.
The Ordinary Hyaluronic Acid 2% + B5 & Alpha Arbutin 2% +HA
Sticking with skincare I need to give a mention to these two beauties because I am completely obsessed with them. So much so that I've already re-ordered, because I can't bare the thought of running out of them and not having a backup! So this is where it would usually get scientific and you guys zone out (and if I'm being honest, science was never my strong point) so let's not go there. Instead we'll keep it simple. Starting with the Hyaluronic Acid 2% + B5 – this has been my go to morning serum. It sinks in link a dream, leaves my skin feeling refreshed and when I apply my moisturiser on top everything just blends so nicely and leaves my skin looking plumped and hydrated. I suffer with dehydrated skin which as a result can get quite oily on my t-zone but this has definitely worked wonders in helping retain moisture and hydrated throughout the day!
Onto the Alpha Arbutin 2% + HA Serum. I got this mainly because I have some hyperpigmentaion and I had heard this was good for it. At £7 it was worth giving it a bash and I can safely say that although I know I'll never get rid of my hyperpigmentation, I do feel like it has helped to even out my skin tone. I apply this in the evenings because it can make your skin more sensitive to the sun. It feels a lot like the HA serum – very light in texture and sinks in SO fast when applied. At around £7 each you really can't go wrong with these serums. Seriously guys, the hype is REAL.
Skinny Tan Express Mousse 1 Hour Tan*
Ok, so I'm a fake tan addict. I usually have about 5 different variations on the go but since I tried out the Skinny Tan Express Mousse I haven't used a single other fake tan. In fact, it's the first fake tan in agessss that I've actually used up and repurchased in record time. That's saying something let me tell ya! So what makes it so special? Firstly the shade – it's the perfect natural medium tan shade and very buildable without going patchy. It wears around 5 days on me before I need to reapply (which is actually really good for me) and smells like coconut…and there's more! You can customise your own shade based on how long you let it develop: 1 hour – light, 2-3 hours – medium dark and overnight for the deepest tan. I tend to put it on during the day when I'm working from home and leave it on for a good 6-7 hours which gives me the perfect medium/dark shade. I should also mention that it doesn't dry my skin out at all. It sets relatively quickly (probably around 30 mins before the sticky feeling goes away) and I also need to mention the Skinny Tan mitt which feels like velvet and applies tan like no other! Fake tan lovers, add this to your list!
Too Faced Born This Way Foundation & Becca Backlight Priming Filter
Ok so technically this is two items but I'm selling it as a duo because seriously, these two combined make my skin look amazing, even though I do say so myself! I've been putting off getting both of these products for so long and I'm actually annoyed at myself because I love them both! Every time I've worn this combo someone has commented on my skin/makeup and it's all down to these. We'll start off with Becca's Backlight Priming Filter. Although I don't feel like it controls oil it definitely doesn't make me anymore shiny that I usually am, but the glow…oh my word! It can be mixed in with foundation or used as a primer (which I prefer) and it gives the most beautiful lit from within look – not greasy or oily, just glowy and fresh. It glides on so nicely and looks amazing under higher coverage foundations.
This leads me on nicely to the Born This Way foundation. It's sold as a medium/high coverage foundation but I'd say it's definitely more medium coverage because I can still see some of my freckles through it, which I'm happy with. As someone with combination oily skin, as much as I love the look of glowy foundations they just never last five minutes on me…this however lasts all day if I set it with some powder on my t-zone and a makeup setting spray! It's become one of my new favourite 'special occasion' foundations because it just make my skin look flawless but not caked in makeup.
ELLIS FAAS CONCEALER VIA ROCCABOX*
I must admit I'm pretty new to Ellis Faas but I was gifted last month's Roccabox in collaboration with the lovely Adrienne and I haven't been able to put this concealer down since. It's probably the fanciest looking concealer I own but more importantly it has such a gorgeous finish – a decent coverage and not drying in the slightest. I think this is due to the Vitamin E and C in the formula which are known to hydrate and have anti-ageing properties. Although I don't think it's particularly good at covering up the blue tones in my inner corner, I've actually been preferring using it on my face instead of foundation on 'no makeup' makeup days and just using it where I need it! It gives the perfect amount of coverage and has a satin, glowy finish.
I also have to mention Roccabox. I used to sign up to subscription boxes years ago when I first started out blogging but I stopped them after a while because I was often left feeling disappointed. However I was so impressed with the little box I received, it was packed with some of Adrienne's favourites and I love how the contents of each months box is hand selected by some of our fave blogging gals. I might just be on board with this one!
So that's six – ahem seven – of the things I've been loving recently. Let me know if you've tried any of these products, I'd love to hear your thoughts!
SHOP THE POST:
Remember to follow me on Bloglovin and subscribe to my youtube channel so that you never miss a blog post/video!
This is not a sponsored post. Affiliate links may be used.