Azature Black Diamond Nail polish
I first found out about this amazing and rather expensive nail polish in November when I received an email from Selfridges. I still can't quite believe there is a nail polish out there that contains a jaw-dropping 267 carats of crushed black diamonds and even more gob smacked that this nail polish costs £160,000…YES £160,000!!!
The nail polish is made by a Los Angeles based jewellers, Azature and has already been seen on the nails of celebrities such as Kelly Osbourne. Not only does the nail polish itself contain 267 carats of crushed black diamonds, but the bottle has a platinum sterling cap finished off with 60 hand-set black diamonds (picks jaw up).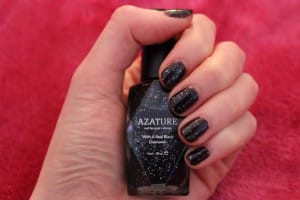 Now, I know diamonds are a girl's best friend and all that but I really don't think I could paint such a precious thing on my nails, could you?! Never fear though, as the lovely people at Azature have concocted a more affordable slice of this diamondy luxury in their £17 edition which still contains a single black diamond (I'm sure it is not a very big one but I'm extremely excited by this nonetheless) and is exclusive to Selfridges!
When I saw that Selfridge's stocked the 'slightly' cheaper version I had to try it and I am not disappointed. The base of the nail polish is black but very sheer so I don't think this is one I'd wear alone, but rather layer on top of a plain black nail polish for some extra sparkle like I've done in the photos above. All in all I am very happy with this product and can see myself wearing it over all of my black nail polishes. If you are anything like me you will be dying to get your little mitts on this beauty so I have put the links below…now all you have to do is make the choice of what one you are going to buy 😉
Have you tried the Azature budget black diamond nail polish? Would you spend £160,000 if you could on a real diamond manicure? Would love to hear your thoughts 🙂
Ps. Now that I've written this post I can't stop singing 'Diamonds Are Forever' (the Kanye West version)
"Diamonds are forever…
throw your diamonds in the sky if you feel the vibe!" 😉