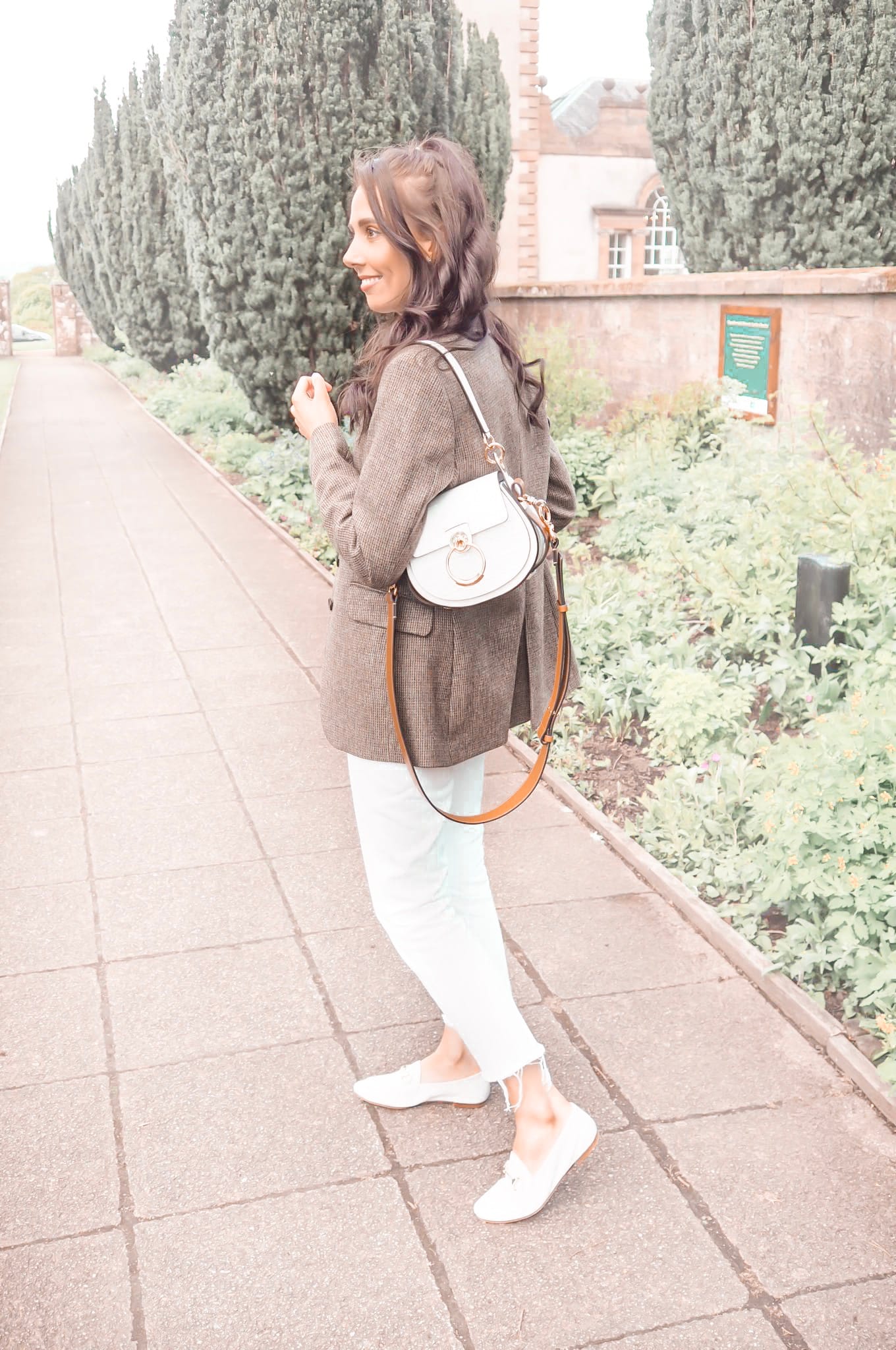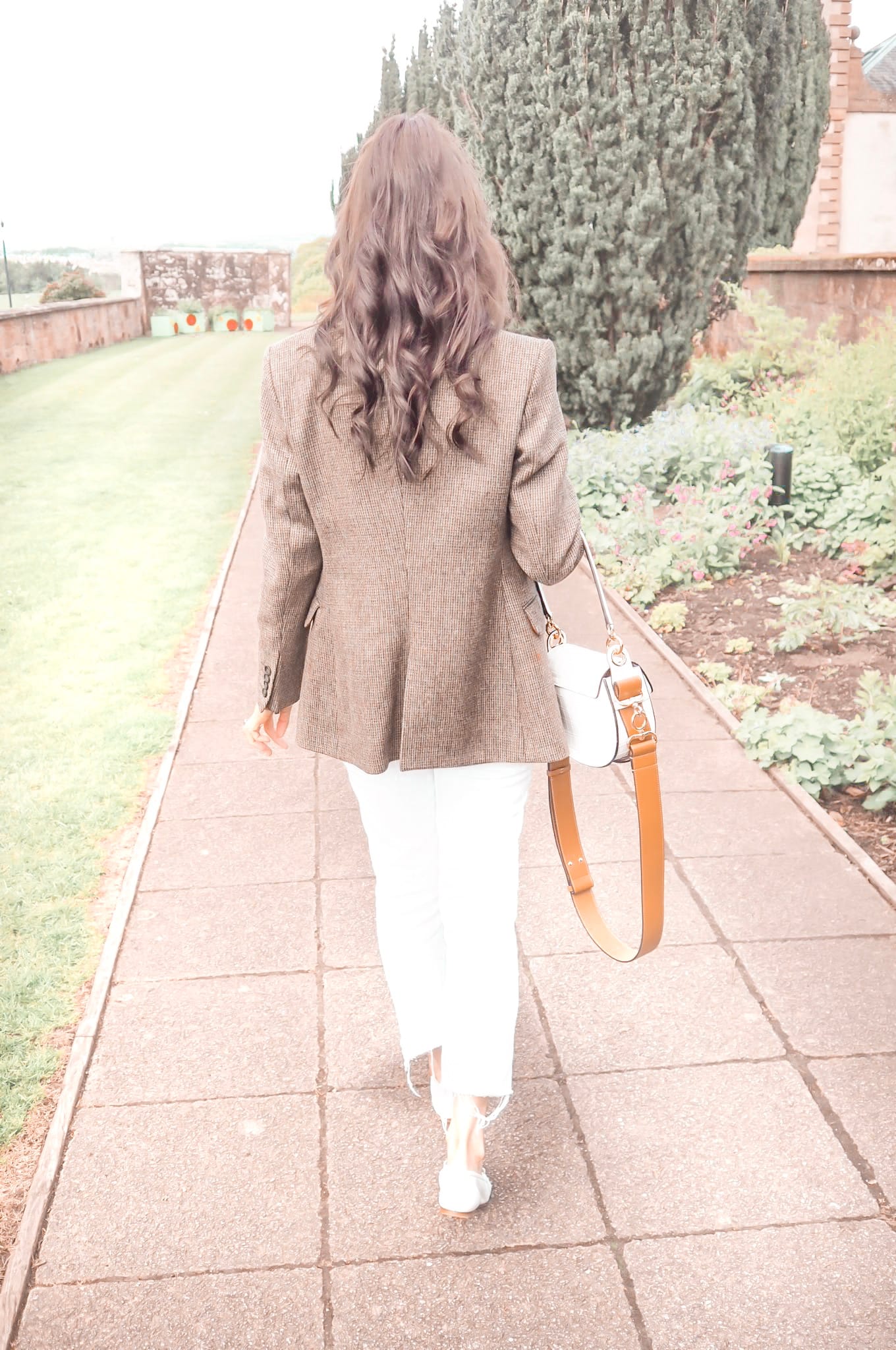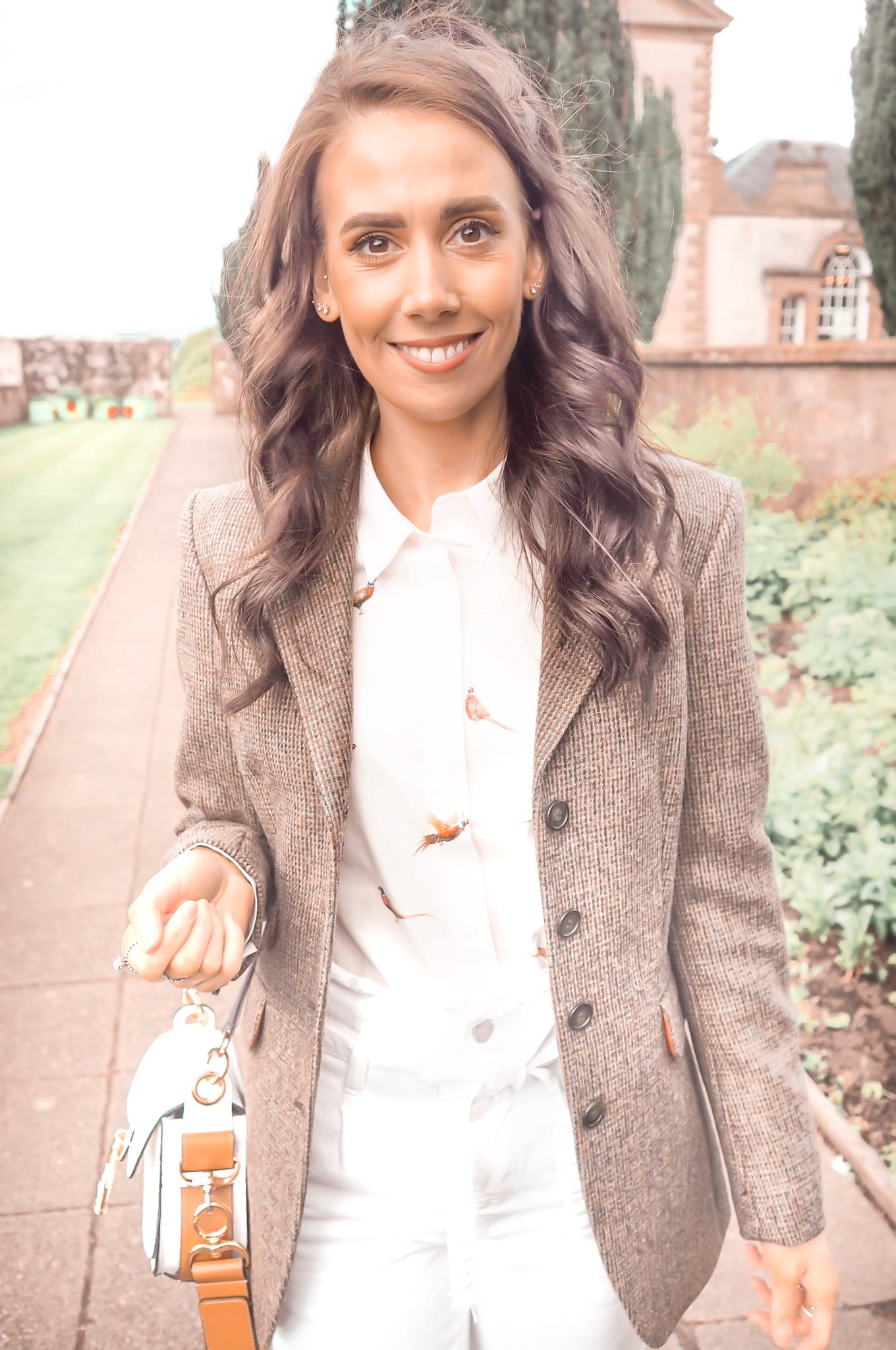 Spring, you definitely spoiled us last week with the gorgeous weather – didn't it feel like Summer had arrived?! It seems the slightly cooler temperatures are back in the UK this week but fear not as today I'm sharing some of my top tips on how to dress for Spring when it's cold outside. It definitely took me far too long to come up with that title (haha) but why not just say it like it is? If you stay in the UK or anywhere with a similar climate then you'll know what I mean. Whenever the new season hits I'm all for having a bit of a wardrobe 'spruce up' but sometimes the weather just doesn't call for linen jumpsuits and straw hats so for all of those 'in between' cooler Spring days, I'm here to share with you some of my best tips.
Some items were kindly gifted by Rydale.
BLAZER UP
No matter the occasion or the season, a blazer will always look great. Add to an all white outfit like I've done here to keep you warm and break up an all white look with a beige linen fabric or tweed, such as this gorgeous Rydale Tweed Blazer. This is a new addition to my wardrobe but I'm absolutely in love with it. Not only is it super warm but it's a classic style that I'll have in my wardrobe forever and will look great for so many occasions. I also absolutely love how it looks with an all white outfit. I was definitely channeling my inner country gal on this particular day and I can definitely see me repeating this outfit a lot this season. If you look closely you'll also spot the cute little pheasants on my shirt too (here) – how cute are they! For lazy day outfits switch out the shirt for an oversized tee, tucked into jeans or tied at the waist and for nights out throw on a blouse and some heels and you're good to go.
WEAR LIGHT COLOURS AND LAYER
One of my best tips for dressing on cooler Spring days is to wear light colours and layer them up. Not everyone is a fan of whites and creams like me but even opting for a lighter coloured blue denim can immediately make you look and feel more 'Spring appropriate'. Layering a plain tee underneath a simple linen or cheesecloth shirt with a light denim jacket or light coloured cardigan over top can immediately add warmth but still make you feel like you're dressing for the season. Of course on rainy days it's probably best to steer clear of white jeans but a lighter blue denim can be just as effective! I recently picked up these Zara mom jeans (only £25.99) and I have been wearing them non stop!
THE CLASSIC TRENCH COAT
One of my favourite Spring outerwear pieces is a trusty trench coat. Again, it's the perfect thing to throw over an outfit and add an extra layer of warmth (without being too much) and also looks super stylish too. If you want something a bit different from the typical classic beige or black trench then invest in a linen one. Linen was everywhere this time last year and it's set to be huge again this year. I've already picked up this linen trench coat from Next and I absolutely love it. It's the perfect throw on and go piece that will look great with practically everything I currently have in my wardrobe so if you're a neutrals type of gal like me then you'll love this.
CHANGE UP YOUR ACCESSORIES
So this one isn't exactly about warmth than it is so much about style. If you can't dress for the season then add a super cute seasonal bag to your outfit to put you in the Spring mood. A straw basket bag is an easy way to update your Spring wardrobe and I think they look amazing with trench coats, jeans and a simple loafer or mule. I'm loving the larger style straw bags this season. They're just so practical but offer a style statement at the same time!
SPRING SHOES
Last but not least I need to mention my current favourite footwear of choice – the loafer. Loafers were huge last year (I'm looking at you Gucci) and they seem to be just as big again this season. It might be tempting to opt for some cute open toe strappy sandals but on a chilly day your toes will not be thanking you. These little white loafers are actually old from Office a couple of years back (they have them in again this year – here) but they're the type of thing that I bring out year after year. If you can't stand your ankles being out then pop on some cute ankle socks. For extra warmth, add some new kicks to your Spring wardrobe and again you'll be set for the season. I can't tell you how glad I am that trainers made a comeback. Isn't it funny that only a few years ago nobody seemed to wear them?! I still can't get my head around it. I have a few pairs on my 'want' list right now…
And that's some of my tips on how to dress for Spring when it's cold outside. Hopefully I'll be doing a follow up to this post soon about 'how to dress for Spring when it's scorching hot'!!! What do you think the chances of that happening are? hahah
Outfit details:
Pheasant shirt *gifted – here
Tweed Blazer *gifted – here
White paperbag jeans (currently half price – only £14!!) – here
White loafers – here
White Chloe Tess Bag – here
Remember to follow me on Bloglovin and subscribe to my youtube channel so that you never miss a blog post/video!
Lots of love,
Chantelle xx
This is not a sponsored post. Some items were kindly gifted to me (marked * above)
All thoughts, opinions and creative direction are my own.
Affiliate links may be used.