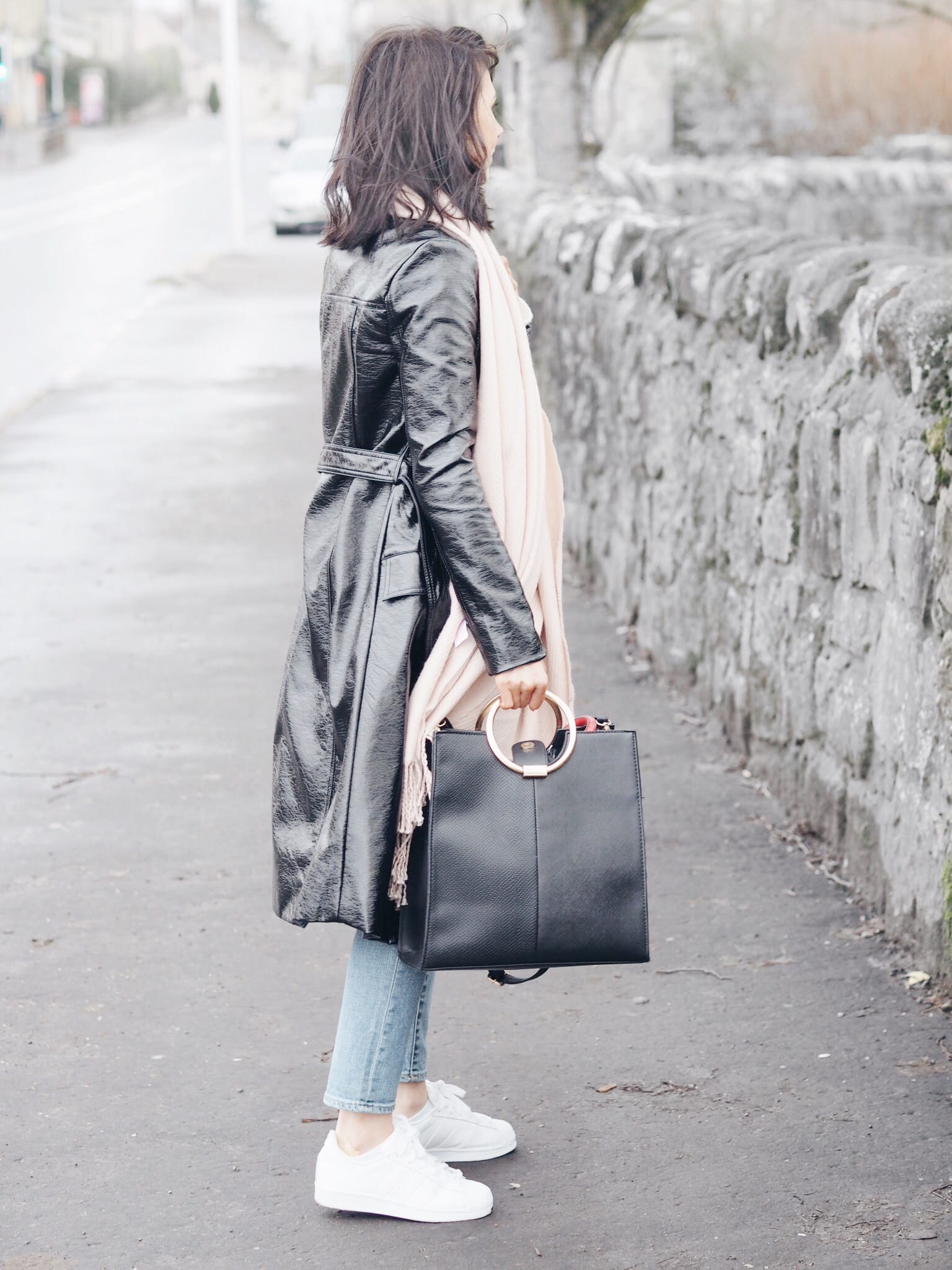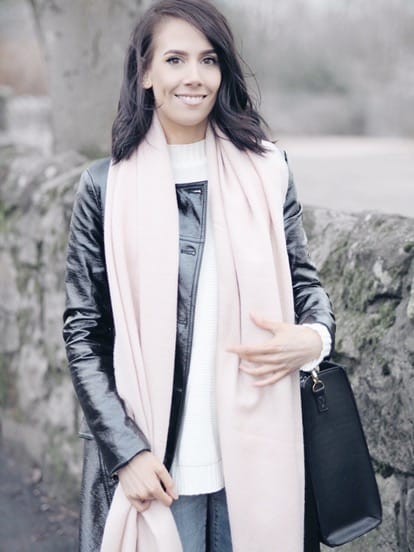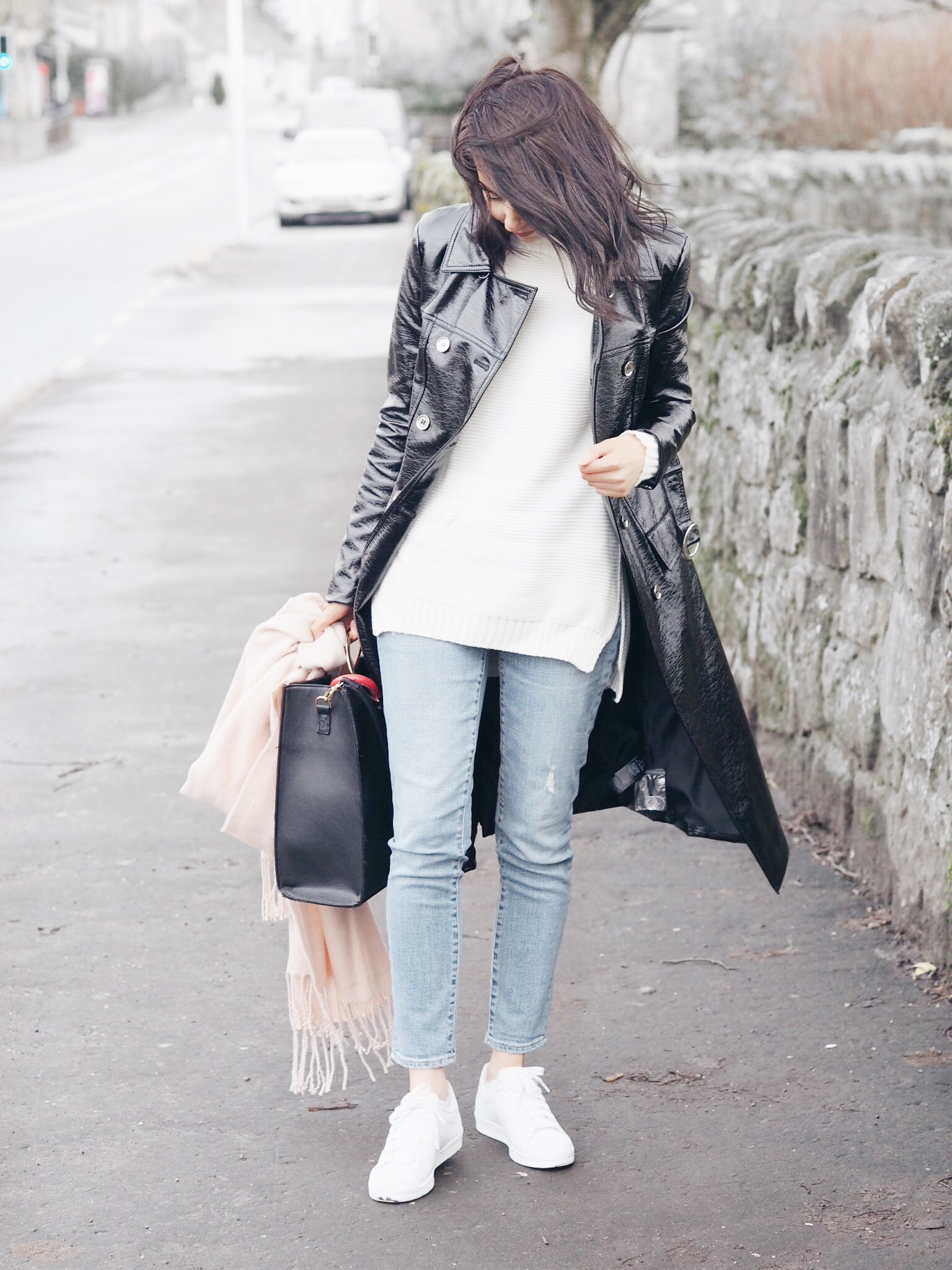 PVC seems to be everywhere at the moment but it's not the easiest to style in my opinion. From looking quite 'high fashion' in one moment it can quickly change to tacky depending on how it's styled. I spotted this Marks & Spencer Briggate trench coat on Alexa Chung while flicking through a glossy last year and was immediately stopped in my tracks. It was LOVE. I was sure it must've been some designer piece that I could only afford on a beans and toast diet but low and behold it was good old M&S reminding me why I love them! Now I was hesitant at first because let's be honest, Alexa Chung would look good in a potato sack…whereas there was a high possibility I'd end up looking like someone from The Matrix. Since they were selling like hot cakes though I decided to take the plunge and snap one up before I missed out. It's definitely not the warmest of coats which is why it's been sitting in my wardrobe since before Christmas but now that the cold snap is slowly but surely clearing up I've been reaching for it a lot and thought I'd share with you my top tips on how to style it. These tips pretty much transfer to PVC trousers and skirts too…
KEEP IT NEUTRAL
With a statement piece such as PVC I think it's always good to keep other things neutral and maybe opt for a little pop of colour by way of an accessory. I opted for this cream longline knit with side splits which kept things interesting but didn't detract from the coat. You can hardly call my scarf a 'pop of colour' but I'm a neutral gal at heart so I opted for a blush pink scarf – light grey and camel also looks amazing paired with it.
GO OVERSIZED WITH KNITS
My favourite way to style this coat is with chunky oversized knits, and an overall casual feel. Don't get me wrong it looks amazing as part of a smarter look but I just love the whole 'throw on and go' style.
OPT FOR A LIGHTER DENIM
I've hardly has these Gap Girlfriend jeans off since I picked them up and I think the lighter denim really helps keep the whole look casual and fun. I also have some wide legged cropped jeans which look amazing with this coat – the more relaxed the fit, the better I think!
MIX TEXTURES
With PVC I think it's best to stay away from other leather/faux leather type finishes because it can all look a bit too much. In addition to oversized wooly jumpers and Adidas Superstars I've been loving incorporating some suede. I recently got some tan suede boots and they look ah-mazing for a smarter casual look. It also gives a nod to the seventies too which I will forever love!
And these are my top tips on how to style the PVC trench coat! Little disclaimer though people, there really are no right or wrong ways! At the end of the day, you do you. If you wan't to dress head to toe in PVC, go for it. It's all about individuality at the end of the day but if you fancy dipping your toe into the PVC trend and aren't exactly sure how to go about it, I hope my tips have helped you out a little.
Shop the post:

What are you're thoughts on the PVC trend? Love it or hate it?
Remember to follow me on Bloglovin and subscribe to my youtube channel so that you never miss a blog post/video!
I hope you have a great day!
Lots of love,
Chantelle xx
This is not a sponsored post. Affiliate links may be used.