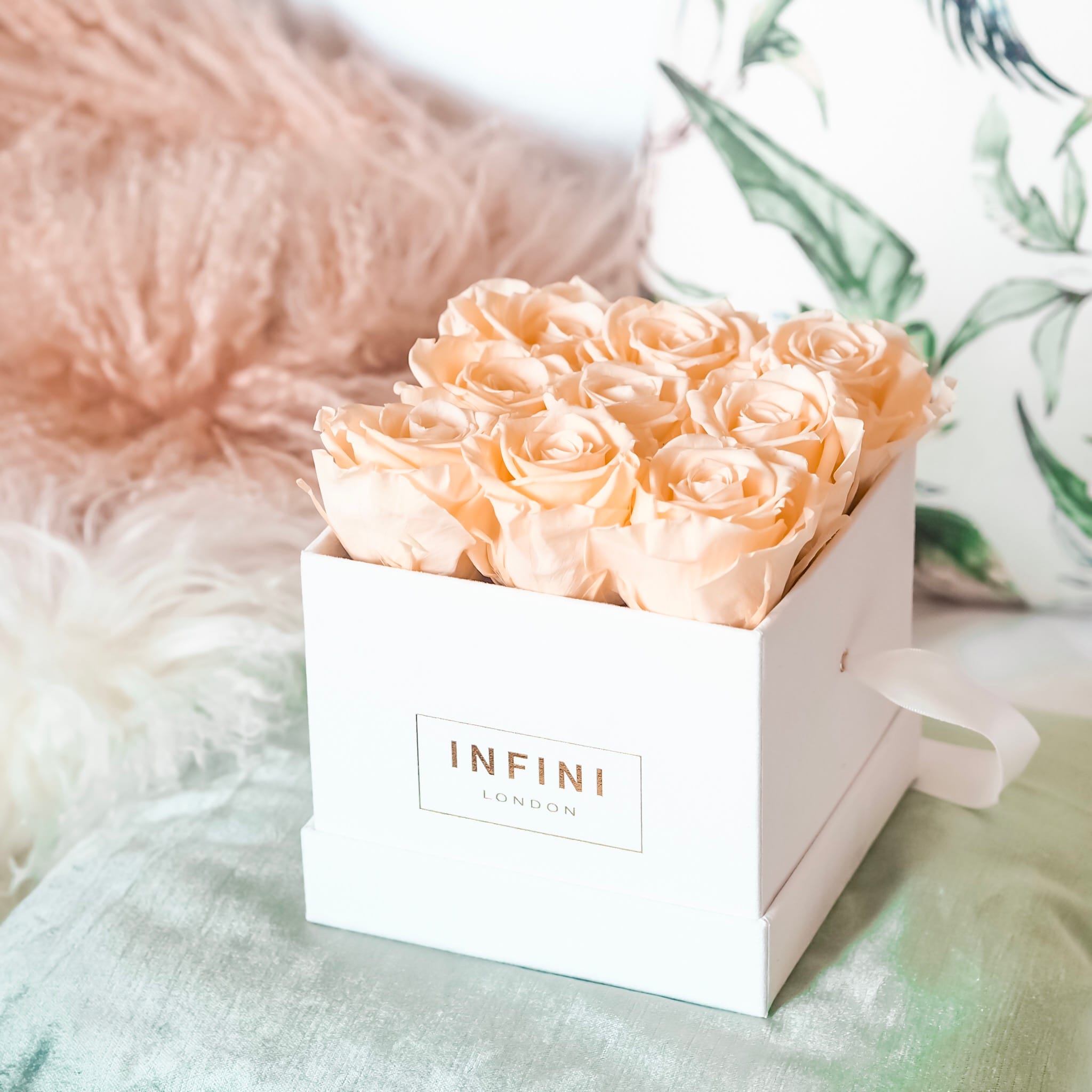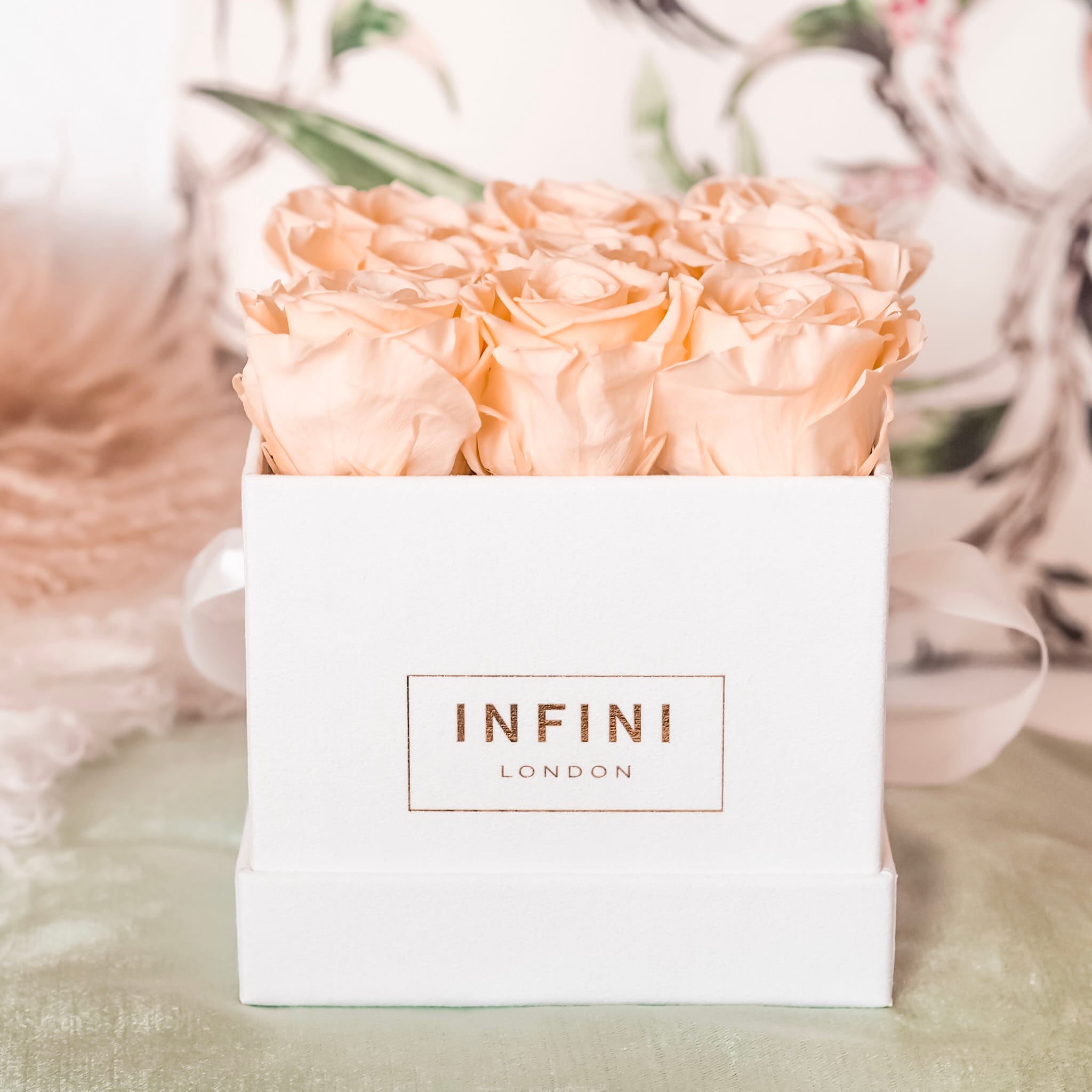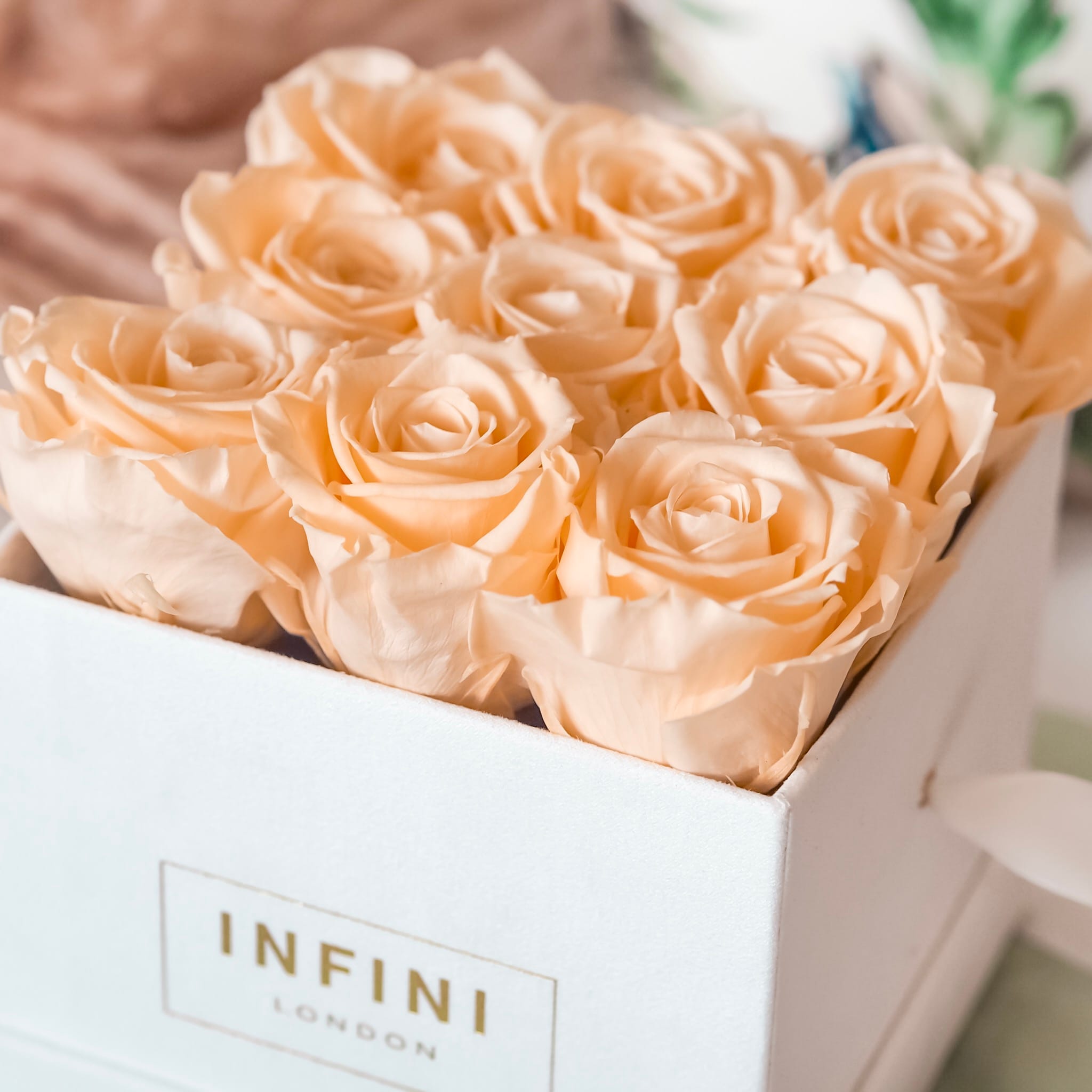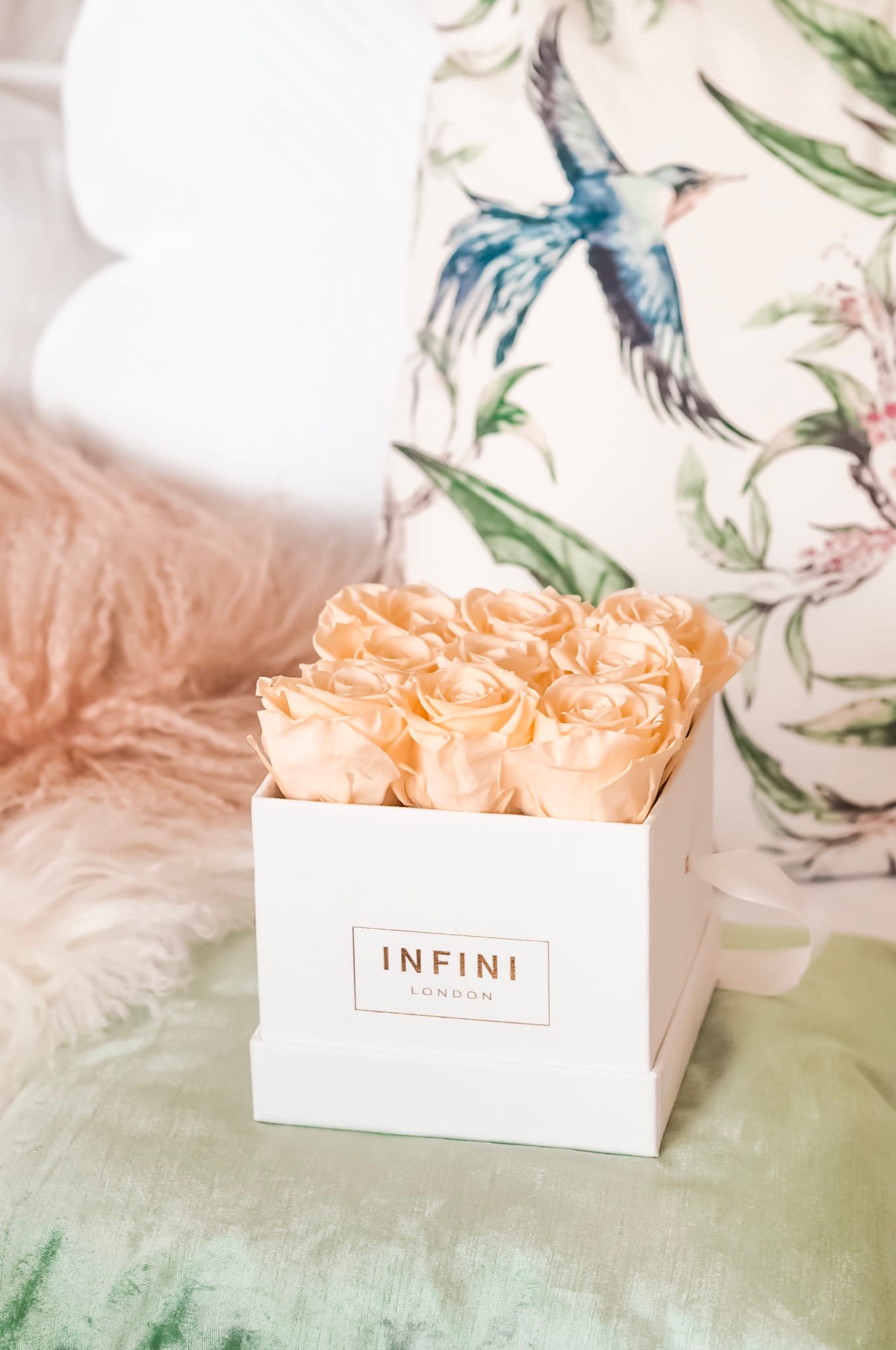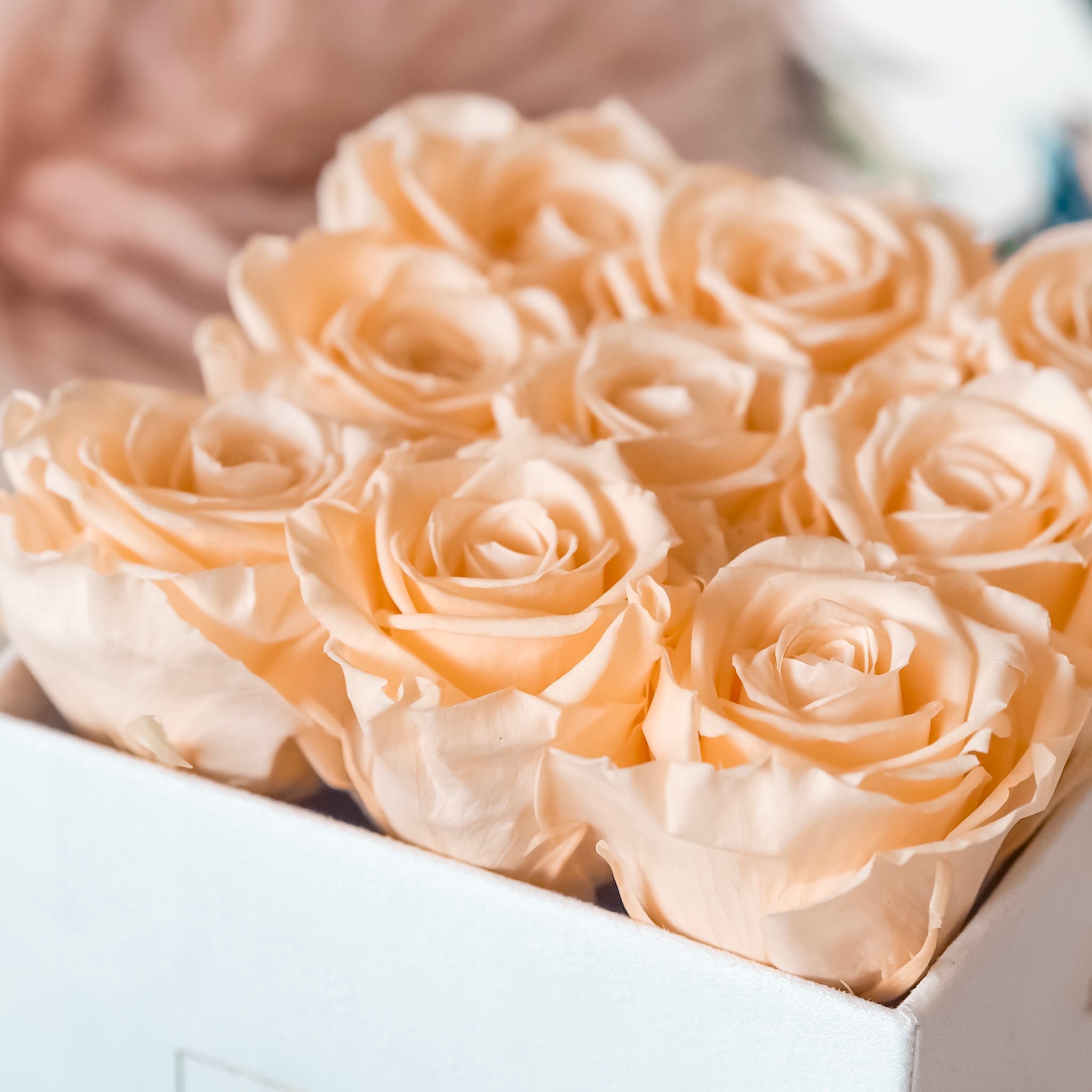 No your eyes are not deceiving you! Today I'm talking about some pretty special blooms from Infini London – roses that actually last a year!! I actually remember seeing these gorgeous roses on instagram last year and immediately sent a pic to my bestie titled "what.is.this.magic?!!" Gem you remember haha? Fast forward a year and look what arrived on my desk! To say I'm excited to share these is an understatement. Like any blogger I love a good flower but oh.my.goodness we all know as pretty as they are (and – ahem – expensive) they just don't last long enough…for the 10 million photos I want to feature them in (lol). Enter these beauties that last A WHOLE YEAR.
ARE THEY REAL ROSES?
YES. Every single bloom is grown and handpicked from their very own flower farm in South America.
HOW DO INFINI ROSES LAST A WHOLE YEAR?
Every rose is picked at its most perfect state and treated with a special eco friendly solution which allows them to transfer into long lasting roses that maintain their freshness and structure. The outcome is beautiful roses that last at least a year if cared for properly.
HOW DO I LOOK AFTER THEM?
That's easy. All you have to do is follow these simple steps:
Never water them
Avoid direct exposure to sunlight, excessive heat or moisture
If dust collects then just remove it lightly with a duster
Keep them in their beautiful box – they like it in there!
I can't even tell you how excited I am to have these in my life. I actually wanted to buy them when the hype was first around them but I was worried that they wouldn't actually last and would be a waste of money. However, I've had them for around a month now and they honestly look the exact same. If you love roses and have been thinking about these ones then trust me they are the real deal! Apologies in advance because you may or may not see these featured in every single instagram post from now on – #soz.
Anyway I hope you enjoyed this post today – they were just too pretty not to share with you!
The Infini Roses I have are the Classic Cube White Suede box and the shade is 'creamy peach'. If you're interested you can check them out here.
What's everyone's favourite flower? Do you love buying them fresh or would you buy these ones that last a year? I'm so intrigued to hear what everyone thinks!
Lots of love,
Chantelle xx
This is not a sponsored post however the items were sent to me free of charge.
All thoughts, opinions and creative direction is my own.
Affiliate links may be used.