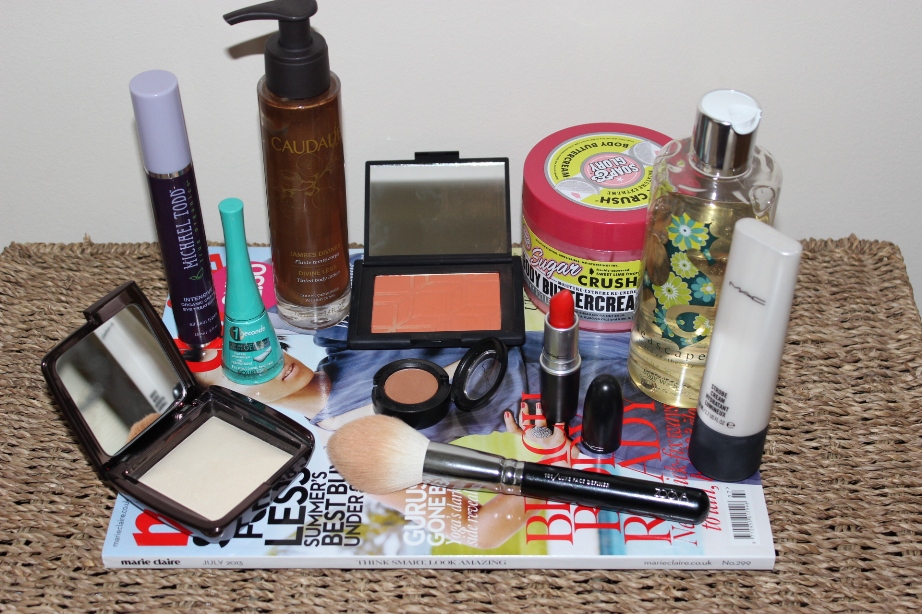 Firstly, let me just apologise for the lateness of this post. I did plan to get it up last week but things ended up getting in the way, you know what it's like! Nonetheless, I did enjoy using some really great products in July so I thought I'd share them with you so let's get cracking…
1) Hourglass Ambient Lighting Powder £38: For those of you who read my last post (here) it will be no surprise to you that this is in my favourites! I think, hands down this has to be my ultimate favourite of the month. I won't ramble on about this product because I could be here all day but if you want to know more you should check out my last post 🙂
2) Michael Todd Intensive Organic Eye Cream (around £25): You might remember seeing this in one of my latest haul posts (here). This eye cream has definitely met all of my expectations…a great night cream with a heavier application, and with a lighter application, this is an amazing day wear eye cream for under makeup…not an under-eye crease or fine line in sight when I use this! Helps reduce puffiness, fine lines and under-eye circles (even has a massage tip applicator to break up puffiness). Yes, yes, YES! A new staple beauty product in my collection.
4) Caudalie Divine Legs £26: This is my new favourite instant/wash off self tan. Unlike Rimmel Sun Shimmer (one that will always hold a special place in my heart), it is really difficult to go wrong with this and I find it to be streak proof when applied with my hands. Another plus, is that it washes off hands so easily and doesn't leave any orange stains (ahem Rimmel Sun Shimmer). One last thing…the colour is gorgeous, the perfect beautiful natural looking tan which looks great over the top of a weekly self tan to even it out, or a healthy dose slapped straight onto my pasty white pins 🙂
5) Pierre Hardy for Nars Blush in Rotunde £30: I just love a peachy/orange blush. Up close, this blush looks rather scary, but applied with a verrrrry light hand, this gives a gorgeous orangey/peach flush to the cheeks. Not one for everyone, but I just love this – especially with a tan. One thing to note is that this is very similar to Nars Gina which I also have been loving recently. Despite Rotunde having a pressing of gold shimmer in Pierre Hardy's avant-garde print, this is only a light pressing which after a few applications disappears…I know, a bit of a bummer. The colour is still gorgeous though, and despite being very similar to Gina, is a tad more pigmented (will do a comparison soon). If you like this though, it is limited edition, so get yourself to a Nars counter sharpish! I believe Space NK still have some left online.
7) Seascape Island Apothecary Uplift Body wash £16*: Another shower time favourite, this body wash is perfect for summer with a lemon/lime/citrus scent that wakes me up first thing in the morning. I feel like whenever I use this I feel so rejuvenated and fresh. Combined with an after shower dose of the S&G sugar crush body butter…mmmm this is a match made in heaven! It is expensive at £16 but you get a 300ml bottle plus the smell is just gorgeous!
8) Mac Strobe Cream £23.50: This stuff has been one of my summer saviours in terms of giving me a glowy/dewy complexion. I have been loving mixing this with some of my heavier foundations to give just the perfect summer coverage.
9) Mac Lady Danger lipstick £15: The perfect red/orange matte shade for summer…great for a night out and with a natural makeup look, the perfect day time lippie. What more can I say!
10) Mac Eyeshadow in Texture £12.50: I feel like I have been forever searching for the perfect, soft/coppery/rusty under-eye eye shadow for every day wear and I finally found it.I love applying this under my bottom eye lid to give my eyes a bit of a pop.
11) Zoeva 101 Face Definer Brush (around £14): Last, but certainly not least, I am certainly in love a bit with this brush. Zoeva brushes are a bit of a new discovery of mines. I have heard some people talking about them but didn't think that they would be able to compete with my beloved Mac, Real Techniques and Sigma brushes but boy was I wrong! This brush is the perfect contour brush, with the densely packed, tapered bristles this makes contouring extremely easy and do all of the hard work for you. The price of these brushes is outstanding too, and great value for money! Look out for a post on the rest of my collection which I will be doing very soon 🙂
I hope you enjoyed reading about my July favourites, sorry again for the lateness of this post, I promise I will be more prompt with my August update!
When doing this type of post I try to keep it 'short n sweet' so that it's not too word heavy but if you have any questions about any of the products please just tweet me (I am always on twitter @girltartanscarf) or leave any questions in the comments box below and I will get back to you! 🙂
Are any of these products in your monthly favourites? Are you thinking about trying any of them out?