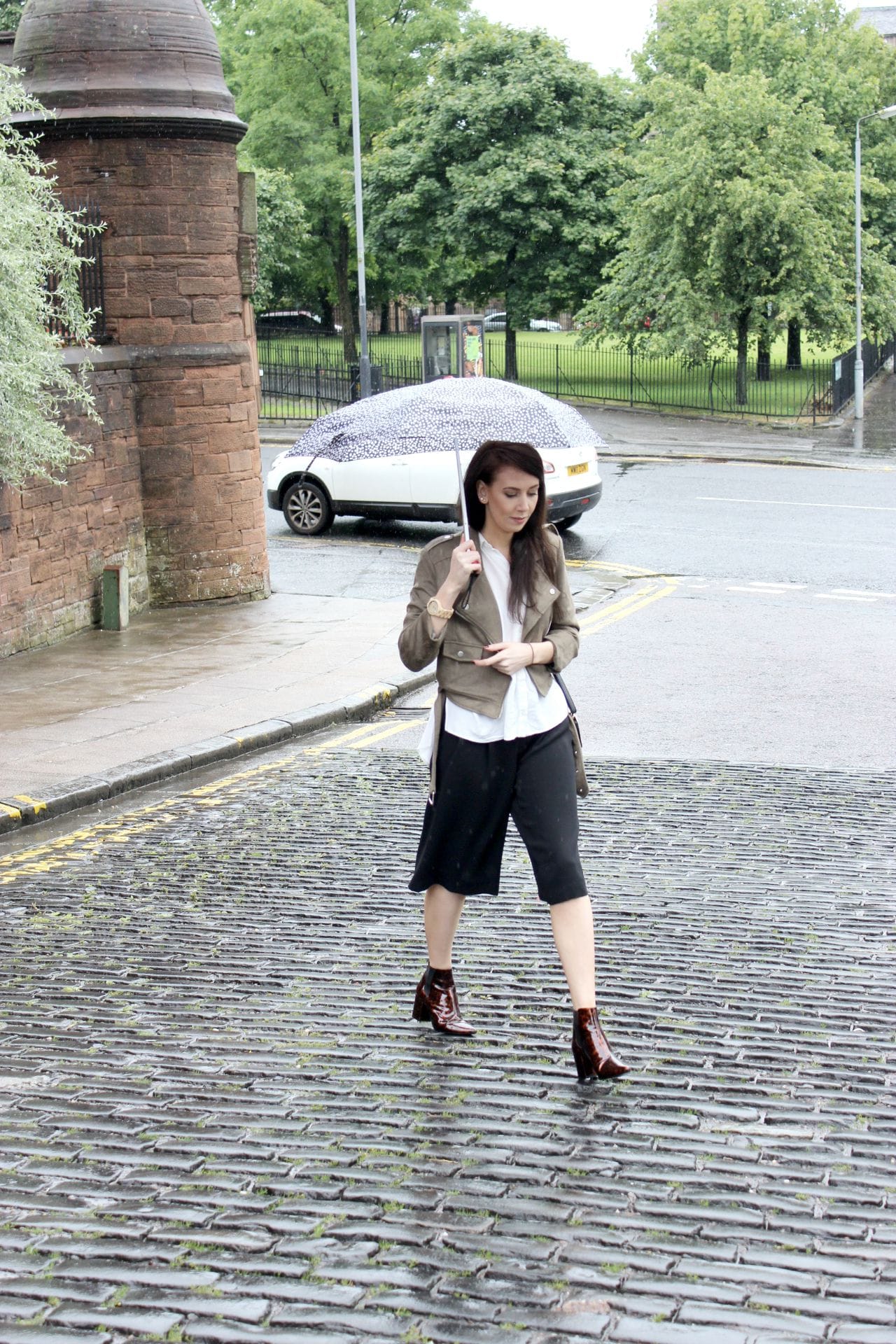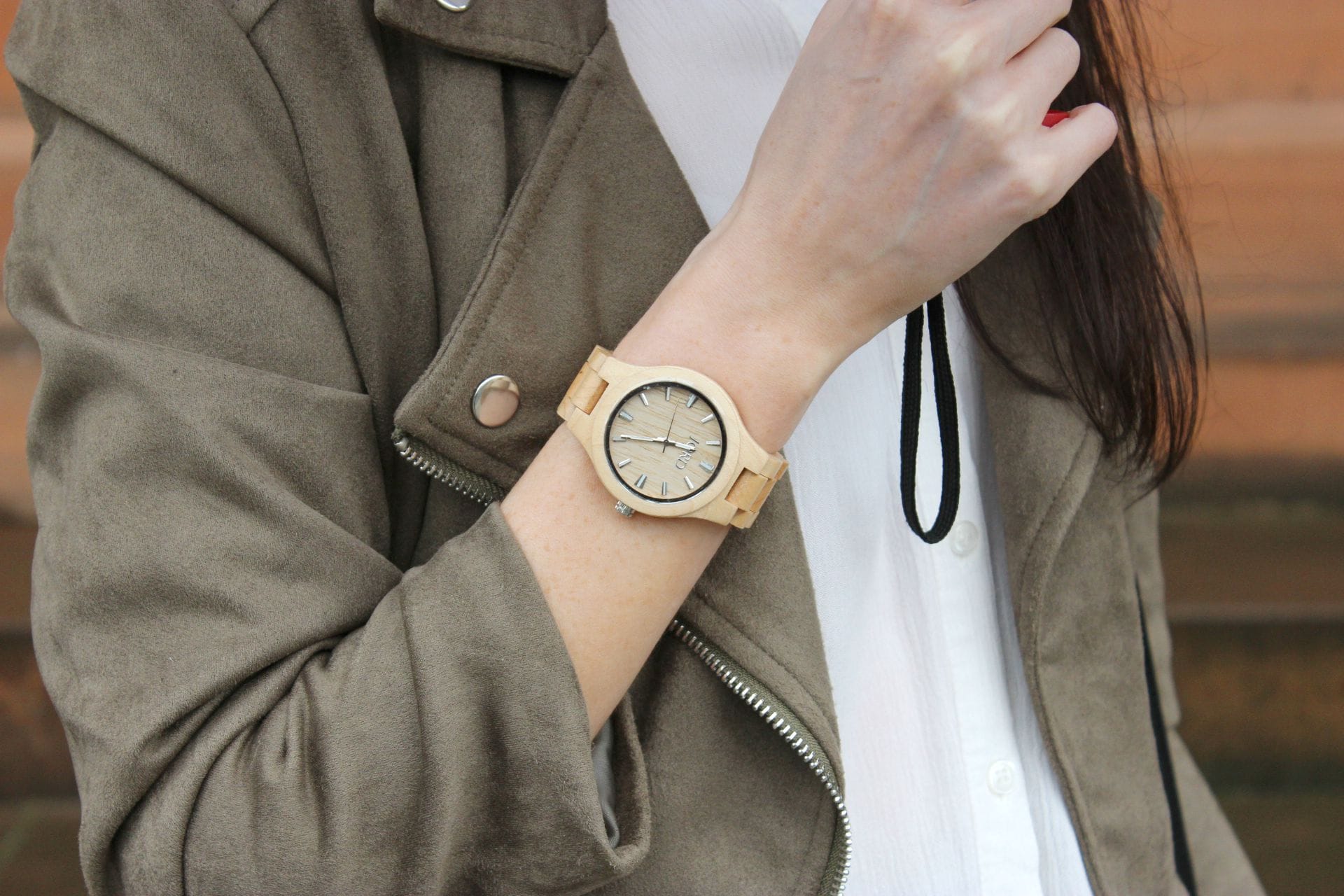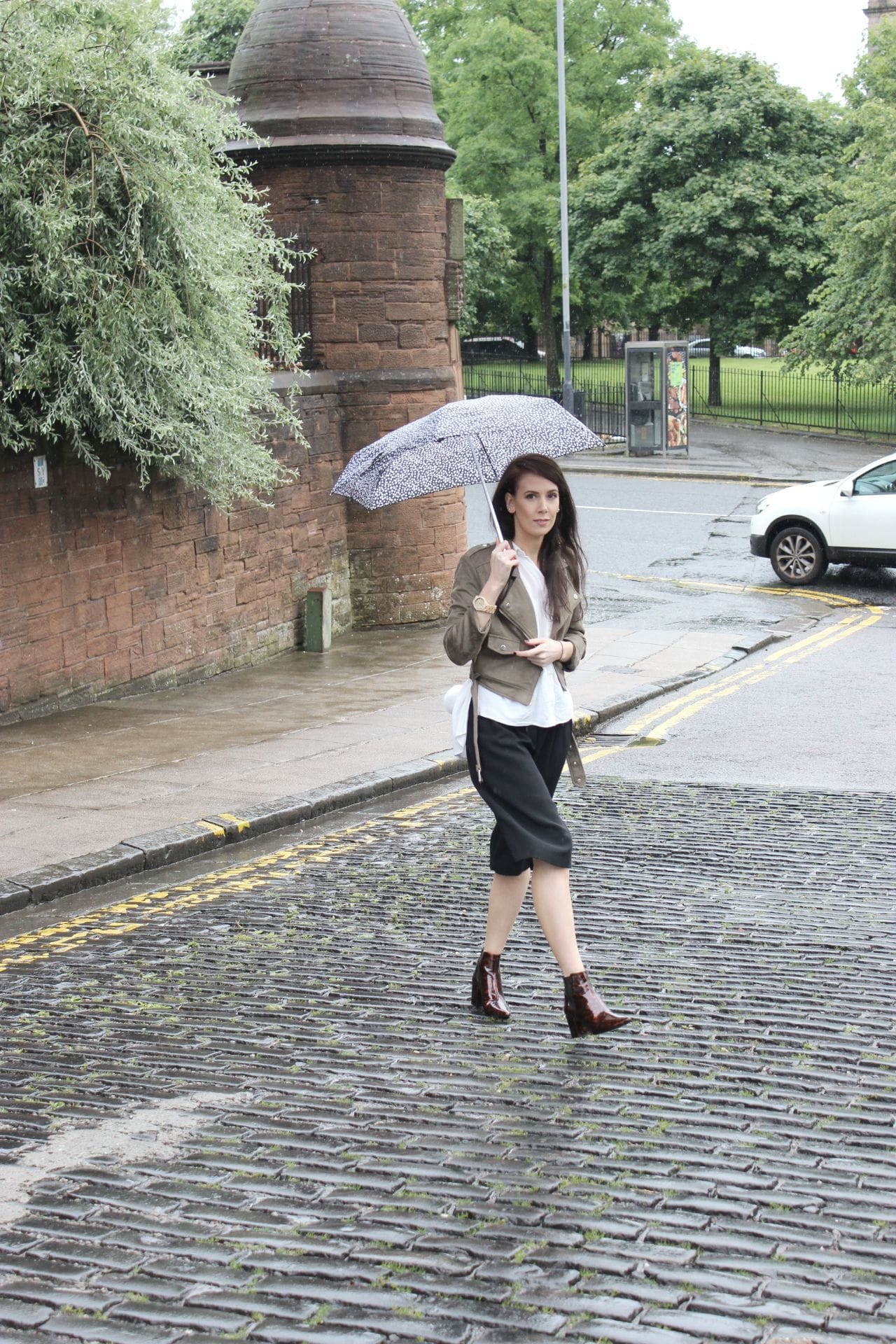 Missguided Khaki Suede Biker Jacket | Topshop Oversized White Shirt (similar) |
River Island Culottes | Yesstyle Bag | Zara Leopard Boots | *Jord Wood Watch
Sometimes you've gotta just roll with it in Glasgow and brave the weather with your brolly up…even if it doesn't coordinate with your outfit!
Culottes have been my saviour in this miserable weather we're experiencing just now – they cover enough leg to avoid 'funny looks' if there should be any unexpected downpours yet are floaty (*read* breathable) to still give a nod to Summer. Trust me, I've been that person in the shorts and sandals when it's started pouring rain and it isn't fun. I also love how they look great with either flats, sandals or these cute little Zara leopard print ankle boots – I still can't get over picking these up for the bargain price of £15.99 in the Zara sale! They're the perfect little boot for when it's a miserable day because the rain just slides right off them!
I've been loving the whole 'relaxed chic' look just now. Is that even a thing? It is now. I usually wouldn't wear an oversized top with floaty bottoms because having a small frame, I can sometimes look as though I'm drowning in material but paired with this Missguided khaki suede jacket it somehow just works. I think it's because the jacket is cropped so it just balances things out and gives a bit more shape to an otherwise shapeless outfit if that makes sense. I can't tell you how much love I have for this little jacket, it's my new favourite wardrobe staple. I've practically worn it every single day since I got it. I even picked it up in the mustard colour that's how obsessed I am with it and I'm not even sorry. It feels SO soft and I think it looks way more expensive than it actually is!
For accessories, I've been reaching for this Chloe Faye dupe practically every day so today was no different! The quality is fantastic considering the price and I am completely obsessed the little white pom pom I attached to it (another bargain find from eBay!) Today's post really is all about bargains eh?!
Lastly to complete the look I couldn't be without the latest addition to my jewellery stash – this beautiful *Jord Wooden Watch. Isn't she pretty?! Handcrafted from maple wood with gold and silver accent detailing it's hard not to love! If you've been a follower of my blog or youtube channel for a while now you'll know how much I love gold/rose gold jewellery so a wooden watch is completely new to me but I absolutely love it! I love the simplicity and androgynous feel to it, and just the whole idea behind it being 'natural'. I wasn't sure how it would look with my other jewellery but the gold/silver detailing on the face means it fits in nicely. I haven't been to any festivals this year (hello Scottish weather) but I can imagine this looking amazing with loads of festival inspired beaded bracelets stacked on top and some white denim cut offs. If you're looking for a new watch for yourself or as a gift I'd urge you to check out Jord's range of wooden watches. They have a wide selection for both men and women so you'll definitely find one you like! I have my eye on another with a rose gold face and crystal accents…someone hide my purse please!
Lots of love,
Chantelle xx
This is not a sponsored post, however Jord were kind enough to give me this watch
for my review. All opinions are 100% my own as always.