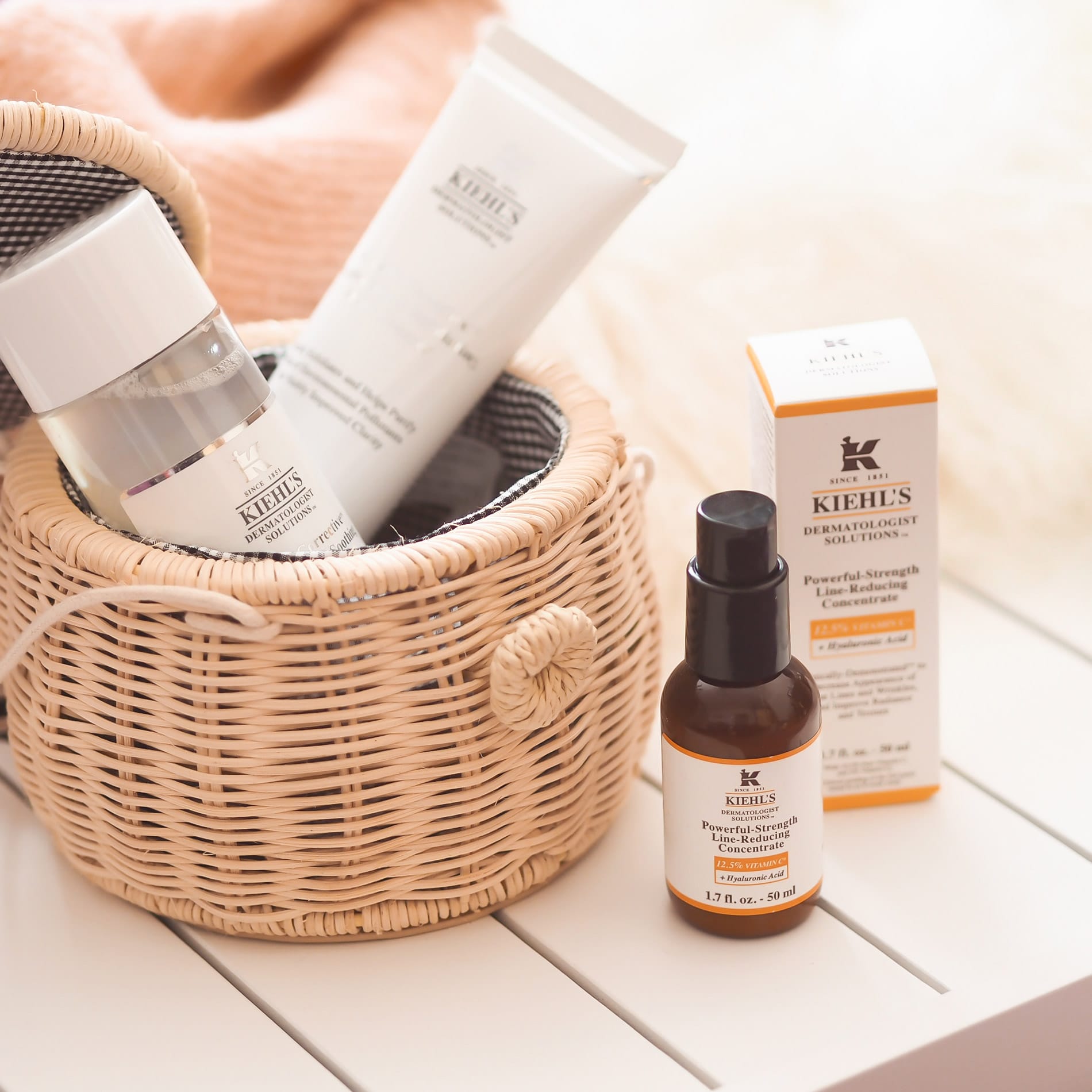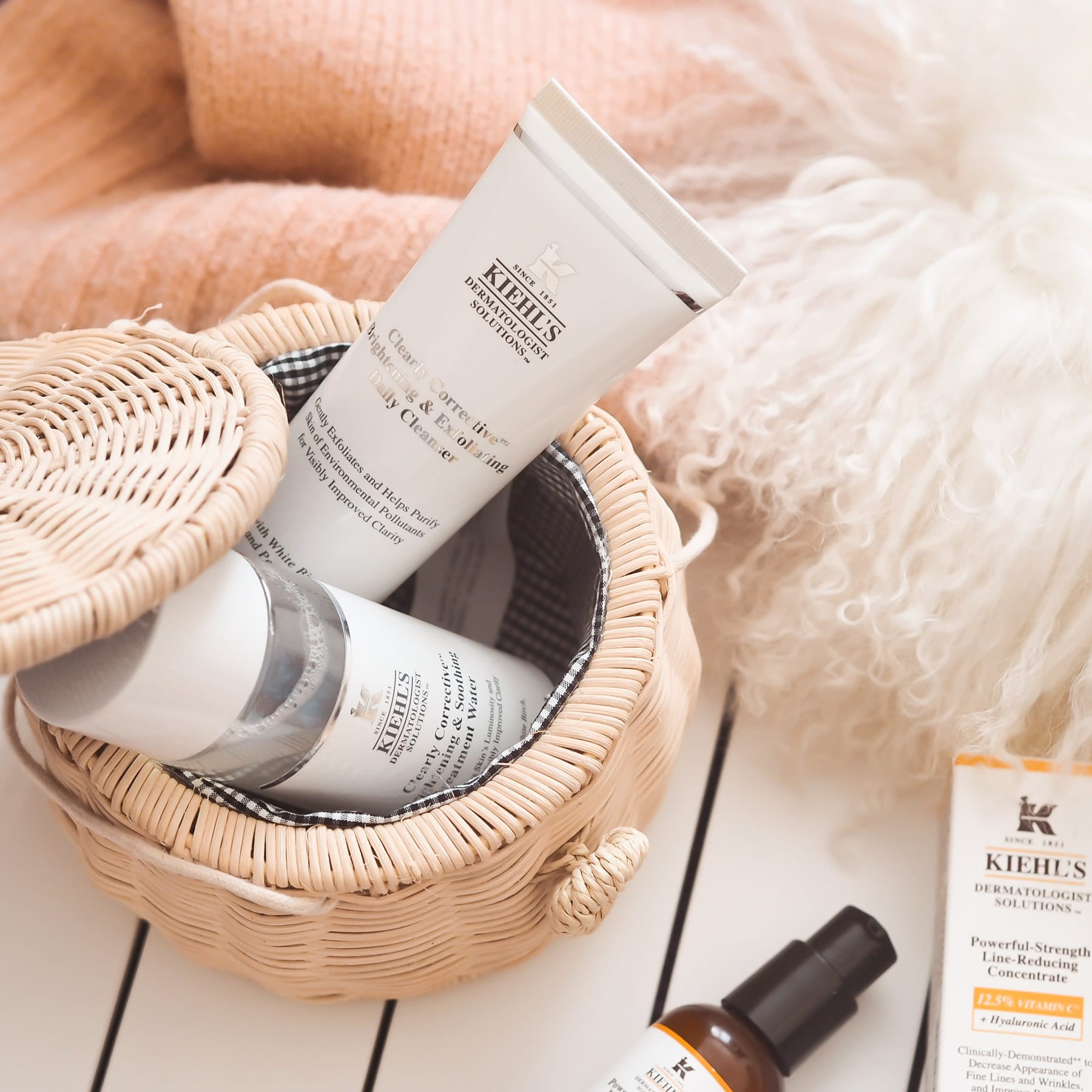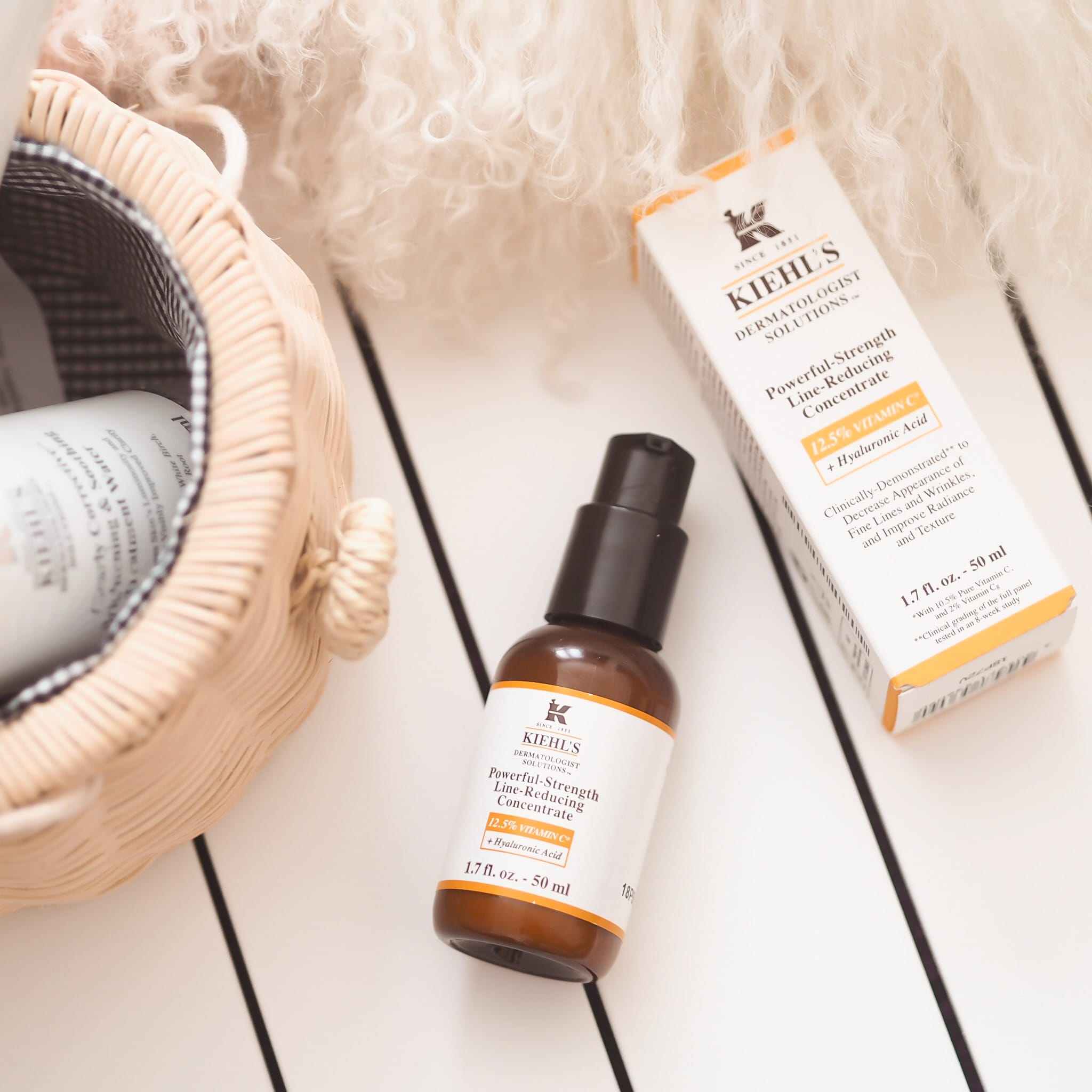 Kiehls is a brand I've loved for many years and always go back to. My skin just seems to love everything I try from them – the newest addition being the Powerful-Strength Line-Reducing Concentrate with 12.5% Vitamin C and Hyaluronic Acid (those two products that the beauty world go crazy for!) Also, fun fact…apparently one bottle of these is sold every 60 secs all over the world. Crazy eh?!
SO WHAT ACTUALLY IS IT?
The Powerful Strength Line Reducing Concentrate was developed 13 years ago and is a cult classic, revolutionary anti ageing serum.
WHAT'S DIFFERENT ABOUT THE NEW FORMULA?
In a nutshell, it's an upgrade of the previous amazing formula with more good stuff added – mainly Vitamin C and Hyaluronic Acid. Previously, the formula had 10.5% pure stabilized Vitamin C (to address dark spots, dullness and texture), whereas now it has included a further 2% Cg (ascorbyl glucoside) which is another Vitamin C derivative that targets fine lines.
The other added ingredient, Hyaluronic Acid is a very much welcomed addition as it helps to boost the skins moisture content hence plumping up the skin over time. The addition of this moisture booster also makes the formula feel slightly different on the skin as it now has a creamier texture whereas before it was a bit more matte. I love this as it makes it even easier to apply before moisturiser. Apparently this upgraded formula is Kiehls largest formula revamp in 166 years. I KNOW!
THE LOWDOWN ON THE MAIN INGREDIENTS…
(Taken from Kiehls website)
Vitamin C (L-Ascorbic Acid) – Known for its affinity with skin and its powerful ability to improve the appearance of skin aging.
Fragmented Hyaluronic Acid – A form of Hyaluronic acid with a lower molecular weight and size is able to penetrate deeply and fill water reserves in skin.
Glycerin – Plant-based Glycerin: A renowned skincare ingredient that works as a moisture magnet and pulls essential moisture into skin.
WHO IS IT FOR?
Anyone wanting to reverse the signs of ageing, i.e. all of us, non? If you suffer from dark spots, pigmentation, fine lines, dehydration, skin texture issues, dullness issues – this is the one! However that being said, if I could also have told my younger 21 year old self to start using this earlier back in the day I would have, because I'm all about the preventative measures! So I really would recommend this to everyone of all ages who have any of the above skin issues.
HOW DOES IT APPLY?
I've tried a couple of Vitamin C products in the past and I must say, the texture of them is one to get used to. I think this might be due to the fact that Vitamin C is quite difficult to put into a product and for it to remain effective. The result of this is usually quite a gritty texture which takes a while to sink into the skin. However, with the new formula of this serum I find that it applies so nicely. It does give a slight warming, tingling sensation but it's gentle enough for even the most sensitive of skins (says the experts) and since I've been using it for a while now I hardly even notice it!
HOW DO I USE IT?
I use mines twice daily – after cleansing and toning, then apply my moisturiser over top. I've been trialling out another two 'new to me' products too from Kiehls – The Clearly Corrective Brightening and Exfoliating Daily Cleanser and the Clearly Corrective Brightening and Soothing Treatment Water. Both of which I've been loving so stay tuned for my thoughts on those which will be coming soon.
HOW MUCH IS IT?
The serum comes in 3 sizes (all in a little brown plastic pump bottle – perfect for travelling) – 50ml – £49.50; 75ml – £62; and 100ml – £95 and can be purchased from Kiehls online here.
SHOP THE POST:
I'd love to hear your thoughts on whether you've tried this! If you have, why not share a little bit about your skin in the comments below so we can all help each other out! 🙂
Remember to follow me on Bloglovin and subscribe to my youtube channel so that you never miss a blog post/video!
Lots of love,
Chantelle xx
The items featured in this post were gifted.
All thoughts, opinions and creative direction are my own.
Affiliate links may be used.
PIN ME!