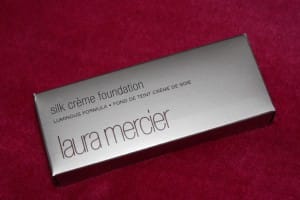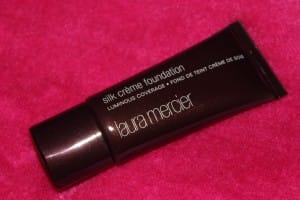 Happy Sunday everyone! Today, like most Sundays, I am taking it easy doing some blogging, pampering and in general just being a bit lazy and decided it was about time to give you my thoughts on the much coveted beauty product that is Laura Mercier Silk Creme Foundation. There has been a lot of hype around this foundation over the blogosphere for some time now and I had been wanting to try it for so long but with it being one of the pricier foundations on my hit list I had been putting it off, however I eventually got my grubby paws on it a couple of months ago and here's what I think of it…
What Laura Mercier says
: "
An innovative full coverage foundation that makes the skin look luminous and rich. By combining a special collection of silk proteins, tea extracts and treated mica, Laura has created a luxurious formula that leaves skin hydrated and protected with a radiant, timeless glow".
Despite being a medium to full coverage foundation, the formula is surprisingly light and mousse-like. It's unlike any other foundation I've tried and because it is super pigmented, the smallest amount covers my whole face. I was a bit dubious when reading reviews that this would be the case but it blends amazingly which is great because I can see it lasting me quite a while. The coverage is great, evening out skin tone and covering blemishes and dark circles incredibly well. I find the best way to apply this foundation is using my Real Techniques Buffing Brush because this helps spread the foundation evenly and helps create a flawless/airbrushed base. The best thing about this foundation, I'd have to say, is the glowy look I get whenever I use it. It's a different type of 'glow' from Nars Sheer glow foundation (review
here
) because it is more 'dewy' (if that makes sense), and leaves my skin looking and feeling healthy and fresh.
The packaging is great. I love how it is so simple and practical, not too heavy or clumpy to carry around in your makeup bag but also still quite sophisticated. I also love how there isn't any waste with this product, and the squeezable tube means that you get a lot of control over how much you use and can get every last drop out before having to re-stock (and trust me, I will definitely be squeezing every last little remnant out before re-buying!)
The one thing I would say about this is if you have quite oily skin this might not be the foundation for you because it does leave my t-zone a little more oilier than usual about 5 hours into wearing it but it's nothing a bit of powder can't sort out for me, and to be honest it's a price I'm willing to pay because the foundation is so beautiful (FYI, I have normal skin with an oily t-zone).
The only other downside is that this foundation only comes in 10 different shades. I was fortunate in that I managed to get the perfect match for my skin – Cashew Beige, which I think is the second from darkest shade they have so you might not get your perfect match.
All in all I am so glad I bit the bullet and tried this foundation because it really is a lovely foundation and has reminded me why I was head over heels for so long with the Laura Mercier tinted moisturiser many moons ago!
If you would like to see how this looks on, I wore this on a little trip to Edinburgh recently which you can see
here
.
Thank you for taking the time to read my post, I really do appreciate all comments that you leave me and I love reading them! 🙂
Have you tried the Laura Mercier Silk Creme Foundation? What do you think of it?