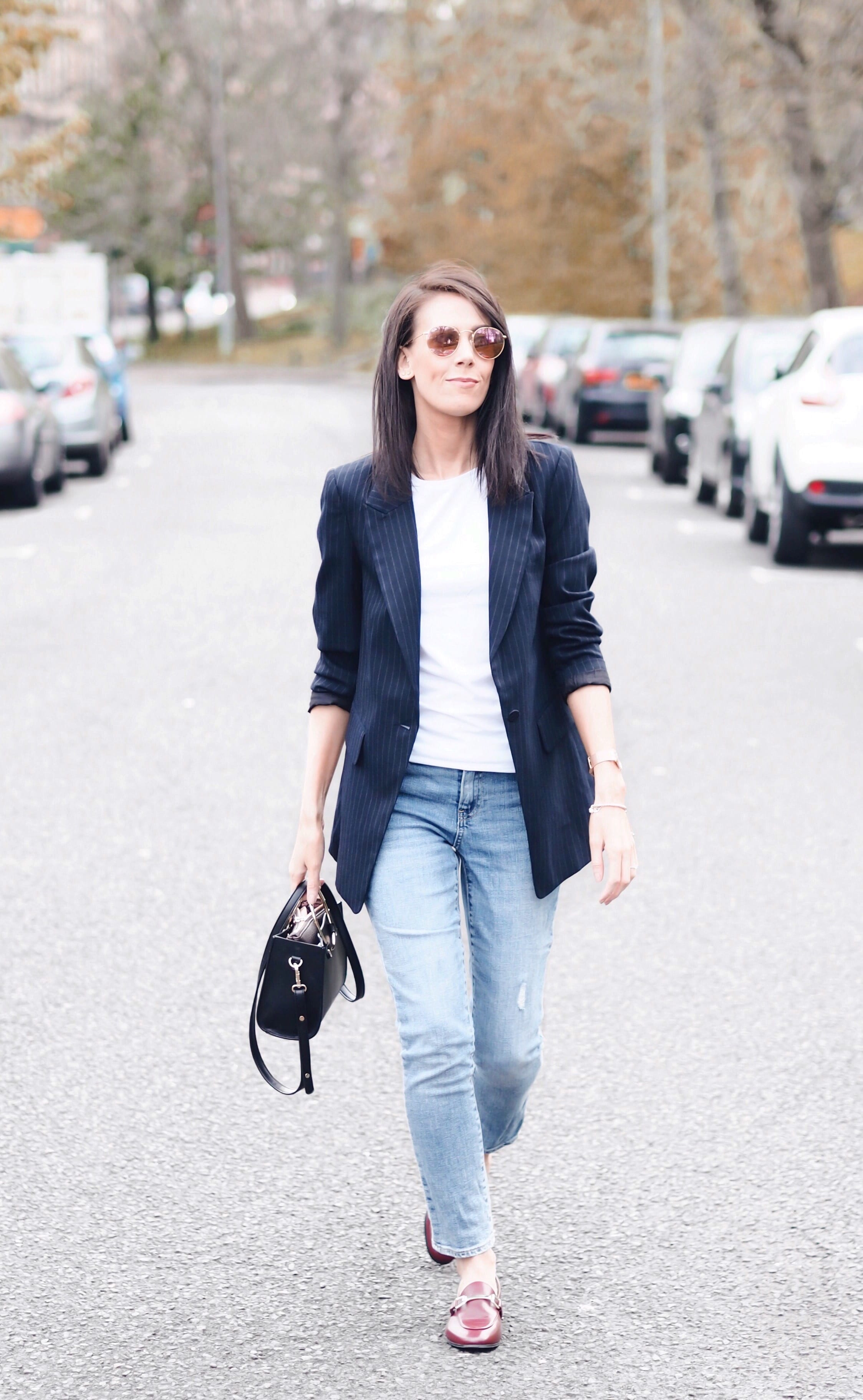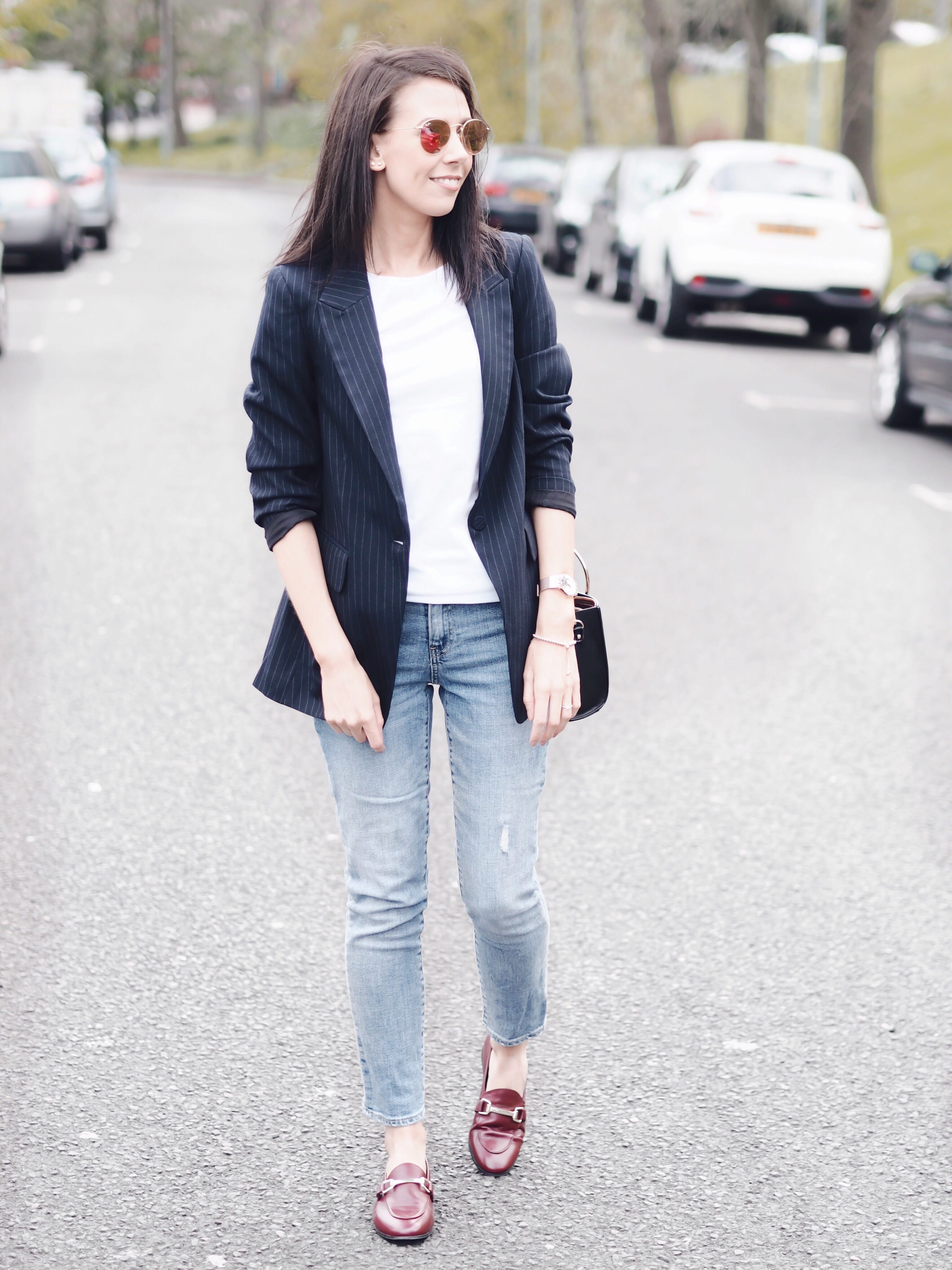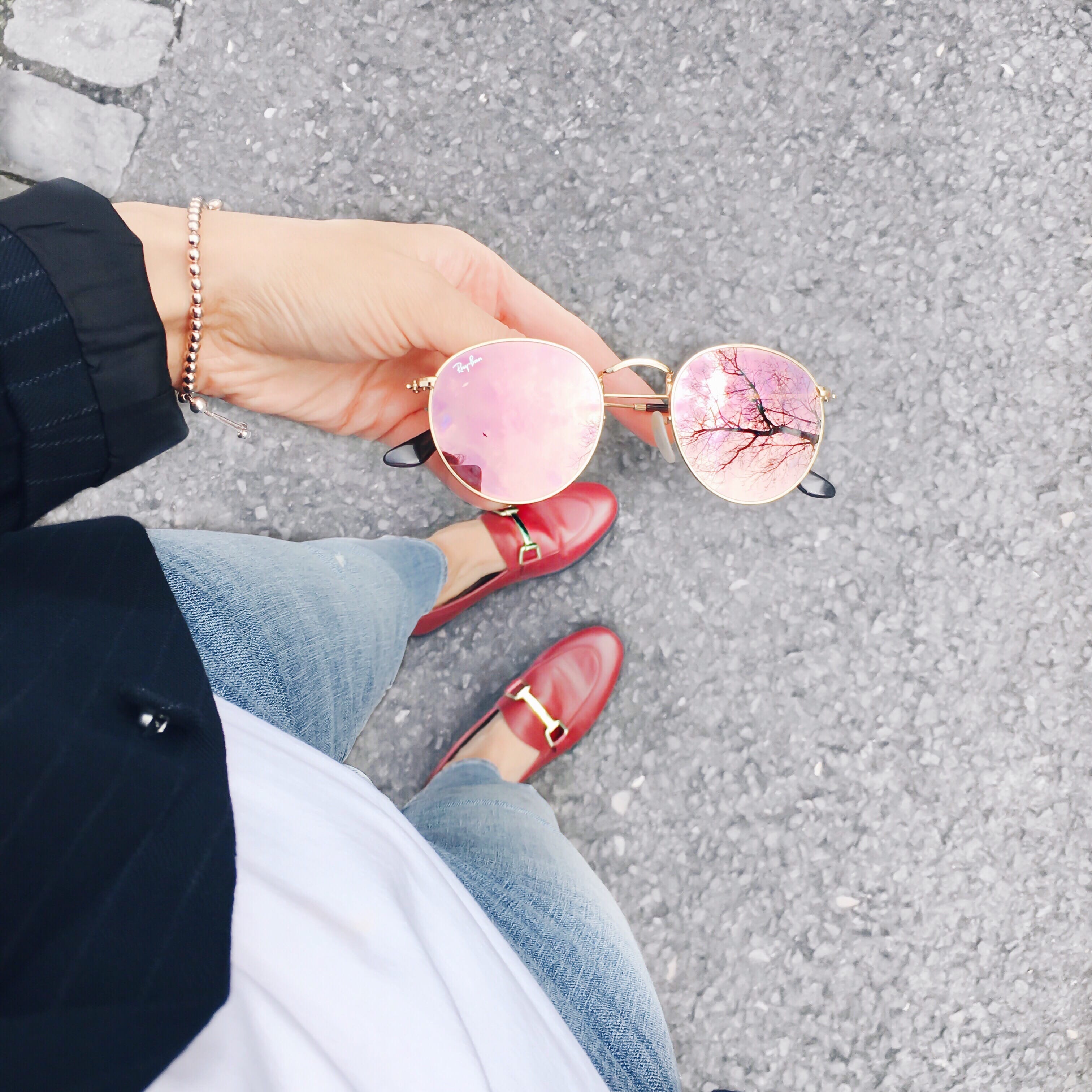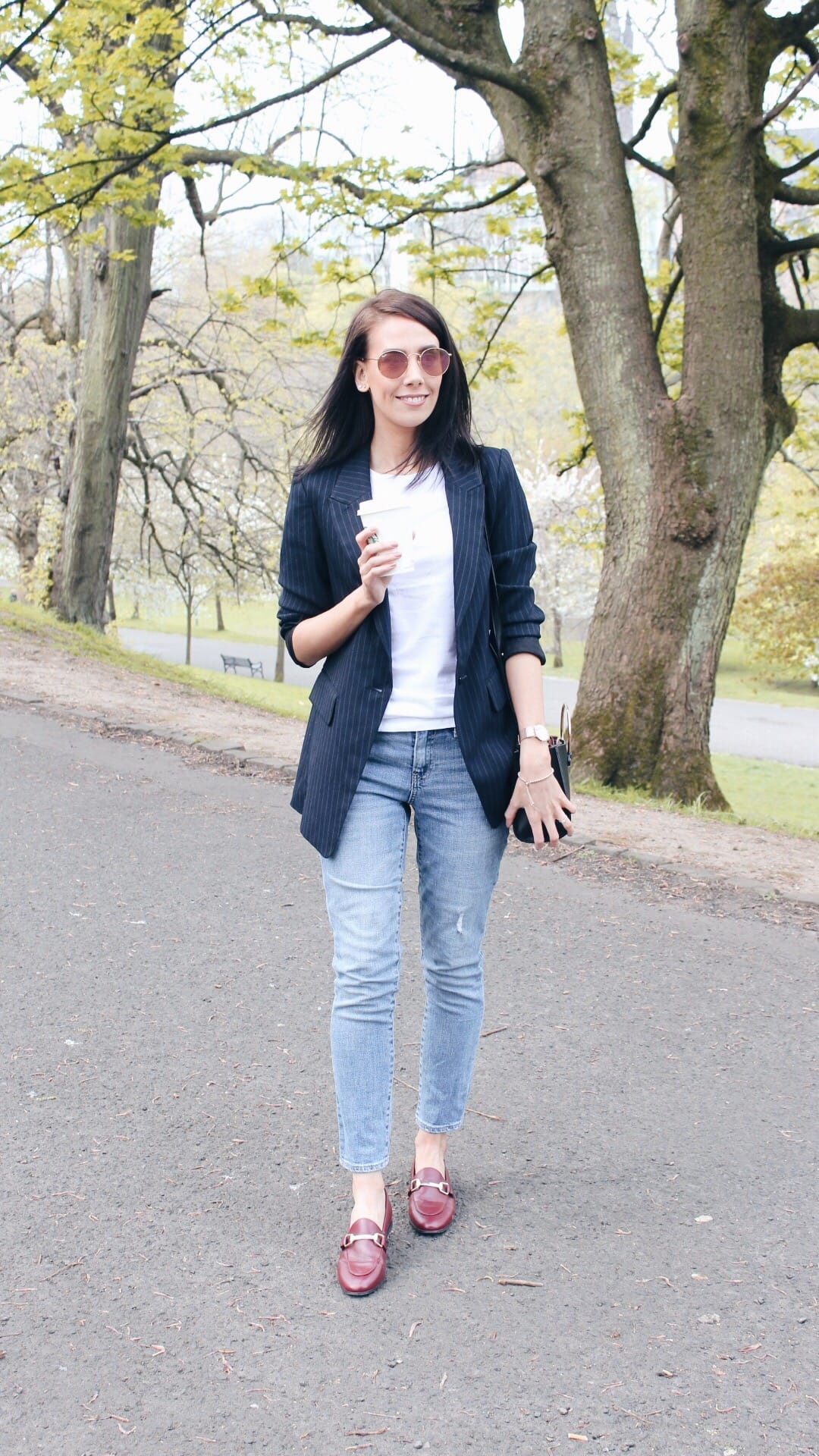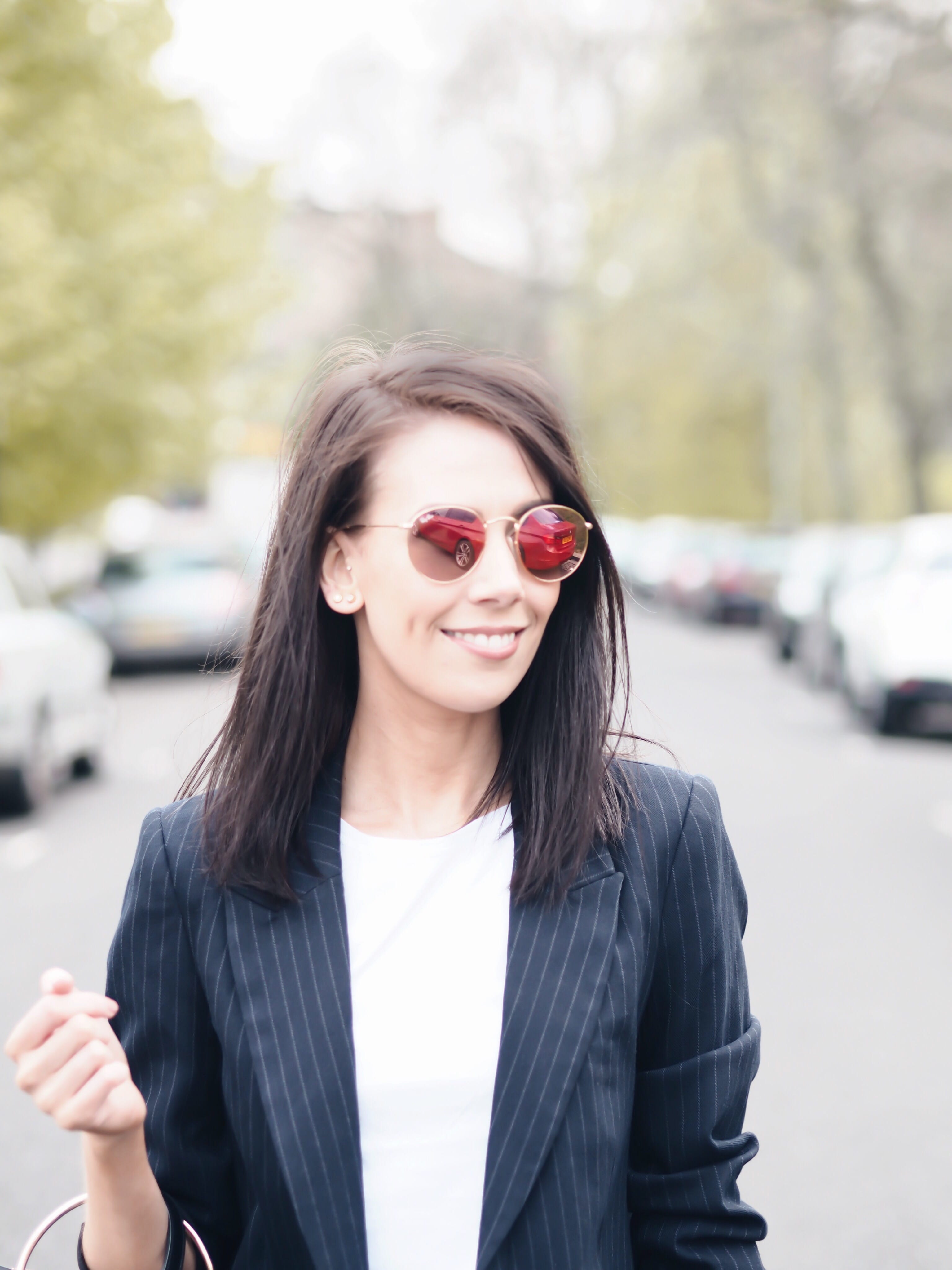 Aaah smart casual. How I used to hate that phrase! What does it actually mean?! Well…perhaps we'll never know but today I'm giving you my take on smart casual for Spring. I've been gravitating towards this look practically most days lately. Comfy – check. Smart – check. Casual, but not too casual – double check. It's the perfect outfit for when I need to run errands but still want to look put together and when I have a meeting but don't want to look too formal – the perfect 'in between'!
THE BLAZER
I feel like the blazer is a key component in my smart casual looks. Let's be honest, if I wasn't wearing this my outfit would comprise of jeans and a t-shirt! You see what it does though? It just pulls everything together and makes it look like I made a bit of an effort when in actual fact I didn't really! Here I'm wearing my favourite H&M navy pinstripe blazer. I adore the fit of this. It's longline and not overly structured which makes it really comfy to wear. Unfortunately the navy is sold out but they have the same one in grey here which is amazing…this is next on my list!
THE GIRLFRIEND JEANS
In order to nail the smart casual look I decided to invest in some good jeans. These Gap girlfriend jeans are the perfect balance between skinny and boyfriend cut – they're hugging in all the right places but baggy enough so that you don't feel restricted in any way.
THE SMALL (BUT PRACTICAL) BAG
Let's be real, as a blogger I carry a LOT of stuff in my bag. In addition to all the usual necessities throw in a camera, spare battery and an extra lens or two and you have all my daily essentials so as much as I love a small bag…the small but practical ones are the way forward for me! This little ring bag from Forever 21 is the perfect size. You can find a similar one from Mango here.
THE LOAFERS
Ahhh the loafer…how I love that you've made a return! If there's one thing I love it's looking 'put together' but comfortable and loafers really do tick all the boxes! Not only are they smart and give a chic 'girl about town' vibe but they are super comfy to wear and practical at the same time! Whatsmore is they look amazing with practically everything! I've had my eye on the Gucci ones for ages but I really can'y justify it when these ones are identical and a fraction of the price from Topshop – here.
THE SUNGLASSES
Last but certainly not least we have the star of the show…these beautiful rose gold mirror Ray Ban round sunglasses. Ahhhh I'm in love! As someone with a very small face I've finally found the perfect sunglasses – the round shape suits my face shape so well and they're also available in 2 different frame sizes from SmartBuyGlasses which is a huge bonus! I already have these sunglasses in the standard green lens but I really could not resist the pink mirror. They're the perfect accessory to add a little fun to my smart casual look and I'm utterly obsessed! Expect to see these popping up in a lot more outfit posts (sorrynotsorry)!
And there you have it…my current go to smart casual outfit which I think is perfect for those Spring days when you want to look a little bit put together but still comfy at the same time!
H&M navy pinstripe blazer (similar) | GAP Girlfriend jeans | Ray Ban pink mirror sunglasses | Topshop White Tee |
Forever 21 ring bag (similar) | Topshop Red Kendall Loafers
SHOP THE LOOK:
What's your favourite go to smart/casual look?
Remember to follow me on Bloglovin and subscribe to my youtube channel so that you never miss a blog post/video!
Lots of love,
Chantelle xx