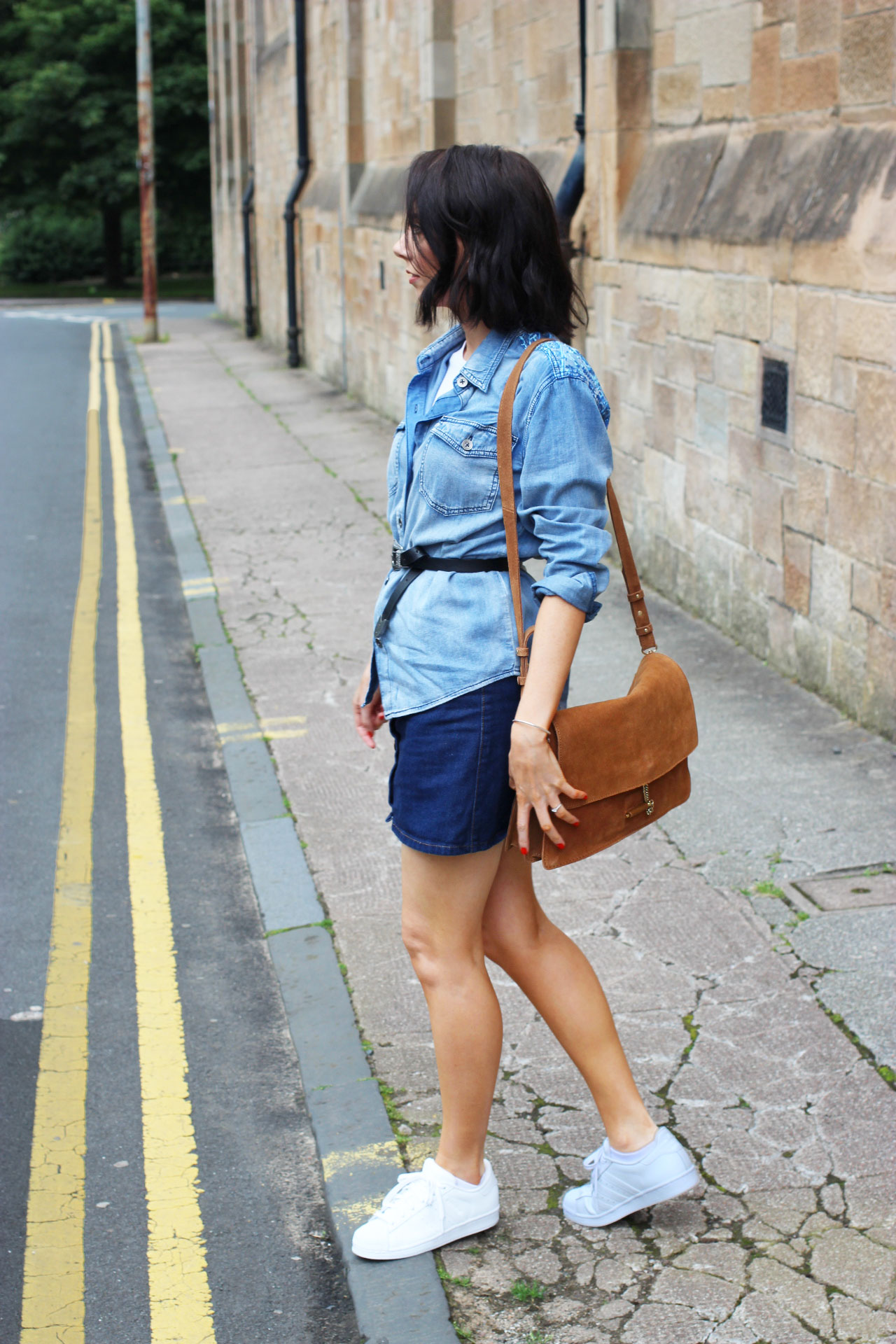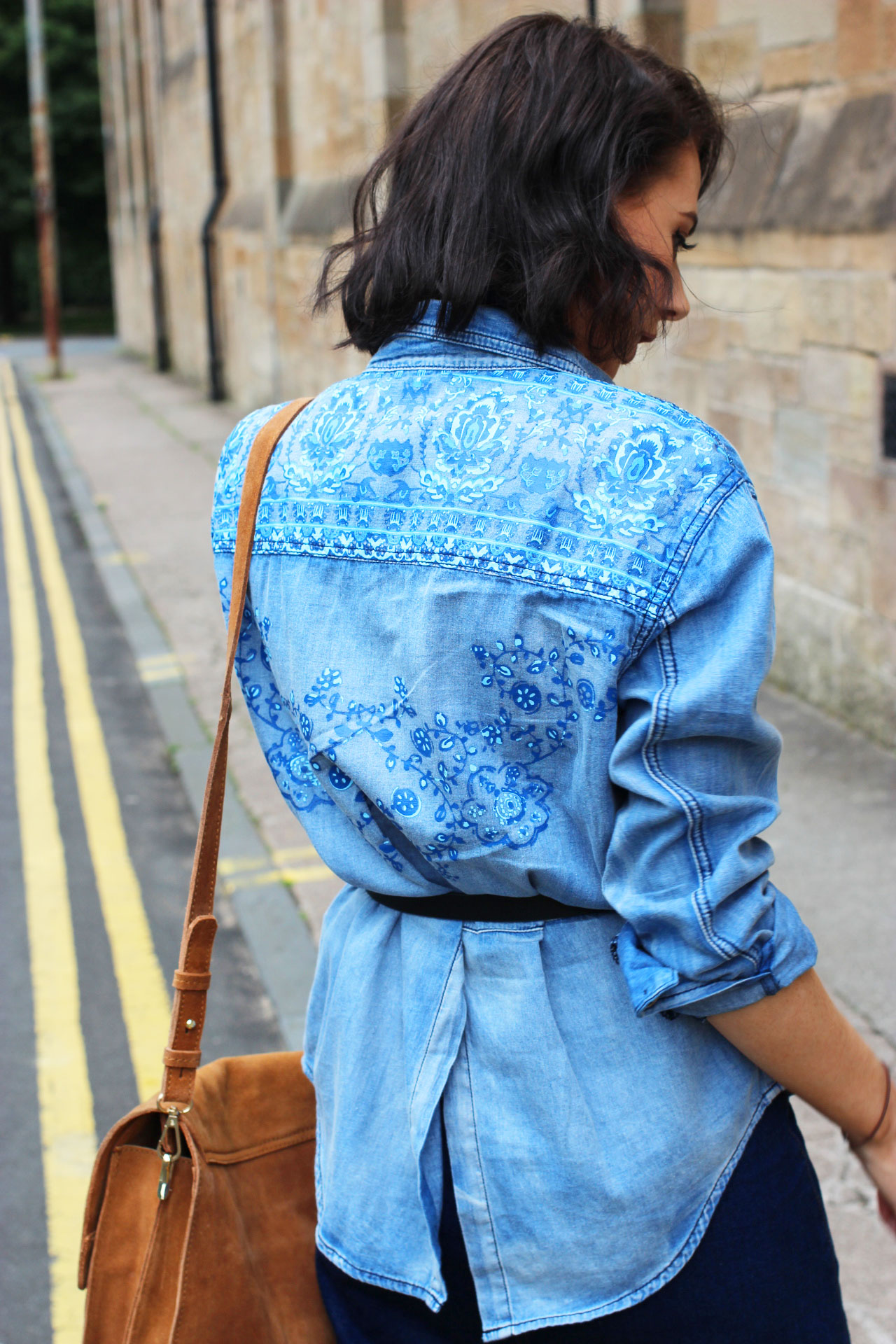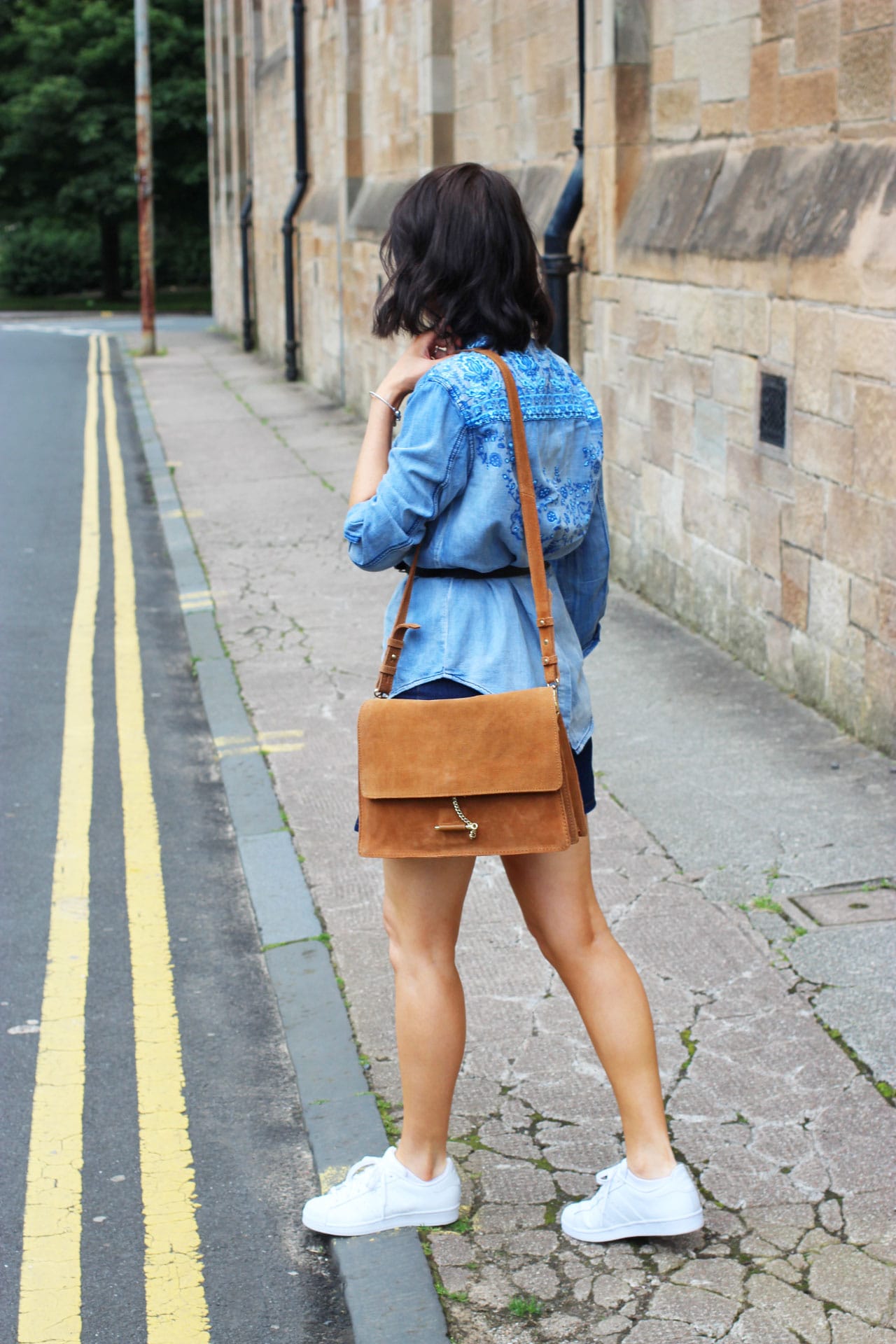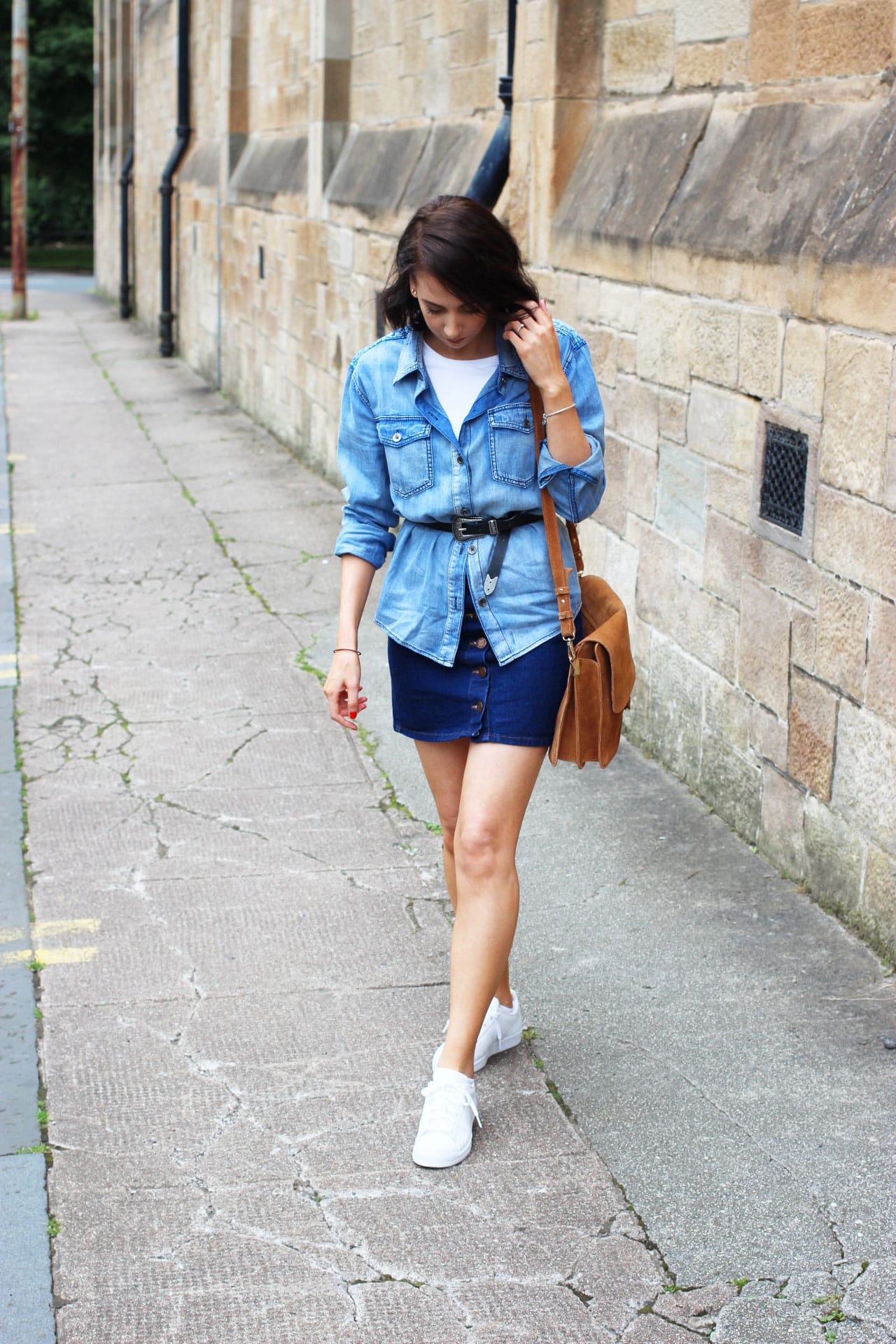 JOY Western Denim Shirt* |Miss Selfridge Denim Skirt (similar) | New Look White Tee | Topshop Western Buckle Belt | Adidas Superstars (junior and normal) | Tan Suede Mango Bag (similar) | Pandora Bracelet
Ok, so I'm thinking this post should really be titled 'how to dress for Summer in Scotland'. Seriously, where is Summer?! I must admit I've been finding it a real struggle to dress for the weather the past few weeks. One day its sunny, the next torrential rain…then more torrential rain…oh and just a little bit more for good measure. In between the downpours, it's very clammy (I hate that word), and even when the rain has cleared up it's not particularly 'nice' in the sense that you want to throw on a sundress and some sandals. Enter my new favourite outfit…a denim mini skirt, light denim shirt and some trainers. I've been gravitating towards this look quite a lot. It's such an easy outfit to throw on but I still think it looks quite cute and put together even although it's probably one of the comfiest outfits ever!
The thing that brings this whole look together is this gorgeous Mink Pink Rodeo shirt* from JOY. Without this, it's essentially just a denim skirt and white tee. I absolutely love love love this shirt. It's still a classic but the western print and little split at the back just make it that bit more unique. I've been wearing it so much with white jeans too and it's the perfect light denim fabric for a cover up piece.
Next onto the shoes…yes your eyes aren't deceiving you, that is in fact me…in trainers. I won't lie, the minute I slipped my feet into these babies the angels sang. I must admit, when Adidas Superstars made a comeback I cringed a bit inside…it took me back to third year in school and my white and red pair that I begged my mum to buy for me. Oh and that time I wore them when I dressed up as Sporty Spice for halloween – yes I did wear a "spice up your life t-shirt". Ahhh the memories. You can see how I was a bit put off can't you? However, I must say I took the plunge and I am not regretting it one bit! I was eyeing up the white/black stripe ones but I ended up settling for all white and I'm so glad I did because they match with absolutely everything! Just a little note to my small feet ladies…save yourself some dollar and get the junior version like me – they're the exact same and half the price if you're a size 5.5 or smaller!
To finish off the look I threw on my beautiful tan suede Mango bag. Not dissimilar to the Chloe Faye (which will forever be on my lust list). I love how this takes the look from casual to smart in an instance and adds a bit of texture with the suede and denim, which I'm totally loving at the moment. Et voila. How to dress for Summer in Scotland…when you want to show off the flesh, but not feel like an idiot when it starts pouring rain.
I hope the sun is making more of an appearance wherever you are right now!!
What's your current go to look this -ahem- 'Summer'?
Lots of love,
Chantelle xx
This is not a sponsored post.