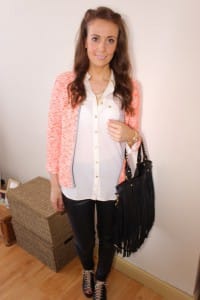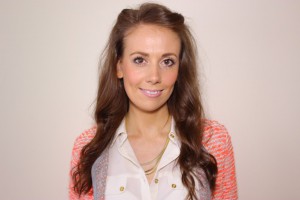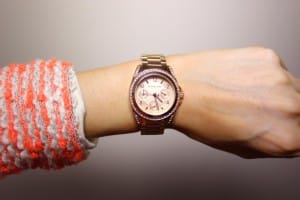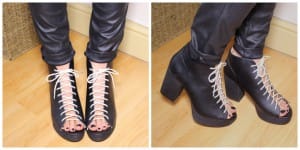 Hi everyone, I hope you are all having a great start to your weekend so far!
As promised, I have decided to do a quick outfit of the night post, to show what I wore on my birthday night out with the girls. We decided to go for dinner and cocktails in Glasgow's Ashton Lane as the weather was lovely, and Ashton Lane is such a nice place to go when it's sunny as there are loads of beer gardens and the atmosphere is just so nice and relaxed. We were also lucky enough to meet a Scottish soap star (Gray O'brien who played bad guy Tony in Coronation Street) and some of his friends who were chatting the night away to us and had our stomachs aching from laughter! All in all it was a great night, filled with loads of girly laughs and many cocktails… 🙂
I decided to keep my look quite simple opting for a cream and black ensemble with gold jewellery and this amazing neon orange boucle jacket from ASOS for a pop of colour. I absolutely love this jacket as it is so versatile, adding that little extra something to a plain outfit to dress it up, or oppositely can be worn with some jeans and sandals for a shopping trip.
I am also in love with these lace up shoes from H&M. This is the first time I had actually worn them even though I bought them over 2 months ago!! I know, how did I manage to keep them boxed up for so long?! I love the sports luxe feel to these and I think they go really well with these leather look leggings from River Island.
For jewellery, I opted for my 3-row snake chain from Topshop and my MK watch.
What do you think of this outfit? Have you been sporting any neon lately? 🙂
Jacket – ASOS | Leather look trousers – River Island | Shirt – F&F (at Tesco) | Shoes – H&M |
Bag – pret a portobello.com | Necklace – Topshop | Watch – Michael Kors