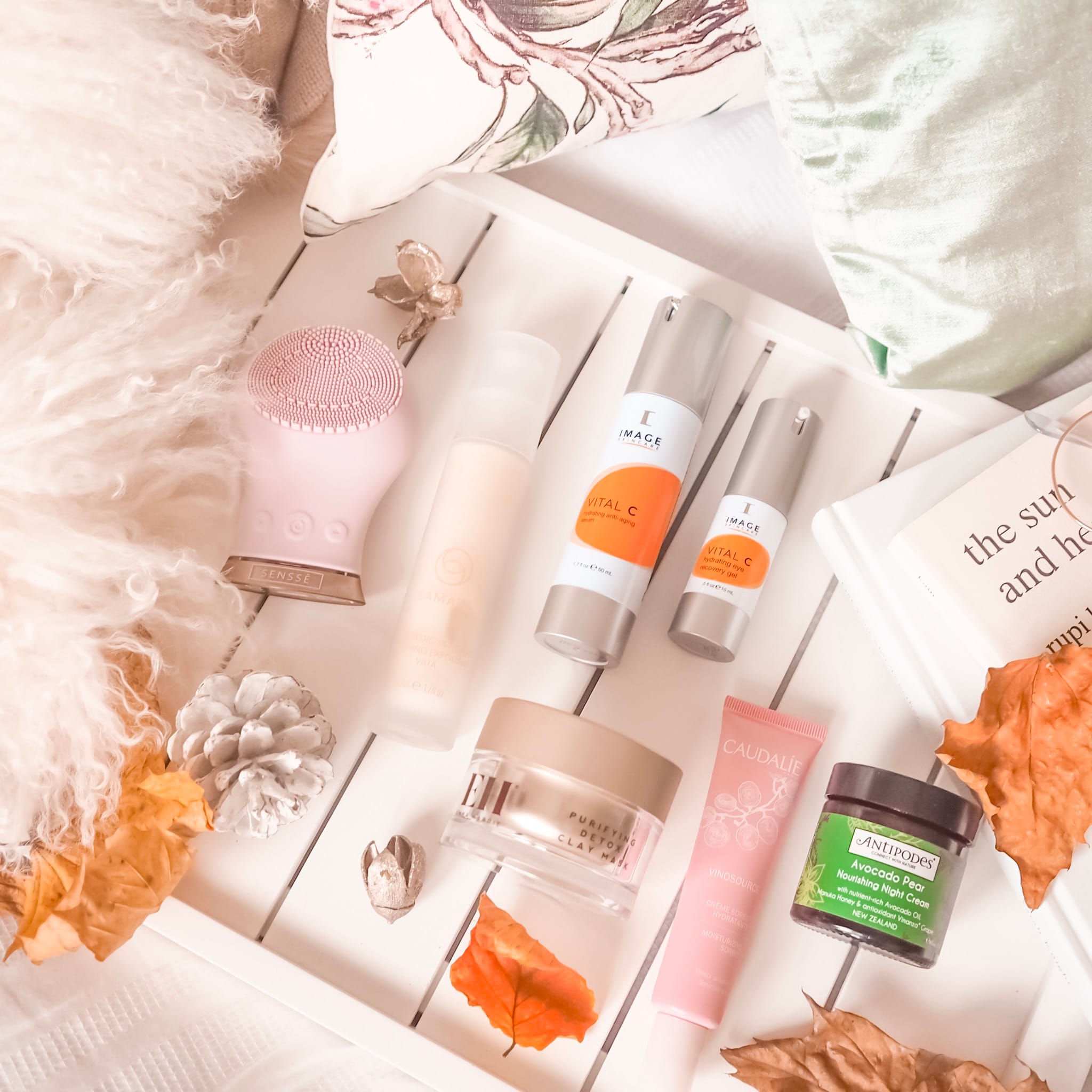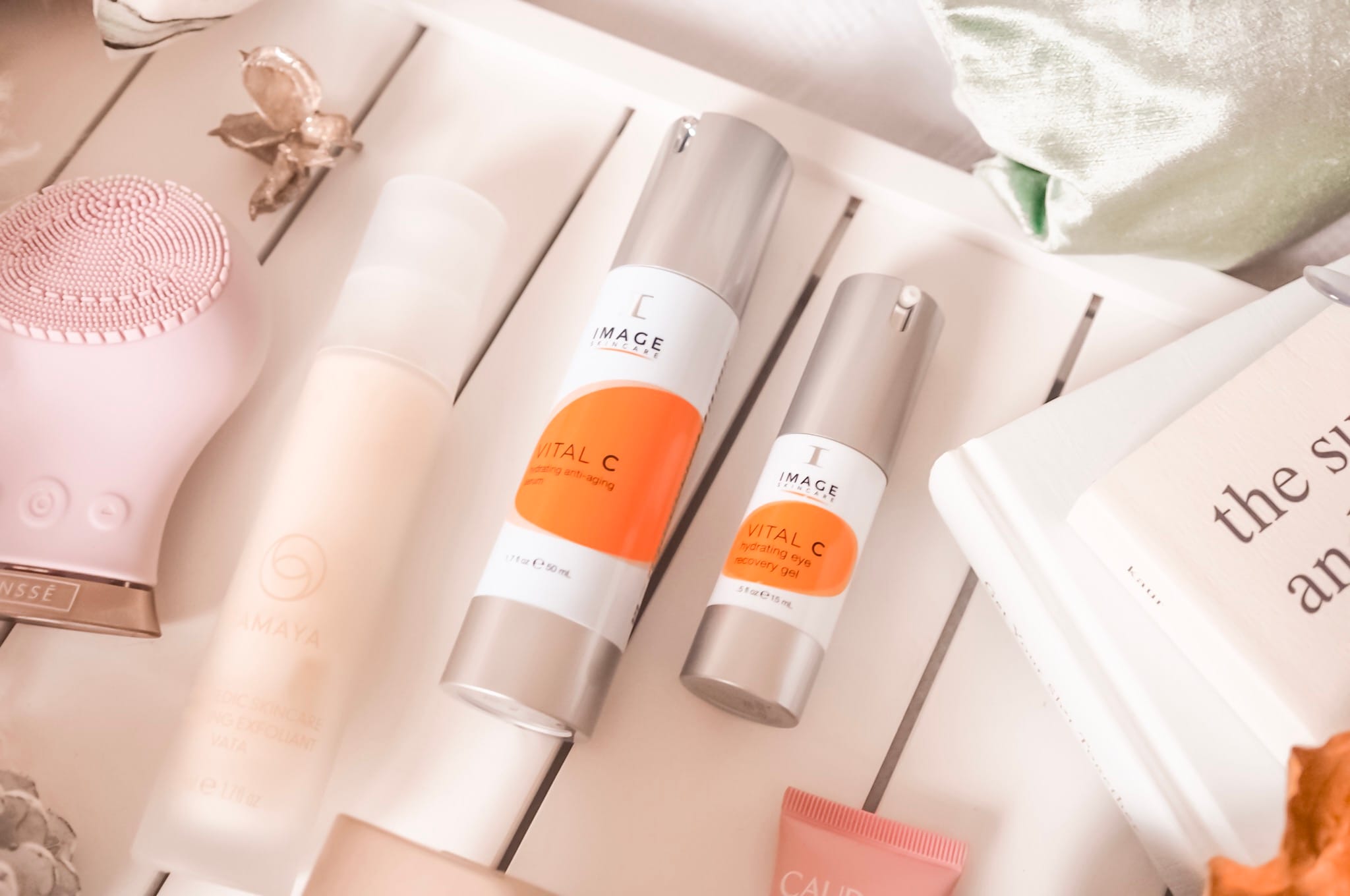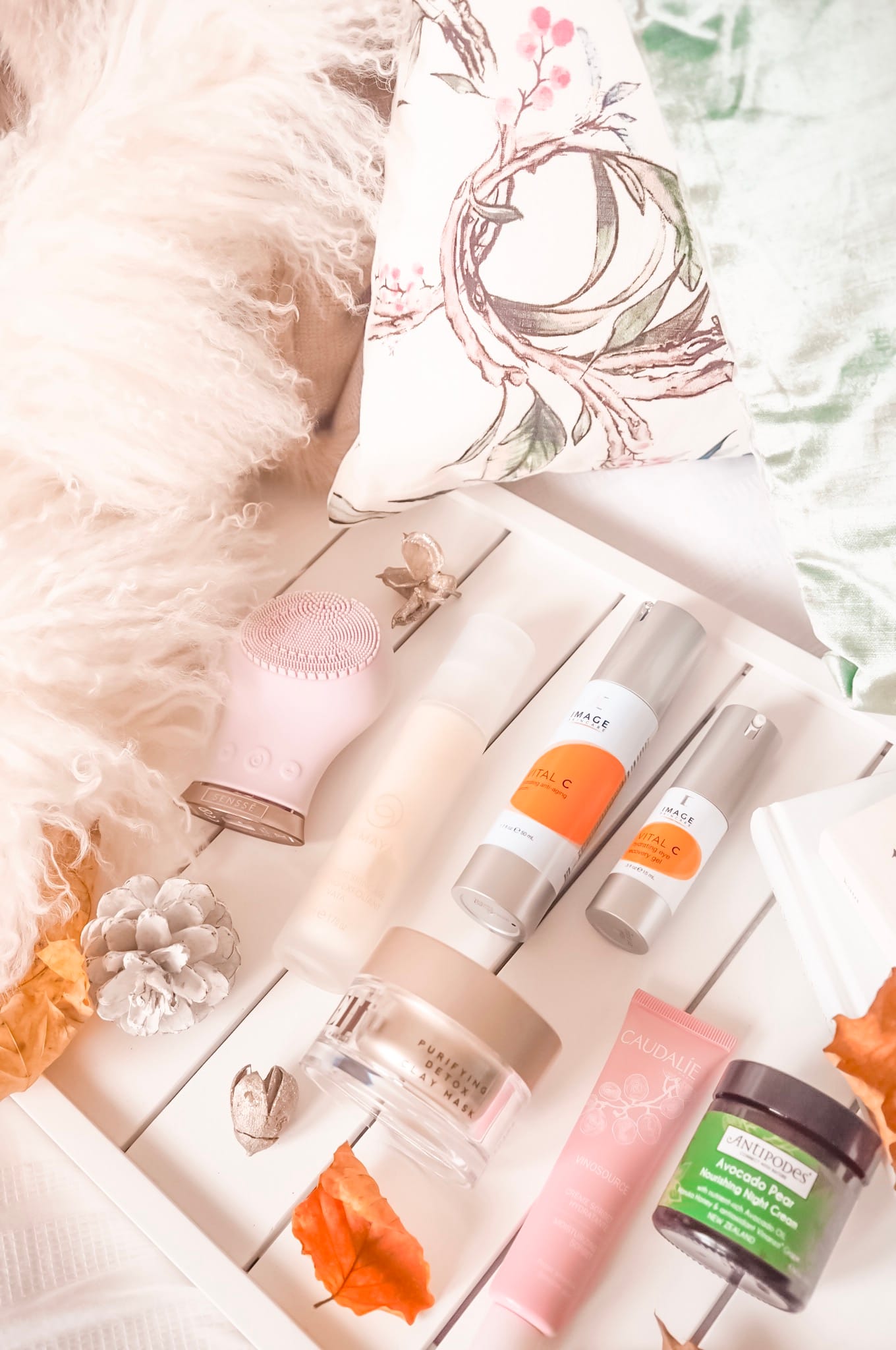 Autumn has finally arrived and I couldn't be happier. It really is the best of the seasons in my opinion! The leaves have started to turn all shades of orange, there's a crispness in the air and with that brings cosy nights in, copious coffee & cake dates, hats & scarves and alllll the layers. In amongst all of this though the old skincare regime needs to get switched up a wee bit which is why I bring to you today some new bits I've recently discovered that are perfect for the current season.
THE SAMAYA ENZYME EXFOLIANT
It's no lie I love Samaya – their moisturisers, cleansers and facial oils are all amazing – so I had high hopes for their newest release which is the Vata Renewing Exfoliant. This stuff definitely does not disappoint. It's an all natural, gentle yet highly effective enzyme exfoliant which safely removes dead skin cells and impurities without damaging the healthy skin below. You apply it to dry skin, leave for around 20 mins then rinse off. It can also be left on overnight for a deeper exfoliation too. What you're left with? Healthy, bright, plumped skin. The long term effects are even better…reduced pigmentation and pores for a more even skin tone. After using this for around 2 months now I can definitely feel and see the difference especially around my nose where the pores are more prominent. On rinsing it off skin immediately appears brighter and plumped but to see any reduction in pores etc results aren't instant so you do need to bare with it…trust me though it's worth it. It's packed full of fab ingredients including pumpkin enzymes, hyaluronate, aloe, jojoba, vitamin E, avocado and also some Ayurvedic ingredients such as Rose and Turmeric to name only a few! Need I say more?
THE GADGET
I'm a bit of a creature of habit when it comes to trying out new beauty gadgets in the sense that…I don't try out that many! I stick to the ones I like/know I already love. However I've been absolutely loving this little Senssé Silicone Facial Cleansing Brush. Firstly, look how dinky and cute it is – perfect for travelling and storing in my bathroom cabinet – already gaining some brownie points from my other half on the latter since my bathroom cabinet is bursting at the hinges…you all know the score gals. Anyway size aside, it really is a fab little product. It's almost like a little facial massage when applying cleansing products to the skin. I like to use this with my second cleanser of choice to avoid any mess when removing makeup, and also to really massage the product into the skin. I do feel like using it this way you're really helping the skin benefit most from the ingredients in your chosen cleanser. Afterwards you can use the opposite side too for a further little 'anti-ageing' facial massage with your chosen moisturiser to massage around any fine lines. As with all gadgets I do think it's difficult to tell whether it's actually working but nonetheless I've been really enjoying using this product – especially on evenings where I want to give my skin a little bit of a pamper. Plus let's face it I'm not getting any younger so any product that claims to help increase blood flow and boost collagen really is worth a shot am I right?
THE FACE MASK
EH has only gone and done it again with yet another fab product – the Emma Hardie Pink Clay Detox Mask. I've only actually been using this product for a few weeks now as it's a brand new release but I just had to include it because it was love at first application. I've always been a fan of clay masks. As someone with oily skin I feel like clay masks are some of the best for helping draw out impurities. However as I also have dehydrated skin I often find that some clay masks can be quite drying – not ideal, especially in Autumn! I'm happy to report though that the pink clay detox mask not only helps to detox the skin, draw out pores , reduce redness but it ALSO provides hydration and moisturises the skin at the same time. The woman really is a magician! Plus…it's pink – added bonus!
THE HYDRATING SERUM/ EYE CREAM COMBO THAT PACKS A PUNCH
I am SO excited to share the next couple of products with you as I am head over heels in love with both. Enter the Image Vital C Hydrating Anti-Aging Serum and the Image Vital C Hydrating Eye Recovery Gel. These products recently landed on my desk and I couldn't contain my excitement because I had actually tried them before (and loved both). Remember my Mango Bright Facial peels (here)? You may remember me talking about some products used to inject a dose of moisture back into the skin at the end of the treatments and these products were the exact products used. I knew as soon as I applied the serum – that familiar gorgeous citrus scent. This is one of Image's best sellers and for good reason.
What Image say about it…
Suitable for all skin types
Dry, dehydrated skin
Sensitive and redness-prone skin
Sun-damaged or sunburned skin
Oily or acne-prone skin
Post-treatment use
Whenever I apply this I feel like my skin looks so glowy and radiant (however there isn't an ounce of shimmer or glitter in it)! It smells amazing and my skin definitely loves it. I always think serums are so important and definitely not a step I can miss in my skincare routine and I know that this is going to be a product I'll love for a very long time.
As for the Eye Recovery Gel? Firstly the consistency is so lovely. It sinks in super quickly (a little goes a very long way) and it just leaves my under eyes looking and feeling really hydrated and set for makeup application. The key ingredients are Vitamin c and Hyaluronic Gel with really do work some magic! Eye creams are another product that I'm always eager to try out. My undereyes get really dry so I'm always on the lookout for a product that's hydrating yet not too heavy to avoid creasing of my concealer during the day and this really does everything I want it to do and more!
THE MOISTURE KICK
I really couldn't choose one moisturiser this month as I have actually been loving a couple in the forms of Caudalie and Antipodes.
First up is Caudalie Vinosource Moisturising Sorbet which is perfect for dry and dehydrated skin. I was worried this might be too heavy for me as it's specifically for dry skin but I actually love it. I think because it's a sorbet it doesn't feel heavy at all. It sinks in quickly and makes a great Autumn moisturiser for both dry and combo skin like me. I've been gravitating more towards this in the AM and opting for the Antipodes Avocado Pear Nourishing Night Cream in the evenings. I've raved about this one before but it really is a fab product! This is suited to all skin types but particularly mature and dry skin. Again, this is a fantastic product for Autumn because my skin really has been taking a bit of a beating the past month with all of the harsh weather in Scotland so applying this in the evening really is a treat. It includes avocado oil and Manuka Honey which helps to draw moisture to the skin for a gorgeous glowy and hydrated complexion come morning. As the name suggests this is definitely one for the evening as it's heavier in consistency but this is everything I look for and more in a night cream!
And that's just some of my current Autumn favourites! I would love to hear if you've tried any of them and if so, what you think of them? Also let me know some of your current favourites, I would love to know what you're all loving at the moment 🙂
Remember to follow me on Bloglovin and subscribe to my youtube channel so that you never miss a blog post/video!
Lots of love,
Chantelle xx
This is not a sponsored post however some of these items were sent for PR purposes.
All thoughts, opinions and creative direction are my own.
Affiliate links may be used.