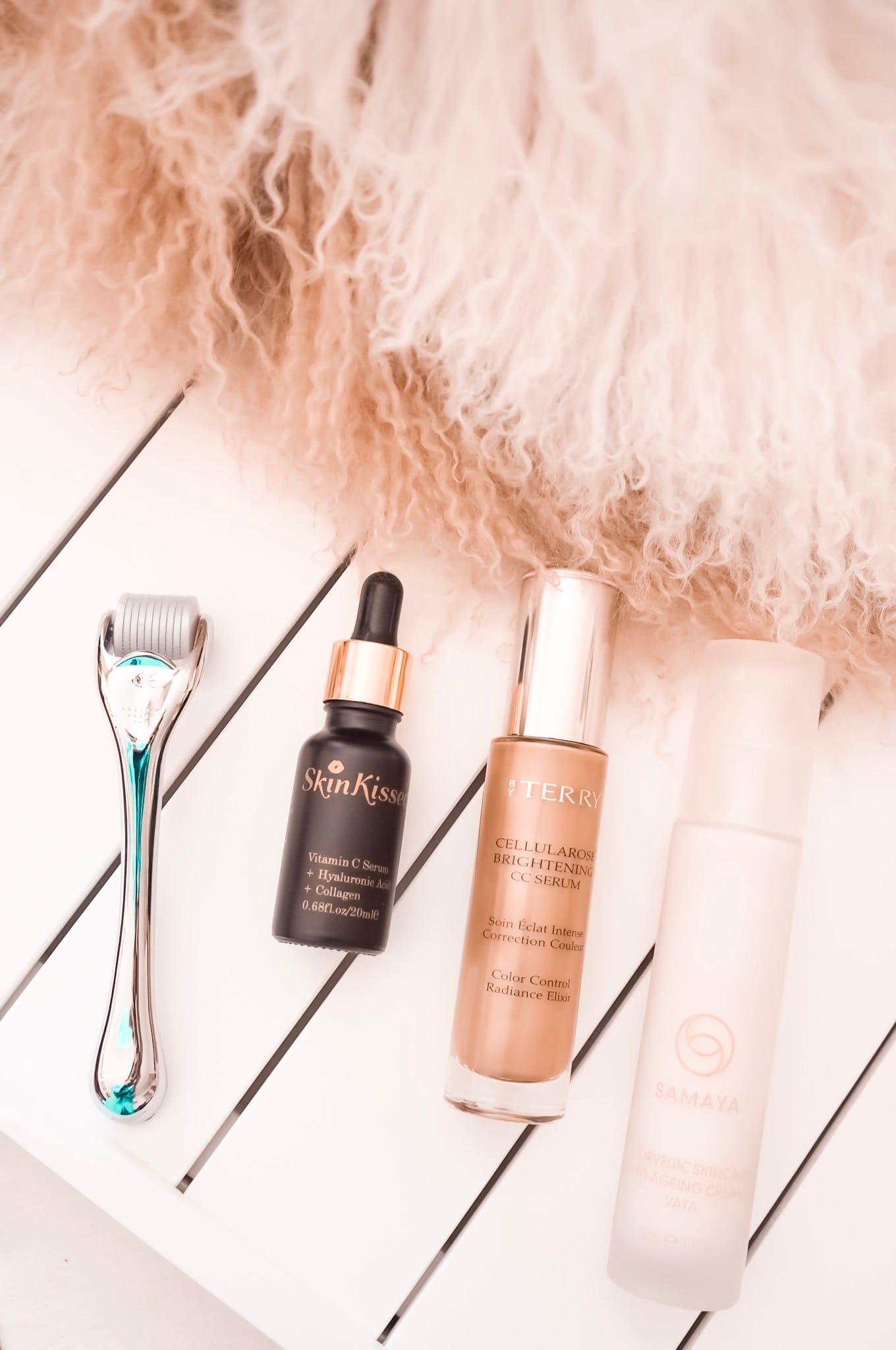 It's been a while since I did a favourites video on my youtube channel – I have one coming soon – but in the meantime I thought I'd share some new skincare/beauty finds that I've been loving lately! Here goes…
First up is this at home microneedle skin treatment by Swiss Clinic. I first heard about this product a year or so ago by Lydia Millen and I was so intrigued by it but I wont lie, I was also slightly terrified by it at the same time! Microneedling is said to reduce scars, treat hyperpigmentation and improve the structure of your skin – all sounds great huh? The only issue? Having to roll lots of tiny little needles all over your face. Fast forward a year though and it's been brought to my attention more and more so I decided to give it a go. The needle size I have is 0.2mm (teeeeeny tiny) and you can also get 0.5mm – I'll have to build up to that one! It's still early days but I must say I've been really enjoying using it and I do feel like my skin looks brighter. I don't have acne scarring so I can't comment on that part. As for the pain? I wouldn't say it's sore, just slightly uncomfortable and definitely bearable – trust me if I don't think it's sore then neither will you.
So what does Swiss Clinic say?
"The Skin Roller is a microneedling device with 540 silver-plated, Japanese surgical steel microneedles specifically designed for at-home treatment. Upon rolling, the needles open up thousands of tiny micro-channels in the skin, simulating damage and stimulating the skin's natural healing process; production of collagen and elastin, increased blood circulation and the creation of new healthy skin cells."
In addition to treating acne scars, hyperpigmentation and superficial scars, it is also said to:
Stimulate collagen and elastin production
Balance skin structure
Give a more even skin tone
You're meant to use it for 5 days on and 5 days off then apply the hyaluronic acid serum that comes with it onto the skin as your skin does feel quite dry while it's trying to repair itself. I've been using it probably every 2 or 3 days and taking a wee break in between just because it fits in with my routine better and I've definitely noticed my skin looks brighter – I'm sure I'll continue to see the benefits so I'll definitely keep you updated!
Serums are probably one of my favourite things to try – especially ones with Vitamin C and Hyaluronic Acid so I'm actually not surprised that I love this product! This little bottle arrived on my desk a few weeks ago and I've been using it practically every day since. It's packed with some powerful ingredients including Vitamin C. Rose Water, Hyaluronic Acid and Marine Collagen to provide clear glowing skin. My skin for the most part has been pretty clear lately (touch wood it remains that way!!) so I can't say that I've seen any dramatic difference in that sense but as far as serums go I've been really enjoying using this under my moisturiser in the morning before doing my makeup. I noticed on the website that it said some tingling might occur – I've had this with other Vitamin C products I've used but I haven't experienced any tingling at all and it soaks into the skin really quickly. I've definitely noticed that particularly with the heatwave my skin has felt hydrated and hasn't been getting oily so I do definitely think that it's down to this and my new bottle of Urban Decay All Nighter – come on gals, it's a must during Summer! If you're looking for a new serum for dehydrated or problematic skin I'd definitely look into this because the reviews on it are outstanding.
We have another cult beauty product here – and one that I've been lusting after for the longest time! By Terry Cellularose (I really can't get my tongue around that – tell me I'm not the only one haha) Brightening CC Serum in the shade Sunny Flash – the perfect tan shade for all my gals who like a bit of a bronzey glow! The great thing? It also has skincare benefits in addition to leaving you looking like a glowing goddess – for real. The formula is gorgeous (smells of rose obviously), melts into the skin and doesn't leave any oily residue whatsoever. I find that when I first apply this it looks really bronze but after I rub it in it blends so nicely and leaves a subtle bronzey glow! Perfect for layering under foundation but equally mixing in with your chosen base for a lighter coverage on really hot days; and perfect for holidays. I absolutely love the glow that this gives. It isn't sparkly, just really natural and seems to help blur imperfections without actually masking your skin. I don't know how they do it?! But what I can say is that it's definitely worth the price tag…even better if you can find a cheeky Cult Beauty discount code like me.
It's no surprise I love Samaya. You might remember me raving about their facial oil (here) and Cleanser (here) and their Vata Anti Ageing Cream is no different, it's GORGEOUS. The price does slightly make my eyes water but it really is worth it in my opinion.
What they say…
"Formulated with powerful Ayurvedic botanicals and clinically proven anti-ageing ingredients, this rapidly absorbing moisturiser contains an intensive blend of active compounds that visibly reduce the appearance of wrinkles. The result is skin that feels supple and firm, with a youthful and revitalised appearance. Ayurvedic ingredients such as Rose, Turmeric, Tulsi, Gotu Kola and Ashwagandha are prescribed specifically to help balance the Vata dosha."
I've been using the anti ageing cream for a few weeks now and I'm going to be so sad when the day finally comes when it runs out! I suppose the positive there is that you don't need to use a lot of it though and since it has a pump I don't feel like I overuse it or waste any product. You can use it both morning and evening but as someone with dehydrated/oily skin I prefer to use something lighter and more mattifying during the day (to save my skin getting super oily) and load up on oils and heavier creams in the evening. I either use this cream on top of a hyaluronic acid serum in the evenings or layer with the Samaya Anti ageing Oil. One of the things I love about this cream is the consistency – it's so light but feels very nourishing (almost oil like on first application) and it just instantly smoothes out everything. Come morning my skin looks super plumped and hydrated – I love it! If you have a look at the full ingredients list (here) you'll be wowed but I've picked out some to share with you:
Tulsi Oil – helps balance the mind, body and soul; helps even skin tone and tighten pores; boosts the skin's immune function.
Sodium Hyaluronate – Salt form of hyaluronic acid, this naturally derived anti-ageing ingredient has intense hydrating qualities (can hold more water than any other natural substance – up to 1,000 times its weight in water) which help boost skin's elasticity.
Gotu Kola Oil – Anti-inflammatory and anti-ageing herb; helps fight chronic skin conditions by repairing damage done to the skin; stimulates collagen production in the skin.
Turmeric Root Oil – Powerful anti-inflammatory and antioxidant; heals skin's barrier while protecting it from free radical damage.
One of the things I love about having a blog is the opportunity of discovering new skincare brands that I might not have otherwise tried and Samaya definitely falls into this category. It has quickly become one of my favourite skincare brands. All of their products are made right here in the UK and I am yet to try a product of theirs that I don't love! I'm actually currently in the process of trying out their brand new Micro Exfoliant so stay tuned for more on that once I've been able to give it a proper test but if you're in the market for some new skincare products I'd highly recommend you check them out.
And that's some of the products I've been loving using over the past wee while! Let me know if you've tried any of these products or which products you're currently loving, and if you have any questions just leave them below and we can all help each other out 🙂
Remember to follow me on Bloglovin and subscribe to my youtube channel so that you never miss a blog post/video!
Lots of love,
Chantelle xx
This is not a sponsored post. Some items may have been gifted (marked *).
All thoughts, opinions and creative direction are my own.
Affiliate links may be used.