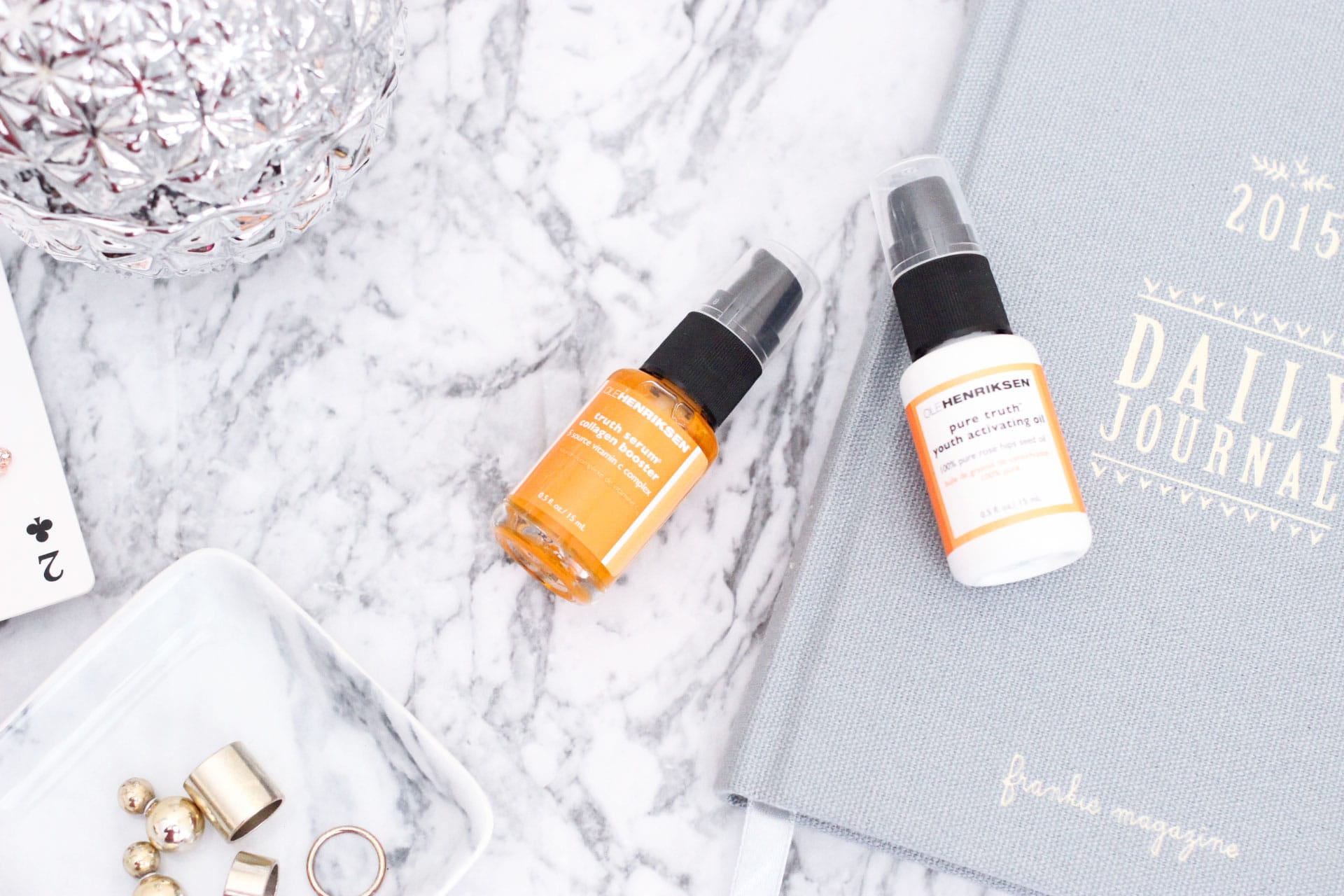 Today's post is one from the archives. I must confess, it's been a while since I talked beauty on the blog. For a while I was doing well and posting a good mixture of beauty and fashion but lately it's been all things fashion so today I'm going to rectify that!
I actually took these photos a good few months ago. As with most of my new beauty purchases, I try and photograph them as soon as I get them then file them to go back to at a later date when I've had a proper chance to test them out. I've gone through two full bottles of the Ole Henriksen Truth Serum so in all fairness I have no idea why I've left it this long to review! I originally snapped one up after I heard the queen of skincare, Caroline Hirons rave about it and I haven't looked back since. As you know, I do like to dabble with serums – it's one of my favourite beauty products to try, and quite frankly something I wouldn't go without now – and the Truth Serum has become a firm favourite, and something that I always like to have in my stash.
Truth Serum Collagen Booster:
In short, it's a major hydration boost, with a Vitamin C complex so perfect for those of us with dehydrated skin. I whack it on underneath my moisturiser each morning and it sinks in immediately (leaving no residue) and gives my skin a lovely glow. This is the perfect product to take with you when travelling, if like me your skin shrivels up like a prune and you end up leaving the plane with a million spots. Thanks air con. If you like citrusy scents you're going to love this – it smells like freshly grated orange zest. Heaven.
Pure Truth Youth Activating Oil:
Its sister product, Pure Truth Youth Activating Oil is 100% concentrated rose hips oil which is a single source of Vitamin A and Vitamin C. This is again a hydration boost and you can either use it alone, under moisturiser, or as a booster after the truth serum if you think you need it. I find this one slightly more heavy duty. It does sink in really nicely but I can still slightly feel it on my skin. Don't get me wrong, it isn't heavy it's just a completely different texture to the truth serum which instantly absorbs and 'dries'. As I have combo skin, I don't like to use this one during the day. It's definitely more of a nighttime serum for me, or when I'm having a makeup free day at home, I slather this on for a treat. If you have dry skin though, I'd imagine you'd love this as a day time serum. It's also very soothing on the skin and it's apparently good for wrinkles which gets a big thumbs up from me! Out of the two products, the truth serum has to be my favourite, but both leave my skin feeling super hydrated, nourished and healthy.
How to use:
For application, both serums have a pump so it's really easy to dispense. Apparently it's best to 'pat' on any Vitamin C products until they sink into the skin…I don't know where I heard this but it's something I've always done with the truth serum (it would be impossible to do this with the rose hip oil!) but it seems to work with the truth serum! You can use alone or together and it's best to apply under your daily moisturiser.
Price:
At £47 each for 30ml, they aren't the cheapest serums but they really are some of my favourites. They're definitely one to try if you have dehydrated, dull or uneven skin and you're in the market for a new serum. I've found in the past that Feel Unique and Look Fantastic offer the best deals on these and usually have special offers on Ole Henriksen products. FeelUnique actually has a giftset on offer right now for £33 which is fantastic value – here. Another good tip is to stock up in January as these products ALWAYS get sold in a gift set during the Christmas period and they get reduced in January! Don't say I'm not good to you!
I'd love to hear what some of your favourite serums are?!
Remember to follow me on Bloglovin and subscribe to my youtube channel so that you never miss a blog post/video!
Lots of love,
Chantelle
Shop the post: