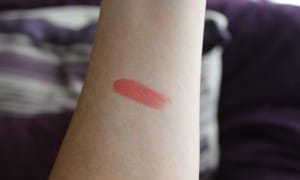 Barry M 147 Peachy Pink – Boots/Superdrug £4.49
I have always loved peach lipsticks over pinks just because I think peach matches my skin tone better, so when I came across this beauty I snapped it up quicker that you can say 'I love Chanel'.
I have quite a few peach lipsticks in my collection, and even although this is probably the cheapest of the bunch it definitely gives the others a run for their money. It is a bright peachy pink colour with coral tones and despite it feeling quite satin when applied, it surprisingly gives a very matte finish (my favourite) which makes me love it even more!
The texture is very light and creamy, and glides on without feeling drying on my lips. I love how it doesn't go patchy/dry looking in certain areas when it wears off, which I find happens with a lot of my matte finish lipsticks. That said though, I don't have particularly dry lips so this might not be the case for everyone as it is a matte finish afterall. I tend to wear this on its own but if you prefer a glossier finish, it looks great with some gloss applied over the top.
I really don't have anything bad to say about this lipstick and I can see it sticking around as one of my favourite peachy lipsticks, which I will no doubt be wearing all through spring and summer!
Have you tried this lipstick? What do you think of it?
Chantelle xx