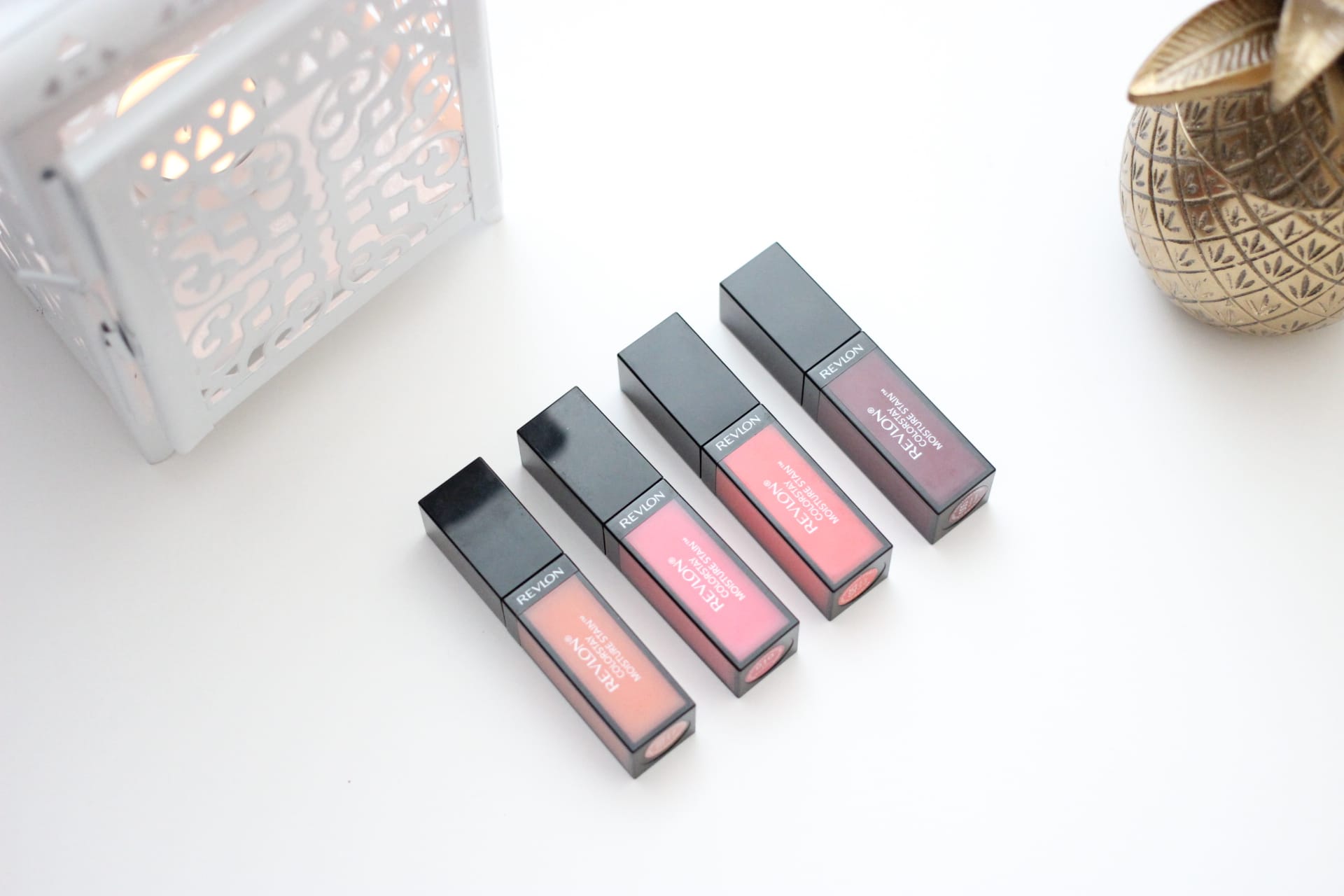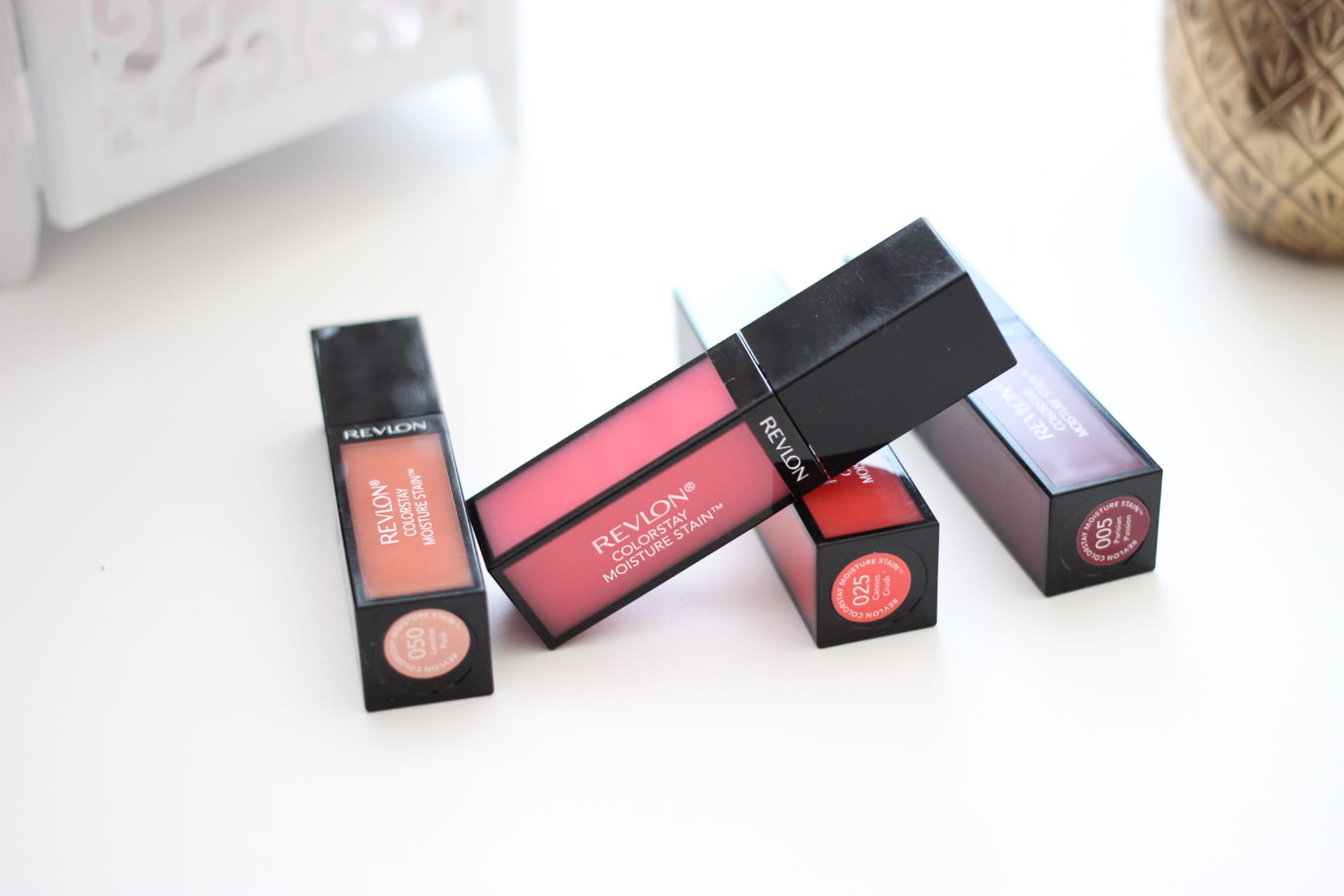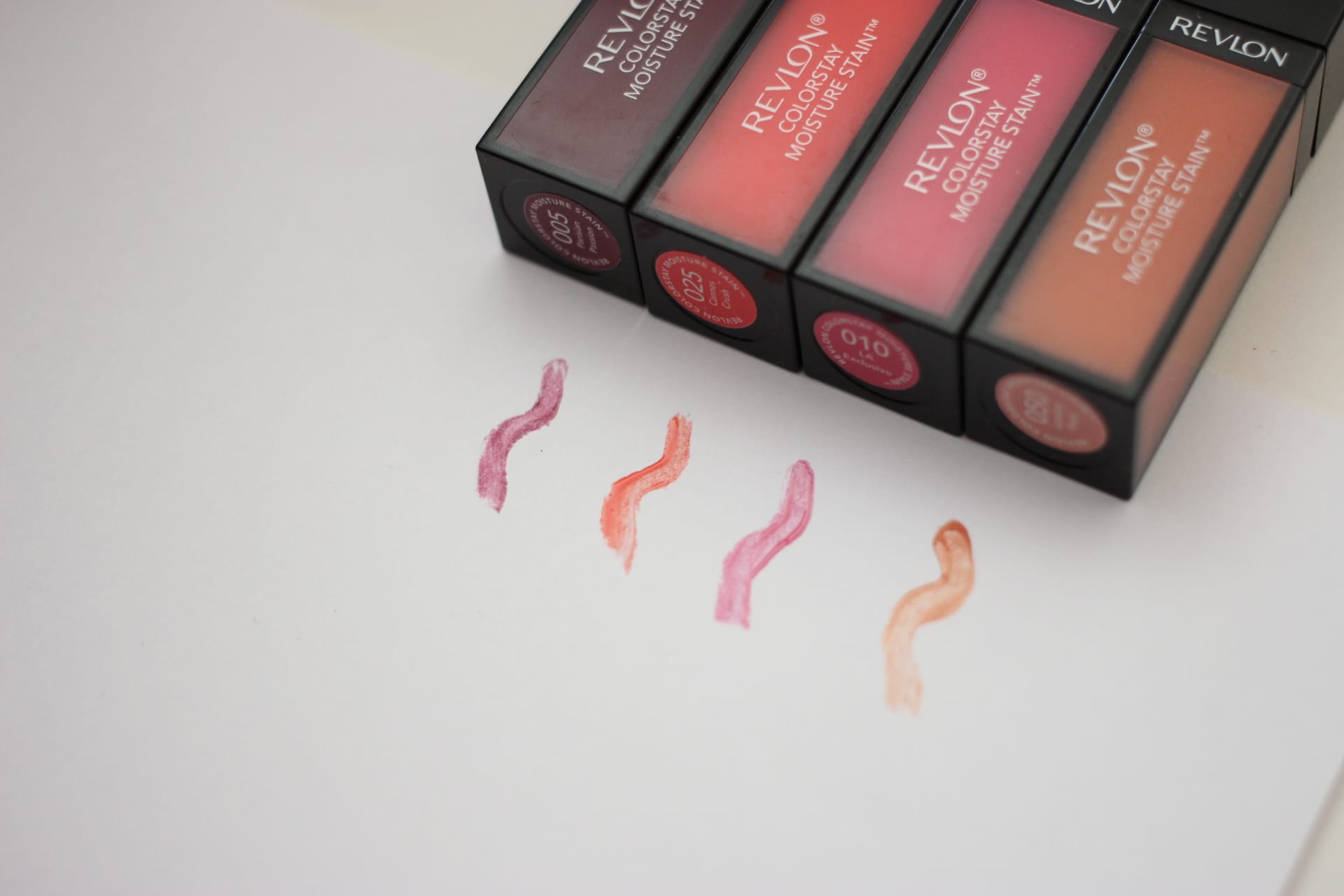 L-R: Parisian Passion | Cannes Crush | LA Exclusive | London Posh
There's nothing that excites me more than a new lip product to hit the drugstore and this one in particular has been on my radar for quite some time. Despite only launching quite recently in the UK, the Revlon Colorstay Moisture Stains have been raved about across the pond by our good friends in the US so I have been dying to get my hands on some.
What Revlon say:
"A new level of glossy wet colour. Saturated lips with brilliant shine and vivid colour."
Being a girl with less than voluptuous lips shall we say, I love a good gloss as they are an easy fix to fake plumped up luscious lips. You can therefore imagine my excitement when these launched!
On first application I found the gloss to be quite thick, and it seemed to sit on my lips rather than blend in…I soon discovered though that the key here is less is more. You only need the smallest amount to coat your lips and once it has set, that's when the magic happens. A gorgeous glossy but very moisturising lip colour. I agree with Revlon that the look is quite 'wet' especially with the darker shades, but not overly so that it wouldn't be suitable for daytime wear. I'd say the wear time is probably around a couple of hours and once the gloss fades you are left with a subtle stain on the lips and a nice balmy/moisturising feel to the lips. You can see from the photos below (on the right) that the stain shows up more with the darker colours.
T-B: London Posh | LA Exclusive | Cannes Crush | Parisian Passion
(Left: on first application / Right: stain)
I decided to pick up 4 from the collection of 12 (I don't think all 12 are available in the UK):
London Posh – Probably the lightest in the collection, and a gorgeous peachy nude with a subtle golden sheen to it.
LA Exclusive – One of my favourites, and a beautiful wearable bubble gum pink perfect for every day.
Cannes Crush – A gorgeous bright coral (a lot more subtle on the lips than it looks in the tube) and has a slight reddish tinge to it on my lips.
Parisian Passion – One of the darkest in the collection, and a beautiful dark berry hue (think Revlon's Black Cherry lipstick in gloss form). I can already tell this is going to be an Autumn favourite.
If you can't tell already, I love this lip product. I like to wear just the one coat and let it melt into my lips for a natural glossy tint but if you're looking to build up the colour it's easy to do by just leaving it to settle then going in with another coat. The thing I like most about the Revlon Moisture Stains is how comfortable and moisturising they are to wear. I also love how it wears off really naturally and the stain thats left behind is wearable and looks very natural…not a dry patch in sight. I can't think of any other product like this other than the YSL Glossy stains but the Revlon Moisture Stains are definitely less pigmented and more of a thick balmy consistency and definitely a lot more 'wet' looking on first application.
As for the packaging, again it's quite similar to the YSL Glossy Stains with the sleek black, squared off packaging. The doe foot applicator is also the perfect size and shape to apply the product so I have no complaints in this area. I also love how you can see the colour through the packaging too (please bear in mind that the colour is not as scary on as it looks in the tube).
You can buy the Revlon Colorstay Moisture Stains from
Boots for £7.99
(there's also a 3 for 2 on at the moment!)
Have you tried the Revlon Colorstay Moisture Stains? What do you think of them?
Lots of love,
Chantelle xx
This is
not
a sponsored post.