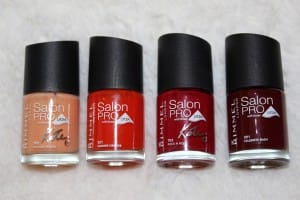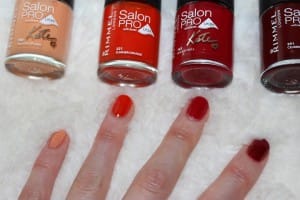 Reggae Splash | Summer Orange | Rock N Roll | Celebrity Bash
Hi guys, so I decided to do a quick review of the Rimmel Salon Pro nail polishes because these have been my 'go to' polishes over the past couple of weeks.
The colours I have are:
Reggae Splash – a warm peachy, light coral
Summer Orange – a warm, bright, true orange
Rock N Roll – classic deep, cherry red
Celebrity Bash – a dark burgundy, wine colour
The longevity of these nail polishes is just amazing. Rimmel claim that they can last up to 10 days without a top coat. I can't vouch for the 10 days but they lasted for a good 5 days on my nails with only some unnoticeable light chipping at the tops of some of my nails before I took it off to apply a different colour.
The consistency is quite gel-like and 2 coats gave me a lovely glossy finish without a top coat. I really only needed a couple of coats to make the colour opaque.
My favourite of the bunch has to be Summer Orange which is perfect for summer and looks great with a tan (ahem…excuse my pasty white fingers here).
All in all, I really do love these nail polishes. The quality is great and I can see me picking up a few more in different shades.
Have any of you tried the Rimmel Salon Pro nail polishes? What do you think of them?