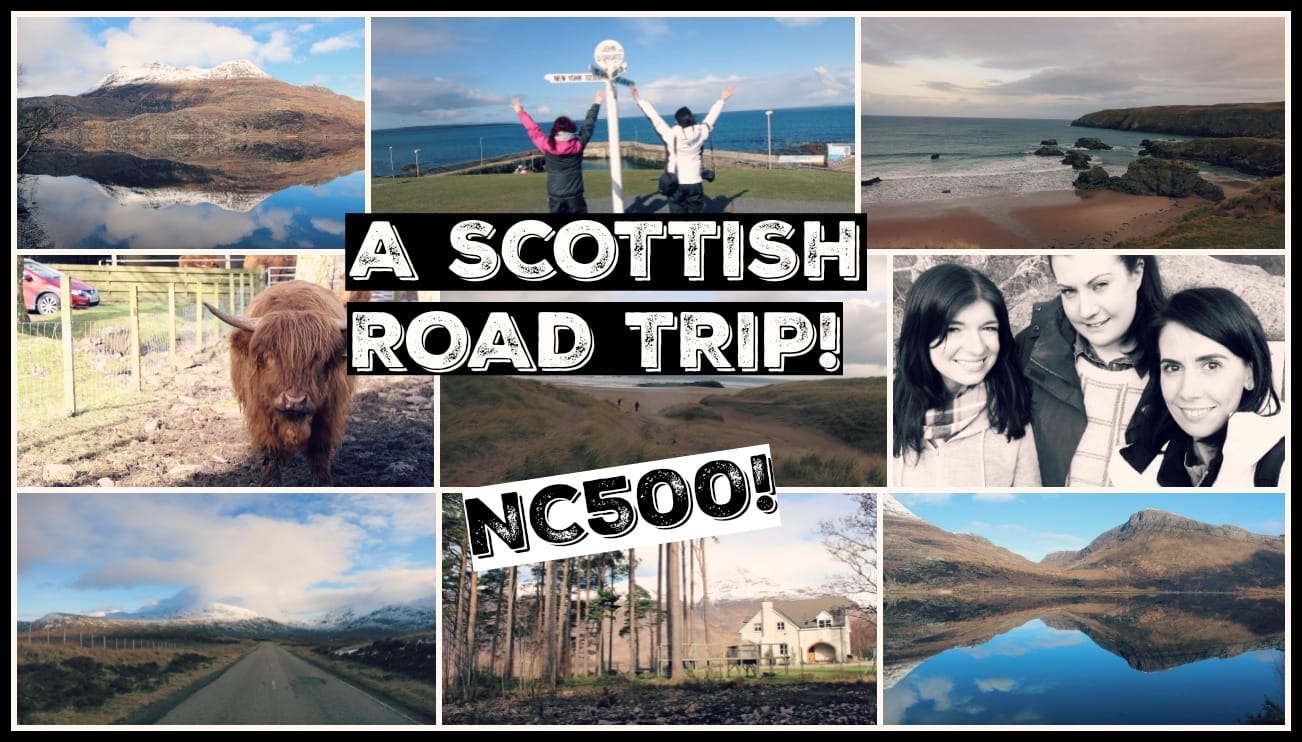 Happy Monday everybody! It feels like such a long time since I last updated my blog, it's just been a very busy couple of months but I'm so happy to say that I'm now officially back. Sometimes it's good to take a wee break and re-focus and I feel a lot more energised for doing it, plus I now have lots of exciting content coming up, starting off with my road trip up North!
My friends and I have always said one day we'd do a tour of the highlands. It's just one of those things though that we've said year after year but we've just never got around to doing it so when Rockin Vans contacted me and asked if I'd like to take one of their camper vans out on the road – after my initial panic at the very thought of it – I jumped at the opportunity!
After a little bit of thought we decided on the North Coast 500 route – it was a no brainer really! FIVE HUNDRED miles of stunning Scottish coastal scenery, where do I sign up?! In hindsight we were a little underprepared…none of us are campers at the end of the day, but I'd say we done a pretty good job and had one of the best holidays together…move over Ibiza haha. The NC500 route is pretty new, it was created in 2014 so when we were researching it there wasn't too much information other that the actual NC500 website (here) so I thought a blog post and video might be useful for those of you thinking about doing it.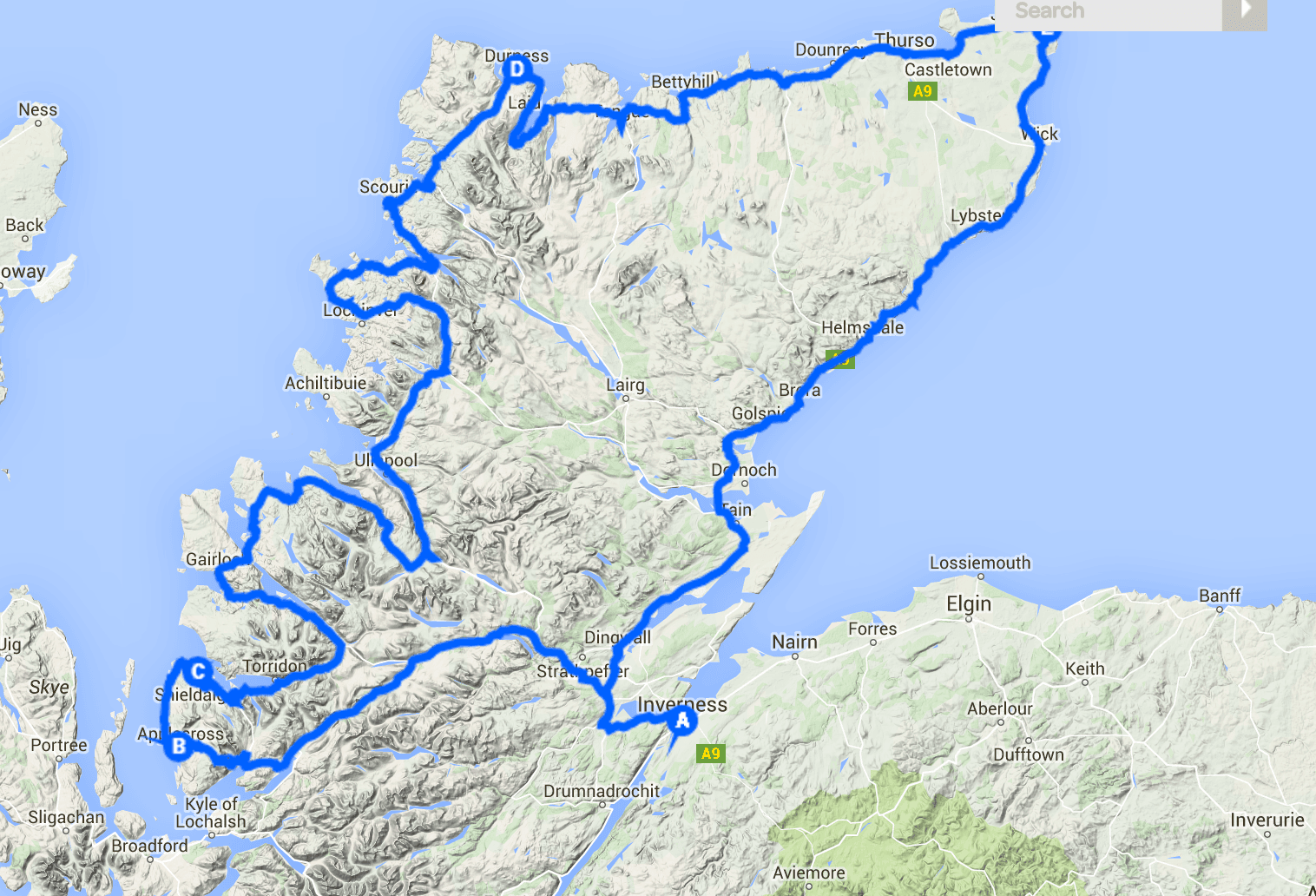 The route starts in Inverness so we decided after a total of 5 hours driving from Glasgow to collect the camper van then to Inverness, that it would be better to stay overnight Inverness before starting our journey. I'd recommend doing this because travelling really does take it out of you, also Inverness isn't really the place for sleeping overnight in a camper van! We stayed in a Travelodge in the centre of the city and got up bright and early the next day to start our road trip. The van we had was a 4 berth VW camper van with pop up roof – double mattress, 2 gas hobs, fridge/freezer, leisure battery, running water, built in sat nav…the list continues. It basically has everything you need for a road trip!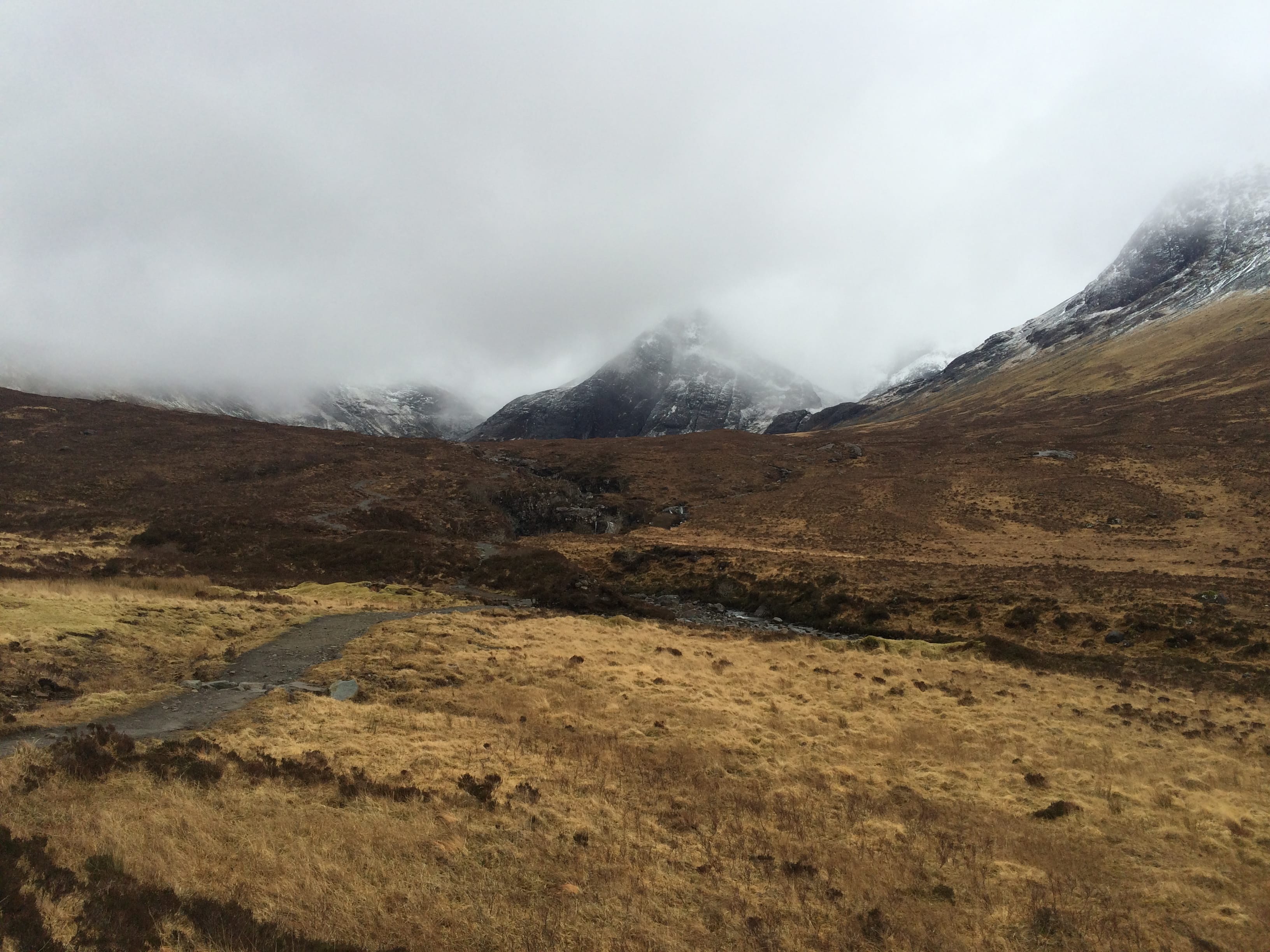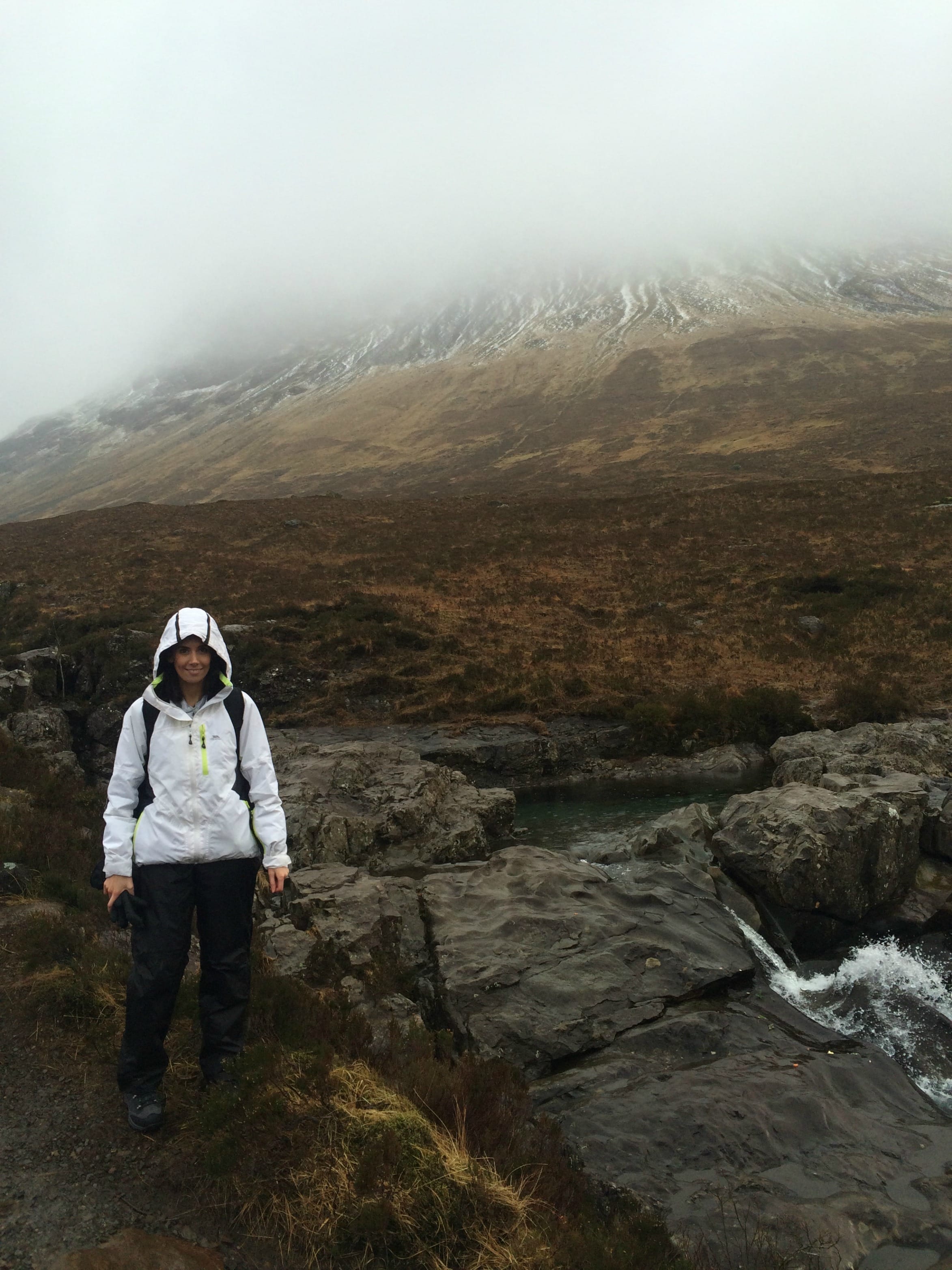 Fairy Pools of Skye
DAY 1 (am): Sun 6th Mar – The Isle of Skye
Now the official second stop on the NC500 route is Applecross but we couldn't miss out on an opportunity of going over the sea to Skye beforehand and I'm so glad we did. It really was as beautiful as we imagined and at just over 3 hours journey from Inverness we couldn't miss out. If you know me well enough, you'll know how much I love Outlander and from the moment we stepped on the island I couldn't help but think we might catch a glimpse of Jamie Fraser running over the hills in his kilt…I digress. Unfortunately, we didn't stay a full day in Skye purely for the fact that the campsite we had intended on staying at was closed and doesn't actually reopen until 1st April. If you don't mind wild camping, this wouldn't cause you any problems but we did notice a lot of 'no camping' signs around the island and for first time campers we really didn't want to take the chance. It was already quite late by this point and since we knew we had a difficult drive ahead to Applecross, our time on Skye was short but it was still worth it and it's definitely somewhere I'd like to visit again in the future and stay a bit longer on the island. We did however, visit the Fairy Pools of Skye which is definitely a must if you're a bit of an explorer. Prepare to be mind blown on the walk up to the pools, it really is breath taking.
DAY 1 (pm) Sun 6th Mar – Applecross
We knew the road to Applecross over the Bealach na ba (or Pass of The Cattle) was going to be difficult. At 2,053ft in height above sea level it definitely isn't for the faint hearted. It's a single track road with warning signs at the foot, deterring learner drivers due to it's zig-zag hair pin bends.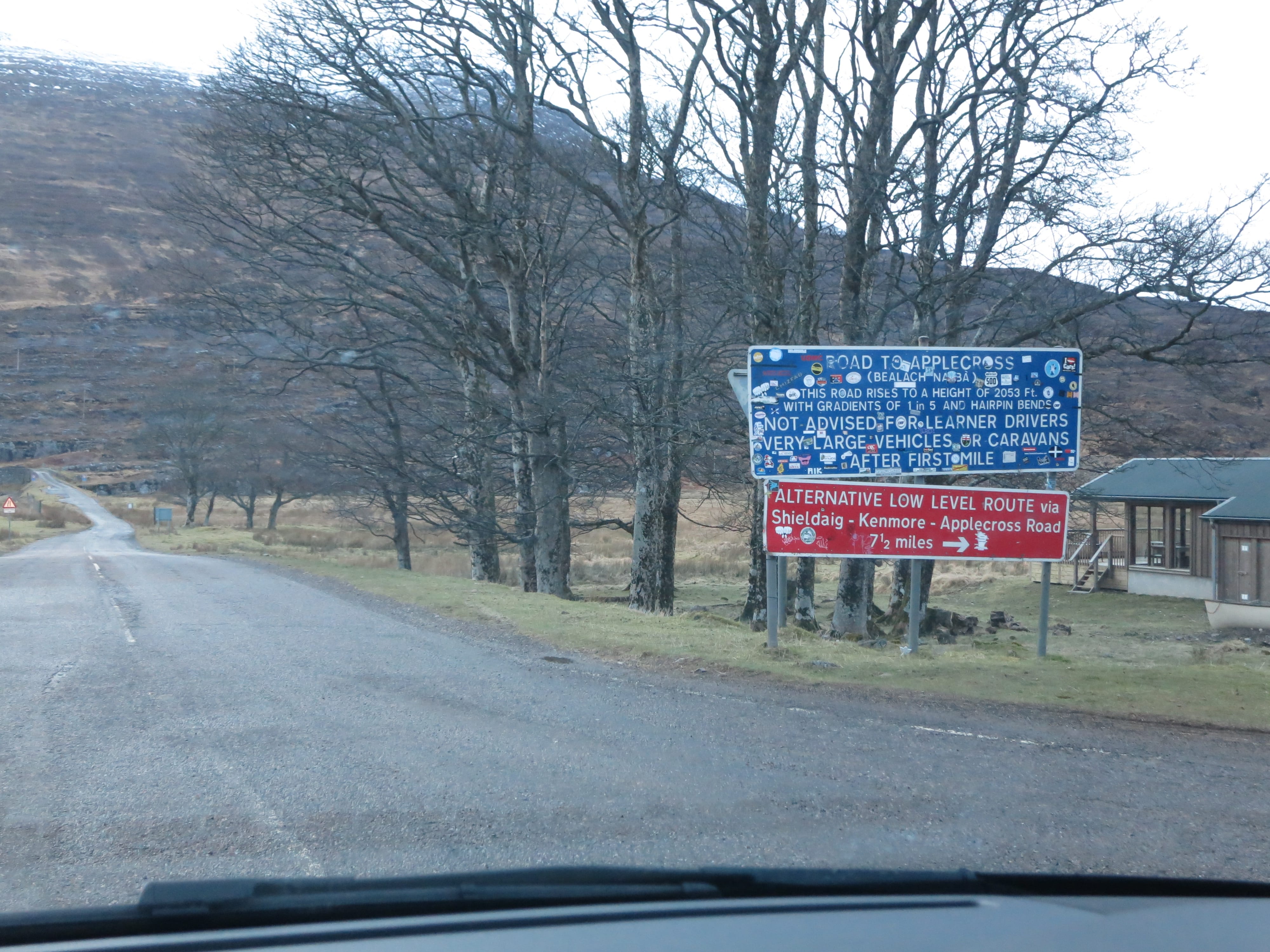 There's also another road (which I think may be longer) but we didn't want to miss out on the views so we made haste and got on our way. I won't lie, the warning signs are scary, the three of us were definitely rattling at the thought of it. By the time we got to the foot of the road it was around 5.30pm so the light was slowly fading. As scary as it was, I think this was one of my favourite parts of our road trip. The views as we ascended up the mountain were just breathtaking. We even managed to spot some wild stag only a few feet away from us and were able to stop for photos. It was so surreal and magical. We actually never came across a single passing car on the way up, I'd imagine because most people would try and stay away from that route in the evenings. Saying that though, the road was well kept and clear of snow which was really surprising, considering how deep the snow was the higher up we climbed.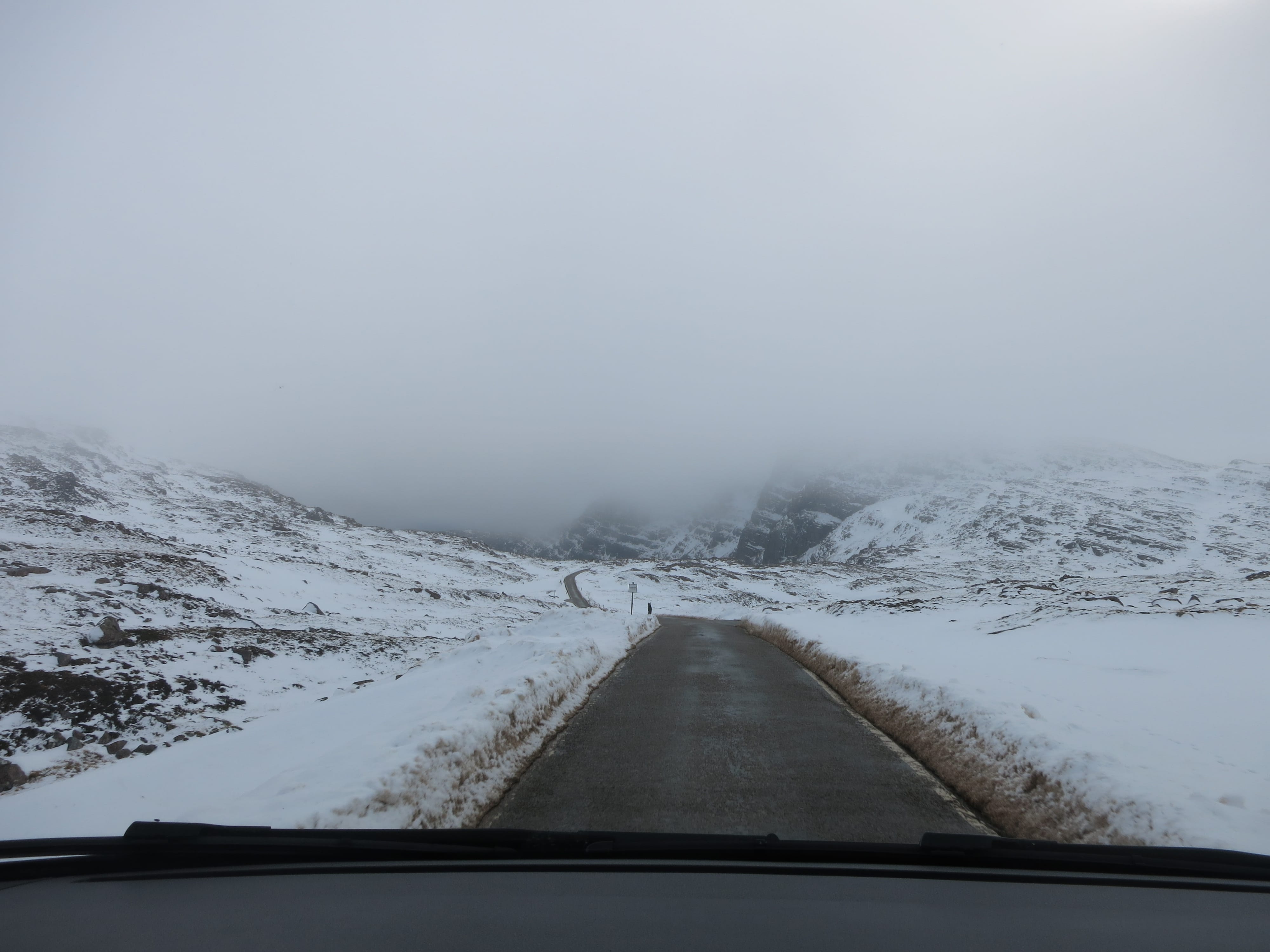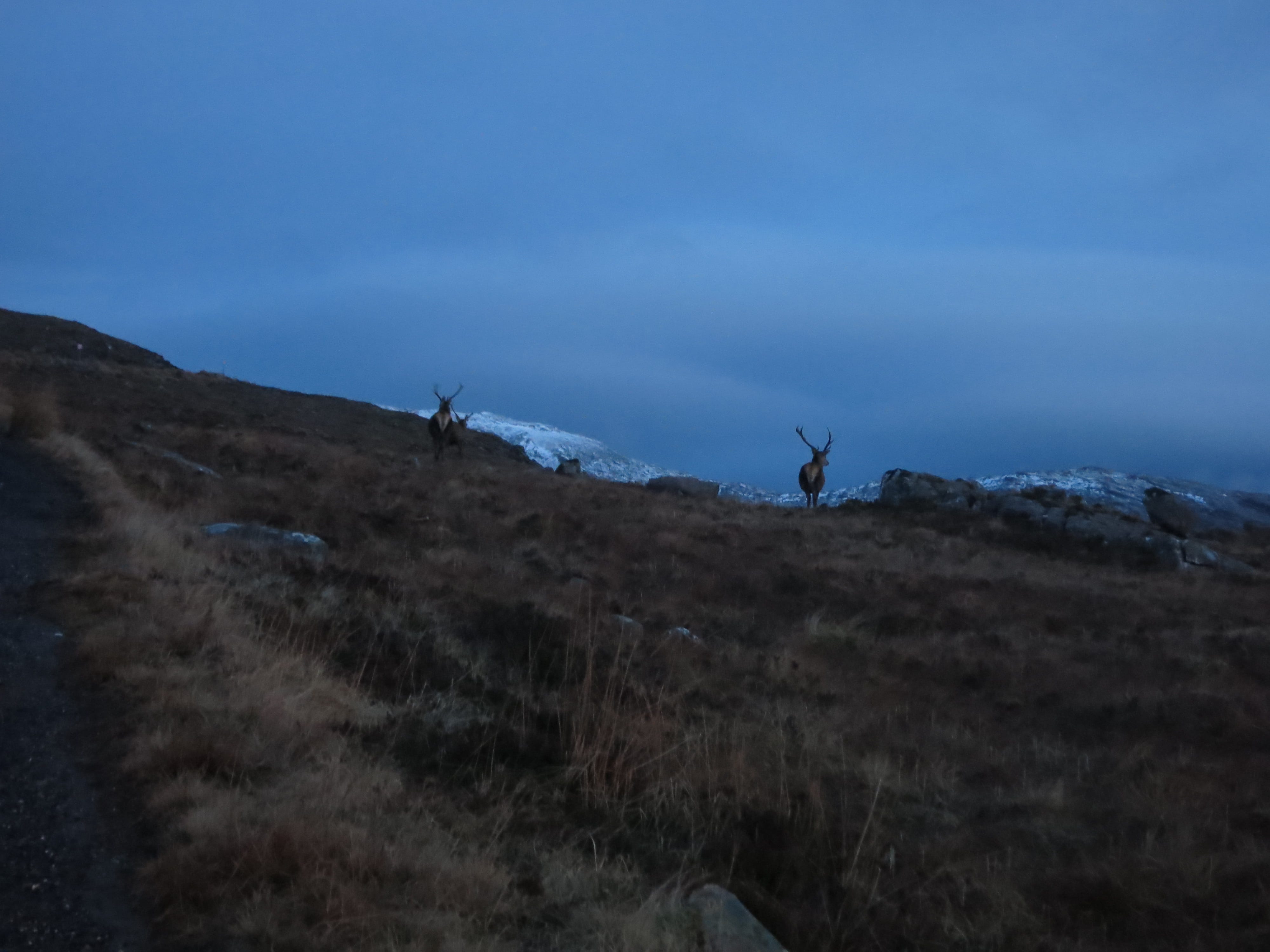 It only took us around 2 hours to drive from Skye to Applecross Campsite which wasn't too bad. By the time we arrived at the campsite though it was pitch black, but thankfully it was open and we were able to pitch up reasonably quickly – thank goodness we weren't staying in a tent though because it was absolutely freezing that night. We were able to hook a little radiator up to the electricity supply at the campsite fairly easily but I really just think it was due to the time of year we went. I'd definitely wait until Summer next time! If you're planning on camping in Applecross thought I'd 100% recommend Applecross campsite. They have plenty of space to pitch up, park up, or if you want to stay in a little hut or caravan they have those too. The owner Alison, was also extremely helpful. It only cost us £17 in total for the three of us for the night and she even made us a cup of coffee in the morning and helped us phone a few of campsites in Ullapool for our next stop!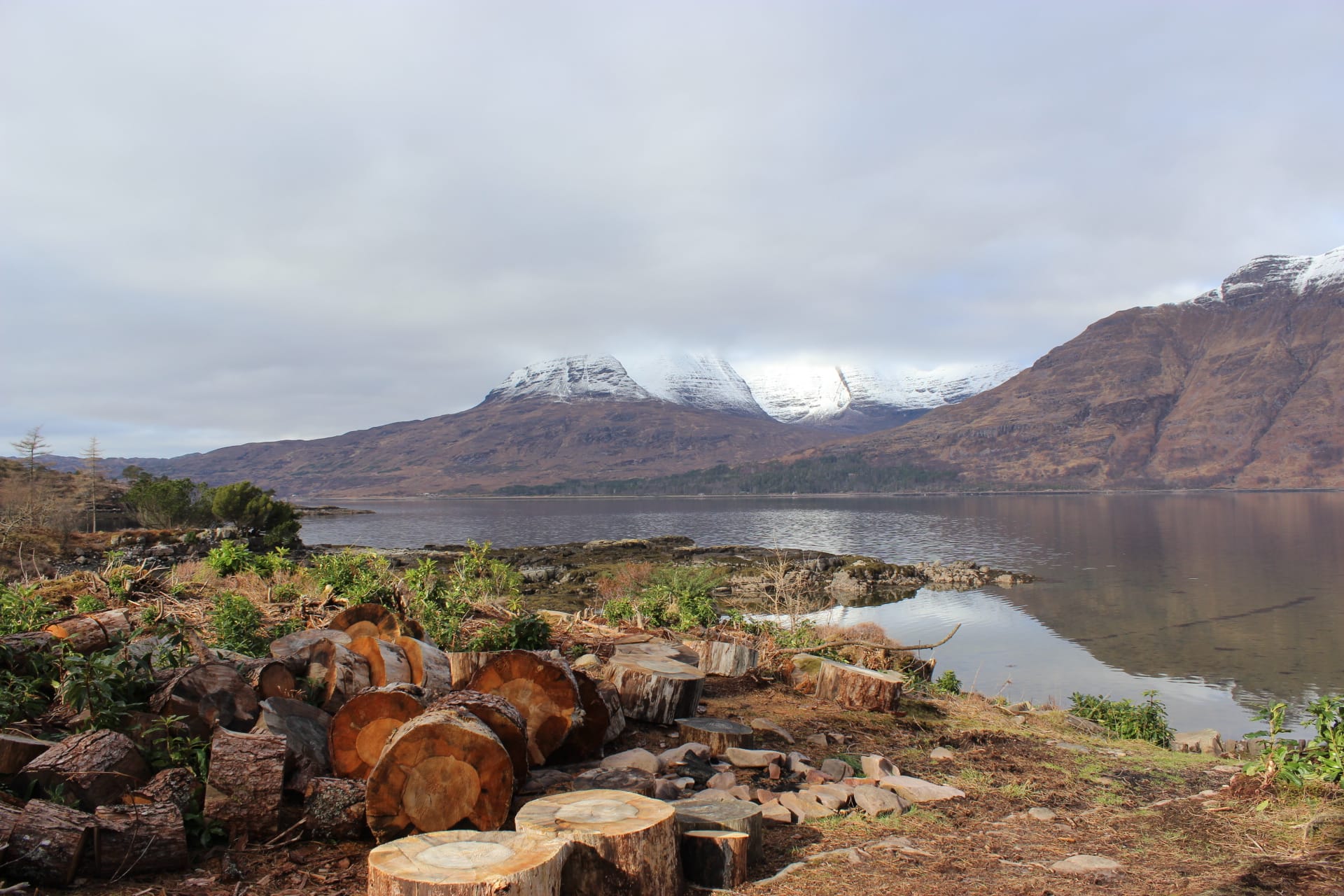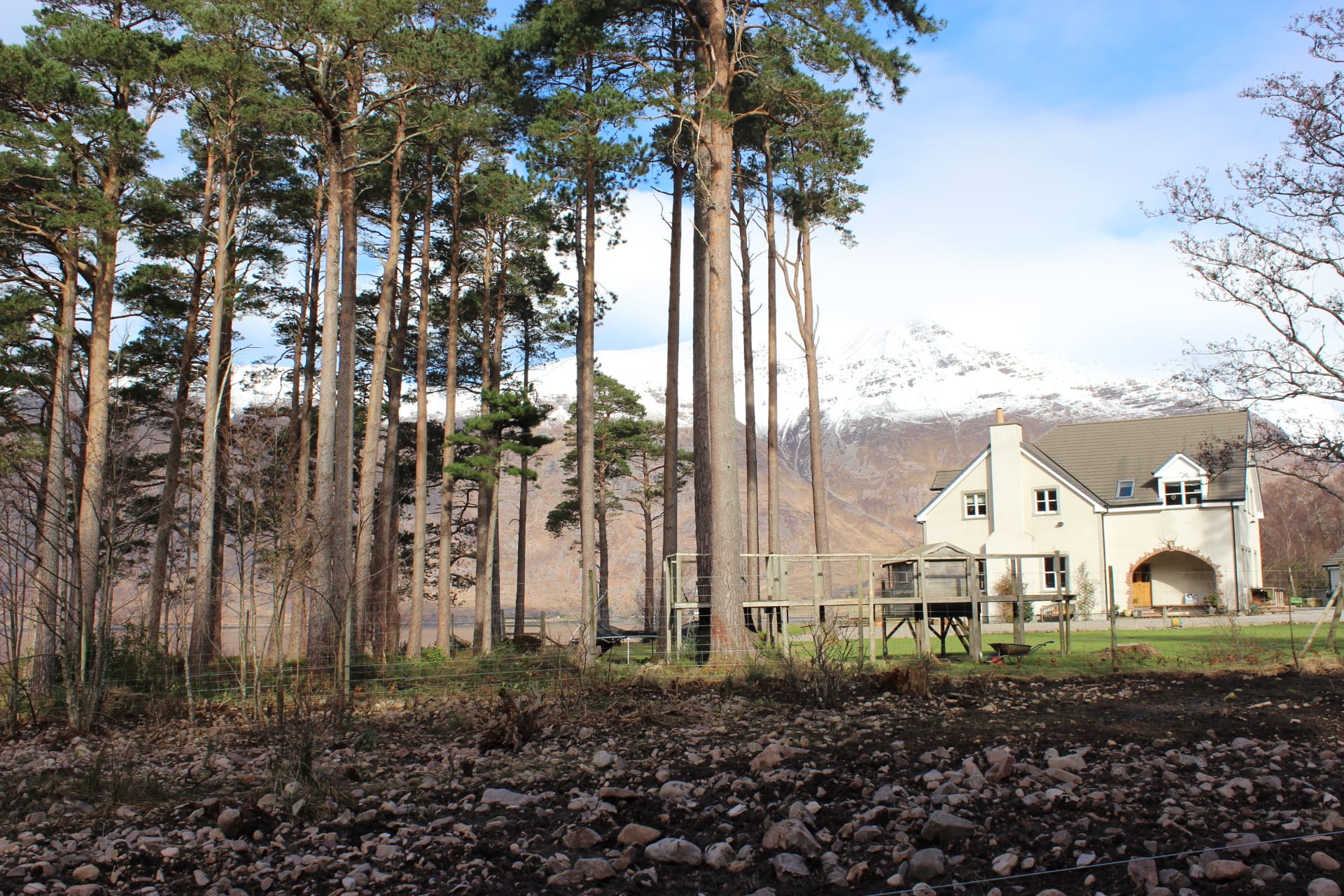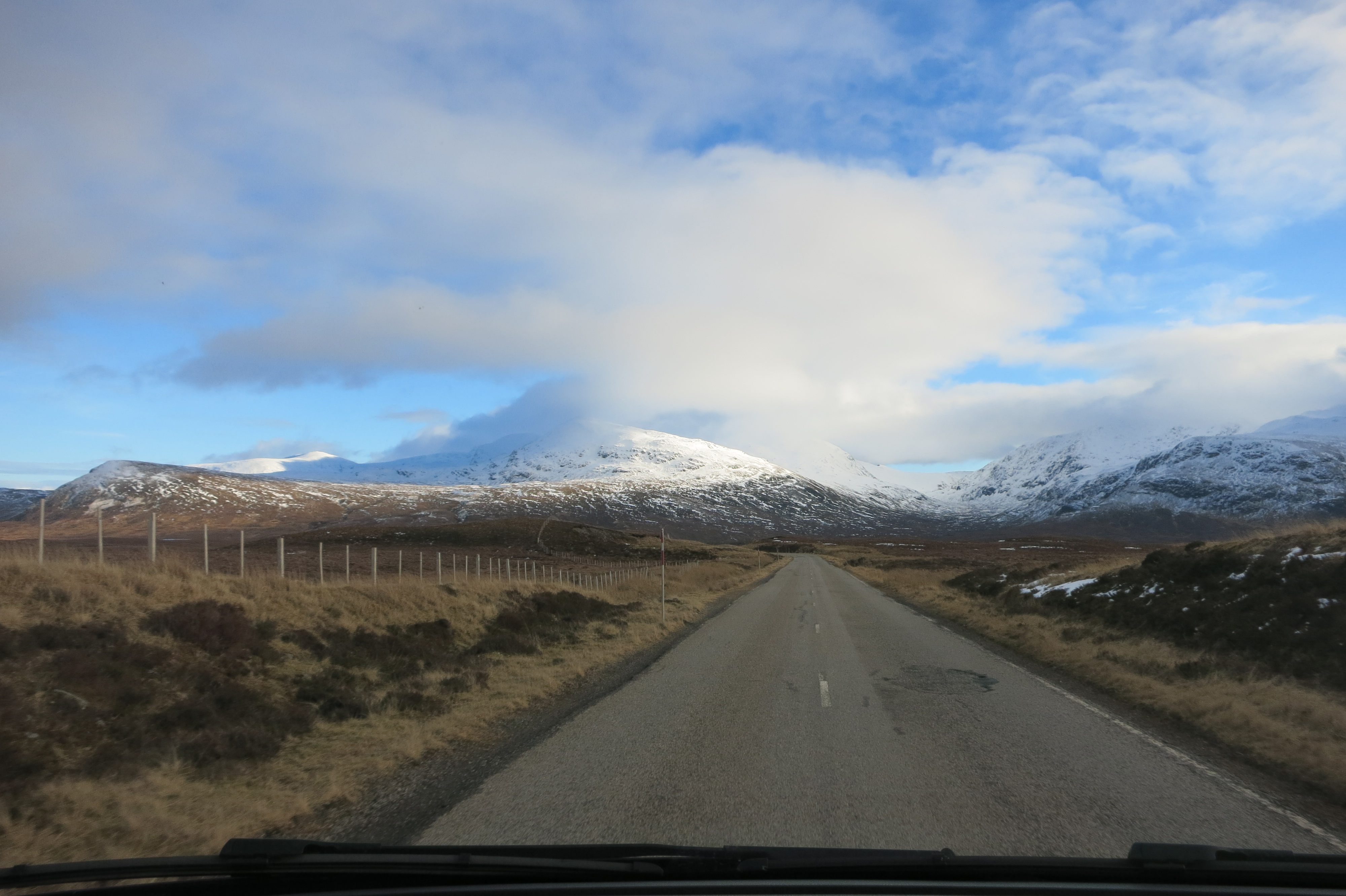 DAY 2: Mon 7th Mar – Ullapool
Ullapool is a beautiful little fishing village, and probably the busiest little village on our trip with a variety of restaurants/bars and shops. On our route to Ullapool we stopped by a few places along the way – Loch Torridon, where we said hi to some highland cows and did a bit of a woodland walk, and also Loch Maree – totally breathtaking and the perfect place to stop for some photos/a picnic.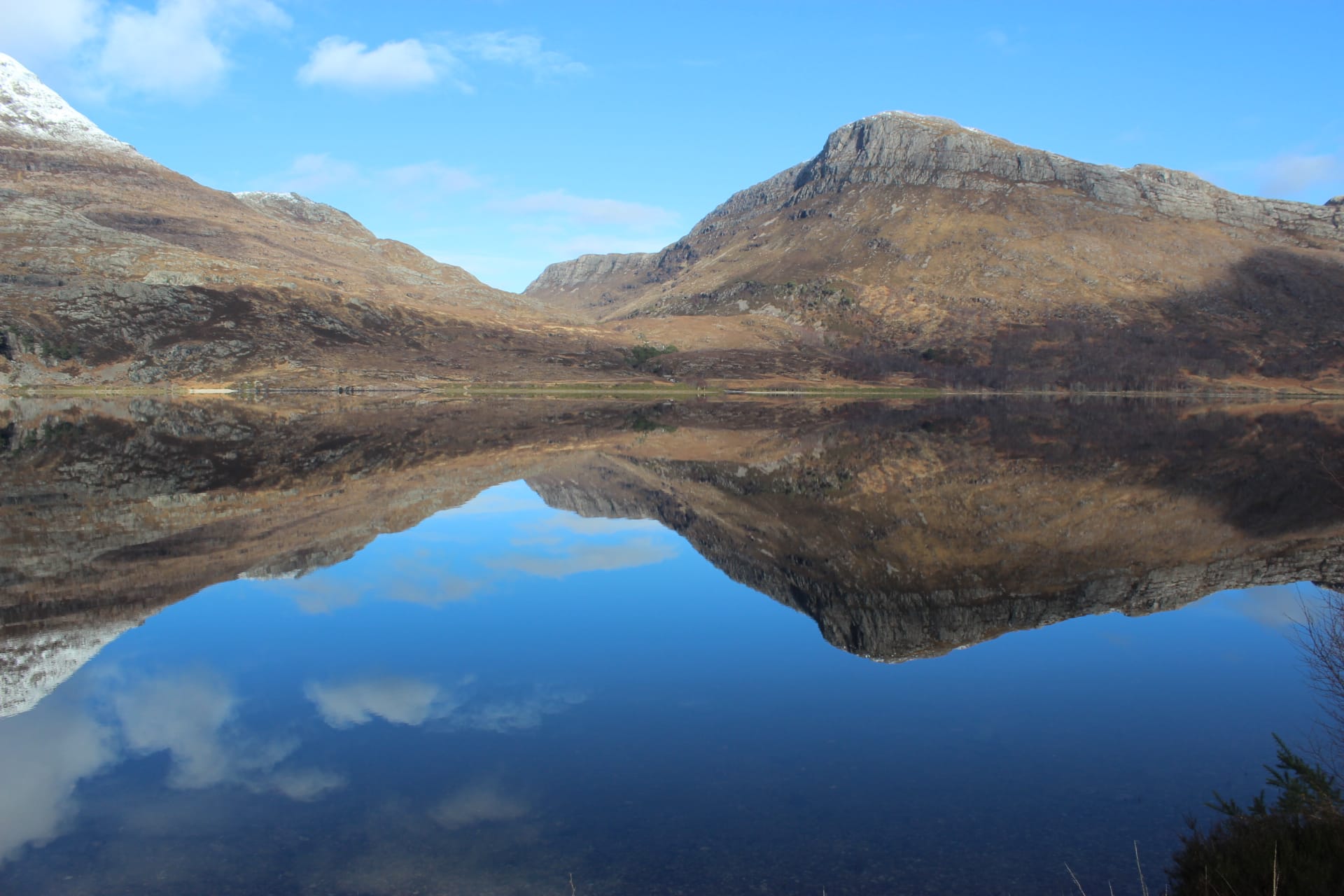 Loch Maree
Again, due to the time of year most of the campsites along the route were closed until the start of the season which is 1st April for a lot of places so following Alison's recommendation we stayed in the Royal Hotel in Ullapool. Overlooking Loch Broom and mountain landscapes, it was the perfect place for us to freshen up and get a good nights sleep. We managed to get a 3 bed room which was really spacious and well worth the money, with a balcony view overlooking the loch. We had dinner at the hotel restaurant/bar – the venison burger was delicious, and the Scottish breakfast the next morning set us up well for the day ahead. If we had time we would have caught the ferry to Stornaway which you can catch literally from the door of the hotel…next time!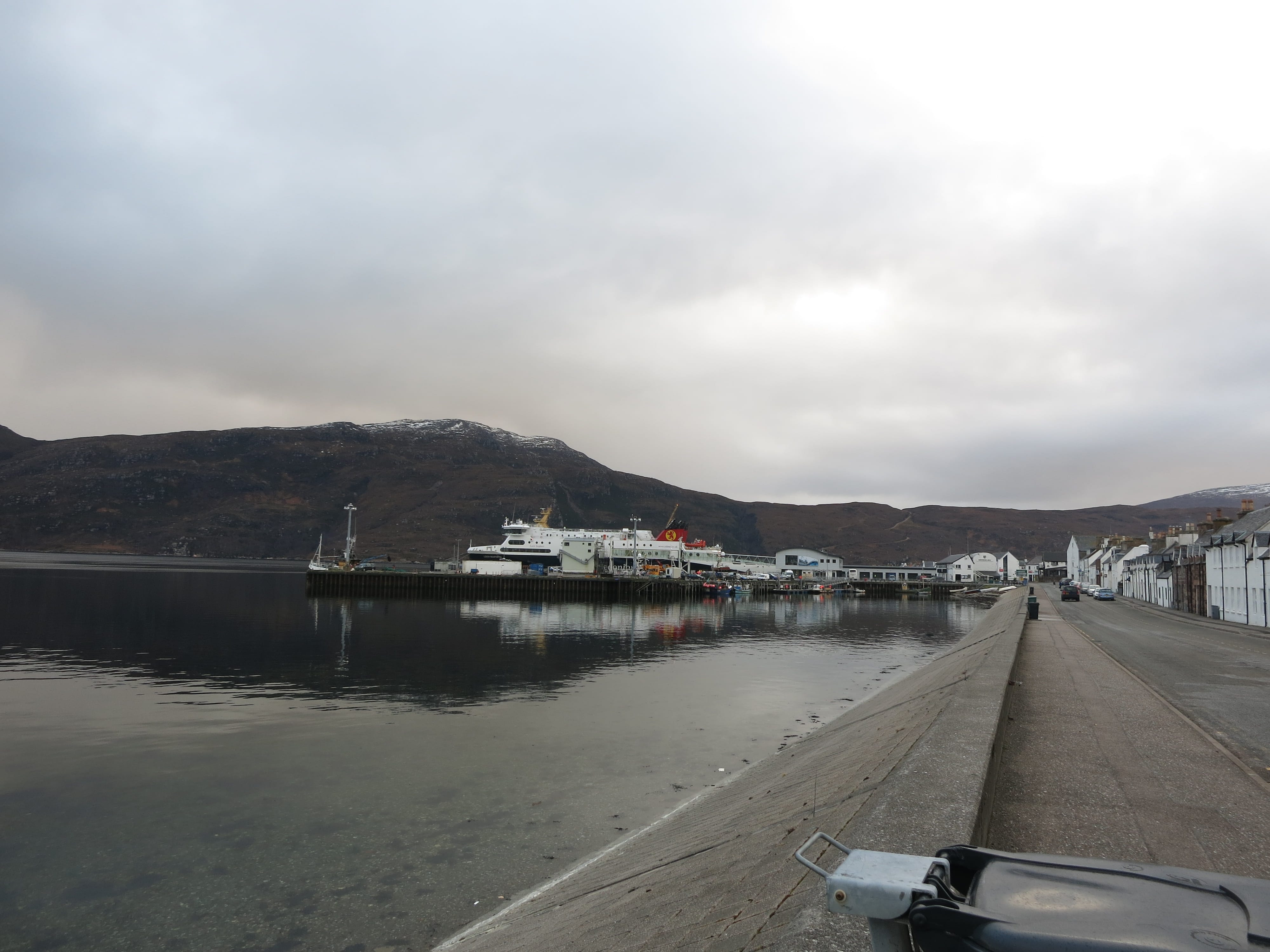 DAY 3: Tues 8th Mar – Durness
Voted as one of Britain's most beautiful beaches we were determined to visit Sandwood Bay on our way to Durness. Unfortunately the weather wasn't on our side that day but we powered through, determined to see what all the fuss was about! At a 4.5 mile walk there and back, it's really best to do it when the weather is nice but we made it there unscathed – soaked to the bone and a bit windswept but it was well worth it. We never encountered another single person there or back (probably because nobody is as daft as us three) but I kid you not, the beach was absolutely gorgeous. The sand was pink and unspoiled with beautiful crystal clear water and huge rolling sand dunes. It was crazy thinking that at that moment in time the three of us were the only people in the whole of the world standing on that beach. Unfortunately, by the time we made it there the wind and rain had picked up a notch or two so we didn't stay long and headed back to the van. As much as the beach is beautiful, I'd learn from our mistake and tackle this walk on a clearer day as we did get a bit stuck in some swampy ground on the road back. On a clear day though the path would be totally fine and is't too bad at all.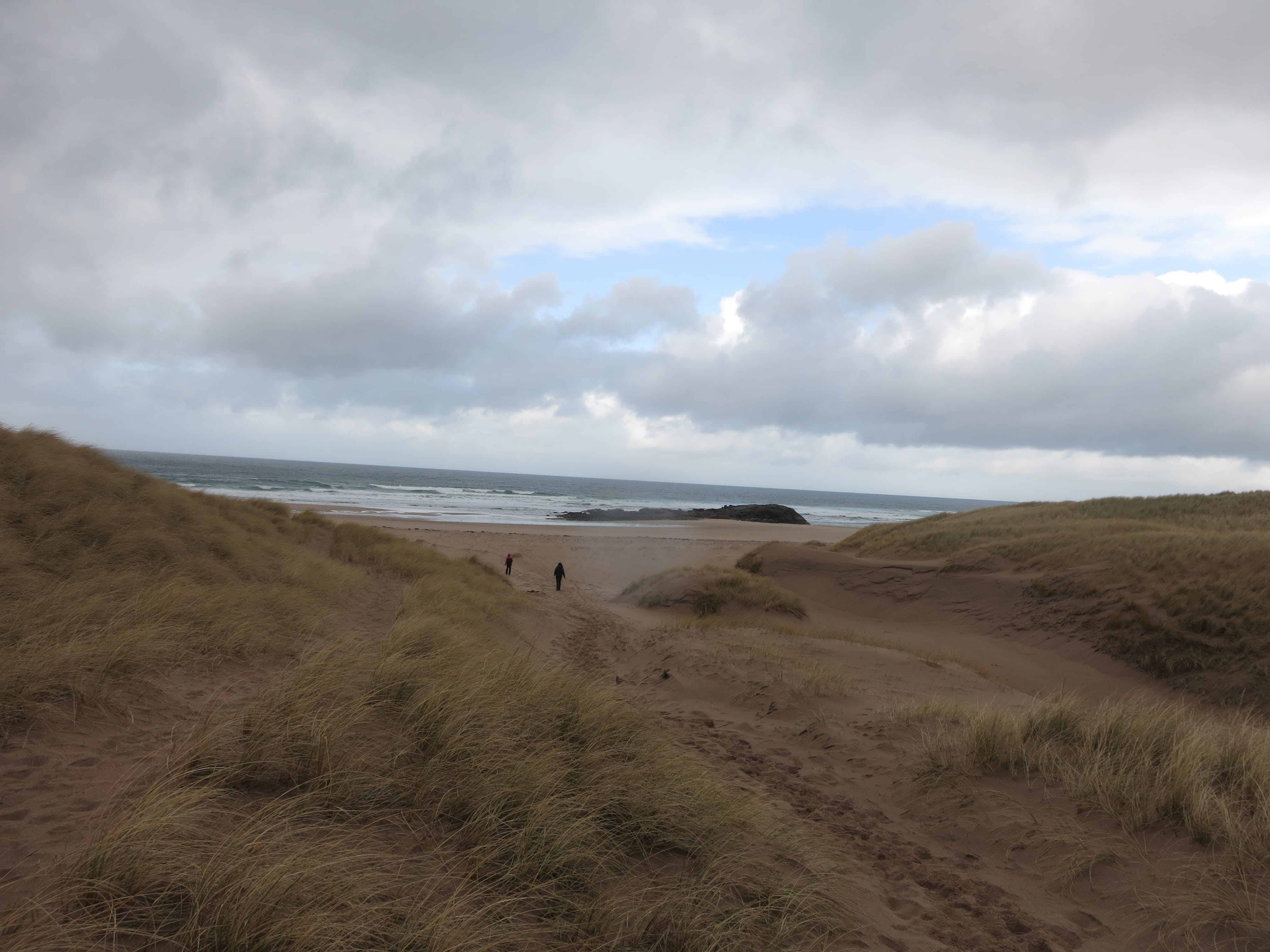 For our night's lodgings, we parked up at Sango Sands camp site. Luckily for us, although the campsite was officially closed the owner had kindly opened the campsite for vans to park up for the evening. The only downside was that none of the amenities were available so we had to take a little walk up to the local Spar to get washed and had to go without electricity for the night which wasn't ideal because the campsite overlooks the North Sea so it was pretty chilly! The views from the campsite were amazing though and it would be the ideal spot when the camping season starts back up!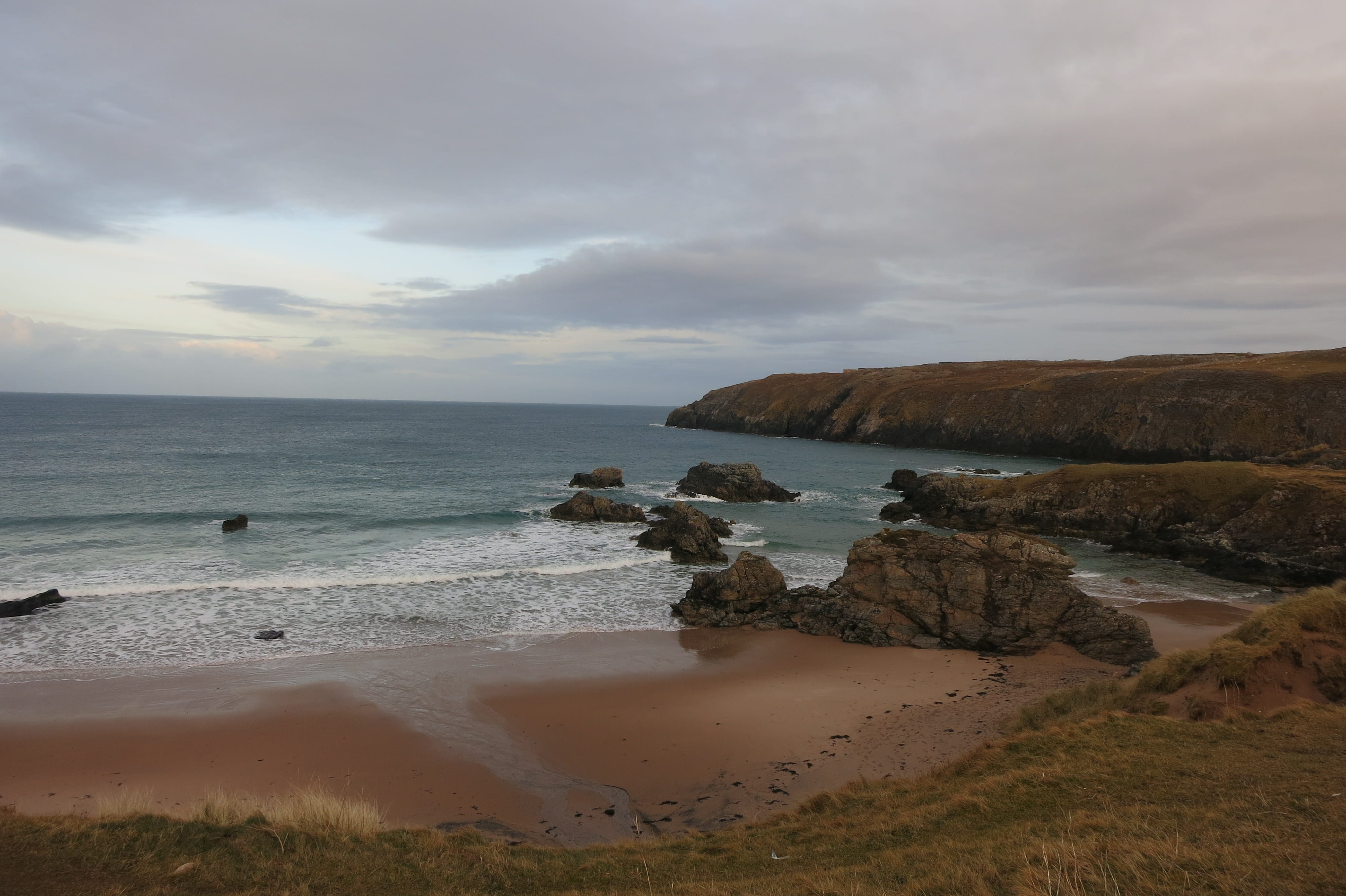 View from Sango Sands campsite
DAY 4 (am): Wed 9th Mar – Smoo Cave, Durness
A short drive away from Sango Sands campsite is Smoo Cave which is the largest sea cave in Britain. Accessed by a flight (or three) of stairs set inside a gaping hole in a sheer limestone cliff, this is not a sight to be missed. The cave itself is spot lit, and boasts a beautiful waterfall. In the Summer months, there are tours only costing £4 where you're actually taken into the waterfalls on a wee boat (amazing, I know!) but when we visited, it was just the three of us which I actually loved because we had the whole place to ourselves! After exploring the caves and admiring the waterfall we headed along the cliff top and took some snaps of Balnakiel beach below which is absolutely stunning.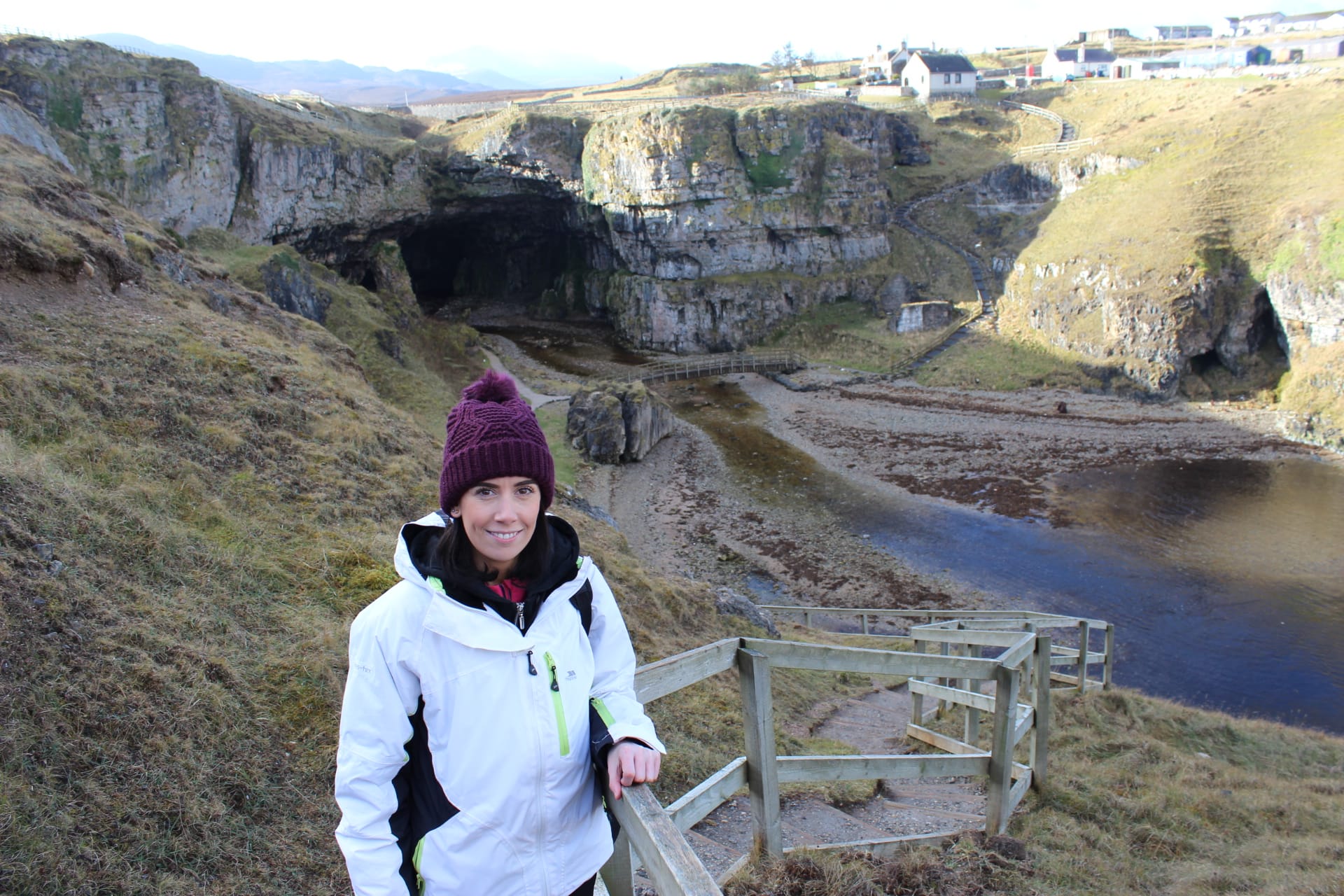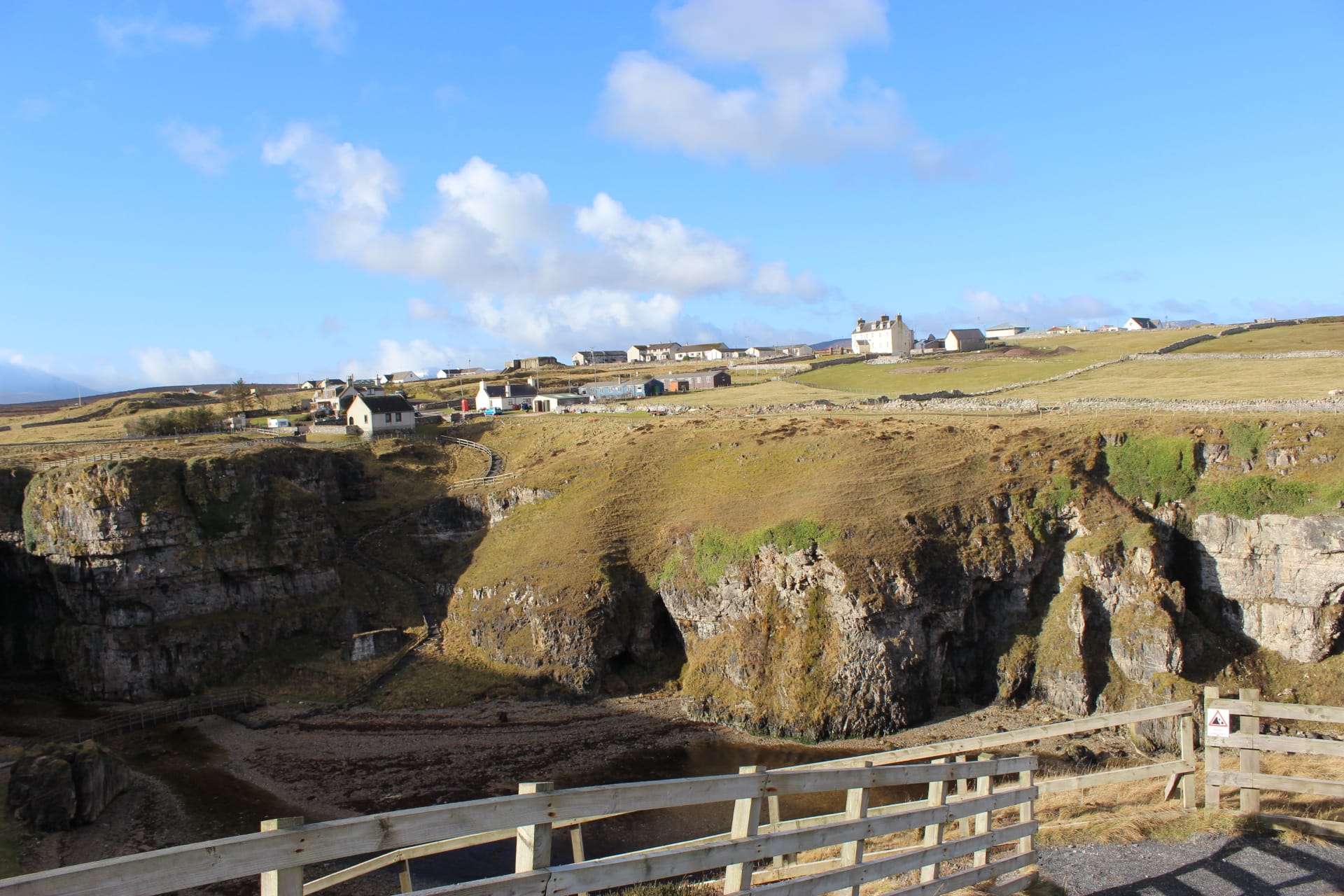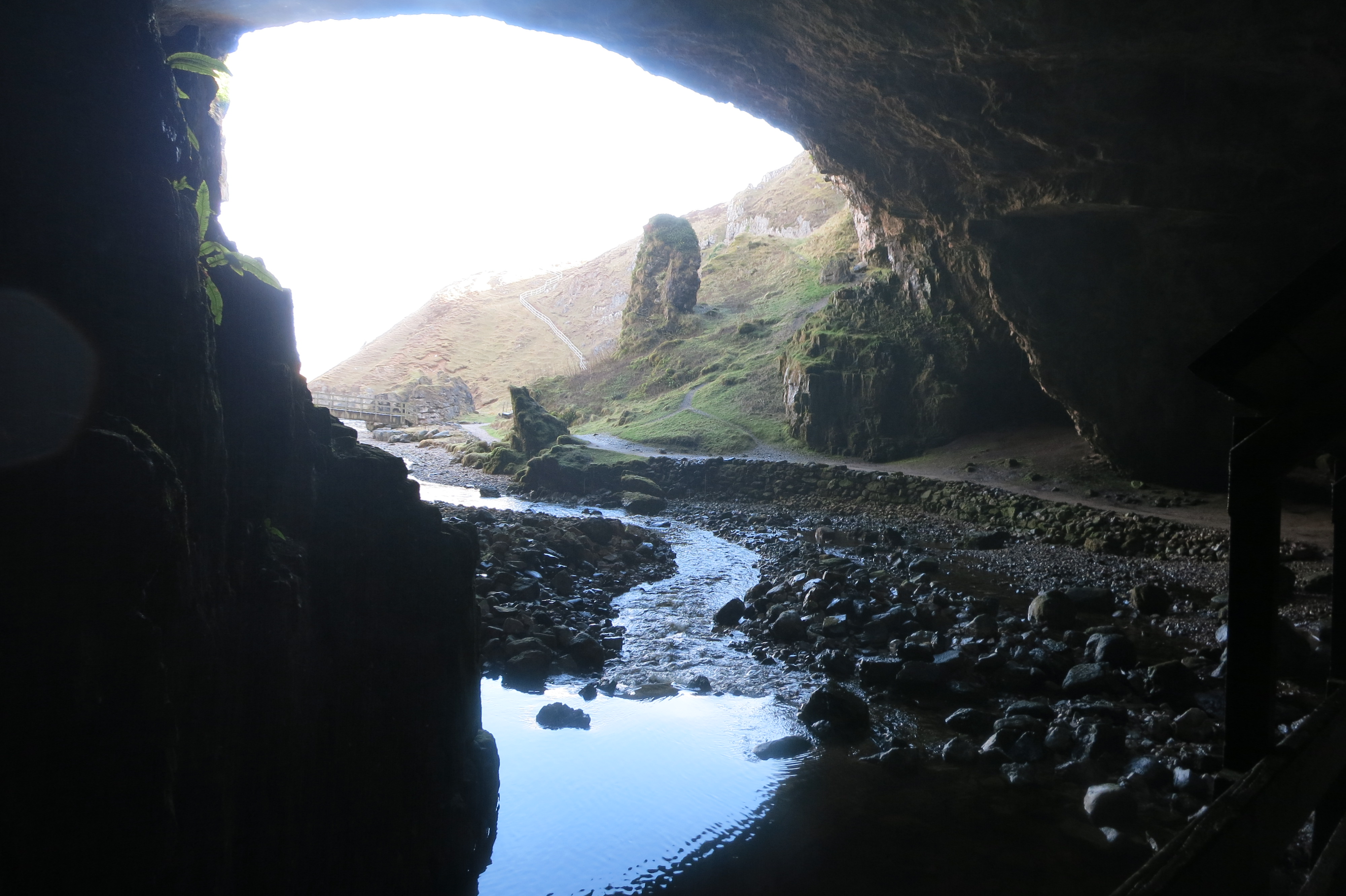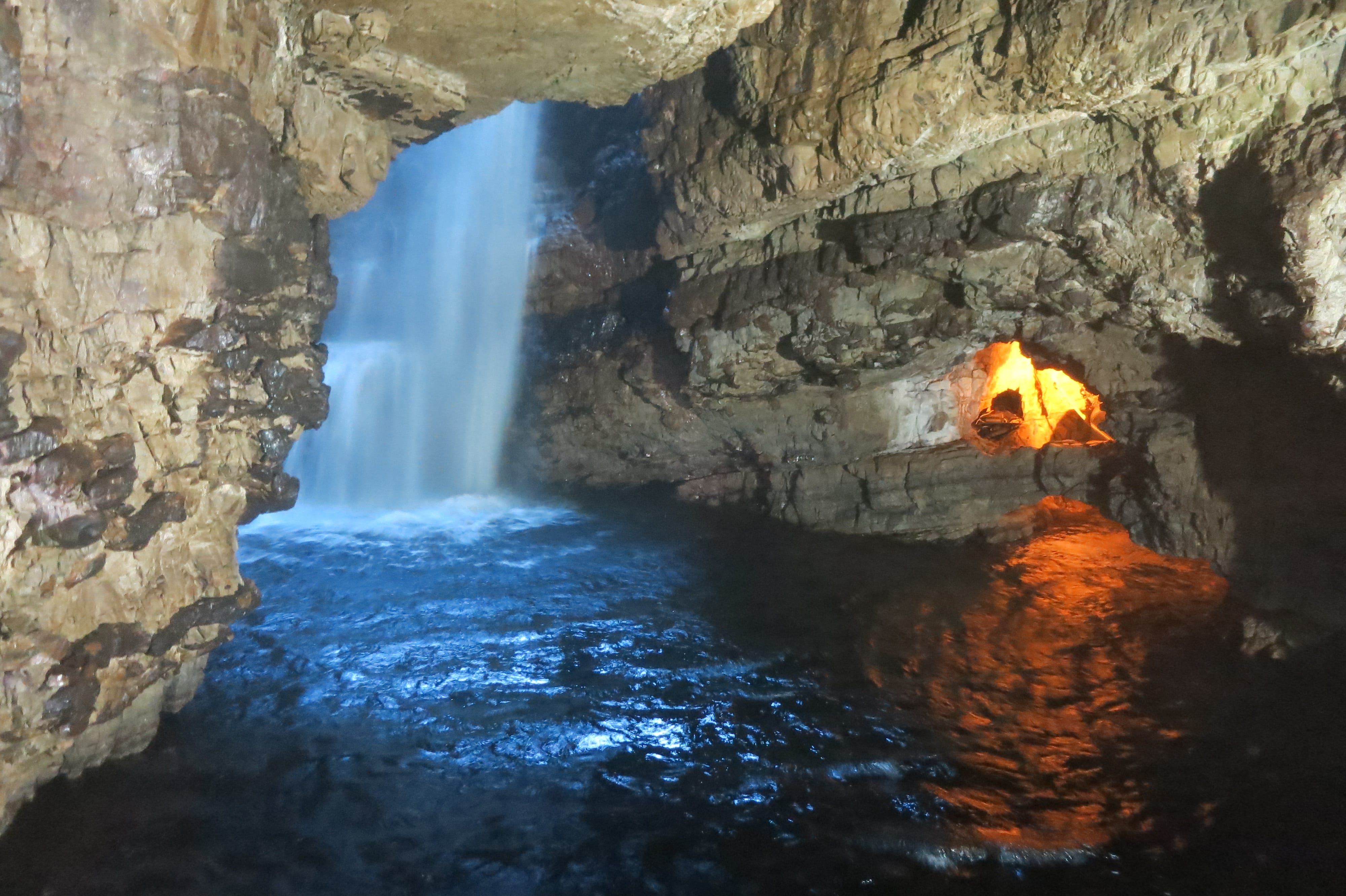 DAY 4 (pm) Wed 9th Mar: John O'Groats
As the most northerly point of mainland Britain, John O'Groats was our final stop on our roadtrip before heading back to Inverness and then lastly home to Glasgow. By this point we were all exhausted from all of the shenanigans but it didn't stop us from getting out and about and exploring the little village and of course stop at a little local cafe/shop for some lunch and touristy bits and bobs to take home with us.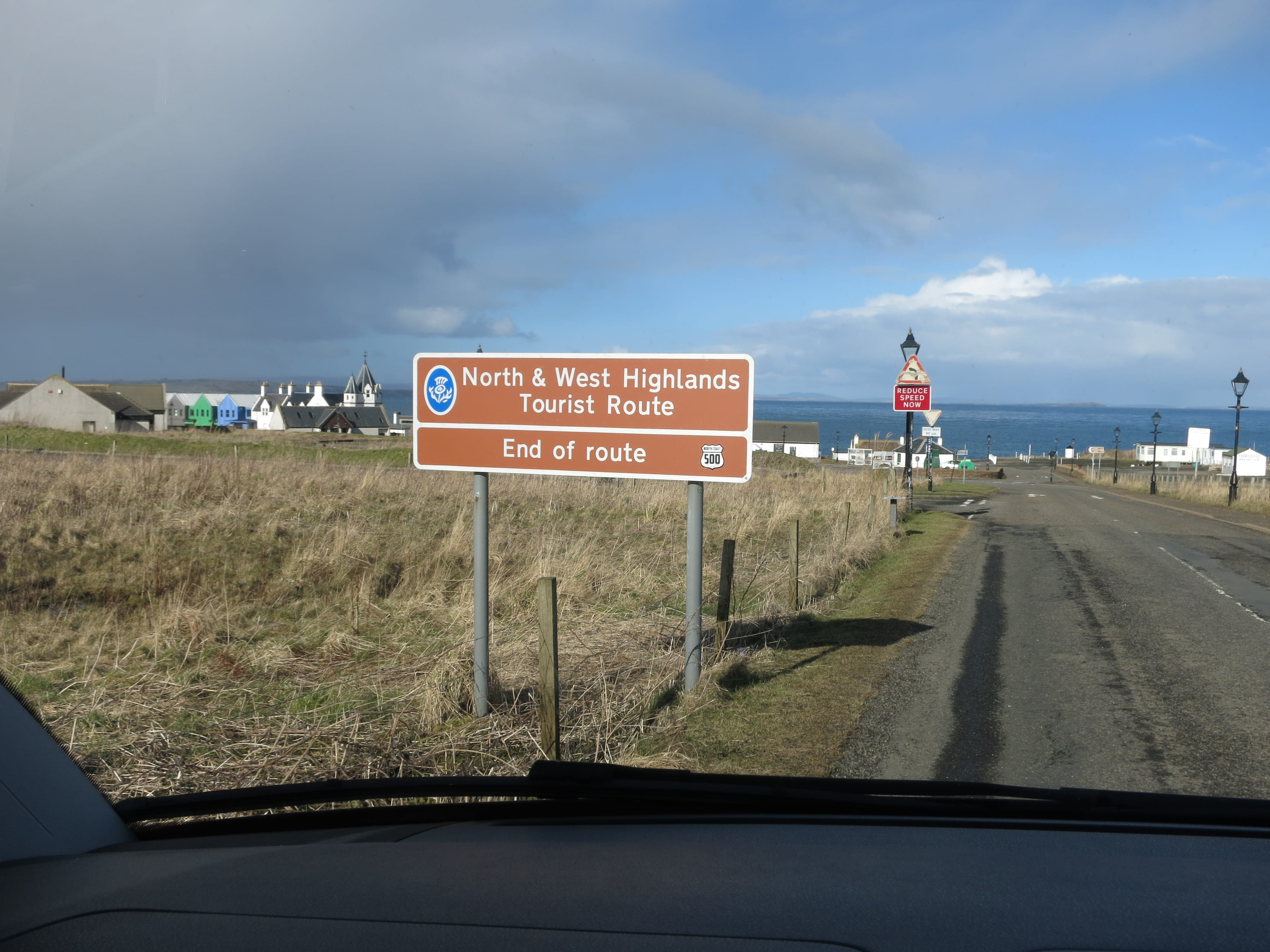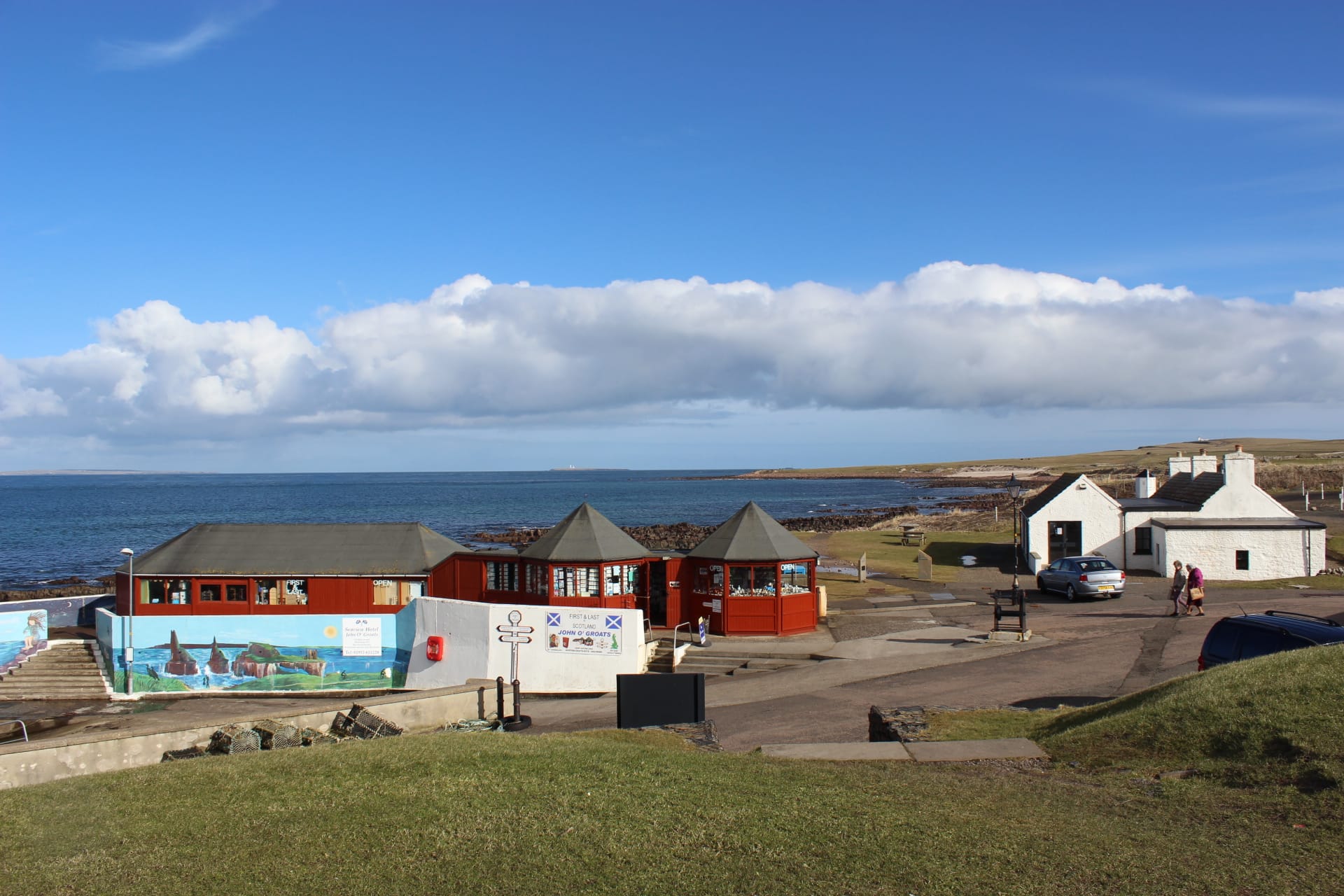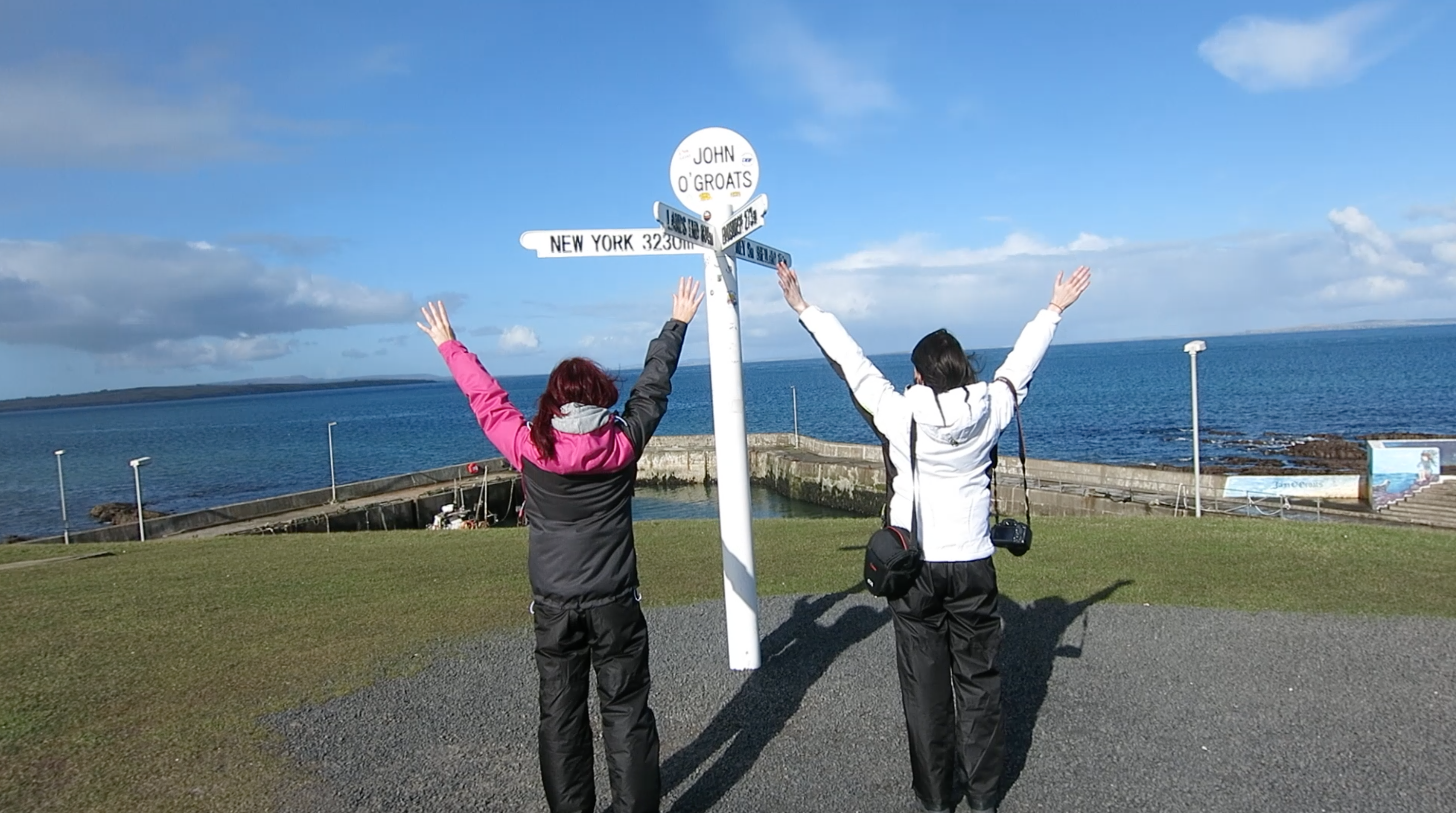 We were on a tight deadline otherwise we would have caught the boat to Orkney which is only 6 miles away! After lunch and some exploring, we headed back to Inverness, not before stopping in Golspie to admire Dunrobin Castle. The drive down the East coast is really easy as it's pretty straight, unlike the West, and it only took us around 2.5 hours to drive from John O'Groats to Inverness. I've heard some people say that since there is more to do on the West coast that it's better to start off at the East, but I'm actually glad we started at the West because you know what it's like at the end of a trip, I always feel tired and slightly drained so it's good knowing that it's an easy drive ahead and you can just enjoy the drive rather than having to stop a lot to do things.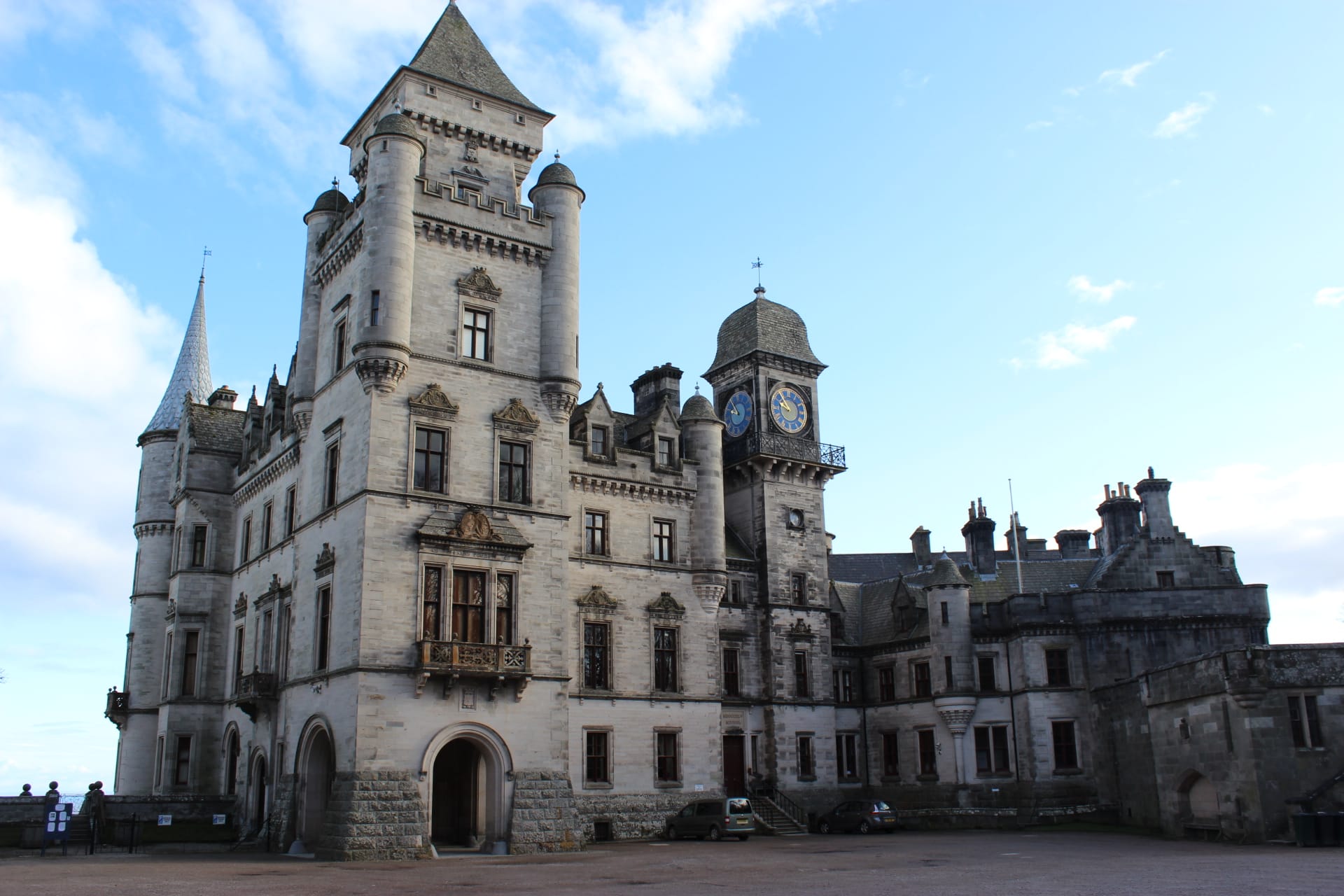 If you're thinking about doing the NC500 I can't recommend it enough! The only thing I would probably do differently is go during the middle of Spring or wait until Summer as I hadn't anticipated how cold it would be this time of year. However, that's just personal preference because I hate being cold!! On the other hand though, it was so beautiful driving through the mountains covered in snow so you have just have to weigh things up. Another thing I'd recommend is actually taking the time to stop at passing places because it's too easy to just drive past without getting out of the car and really taking it all in! It was also great having the camper van, there was so much space for our luggage and it made travelling around that much easier, especially just jumping in the back to cook some food when we got hungry. We also thoroughly enjoyed being honorary members of the VW van club…there was a special wave and everything haha.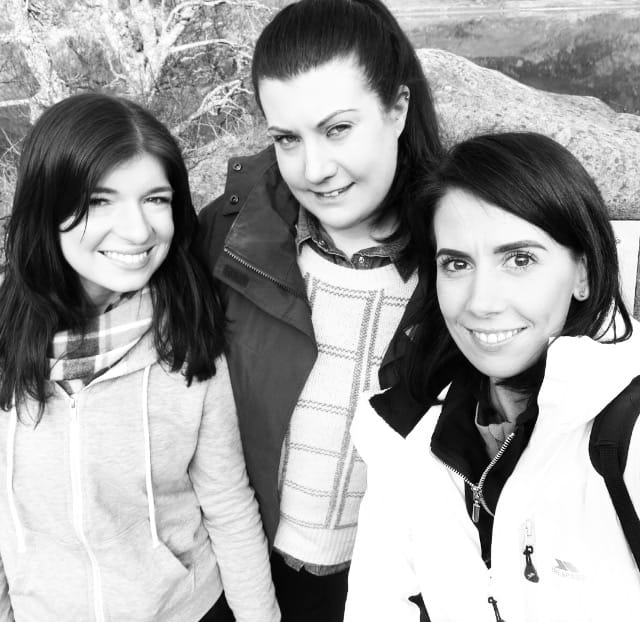 Thanks so much to Rockin Vans for pushing us out of our comfort zone and allowing us to do something we've wanted to do for years but just never got around to doing! It's so easy to just take things for granted. I think we forget how beautiful the UK is sometimes, and Scotland is just stunning so if you're thinking about going on a roadtrip then make sure you check out Rockin Vans. They have a huge selection of vehicles from 2 berth and 4 berth camper vans to actual motor homes so there's something for everyone.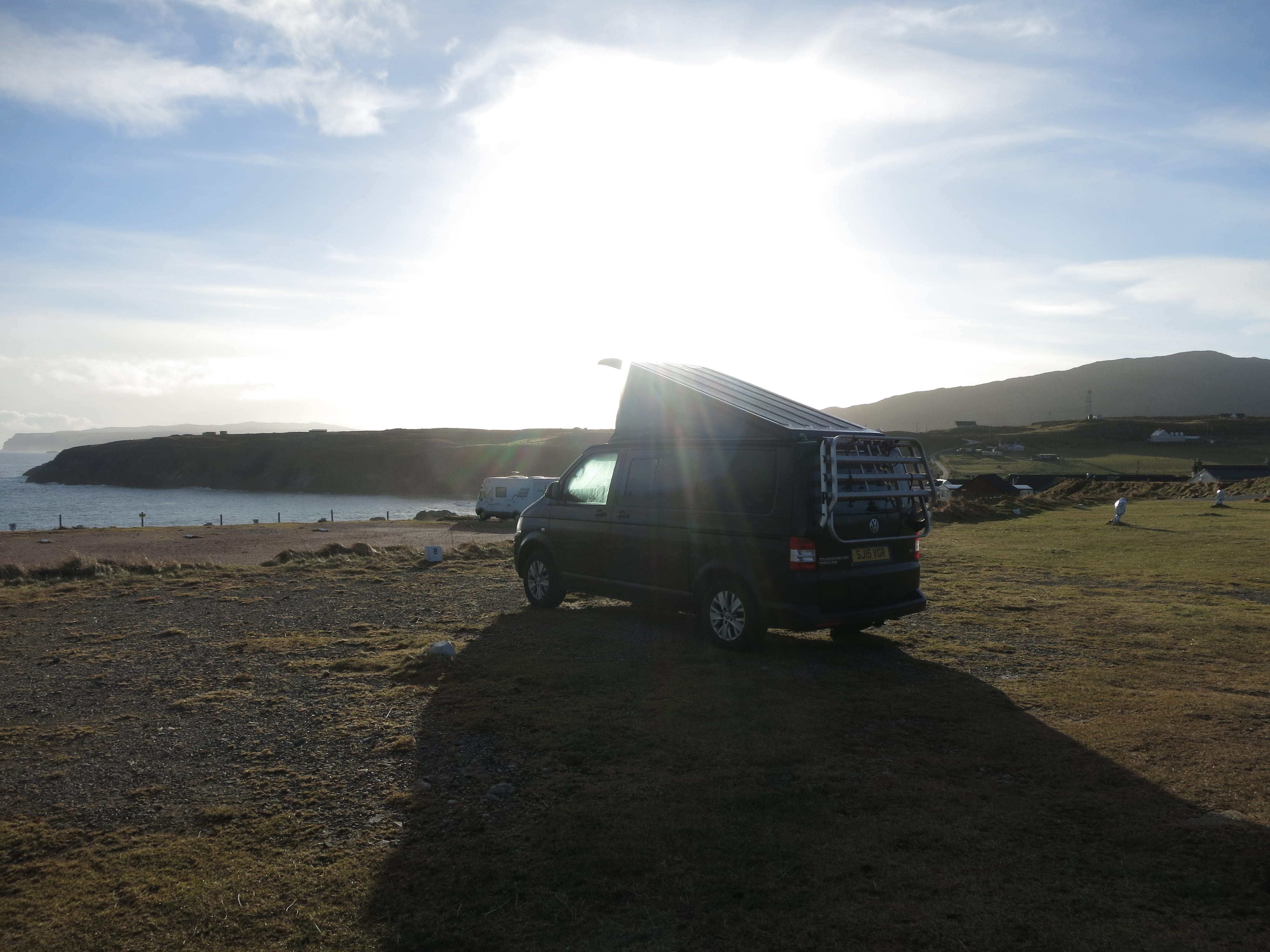 I hope this post has helped some of you – I really couldn't list every single place we visited or all of the things we did as I'd be here all day but there are SO many things to do throughout the NC500 that I could probably do it another 10 times over! If you have any questions about anything at all then just comment below or tweet me @girltartanscarf and I'll be more than happy to get back to you and if you'd like to see a little bit more of what we got up to then you can watch my vlog here. I hope you enjoy it!!
Lots of love,
Chantelle xx