If you follow me on instagram or you're subscribed to my youtube channel then you'll know that I'm currently in full on 'Spring mode' so todays post really couldn't come at a better time! One of my favourite shopping centres – Silverburn – are having a huge fashion and beauty event this month, yaaay! It's running from 23rd – 29th April and they've asked me to collaborate with them which I am so pleased about! The Art of Style will be showcasing the hottest fashion and beauty trends of the season brought to life by amazing sculptures, live catwalk shows and makeup tutorials. All this fun stuff will be taking place outside Debenhams in Silverburn and it's definitely not one to be missed. As well as fashion and beauty tips from the experts you're also in with the chance of winning a gorgeous Kurt Geiger handbag and accessories…more on that to follow 😉
WHO IS THE EVENT FOR?
That's easy, it's for EVERYONE who loves beauty, fashion and amazing discounts! You'll be able to have a look at the beautiful sculptures on show as well as picking up tips from the experts on the trending pieces this season. You'll then of course be able to purchase everything you see right in the centre. In addition to this you'll also have the chance to hear and learn all about the Silverburn PLUS app. If you don't already have this in your life then you need it. As well as being alerted to any discounts in the shopping centre and amazing deals on food, shopping etc it also has a very nifty little feature called 'Style Seeker'. Ever seen someone wearing something that you simply need in your wardrobe but not sure how to find it? Style Seeker does the hard work for you – simply snap or upload a photo and Style Seeker will list an array of items – showing the brand, retailer and price. Pretty awesome huh? Just search for 'Silverburn PLUS' in the app store!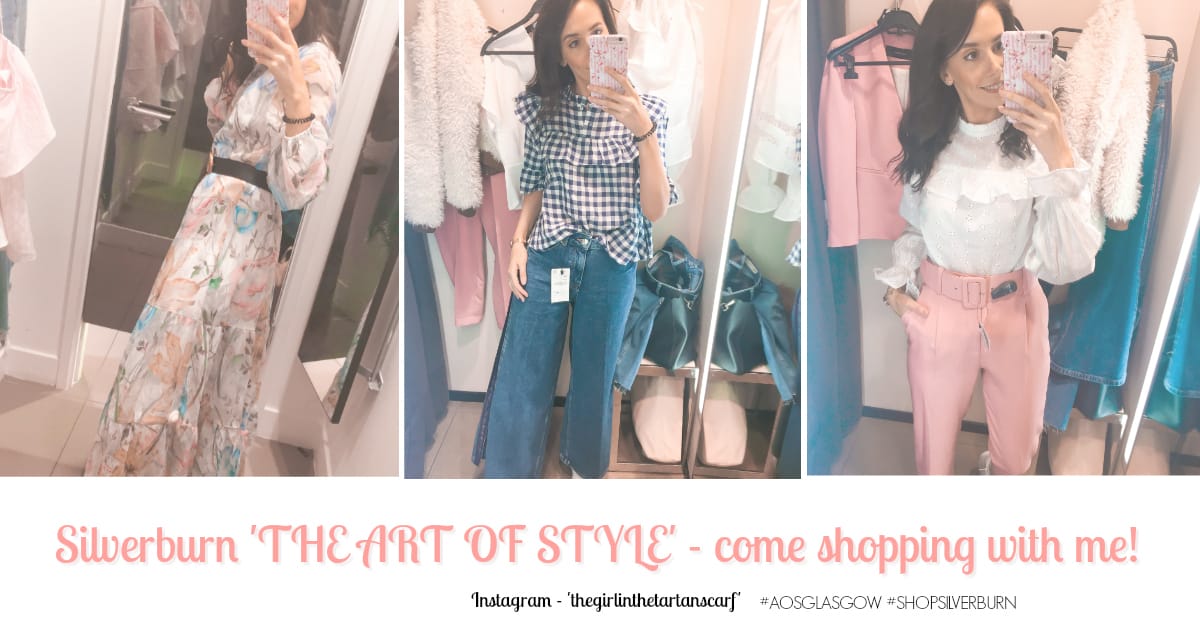 Look 1 – H&M; Look 2 – Zara; Look 3 – Zara
WHAT SPRING TRENDS WILL BE ON SHOW?
I'm excited to give you a sneaky lil peek at some of the fashion trends that will be showcased throughout the week!
Playful Pastels – there really is something for everyone with this trend. Think floaty pastel chiffon tops and contrasting power suits in the prettiest of pastel shades. Mixing and matching separates in different pastel hues is going to be big this season – you heard it here first!
Mad About Plaid – plaid has made a huge comeback this season and I'm very happy about it! I've been seeing loads of my favourite insta babes wearing cute plaid pinafores and sporting major Clueless vibes with pleated check mini skirts. It's a serious nod to the nineties and I love it!
Dark Denim – this one excites me! Think matching denim pieces, indigo wide legged jeans with side stripes teamed with plain white tees or tie waist broderie anglaise tops. This trend gives a nod to the seventies which is one of my faves!
Floral Fantasy – it wouldn't be Spring without some florals would it? There's just some trends that will always make a reappearance for particular seasons and florals is definitely a firm favourite for Spring. I'm all about a ditsy floral print but I've been noticing a lot of pastel florals this season so I can't wait to explore this trend more and see what's new for florals this year.
I've already chosen two of my favourite trends and shared some looks from my shopping trip to Silverburn over on insta stories. You can find them here (saved in my highlights). Can you guess which two trends I chose? 😉
HOW CAN YOU WIN A KURT GEIGER BAG?
Remember the Silverburn PLUS app that I was talking about above? All you have to do is download it for free and set up a new account. You'll then be in with the chance of winning a brand new Kurt Geiger handbag and/or accessories – it's as simple as that! You might remember spotting me wearing my own Kurt Geiger bag from this post. It's one of my favourite accessories with major Chanel flap bag vibes – so whoever wins this comp is a very lucky guy/gal!
Make sure you go and check out my favourite looks and keep up to date on insta stories as I'll be on there a lot updating you and giving you sneak peeks whilst I'm at the event! I'll hopefully see some of you there – if you see me floating around, come and say hi and remember to use #AOSGlasgow on social media so that I can check out what you're all loving!!
Lots of love,
Chantelle xx
This post is sponsored by Silverburn.
All thoughts, opinions and creative direction are my own.