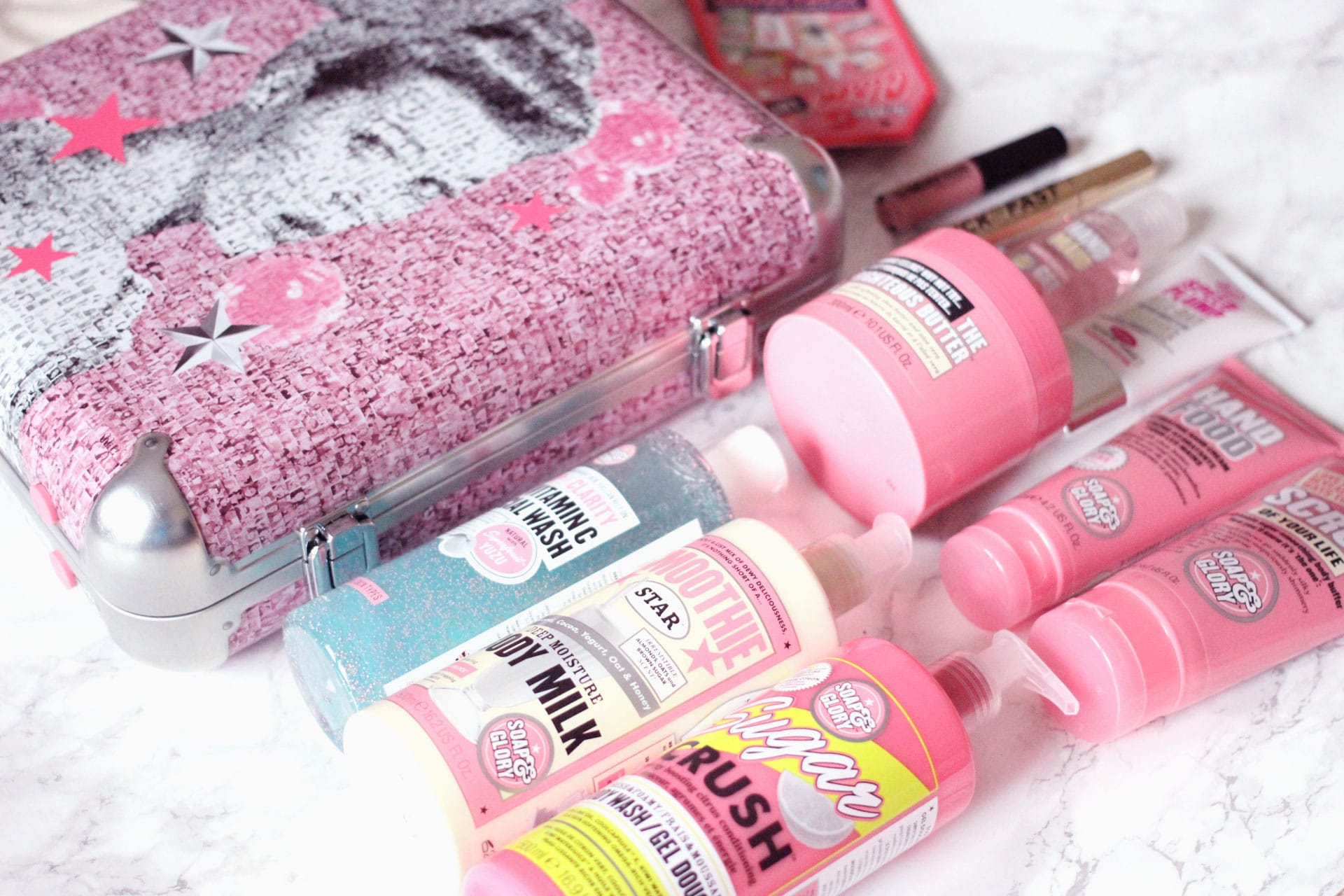 It doesn't reallllly feel like Christmas until I have my hands on Soap & Glory's annual star gift and this year's is definitely not one to miss! Packed with a range of Soap & Glory's best selling products totalling a whopping £60 and yours to buy for only £30 for a limited time only, it would be silly not to eh? It launched last Friday in Boots online and instore and I was first in line to grab one! Fear not though because there are still plenty going around!
Each year the packaging is slightly different but always adorable and this year has to be my absolute favourite. It's a mini suitcase…yes a MINI SUITCASE covered in selfies from Soap & Glory fans! Since I've already picked one up I thought I'd give you a quick peek inside. The contents this year are great (let's be honest they always are) and there's not one product that I wouldn't use. From a range of Soap & Glory's most popular bath and body products to facial skincare and makeup, there's something for everyone.
So what's included?
SUGAR CRUSH body scrub
THE SCRUB OF YOUR LIFE super smoothing body butter
THE RIGHTEOUS BUTTER body butter
SMOOTHIE STAR deep moisture body milk
HAND FOOD hydrating hand food
FACE SOAP & CLARITY 3-in-1 daily detox Vitamin C facial wash
SPEED PLUMP super moisture day cream
THICK & FAST High Definition Collagen coat mascara
SEXY MOTHER PUCKER lip gloss in Rose & Shine
HAND MAID antibacterial hand cleansing gel
*N.B. These are all full size, no piddly sample sizes in sight! Hoooraaaaay!
I don't think these are going to be sticking around for long so if you'd like to get your hands on one just click here. Unfortunately they're not available to buy online now but this link allows you to check whether your nearby Boots has any in stock. I've already checked the stock for Glasgow and they are available in every store so worry not…you should still be able to get one!
Will you picking up Soap & Glory The Whole Glam Lot this season?
Remember to follow me on Bloglovin and subscribe to my youtube channel so that you never miss a blog post/video!
Lots of love,
Chantelle xx
This is not a sponsored post.