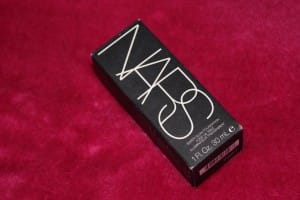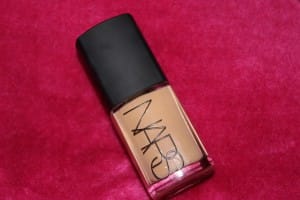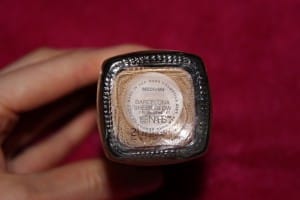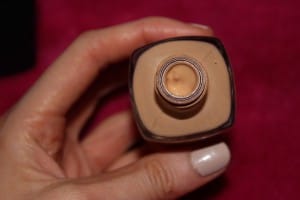 To say I am slightly obsessed with foundation is a bit of an understatement. I am constantly on the lookout for new foundations to try, and am constantly changing my mind on what are my favourites of the moment. Nars Sheer Glow is one of those foundations that everyone seems to rave about but I've always been too afraid to try it mainly because of the word 'sheer' – this screams light coverage to me and I prefer medium. After doing loads of research though for a new foundation it kept cropping up so I decided to just bite the bullet and bought it!
Firstly let me just say, don't be put off like I first was, with the word 'sheer' as this is a very buildable foundation giving a light to medium coverage. The texture is quite thick but not cakey at all, with a velvety feel to it, giving a semi-satin, semi-matte finish. With all of my foundations I like to use the Real Techniques buffing brush but I find with this foundation, it is a lot better to use my fingers as the warmth heats the foundation up slightly and it takes better to my skin once applied. It is said to have a 'complexion brightening formula' which leaves the skin looking more luminous and bright which is one of the main reasons I wanted to try this out and it definitely doesn't disappoint here (it is also said to improve the skins brightness and texture if used daily, but I can't really comment on this as I've only really had it for a month or so). I tend to use this mainly when I'm having better skin days, that said though it does still cover up blemishes well, just not as well as some of my other foundations. The great thing about this is that if you are lucky enough to have great skin and don't like to wear a lot of foundation this is perfect because you can use the smallest amount to get just the right coverage, then for you not so lucky gals (myself included) if you are having bad skin days you can build it up to a more medium coverage.
Wearing Nars Sheer Glow (Barcelona) without filters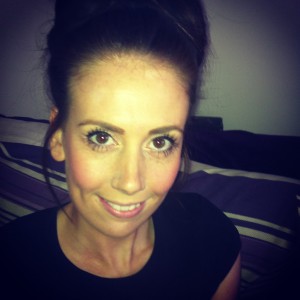 Wearing Nars Sheer Glow (Barcelona) with filter
The other great thing about this foundation is that it is highly pigmented so you only need to use the smallest amount (about a pea size does my whole face) and despite being buildable to a medium coverage it feels so light on the skin. I also use this as a concealer under my eyes too because of the brightening properties . It photographs amazingly (no SPF) and evens out my skin beautifully giving a natural glow…you can see where this is going, there aint many negatives!! Well in fact, there's a couple (but not biggies)…the first negative is that despite being a higher end foundation at £30.50 it doesn't come with a pump which I think is essential with this foundation because it's quite thick and doesn't really 'run' out of the bottle easily (pumps can be bought for no more than £5 I think). The second thing is the staying power, I have normal to oily skin, and I tend to get around 6 hours wear before I need to top up with some powder because it leaves my skin a bit oiler than usual around midday. That said though, I can live with it for the glowy goodness that is Nars Sheer Glow!
There are 20 shades in total and the range is split into 4 categories: Light, Medium, Medium-Dark and Dark and are all numbered in their category depending on how dark they are, each with an exotic location as a name – I was matched to Barcelona which is Medium 4 with golden peachy undertones and is a perfect match for me. I have also been mixing this foundation with the Clarins Instant Light Complexion Perfector and one of my Dr Jart BB creams and am loving the outcome so look out for individual posts on these delightful duos which I will be doing soon!
To summarise, I wouldn't think twice about repurchasing this foundation because I absolutely love it. I think that you are definitely getting what you pay for here and I can see this lasting for ages!
Have you tried Nars Sheer Glow? What are your favourite foundations?
Update (22/11/13)
I have since found that Barcelona is way to dark for me (I was really quite tanned when I got matched) and I now find that Fiji suits my skin tone better – it's a tiny touch on the light side but I just add bronzer to add more warmth into my face and I really love the look and the finish 🙂
Chantelle xx