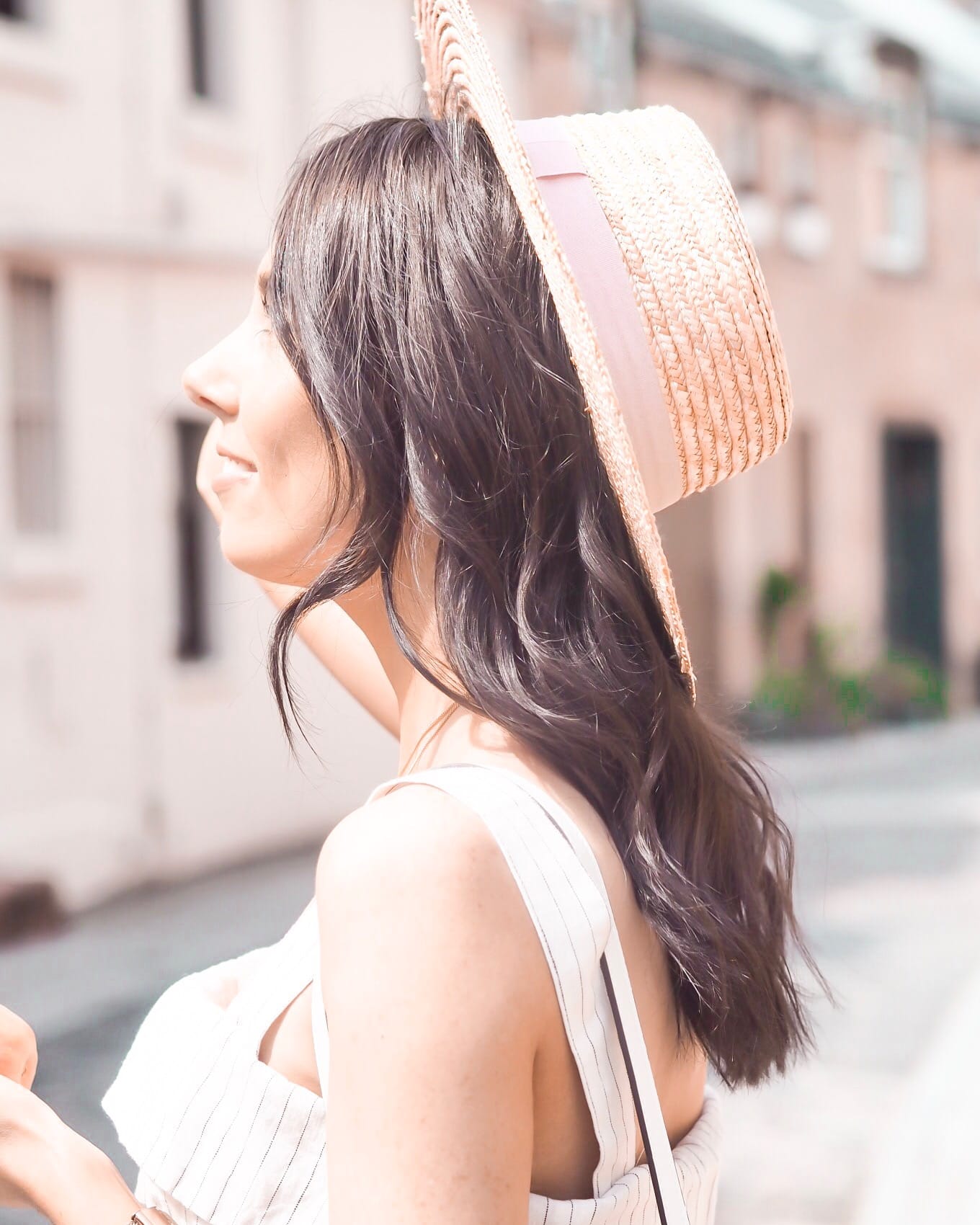 If you stay in Scotland you'll know why I'm so excited this week…the Summer heatwave has officially arrived yaaaaay! Of course now that the sun has arrived though I'm having that issue of "wardrobe full of clothes but nothing to wear". Every year I say the same thing – I'm more of an Autumn/Winter fashion kinda gal but oh my goodness this year the shops are full of amazing Summer clothes and it's pushed me into a bit of a frenzy. If you don't believe me, check out my latest Summer haul video here (ahem there's another on the way #sorrynotsorry) but I honestly have just been loving everything that the highstreet has to offer right now. You guys know that I always have some sort of wishlist on the go so today I thought I'd share some of my favourite key Summer trends and some items that I've been eyeing up lately…
JUMPSUITS/PLAYSUITS
I am all over jumpsuits at the moment. I shared the above in an outfit post a few weeks back and I've seriously been loving wearing it. They're so easy to wear, can be dressed up or down and more importantly they're comfy – not to mention super cute! I've been eyeing up some Warehouse jumpsuits (I'm looking at you denim smock jumpsuit of my dreams) and ASOS also do some amazing ones too – how cute is this blue stripe jumpsuit with frill hems – L O V E!
LINEN
OK I think I need some sort of intervention with my linen purchasing habits – that's one sentence I never thought I'd say. I always remember my mum telling me to buy linen trousers for Summer back in the day – they're "airy and light" she used to say…"perfect for hot days" – everything 20 year old me hated – always fashion over function (and well, let's be honest I'm more half and half these days haha). Everywhere you go though there's linen and I am 100% converted. Think chic minimal, safari vibes in ecru and khaki tones – I'm 100% in! I've already racked up a pile of dresses, trousers (some which are wayyyyy too long but we'll discuss that another day) a blazer (this Mango one which I LOVE and is currently on sale), a couple of tops…oh and just because I don't have enough linen to clothe a small army I've gone and listed my some more of my favourites below.
CO-ORDS
Ahhhh co-ords, aren't they the cutest?! I'm still looking for the perfect one but I would really like a denim pastel set – particularly a yellow one. Don't ask me why. I've also been loving some of the short co-ord sets – perfect for day to evening, just switch up your stan smiths for some wedge espadrilles and you're good to go!
LEMON PRINT
Maybe I've just been looking at too many cute insta pics of girls in beautiful Positano sporting alllll the lemon print but I am obsessed with anything and everything with lemons on?! I'm not sure whether this is an actual trend or one I've just made up. I think the latter to be honest but I don't care. I've already picked up this cute Boohoo lemon print dress for my friend's hen do this year and I cannot wait to wear it! It's possibly the cutest dress I've ever seen and now I'm on the hunt for a lemon wrap over skirt – if such a thing exists please give your gal a holla.
STRAW BAGS
OK so straw bags are nothing new, they make a comeback every Summer and the fash pack go crazy for them! I'm not talking any sort of straw bag though – the bigger the better in my opinion! I finally invested in a Bohemia straw bag and I am SO happy. Yes it's huge, yes I could probably fit half my body in it but I love it. I've also been loving the round wicker bags that are everywhere at the moment – some a bit pricier that others but I've listed some of my faves below that shouldn't pull on the purse strings too much!
What Summer trends are you currently loving? I'd love to hear about what you've been buying for Summer – and lastly fingers crossed this weather keeps up!!! I'm getting too used to it!
Remember to follow me on Bloglovin and subscribe to my youtube channel so that you never miss a blog post/video!
Lots of love,
Chantelle xx
This was a collaborative post but all writing, thoughts, opinions and creative direction are my own.
Affiliate links may be used.