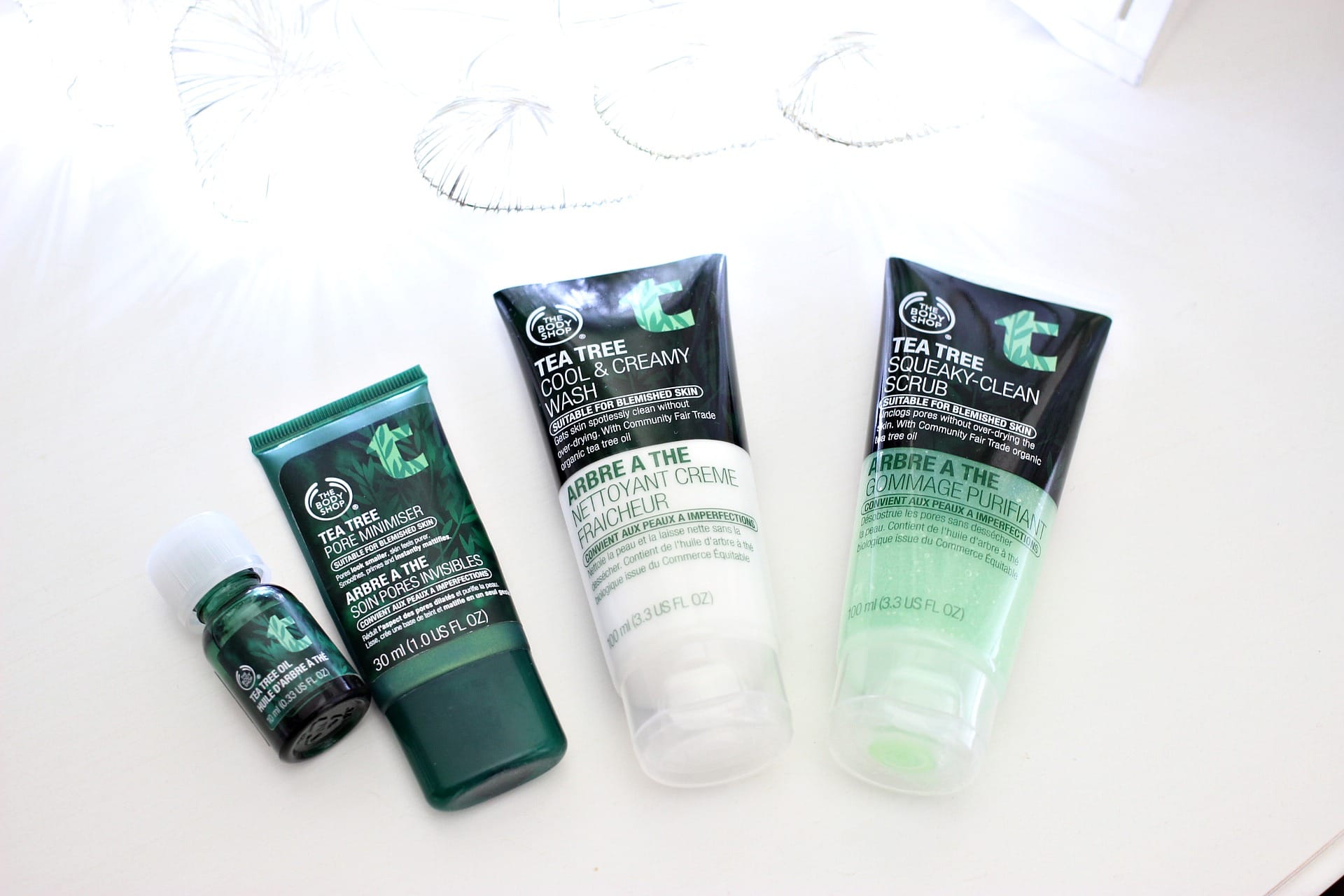 The Body Shop Tea Tree range is something I've been obsessed with for a while now, so much so that it's one of those things that I kinda take for granted. If you're a subscriber of my
Youtube channel
then you'll have heard me rave about a couple of these products before but now that I've started repurchasing some of the items, I thought it was about time I shared my thoughts on my blog.
The tea tree range consists of about 15 or so products I believe, and I have four of those:
The Body Shop Tea tree oil (£7)
The Body Shop Tea Tree Pore Minimiser Primer (£7.50)
The Body Shop Tea Tree Cool & Creamy Wash (£5)
The Body Shop Tea Tree Squeaky Clean Scrub (£6.50)
For someone with combination – leaning slightly more on the oily side – skin, the tea tree range is perfect for me. I'm not going to pretend to know everything about tea tree, but what I do know is that it is a natural alternative to harsh ingredients, which is antibacterial, antifungal, antimicrobial and is clinically proven to give clearer skin – particularly useful to those prone to blemishes, blackheads and oily skin.
Tea Tree Pore Minimiser Primer
:
This is the first item that I bought and fell head over heels in love with it. Not only does this help to mattify and smooth out the skin, but also leaves your pores looking smaller and skin feels purer. This is something that I use every single day and couldn't be without now! I love how this is different to any other primer I've tried because in addition to actually helping to increase the longevity of my makeup it also provides an antibacterial barrier between your skin and makeup and since using this alongside the other products I feel like my skin has been a lot clearer and less prone to breakouts, not to mention my makeup just looks a whole lot…nicer!
Tea Tree Cool & Creamy Wash
:
This is definitely a joint favourite alongside the primer and has quickly became one of my favourite cleansers over the past few months. I like to use this after I use the
Clinique Take The Day Off Cleansing Balm
(my cleanser of choice for makeup removal) as a final step to make sure my skin is nice and clean. The formula is gorgeous – really thick and creamy with a refreshing tea tree scent. The best part being that it gives a 'cooling' sensation to the skin…particularly useful for early mornings when I need something to help me feel more in the land of the living! It leaves my skin feeling super clean with no left over residue, but at the same time doesn't leave my skin feeling dry in the slightest.
Tea Tree Squeaky Clean Scrub
:
This is something I like to add into my cleansing routine around twice per week, before I use the cool & creamy wash. This is good at getting deep into the pores and giving them a good ol' clean so I love using this when my skin is feeling a bit congested around the t-zone area, particularly after nights out. I must admit the words 'squeeky clean' did worry me at first but I can vouch for what The Body Shop state, in that in cleans without over-drying the skin. I also find that the beads give the perfect amount of exfoliation without irritating the skin.
I bought this on a bit of a whim, because I was running low on my beloved Origins Super Spot Remover but I'm glad I did because it really is a tiny little miracle cure in a bottle…pesky zits, be gone!! At the sign of any sort of eruption, I dab a little bit of this on the area affected and it helps to calm everything down without drying out the skin. It's the perfect little overnight treatment if you have the odd spot or bump under the skin (the worst kind!!) and helps them to vanish so much quicker that just waiting it out.
It's safe to say that from what I've tried and tested so far I love The Body Shop Tea Tree range and can't wait to try out more products. There's just something so satisfying about using natural ingredients to help combat skin issues and I'm absolutely addicted to this stuff.
If you aren't a fan of the tea tree scent then this range probably isn't for you but if you don't mind the scent then I would highly recommend these products. I've already added a few others from the range to my wishlist…tea tree face mask, I'm looking at you! 😉
You can buy buy The Body Shop Tea Tree range
here
.
Have you tried anything from The Body Shop Tea Tree range?
Lots of love,
Chantelle xx
*This is
not
a sponsored post.