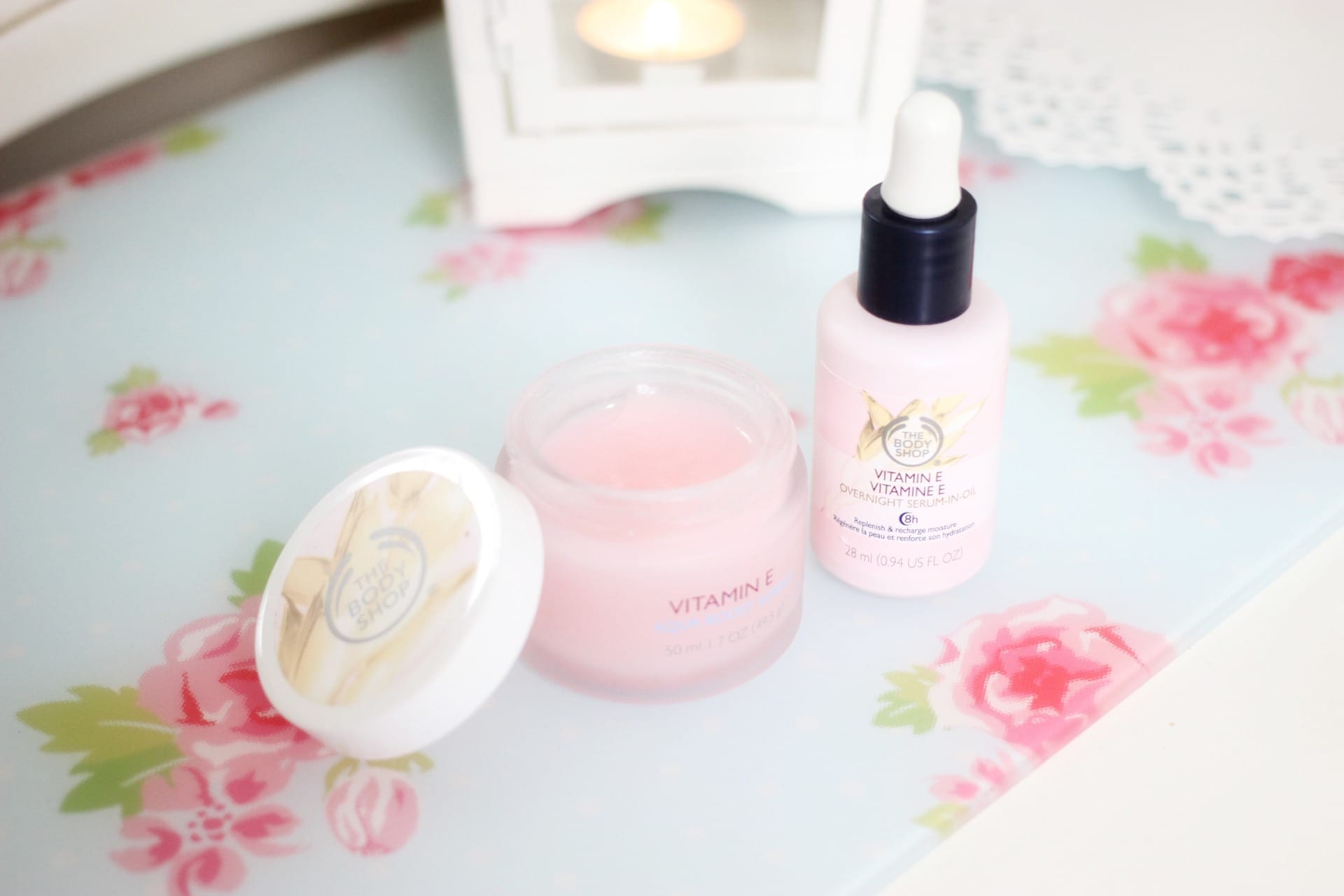 When it gets closer to winter I like to amp up my skin care routine. If you've watched my videos or read my blog for a wee while you'll already know that I have combination skin (slightly more on the oily side) but in the colder weather my skin gets a lot drier and tends to break out to compensate for a lack of moisture…not cool. I am such a big fan of The Body Shop and had already heard a lot about the Vitamin E range, particularly the Overnight Serum-In-Oil so after using the very last drop of my Estee Lauder Advanced Night Repair Serum (and shedding a small tear) I decided to order The Body Shop's overnight serum. I was quite surprised when I found out it was £13…beats paying £60 on some other overnight serums (ahem, Estee Lauder ANR). For £13 I was willing to take a risk and see how I got on with it. Now don't get me wrong, this is a lot different from ANR, firstly it's an oil. A lot of oily skinned gals have the misconception that using oils on oily skin is a 'No No' but it's all a myth! It's all rather technical but the jist of it is, 'Fight Oil With Oil'…let me explain. When our skin is oily it's usually because our skin's oil content isn't balanced. Our skin therefore starts producing more sebum to compensate and it's therefore more than likely that a few pesky spots will pop up due to the pores being clogged from this overproduction of sebum. How rude. Using an oil such as The Body Shop Overnight Serum In Oil helps to restore a balance.
Enough technical babble, let's move onto the product itself. The oil comes in a pretty little pink 'clay feeling' bottle with a pipette applicator – perfect for applying as you get the correct amount of product without creating a mess. The product itself is lovely. It's designed to be used overnight which made me think it was going to feel really heavy but it doesn't at all. I use about 6 drops and apply all over my face and neck then afterwords apply the
The Body Shop Vitamin E Aqua Boost Sorbet
. The oil has a very light, slightly floral, slightly sweet scent to it but not overpowering at all. My skin immediately feels soothed and replenished and when I wake up in the morning my skin looks and feels plump without any feeling of greasiness.
Moving onto the Vitamin E Aqua Boost Sorbet. This was a bit of an 'add on' impulse buy but I'm really glad I purchased it. The packaging is again really pretty. The sorbet itself is a gorgeous baby pink colour and is packaged in a beautiful frosted glass tub (not ideal for travelling but it looks lovely in my bathroom). The product itself creates an extremely strange cooling sensation on the skin…like you've had it in the fridge. It's bizarre! I like it though, it makes me feel really refreshed and is particularly useful in waking me up in the morning. The texture is quite strange, but again I like it. The formula is ultra light, creates a matte finish (so is perfect for oily skinned gals) but also quenches skins thirst. I don't know how they do it but they do, and I'm not complaining. I love using this both at nighttime and in the morning as it creates a perfect base for makeup. This comes in at £12 so again this is really affordable.
I'm sure you can already tell but I love both of these products. I can't say they'll take the place of my beloved Estee Lauder ANR or my other favourite moisturisers but for the meantime I'm really loving using these products and my skin is clearly loving them too.
You can purchase The Body Shop Serum-In-Oil
here
for £13 and The Body Shop Aqua Boost Sorbet
here
for £12.
Have you tried anything from The Body Shop Vitamin E range?
Lots of love,
Chantelle x
This is
not
a sponsored post.