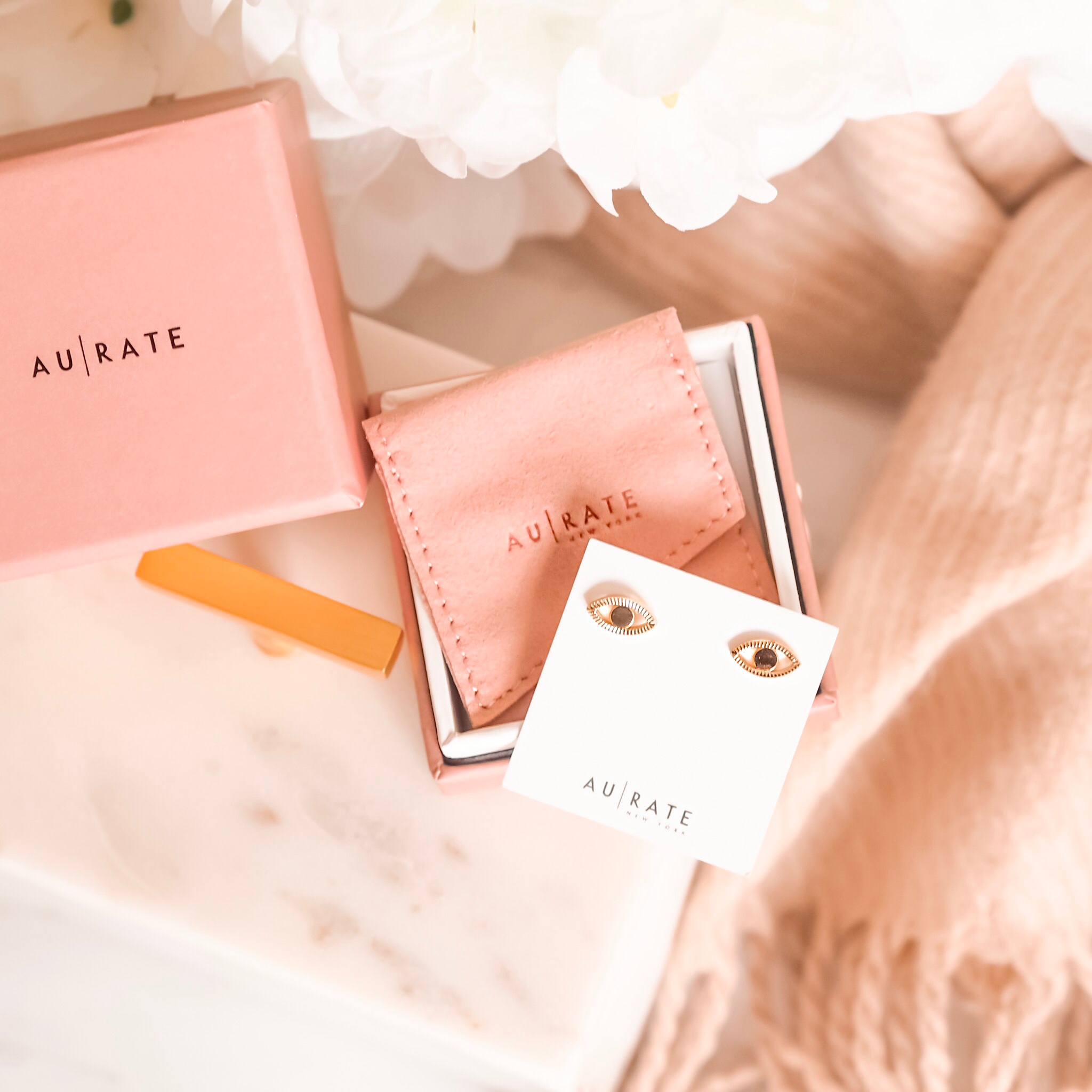 If you've followed my blog for a while you'll know how much I love dainty jewellery, especially during Summer. And it's not just a specific type either. Layered necklaces, stacked mixed metal rings and cute little ear studs – I love them all! My latest obsession are these gorgeous little gold evil eye studs. When it comes to jewellery, since I wear it day in and day out I really like to invest in pieces that I know will stand the test of time but at the same time wont break the bank. AU-Rate is a new discovery of mines. They're a fine jewellery company that believes in offering high quality, sustainable jewellery made with ethical gold and diamonds with a focus on classic, clean design. Their prices range from around £70 per pair right up to £1500 for some of the diamond ones (the same for their necklaces and other pieces) – a girl can dream right? I've had these little earrings for a a couple of weeks now and have received so many compliments on them already. I've been wearing them with my evil eye necklace and hamsa hand necklaces (that I pretty much wear constantly) and again, I always receive compliments on these so I thought I'd do a wee roundup of some of my favourite dainty jewellery pieces and my favourite places to shop for items that are a little bit more special, and will stand the test of time, but also won't leave your bank card screaming, you know what I mean?
Earrings ft. above were kindly gifted by AU-Rate.
SWAROVSKI
I think Swarovski has a bit of a rep for being super "spendy" but actually it isn't. A few of my most worn jewellery items are from here and people are forever complimenting me on them and usually appear a bit shocked when I tell them they're from Swarovksi and weren't as expensive as they might first have thought. My favourite bits from them are their evil eye pendant (with matching earrings, hamsa hand pendant and I love the remix collection. I have one of the bracelets from the remix collection and basically you can wear them as bracelets or join them together to make a choker or even a longer necklace. You can also buy little charms that can be attached to the earrings and also the bracelets/necklace so you kinda get a 'mix and match' from them which I love. Sure they're around £70 which I know isn't 'cheap' however I'd much rather invest in one or two pieces like this that I know will last rather than 5 or 6 pieces from say, Topshop or H&M that will probably go green after a couple of months! And no I'm totally not hating on highstreet fashion shops for jewellery because I do actually buy the odd trend piece but for the most part when it comes to jewellery I do try and save my pennies for things I know I'll wear over and over and won't tarnish. I've also found that Amazon sell them a wee bit discounted too which is even better!
DAISY LONDON
I discovered Daisy London last Winter after their collab with Estee Lalonde and immediately fell in love. Again the price point is around £65-£150 but their pieces are so beautiful. I absolutely love gold jewellery and their necklaces and earrings are just stunning. I have their mini sunburst necklace but I definitely want to add to my collection. Next on my list is their 'Rising Sun Charm Earrings' (below). Aren't they beautiful?!
PANDORA
I feel like everyone has heard of Pandora and for good reason. It took me ages to get my first pandora bracelet and now I have 3! I don't like to over-accessorise mines with charms because I have really small wrists so I like to just add on 2 or 3 charms to each and stack them and I just love how they look together. Again, it's the type of thing I can see me wearing in years to come and it also makes the perfect gift. I also have a few of their dainty rings which look amazing stacked on top of each other. If you're ever wondering what rings I'm wearing in any of my insta snaps it's a good chance they're from here!
MISSOMA
I feel like I've been lusting after a Missoma necklace since forever. One day soon the 'Gold Leaf Choker' will be mines…mark my words haha. The thing I love about them is that again like the rest, they use good materials. Everything I've checked out seems to be Sterling Silver coated in 18ct gold vermeil. There's nothing I hate more than a gorgeous shiny gold piece turning a dirty silver colour after a few wears, eventually leading to green skin…oh yes, we've all been there girls.
MARC MIRREN
Another new discovery of mines is Marc Mirren. I've mentioned them a few times now on my instagram because I have a couple of their little stacking rings which are so cute. These are a little less pricey than the others I've mentioned but the quality is lovely – again sterling silver coated in 18ct gold. If you're on a tighter budget but want to invest in couple of nice dainty pieces then I'd definitely check these guys out. They also have a deal on their rings at the moment for buy two get one free (they cost around £25 each so they're not too pricey either).

And that's some of my favourite places to shop for dainty jewellery. I feel like I'm forever finding new gems so if I do find anymore I'll be sure to either update this post or do another little post later down the line. I'd love to hear some of your favourite places to shop for jewellery so please let me know in the comments below so that I can check them out 🙂
Hope you're all having an amazing weekend!
Remember to follow me on Bloglovin and subscribe to my youtube channel so that you never miss a blog post/video!
Lots of love,
Chantelle xx
This is not a sponsored post. The earrings from AU-Rate were kindly gifted to me.
All thoughts, opinions and creative direction are my own.
Affiliate links may be used.