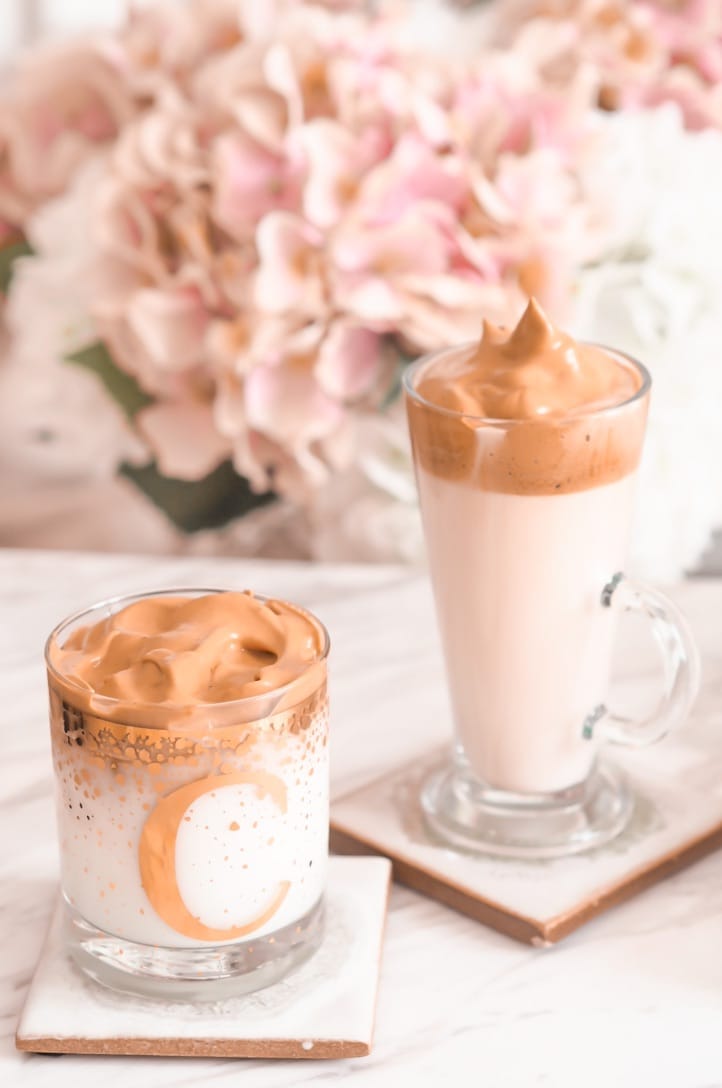 Ok so you've probably seen the Dalgona coffee eve-ry-where on instagram and let me tell you guys, the whipped coffee hype is real. It's the most simple thing to make and probably doesn't need its own blog post but I'm obsessed with it and I know you will be too!
So here goes, the most simple but most delicious Dalgona/whipped coffee recipe ever coming up…
What you'll need:
2 tsp instant coffee
2 tsp sugar (I like to use light brown sugar or coconut sugar)
2 tsp boiling water
Milk of your choosing (I like Oat milk or lacto free but you can use almond, oat, whatever you like)
Method:
Put your instant coffee, sugar and boiling water into a large bowl (I like 2 tsp per serving but you can use more or less to your taste. Just make sure you use equal measures for each ingredient).
Beat the instant coffee, sugar and boiling water for around 1-2 mins with an electric whisk. You want the mixture to look a lot lighter in colour, and form stiff peaks…it should change to a light caramel colour and look like whipped cream. If you don't have an electric whisk you can do this by hand but it might take around 15-20 mins. It will definitely work but you just have to be persistent and be ready for an arm workout!!
Once your mixture looks like whipped cream, pour your milk of choice over some ice and top with your whipped coffee. You can also heat up your milk if you'd prefer a whipped latte! Both are delicious but I much prefer the iced Dalgona coffee version.
Et voila!
See I told you this was the easiest recipe ever. Let me know if you try it and sorry in advance of you get hooked like me. I've seriously been having one every single day since I discovered this recipe!
Which one will you be trying first? 😉
I hope you're all keeping safe and well. Speak soon.
Lots of love,
Chantelle xx