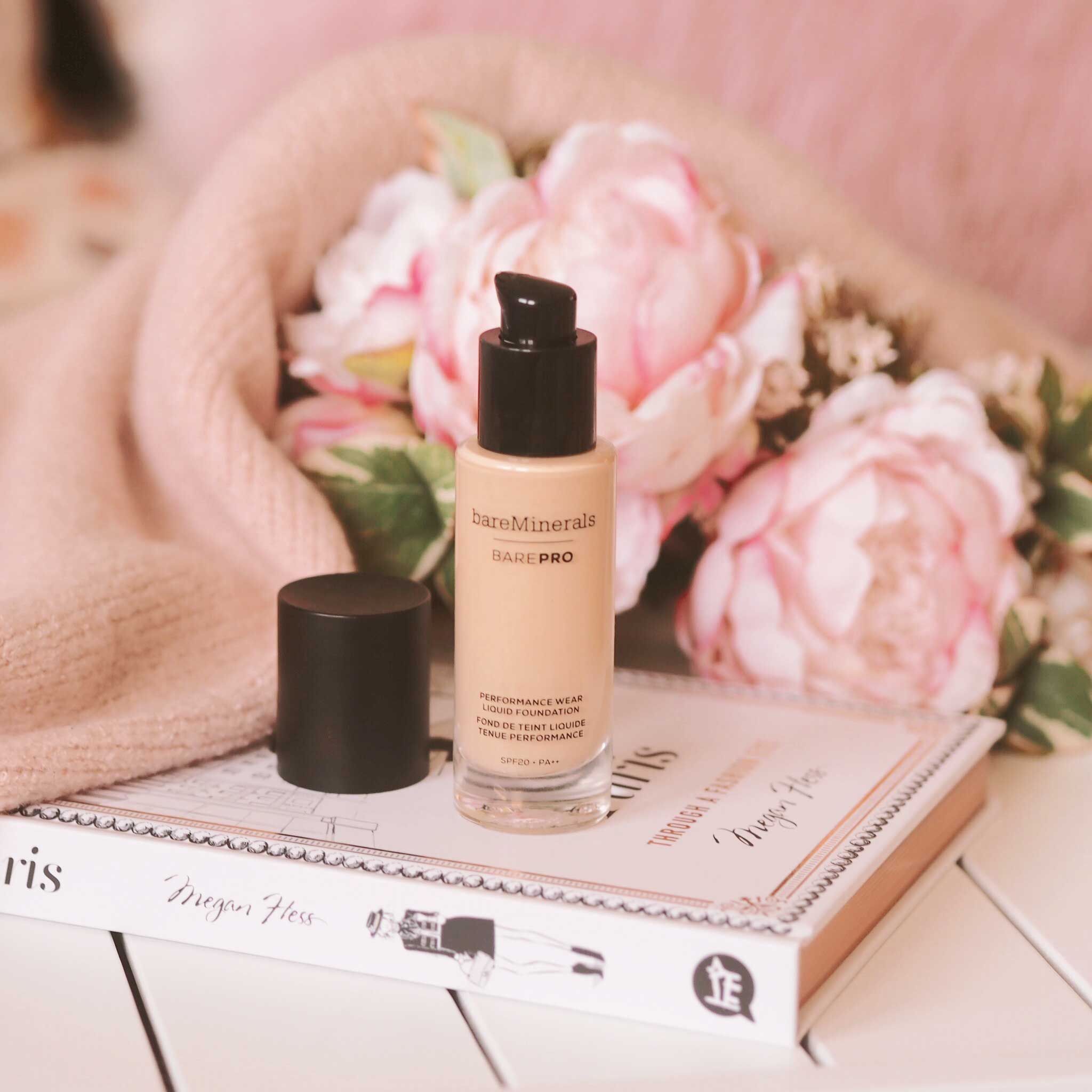 When the colder months arrive I always switch up my foundation and opt for something with a little higher coverage – with party season just around the corner and the arrival of colder (edit: windier and rainier) weather I want something that's able to last the test of time as well as the elements! In comes Bare Minerals latest foundation offering – Bare Minerals Bare Pro Performance Wear Liquid Foundation. I'm a huge fan of Bare Minerals Complexion Rescue – it's one of my favourite bases during the warmer months. However I much prefer liquid foundation to mineral powder which is why I haven't really dabbled much in Bare Minerals other bases. You can imagine my excitement then when Bare Pro landed on my desk a couple of months ago!
WHAT DO THEY SAY?
24 hour coverage
SPF 20
Clinically proven to improve skin texture over time
Breathable and creamy with a natural matte finish
You will look and feel like you're wearing nothing at all on your skin
Breathable full coverage
Available in 30 true-to-you shades to compliment every type and skin tone
Clinical claims:

Water-resistant
Sweat-resistant
Heat-resistant
Humidity-resistant
Transfer-resistant
"Makeup so pure you can sleep in it"
INGREDIENTS
Papaya Enzymes go to work helping to exfoliate and improve skin's texture
Bamboo Stem Extract kicks in to help give a blurring, soft-focus effect
Mineral pigments blur imperfections
Iron oxide enhances colour staying power
MY THOUGHTS!
If you've already seen one of my recent posts on Instagram you'll know I love this foundation – and for quite a few reasons!
COVERAGE & FINISH
Firstly, the coverage is perfect for me. The texture is quite thin and very runny (which I wasn't sure about at first) but it blends so nicely without having to use loads of product to get a good coverage. I would also describe this as a luminous matte finish. It doesn't make my skin look or feel completely matte and it's one of those foundations that actually looks even nicer as the day goes on and mixes with my skin's natural oils. I agree with the claims that it feels very light, and it does indeed look very natural and skin-like however I do still think you can tell I'm wearing foundation – albeit one that looks quite light (if that makes sense?!) I also must must must stress how beautiful this makes my skin appear on camera. If you seen my Edinburgh Old Town Chambers post, this is the foundation I was wearing on that trip and my skin looks flaw-lesssss. Like seriously. Even before I did any sort of colour correction or editing of the photos my skin looked like it was airbrushed! It's like magic!
APPLICATION
Although this foundation comes with its very own Luxe Performance Brush you definitely don't need to buy this. Don't get me wrong, the brush is beautiful but I've also used a large round topped buffing brush and beauty blender and both give a beautiful finish so I'd say it's really just down to preference. I don't like using my fingers really (for any foundation). I just feel I get a better finish with a brush and with this foundation my favourite way to apply it is using a large buffing brush – the IT cosmetics one is my current favourite FYI.
STAYING POWER
Although this is claimed to have a 24 hour coverage, I can't vouch for that simply because I have NEVER left my makeup on for 24 hours. However I can tell you that it lasts all day on my skin! I do need to do a little bit of blotting/powder my t-zone after the 5 hour mark but it's nothing crazy and definitely manageable!
WHO WILL LOVE IT?
I have dehydrated oily skin and slight dryness around my nose area and find this foundation perfect for me. It smooths over the dry areas around my nose amazingly well and helps to control oil in my t-zone. If you have dry skin I'd still give this a go, only just make sure your skin is well moisturised and perhaps use a hydrating primer underneath. I always hate recommending running out and buying something before trying (if possible) especially with high end foundations as they aren't exactly cheap. However all the staff at any Bare Minerals counter I've ever been to have always been super lovely and friendly so I'd stop by and ask for a little sample or ask if one of the makeup artists could apply it for you for a little test run.
THE CLINICAL CLAIMS
Since I've only been using this foundation for a couple of months I can't really see any significant changes in my skin texture – or certainly no difference that I can solely pin on this foundation. However I do absolutely love everything about it – particularly how it blurs my skin for a soft focus finish and just generally how it makes my skin feel and look beaut! It's definitely one I'll be using for party season. I also have to mention that although it does have a SPF 20 I've worn this on countless evenings and haven't noticed any flashback in photos!
It's also good to know that if I ever have a late one then it's "so pure you can sleep in it"…who me?! I never sleep in my makeup!
Have you tried the Bare Minerals Bare Pro Performance Wear Liquid Foundation?
I'd love to hear your thoughts on it!
(P.S. if you've tried this foundation and loved/hated it let us know your skin type…let's help each other out!
Remember to follow me on Bloglovin and subscribe to my youtube channel so that you never miss a blog post/video!
Lots of love,
Chantelle xx
This is not a sponsored post. Affiliate links may be used.
Products may have been received for review purposes. All thoughts are my own.
PIN ME!