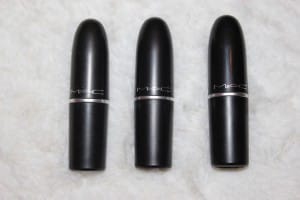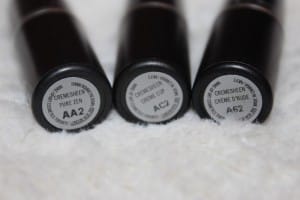 Something I haven't been able to get enough of lately is nude lipsticks…Mac nude lipsticks to be precise. Once used to downplay the rest of the face when a dramatic smoky eye or blush moment is taking place, the nude lip has now turned into a kind of classic when it comes to everyday chic. The great thing about nude lipsticks is that they are universally flattering…all you have to do is get the shade right!
My top 3 nude picks are all by Mac and are part of the crèmesheen range which I think is the perfect texture for a nude lip and give that plumped, polished appearance (no night of the living dead here!)
Pure Zen

Crème Cup

Crème d'nude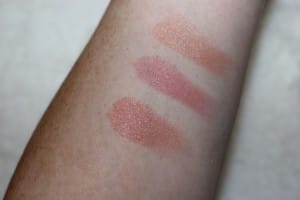 Swatch from left to right – Pure Zen, Creme Cup, Creme d'nude
I bought this on a whim a few weeks back when I was initially looking to swatch crème cup. I am naturally drawn to more coral toned shades so when I saw this and compared it to crème cup I decided that Pure Zen would probably look better with my skin tone so opted for this instead and I am so glad that I bought it as I love it. As you can see from the photos, this is a gorgeous muted coral and looks great with a tan. I love wearing this on nights out if I am going for full on dramatic eyes and want to keep my lips simple but still with a little 'somethin somethin' on.
So in true Chantelle style, after buying Pure Zen I couldn't stop thinking about Crème Cup and whilst on a work trip to London, decided to pick this up at duty free. Crème cup seems to be a favourite amongst beauty bloggers and I can totally see why. It is a gorgeous neutral pink 'my lips only better' colour which I imagine would suit a wide range of skin tones and is a perfect everyday shade. It has been in my makeup bag ever since I got it and I can see this being a new staple lip colour in my collection, LOVE IT!!
This is the first nude lipstick I ever bought, and it is a true nude. I tend to only wear this on nights out, when I have slathered on a fair amount of Xen tan to avoid looking like a walking, breathing, zombie! I also tend to put a lipgloss on top of this to avoid the dreaded foundation lipslook (shudder at the thought) and the result is amazing plumped up lips, without the need for any cosmetic surgery, result! 🙂 Out of the 3, I would say this one should maybe be avoided by paler skinned gals as this can easily wash me out if my skin is due a dose or two of fake tan!
Exfoliate lips first to avoid setting into lines or dry areas on lips (I recommend Lush sugar lip scrubs as they are reasonably priced, last forever, do the job and TASTE AMAZING).

With Mac crème sheen lipsticks, I do feel that despite giving a gorgeous sheen-filled pout, these can dry my lips out a little so I always carry a little mini tube of my Elizabeth Arden Eight Hour cream which I apply on top after an hour or so and gives a lovely glossy finish (any lip balm would do the trick though).

For a more evening look, apply a layer of gloss for a full on plumped up pout (my favourite which works well over all 3 is Mac Pro Longwear lipglass in Boundlessly Beige – swatches below).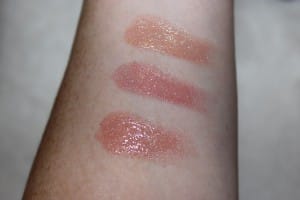 Swatches with Mac Boundlessly Beige lipglass on top from L to R – Pure Zen, Creme Cup, Creme D'nude
The great thing about all three of these shades is that they are so wearable, easy to apply on the go, and so versatile! And with summer approaching I can see me wearing these a lot for that everyday effortless 'my lips always look this good' au natural look!
Do you have any of these Mac lipsticks? What are your favourite nude lipsticks?