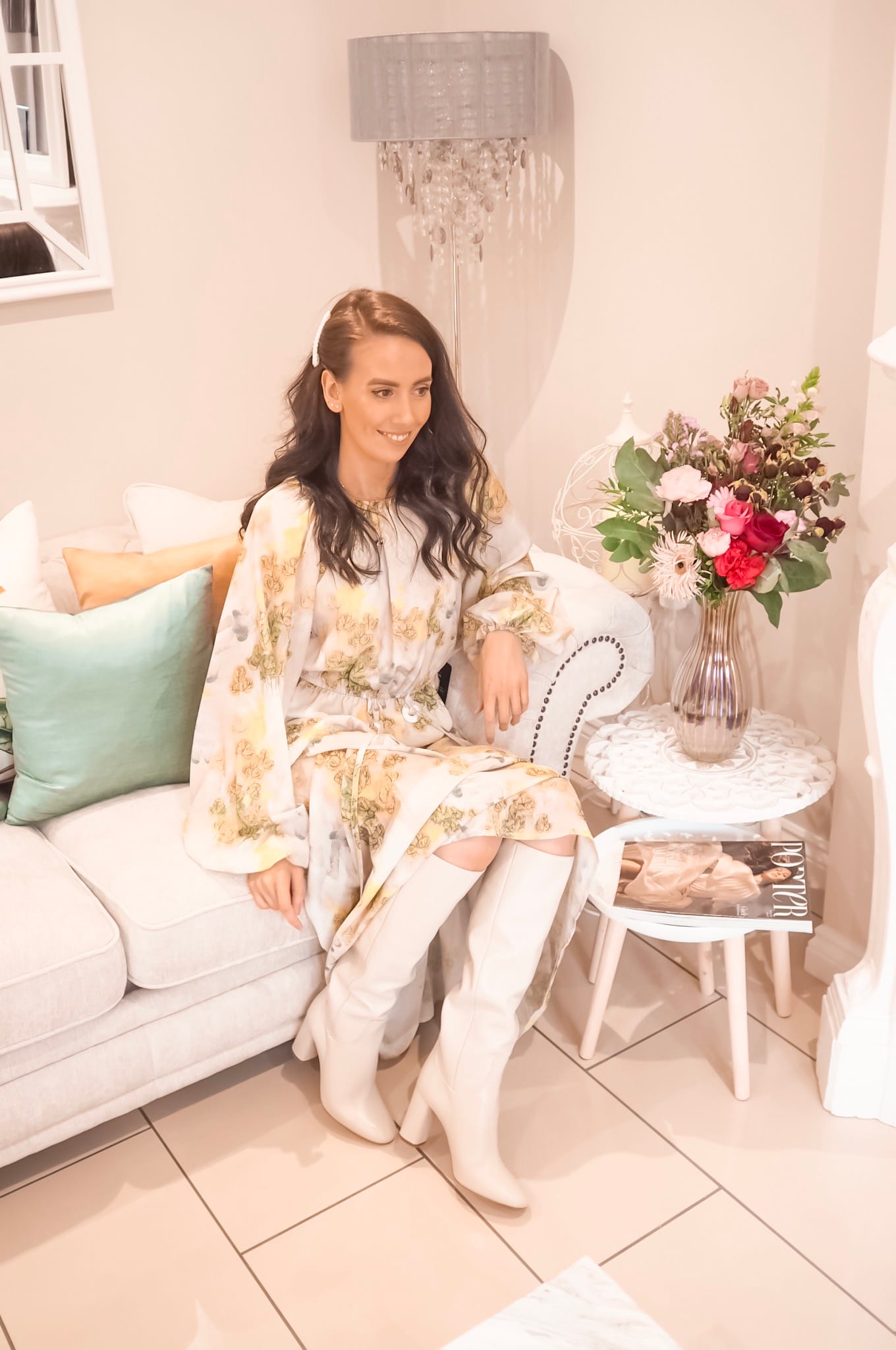 I still can't believe we're officially in our second week of April. Someone tell me how that happened?! Whenever the clocks go forward my 'Spring mode' instantly activates. Ok so the April showers might have started but I'm hopeful that the weather will be better next week ha! It better do because I'm already thinking about lighter jackets, white jeans, obligatory blossom tree pics and shoes without socks…I'm EXCITED! To celebrate the beginning of all things Spring I thought I'd share some of the things I'm looking forward to this season.
1. SPRING FASHION
Florals, broderie anglaise, white jeans, and all the pastels – come at me! I think Spring fashion might just be the prettiest – I mean just look at this gorgeous floral maxi dress from Elvi. Isn't it beautiful?! I've teamed it with my Zara white leather knee high boots here for the perfect Spring look – it's so romantic and whimsical. I'm also living for pastels with white. I can't wait to team some pretty pastels blouses with white high rise jeans (wide leg ones are high on my list) and a classic neutral trench. I feel like I've forgotten what it's like to have my ankles or feet on show so I'm very much looking forward to that too. That reminds me, I better look out some fake tan so that I'm prepared which leads me on nicely to the next thing I'm looking forward to!
2. SPRING BEAUTY
I've already mentioned fake tan – there's a couple of new releases I can't wait to try out so I'll keep you posted on those once I've given them a whirl but another thing I always like to shake up when Spring arrives is my skincare. I have actually been loving trying out some new bits the past month. I mentioned some new releases that I've been loving in my March Favourites Video and have pictured a little selection above so make sure you check that out if you want to hear what's top of my list. Spoiler…some of my faves include the brand new Emma Hardie Plump & Glow Hydrating Facial Mist, Caudalie Reservatrol Face Lifting Cream, Aplha H's new release – their Essential Skin Perfecting Moisturiser and my beloved Antipodes Hosanna H2O Intensive Skin Plumping Serum. I don't think I need to tell you how much I love them if you follow me on social media! I've also rediscovered an old favourite – Dr Roebucks, mainly the serums. I came across half a bottle of their Protect & Prevent serum (this one sounds similar) in my stash and I haven't been able to put it down. I raved about the brand last year when they hit the UK and since then I think they've had a bit of a revamp in their packaging and I'm not sure this serum even gets made anymore. I'm praying it does!! To be honest though, everything I've tried from them is amazing so that's another one to check out if you're looking for some new Spring skincare. I'm determined to track this serum down though. I alway think it's worth spending that little bit extra on skincare because I really do believe you get what you pay for and that especially goes for serums in my opinion.
In terms of makeup I can't wait to start using a lighter foundation and inject a bit of a glow into my routine. My skin has been looking rather dull recently so I'm on the hunt for some new glowy foundations/highlighters/primers that will be good on my dehydrated/oily skin – hit me with your recommendations!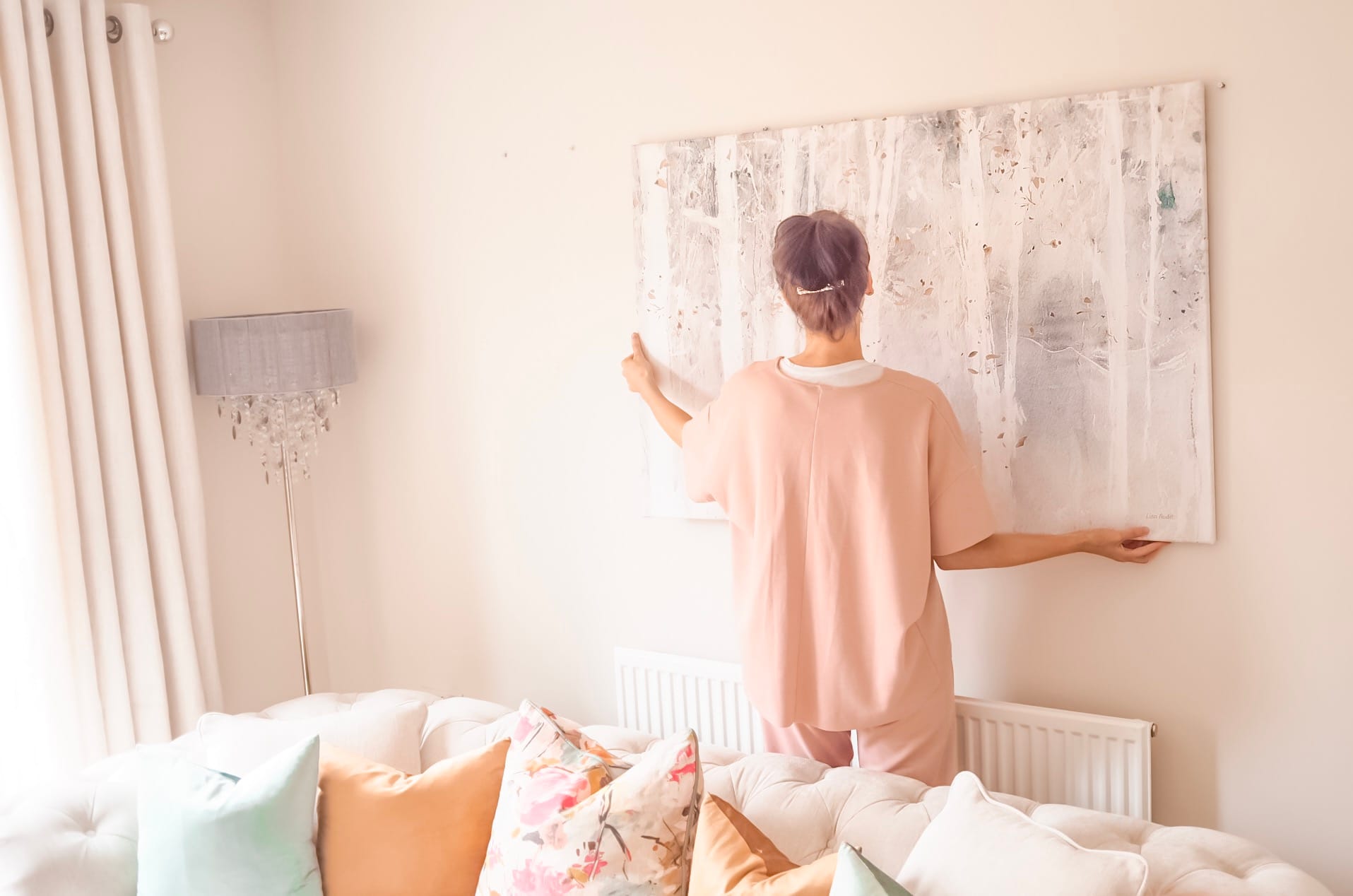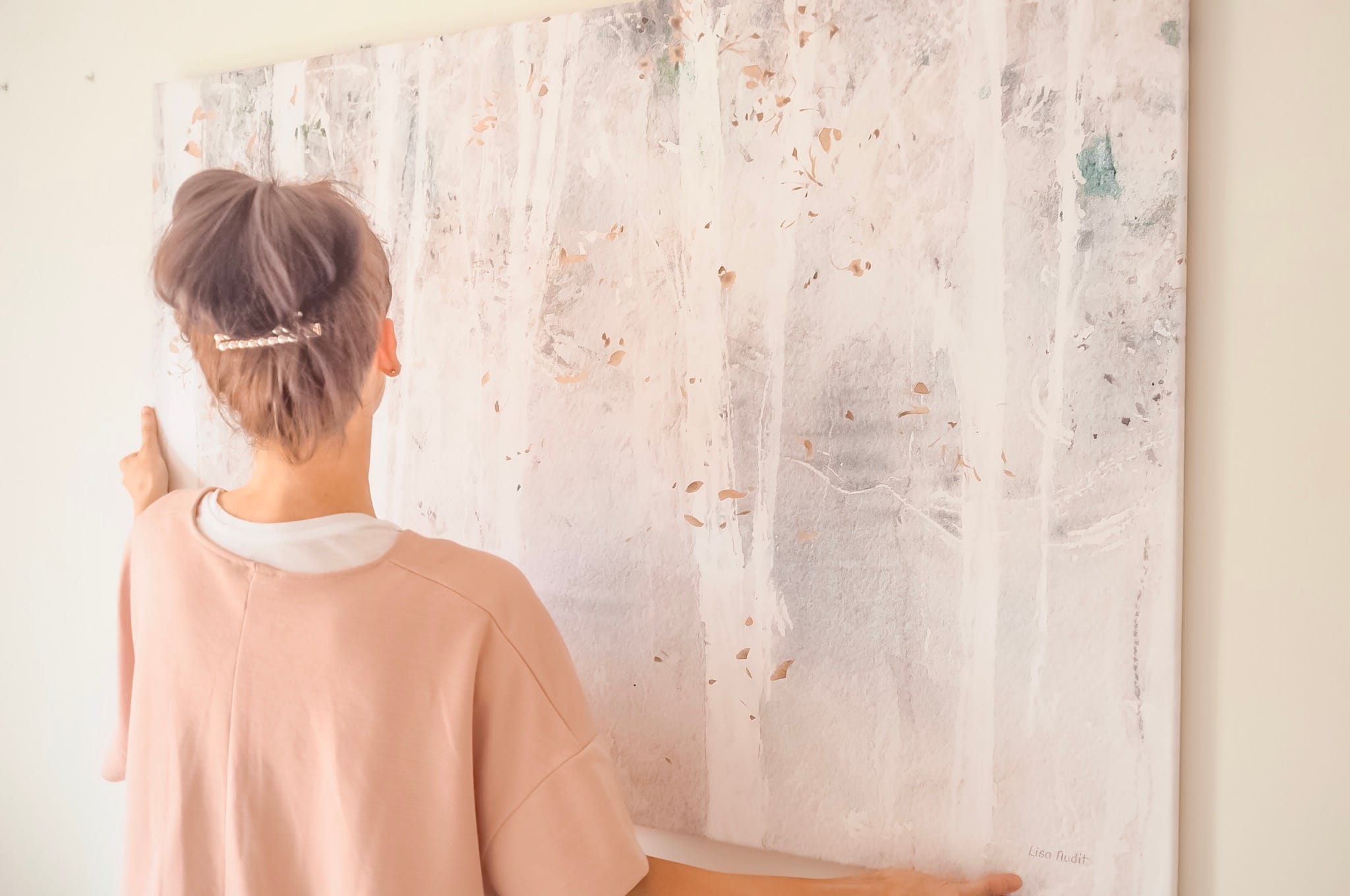 Canvas kindly gifted by Posterlounge
3. SPRING HOMEWARE
I already touched on Spring homeware in my last post but I wanted to mention it again as this is one of the things I'm looking forward to most this season. We've come a long way the past month in decorating our new home . We always knew it wouldn't be something that happened overnight but it's so lovely to actually see things take shape especially now that we're at the stage of hanging up pictures and accessorising. These are all the things I feel actually make a house a home. The latest (and probably my most favourite accessory) is this gorgeous woodland walk canvas from Posterlounge. I don't think I could get a print that is anymore 'me'. It's absolutely stunning not to mention it fits our decor beautifully. We already have some prints in our living room but I'm thinking of replacing them with this – it's such a focal point and has a lovely 'calming' effect. If we don't hang it here I think it will have to go in our bedroom – I honestly could just sit and stare at it all day! Just advance warning – this may make quite a few appearances on my instagram. Posterlounge is a complete new discovery of mines but I'm already obsessed with it. If you're in the market for some new artwork definitely check them out. They have an extensive range of every type of artwork you can imagine with a range of different materials so there's something for everyone. The large canvas I chose is this one by an artist called Lisa Audit- I'm obsessed with her work and will probably buy more. 'Little flower' is another piece of hers that I think is so beautiful.
4. SPRING EVENINGS
Now that the lighter nights have arrived I'm already thinking about all the extra things I'll be able to do. It sounds silly but I really do feel so much more motivated when it's light outside. I'm thinking more evening coffee/cake/dinner dates with the girls without worrying about waiting at the train station when it's pitch dark (or let's be honest…guilting Darren into picking me up haha). I also can't wait to start sitting out in the back garden on sunnier days – that reminds me, I need to get some garden seating! A BBQ would also be nice…ok I'm pushing it with that one but some al fresco dining with a big blanket over the shoulders sounds good. I think we can push it to that this Spring haha.
5. SPRING BIRTHDAYS
Spring is hands down the busiest time for me with birthdays. It seems all the best people are born in Spring – ahem, my birthday is in May. I have 4 birthdays falling in the same week in April and already have some plans to celebrate so I'm looking forward to that. Afterwards it's my birthday in May then the countdown is on for one of my best friend's wedding so I feel like there's a lot to look forward to. I'm also going to see WESTLIFE (technically in Summer but I don't care, it's only a few months away so I already can't wait) Bring on allll the memories…I'm so glad I didn't need to camp out in the SECC tunnel for tickets this time around. Did I do that? Yes I most certainly did. Would I do it again? You better believe it Nope never again hahaha! Thank goodness for online booking nowadays that's all I can say.
6. SPRING TV/CINEMA
Ok I couldn't not mention Game Of Thrones! The eighth and final season hits our screens this week and I couldn't be any more excited. We've started watching the first season again in preparation for it – apparently there will be so much more to pick up on watching it a second time around so I can't wait.
It appears Spring is also a great season for cinema – Dumbo, Avengers End Game and ALADDIN!!!! Can.Not.Wait.
Shop some of my current beauty favourites:
What are you most looking forward to this Spring?
Remember to share your Spring beauty recommendations with me, I'd love to hear your faves!
Remember to follow me on Bloglovin and subscribe to my youtube channel so that you never miss a blog post/video!
Lots of love,
Chantelle xx
Please note, some items may have been gifted to me for PR purposes.
All thoughts, opinions and creative direction are my own.
Affiliate links may be used.