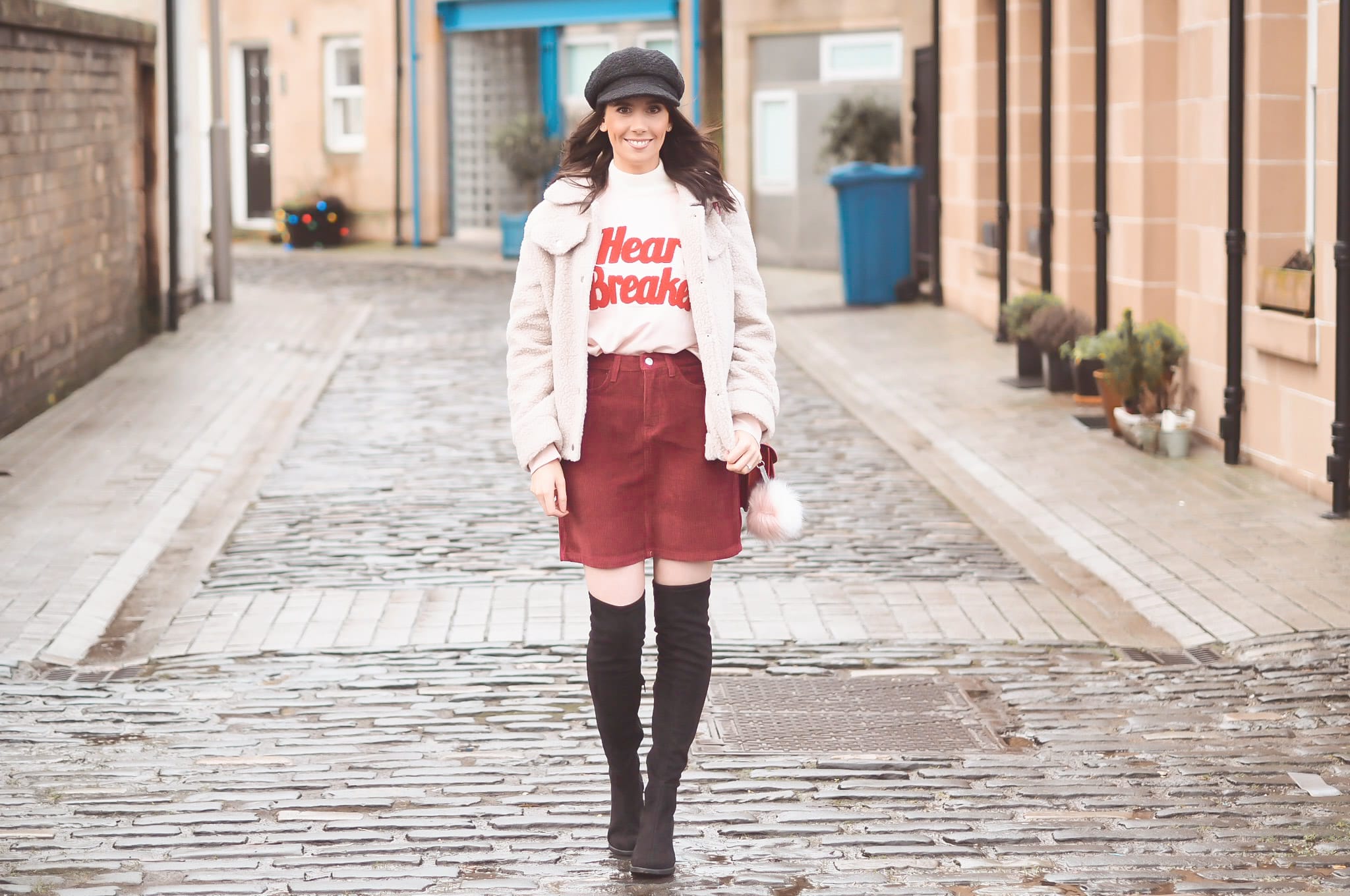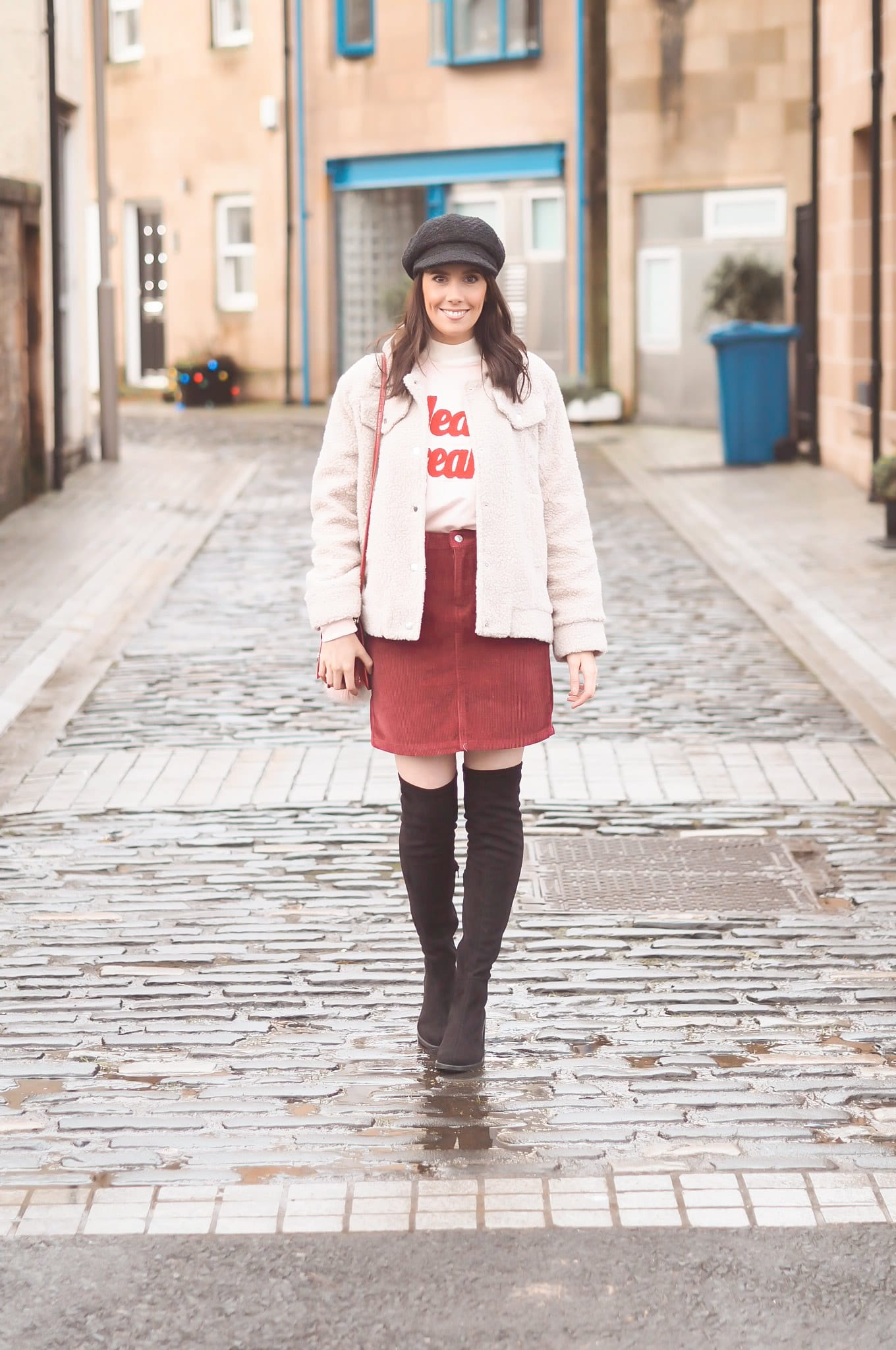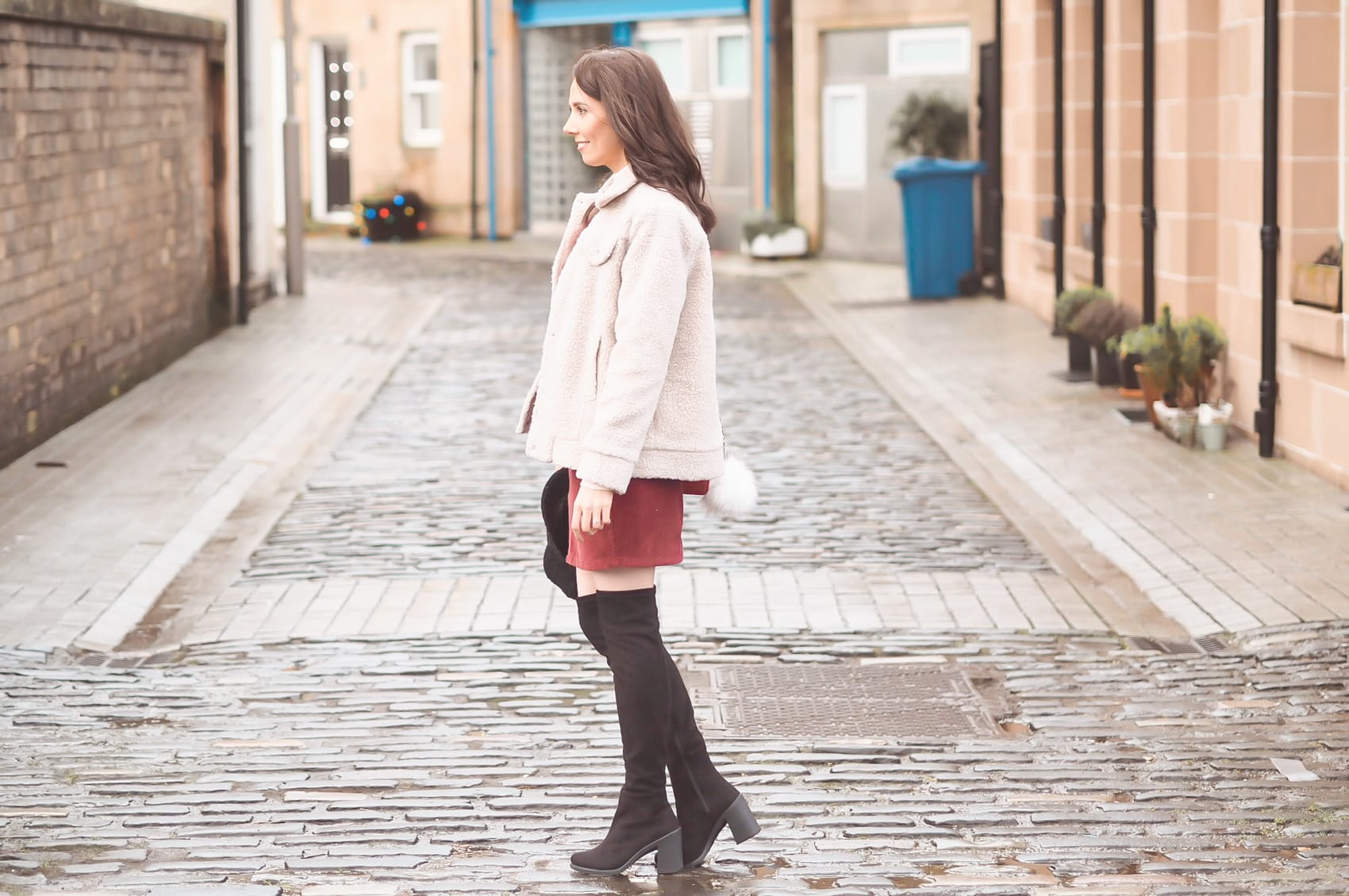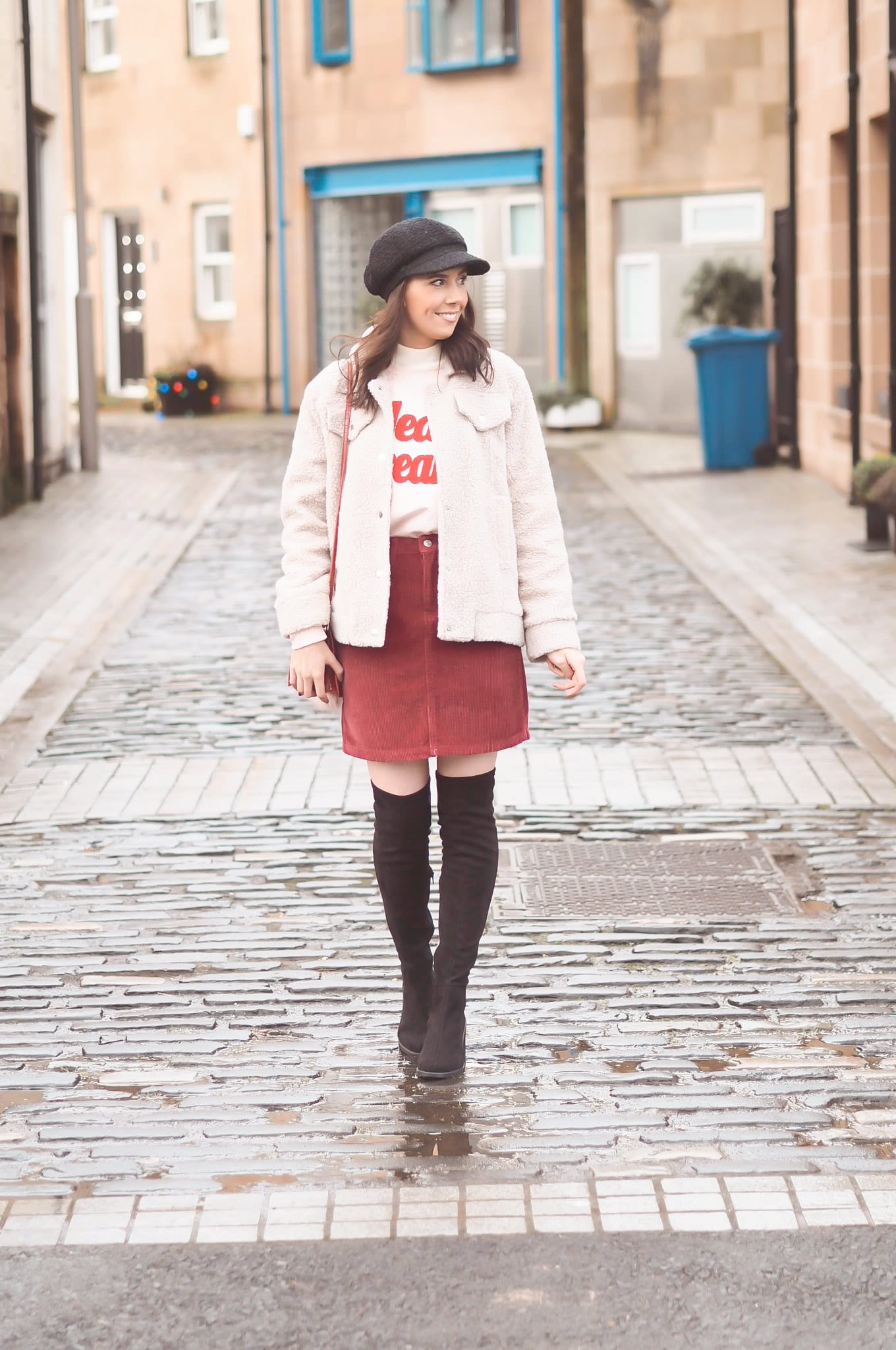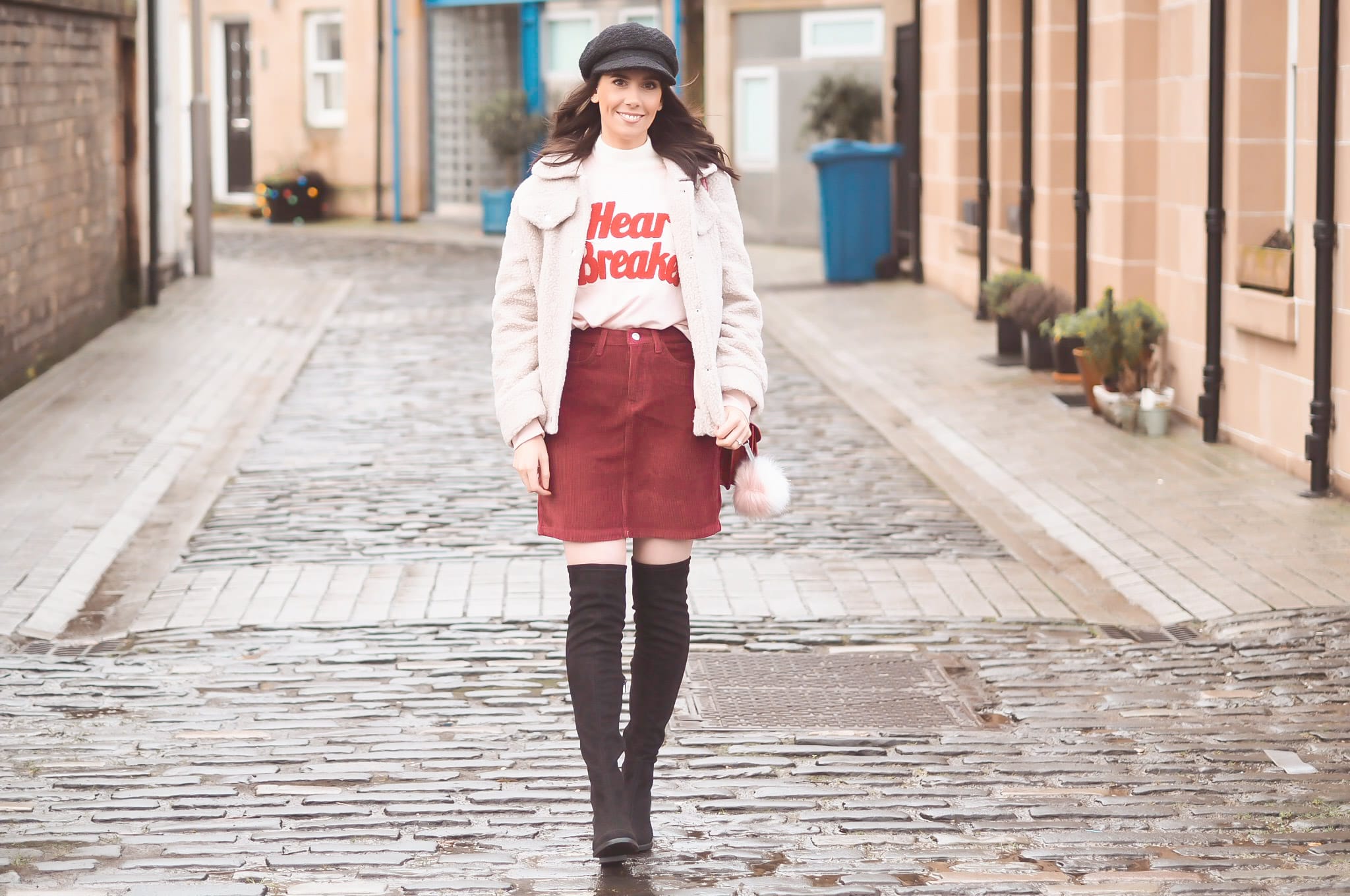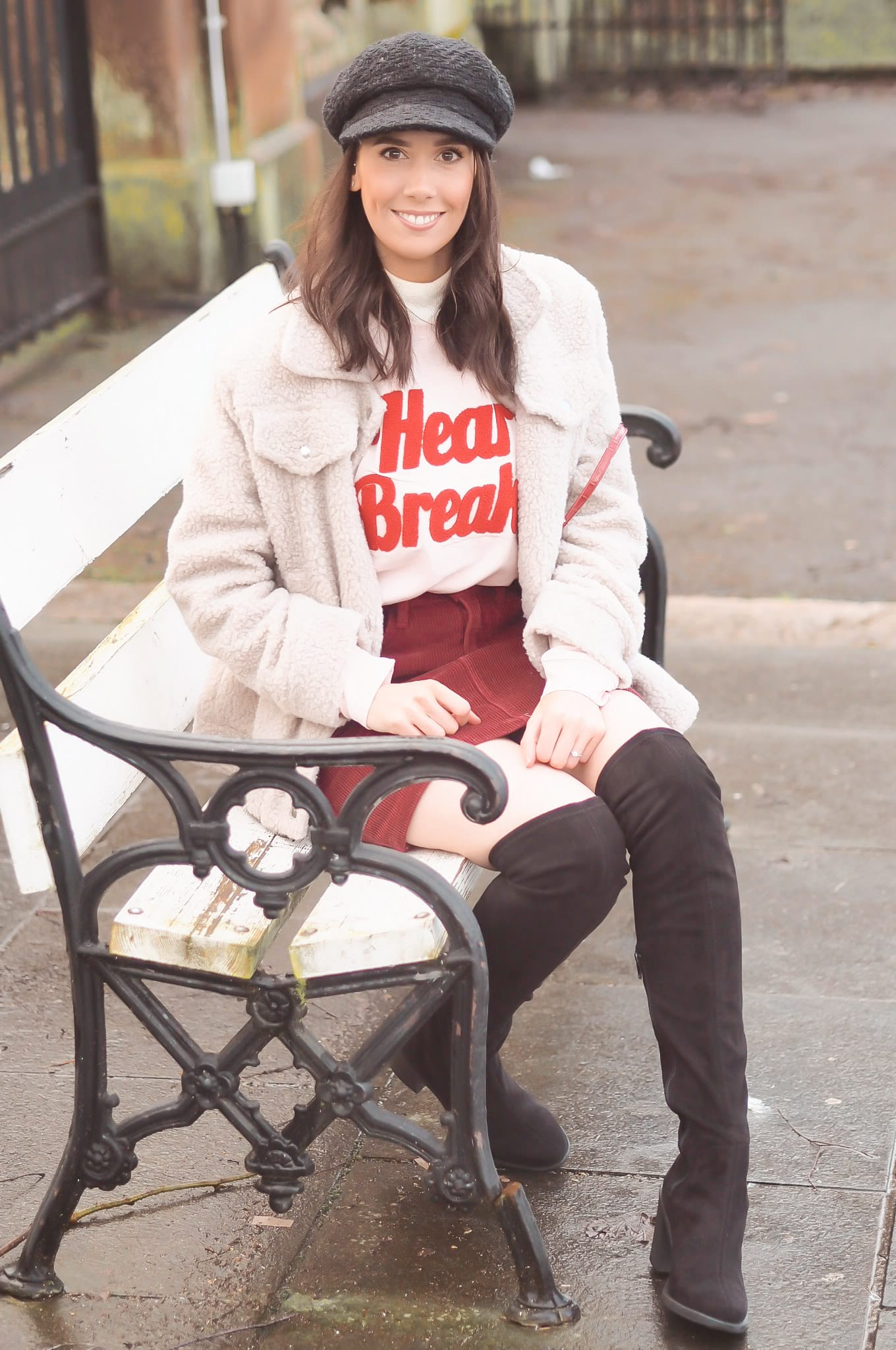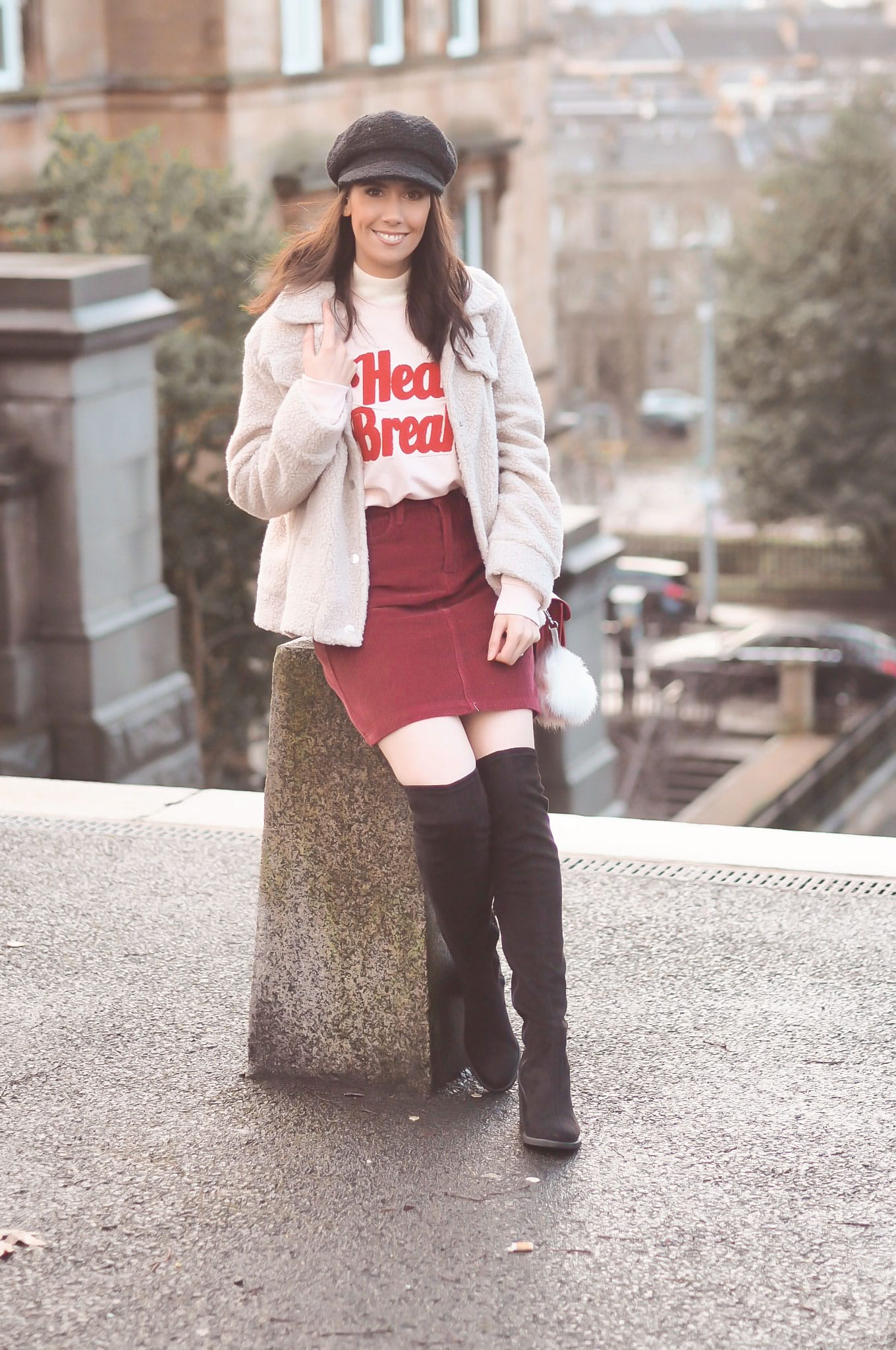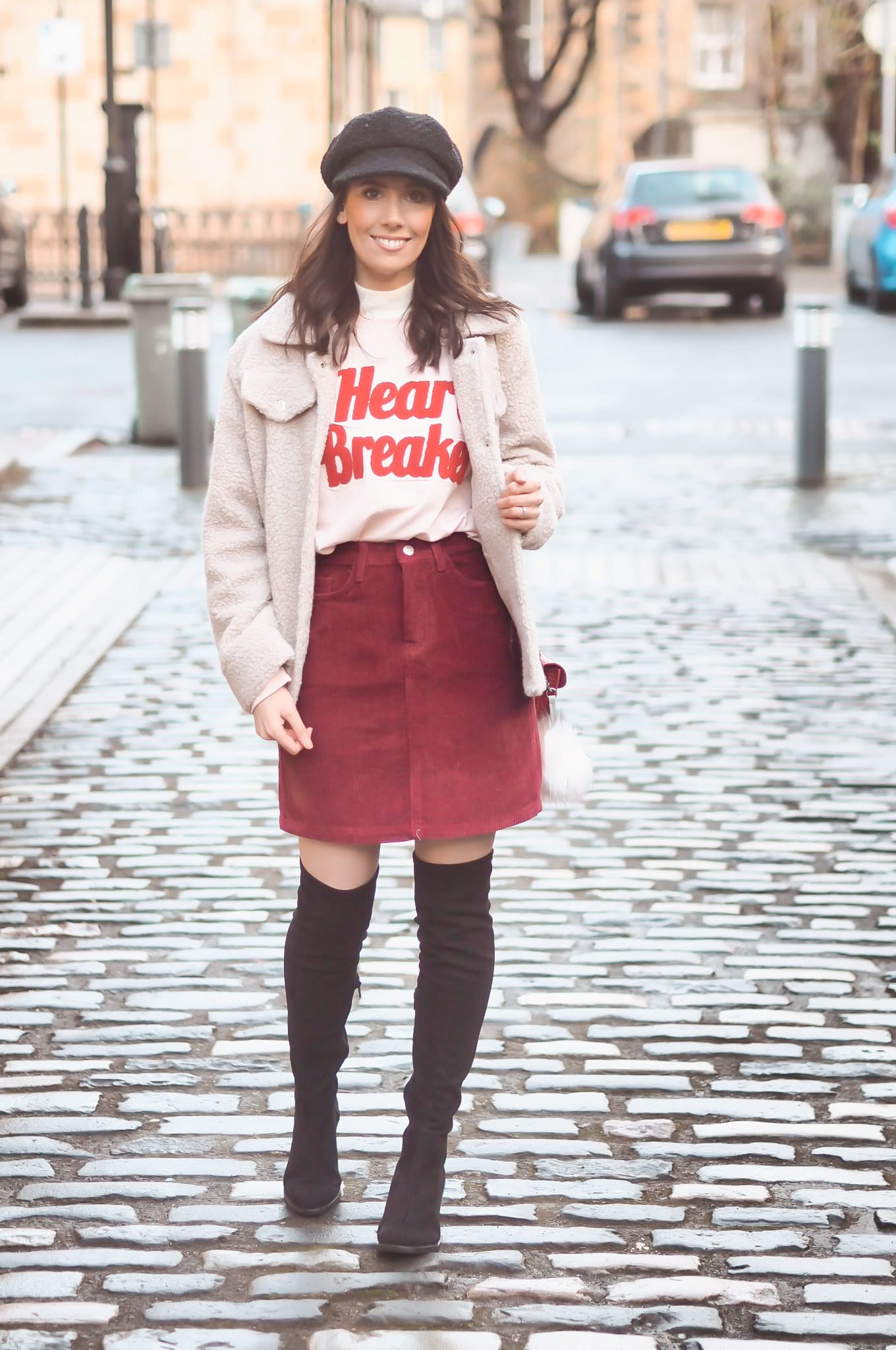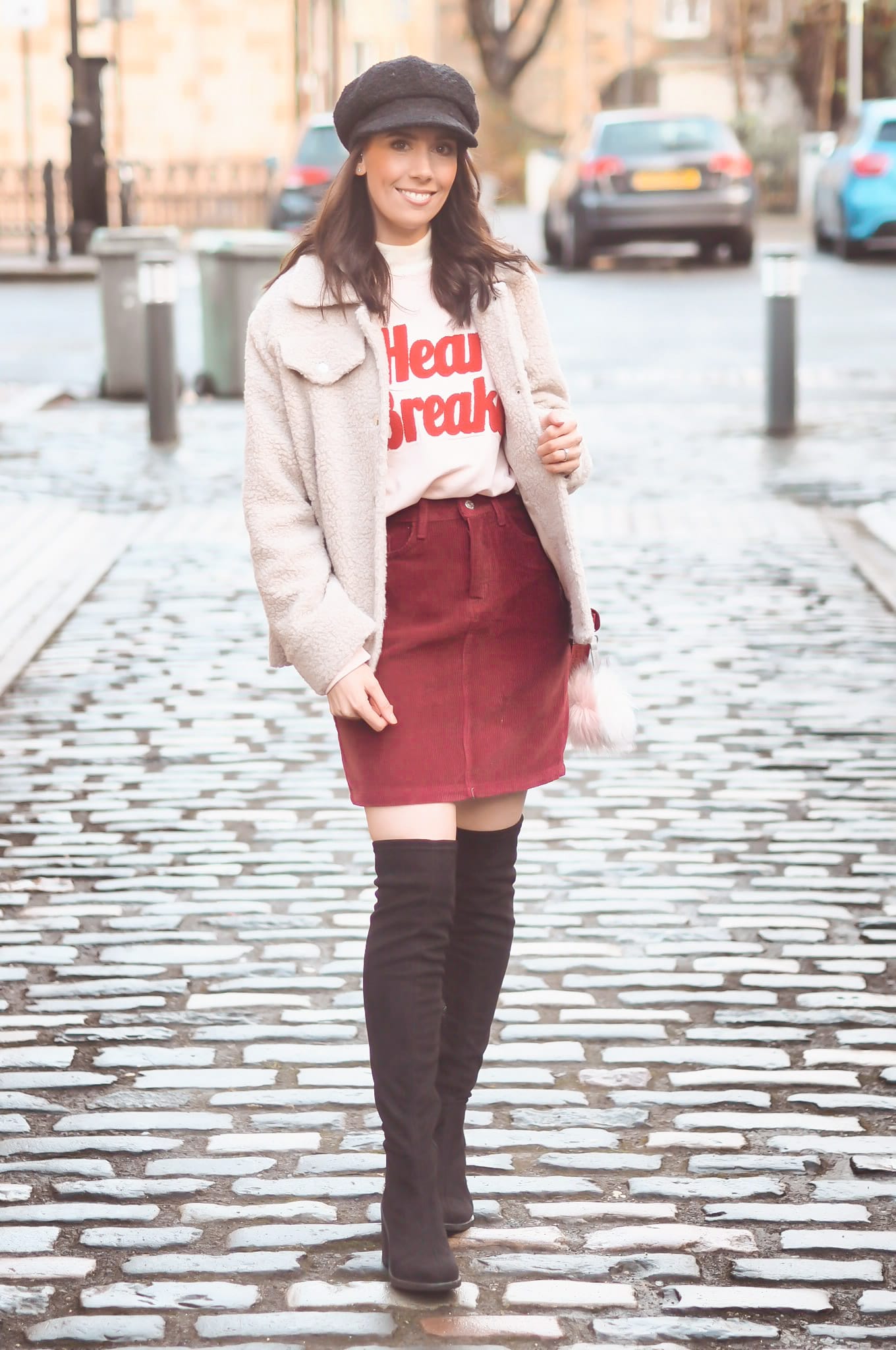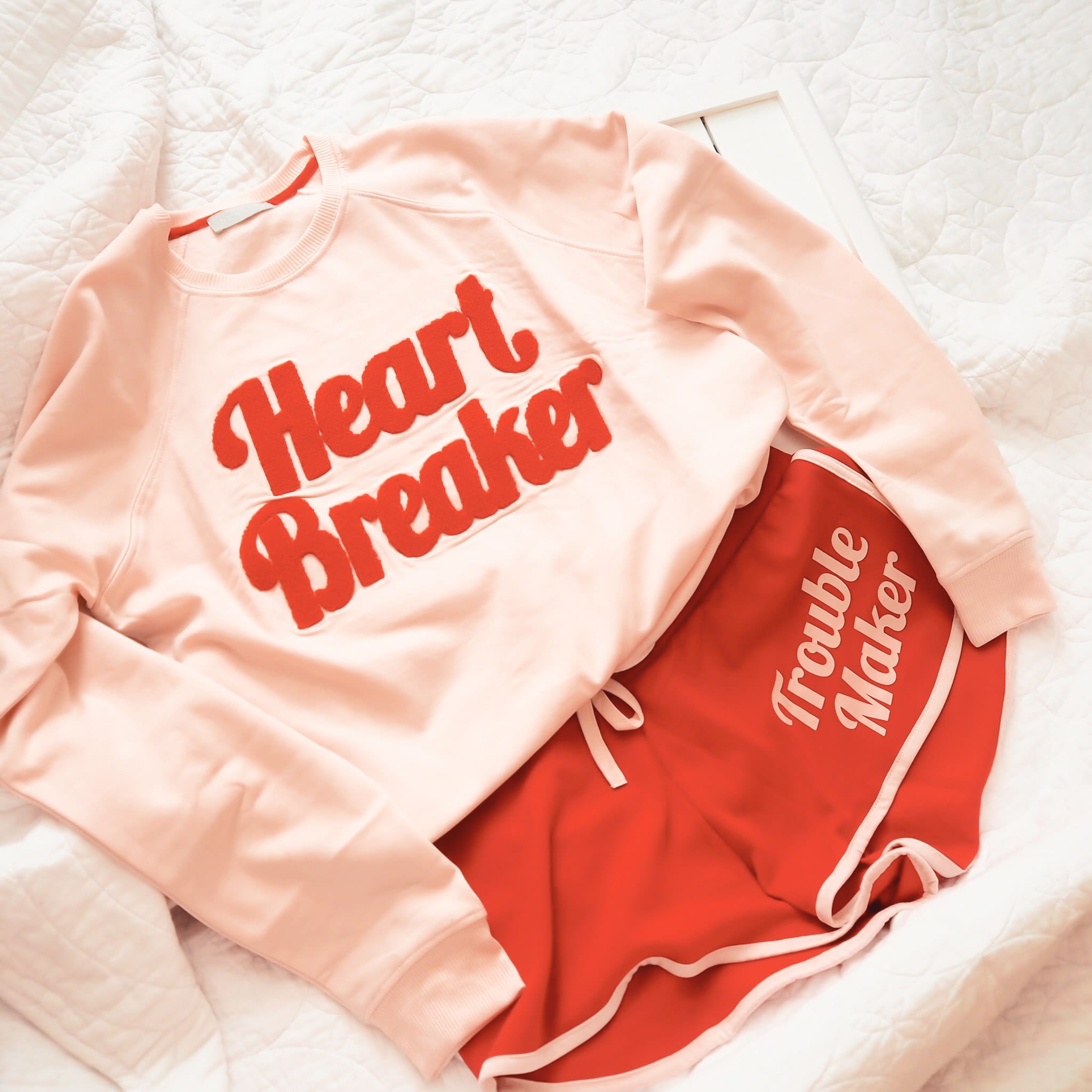 Today's post is in collaboration with New Look.
Heart Breaker…Trouble Maker…or both? Wink wink…
Whether it's celebrating with your other half, family or best gals – Valentines Day is for everyone and today I'm not only sharing one of my favourite looks so far this year but also some self love! As one of my New Year resolutions I said that we should all be kinder to ourselves so let's start that right now. It's the month of love so let's all share what we love about OURSELVES. That's right, YOU. Ok, I'll go first then…
'I love being me because…there's only one of me: quirks and all!'
We really are our own worst critics these days so if we can all give ourselves only one thing this Valentines Day let's do just that…oh and maybe this amazing Heart Breaker jumper…and the corduroy skirt. Can you believe this jumper is part of a two piece pyjama set costing £17.99?! I KNOW. As soon as I saw it I knew that it had to me mine. Hey, they do say nightwear as outerwear is a thing don't they? And with jumpers as cute as this one I'm fully on board.
I don't really have any set traditions for Valentines Day – it changes every year if I'm honest. This year I'm being a bit greedy and meeting up with the gals for cocktails and brunch as well as a lunch/cinema date followed by a cosy night in with my best half; and lets not forget a little Valentines night pamper sesh.
This is probably one of my favourite looks this year and perfect for a Galentines day brunch or a daytime outing with your significant other. I'm loving all of the seventies vibes with the corduroy skirt, over the knee boots and faux shearling coat – isn't she a beaut?! Don't get me started on the pyjama set again – perfect for a night in with your best gals or equally as beaut thrown over a tee for the cutest Valentines Day outfit ever and such a bargain too. I also love how it's perfect for the – ahem – current cold conditions. Seriously Spring, where you at? I must admit I do love my jeans/jumper combos but sometimes you just want to throw on a cute skirt without freezing to death y'know? Thigh highs are perfect for such occasions. Throw on some tights (or thermals) if you're not a risk taker like me (lol) and you're good to go. Cute, fun and practical – not to mention entirely appropriate for the day of looooooove. Sorry I'll never say that again. Pink and red might also just be my new fave colour palette.
Valentines Day is one of those things that people either love or hate. I personally love it. January is such a difficult month so it's nice to get excited for Spring and to spend some quality time with your loved ones. Not to mention the shops have some seriously cute clothes and accessories. I'm looking at you New Look! It was so difficult to choose just one look but I must say I'm very happy with the outcome and I'm going to be wearing this outfit a lot throughout February – sorry not sorry.
OUTFIT DETAILS:
*Faux Shearling Jacket: Here
*Heartbreaker pyjama set: Here
*Over the Knee Boots: Here
*Red Corduroy Skirt: Here
*All items marked with an asterix were either gifted to me or I purchased
using gift vouchers which were gifted to me.
Remember to follow me on Bloglovin and subscribe to my youtube channel so that you never miss a blog post/video!
What do you guys think of this look? Also let's remember to share the love this Valentines Day starting with ourselves! Fill in the blanks: "I love being me because…"
Lots of love,
Chantelle xx
This post is sponsored. Some items may have been gifted.
All thoughts, opinions and creative direction are my own.
Affiliate links may be used.