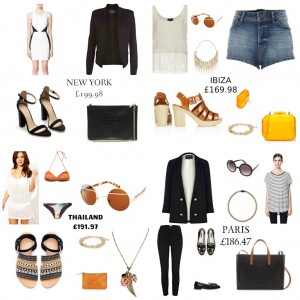 I am quite excited to finally post my entry for the Worldwide Wardrobe Competition!
TravelSupermarket have launched this competition which combines their love of travel with fashion bloggers' love of fashion, challenging fashion bloggers to put together five outfits to wear in five different destinations enjoying various activities, with a budget of £200 per outfit. The destinations are: sightseeing in Paris, clubbing in Ibiza, shopping in London, cocktails in New York and partying at a Full Moon party in Thailand.
The winner of each category wins a dream trip to the destination their outfit was inspired by plus £200 to buy the outfit! You can enter all five categories or just one or two, or as many as you like.
How to enter – create a blog post showcasing your destination inspired look by pulling together the images that you think would go well together, and state why you chose each outfit.
Make sure you check out the full details at www.travelsupermarket.com/c/holidays/worldwide-wardrobe/
All you have to do is follow the above instructions and…
– Email your entries to worldwidewardrobe@travelsupermarket.com, and/or
– Tweet your blog post to @travelsupermkt with #worldwidewardrobe, and/or
– Tag the TravelSupermarket.com Facebook page
– Nominate 5 fellow bloggers you think will be up for the challenge and let them know via Twitter or Facebook
I have decided to pull together outfits for all five destinations so let me know what you think of my entries! 🙂
COCKTAILS IN NEW YORK
"Now you're in New York, these streets will make you feel brand new, big lights will inspire you, let's hear it for New York, New York, New York".
If I could live anywhere in the world, it would be New York. I've never been, but there's something about the fast paced, New York City life that draws me to it like a bee to honey! When I think of New York, I think of girls nights out, cocktails, swanky bars and Carrie Bradshaw meeting her Mr Big.
I chose to keep my outfit quite sophisticated and chic with a monochrome theme and let the dress and shoes do the talking. I absolutely love this dress from Zara – white leather effect at the front with a thick stretch black fabric to the sides and to the back. I love the eye trickery that's created too with the silhouette shape at the front to give a perfect hourglass body shape. The strappy sandals from Zara with the mixture of studs and black spikes give the outfit a more edgy feel and I'd probably keep jewellery simple – stud earrings and a statement ring. In warmer evenings I'd wear this structured blazer from River Island, and would finish the look with this croc effect leather bag from Whistles. I love the gold chain and logo detail. Carrie Bradshaw, eat your heart out!
FULL MOON PARTY IN THAILAND
When I think of Thailand and the full moon party, I think of white sandy beaches, thousands of tiny lamps lit along the beach, a gorgeous full moon, music, dancing and releasing my inner hippie! Of course, this is just how I imagine it to be as I have never been to Thailand, nor a full moon party but I'm sure this is pretty close! 🙂
As with any beach party, I think a kaftan would probably win every time – something airy and light that you are going to be comfortable in for the whole night. From what I know, 10-30 thousand travellers attend the full moon party in Thailand every month so think of this, along with the fact that it is already going to be very warm…I think you know where I'm going with this! Flat sandals are also a must especially if there is going to be loads of dancing involved. I love the ethnic print of these Zara sandals and the fabric at the front makes me think that they will be super comfy. For accessories, I don't think any holiday outfit is complete without an anklet. I also chose a simple long gold charm necklace and a pair of round gold/tortoiseshell framed sunnies. A small cross body bag would also be my bag of choice, and this tan one from Topshop is a perfect size. Let's also not forget to throw on a bikini underneath our kaftan, just in case we decide to go for a dip under the full moon! 😉
SIGHTSEEING IN PARIS
There's something about Paris that makes me want to smarten myself up a bit, sport a bold red lip and throw on some huge Jackie O sunglasses! I have never been to Paris, but it has been in my top 5 'Places to Go' since forever. I imagine everyone walking the streets of Paris to look well put together, sophisticated and chic so I tried to keep this in mind when putting my outfit together…
For sightseeing, I would want to make sure I am comfy as well as looking put together so I opted for this loose fitting striped top from Zara. I love how it has a little bit of leather detailing around the collar and dips quite low at the back. As the top is quite loose fitting, these super skinny ankle grazer jeans from River Island would look great with this. Moccasins would keep my feet comfy for a day walking around Paris, and also look great with ankle grazer jeans. I love how these patent loafers from Zara have a little bit of animal print to clash with the striped top too.
I would throw on a loose fitting blazer and finish off the look with some gold accessories and sunglasses. A good sized shopper would be essential for homing my camera, tour books and pamphlets and also for any little souvenirs I might pick up on my travels 😉
CLUBBING IN IBIZA
For clubbing in Ibiza, I chose to go for something quite simple with a splash of neon and gold accessories. The fringed top and high waisted shorts scream Ibiza to me (take me now please!!) I was torn between flats and heels but decided to go for these gladiator heels from Topshop as they look like they'd be really comfy as well as dressing the outfit up a bit (and if I'm being honest, I need a bit of height!) I love how the tan colour ties in with the round framed sunnies and gold jewellery too. No holiday outfit is complete without an anklet, and the gold spike necklace gives a bit of an edge to the outfit and makes it a bit more clubwear! To finish the outfit off, I chose this neon orange clear plastic bag from Zara which has a long chain so it can be worn as a cross body bag – it's just the right size for all of the essentials: phone, money and lipgloss 🙂
SHOPPING IN LONDON
For shopping in London, I chose something quite similar to what I'd wear for shopping in Glasgow. I'm obsessed with Topshop Mom jeans at the moment so chose these black ones from with a dip dyed top from Missguided. These jeans are so easy to wear and so versatile. As the jeans are high waisted I would tuck the top in at the front and would finish off with this black and gold plate belt. The whole look I'm going for is everyday effortless casual so to complete the look I'd go for these cutout boots from Topshop (comfort is essential if I'm going to be shopping in London) and these give an edgier feel to the whole look. I'd complete the look with a chunky gold bracelet, some above knuckle rings, some round framed sunnies and this studded duffle bag. I've based this look around a dry/sunny day but if London is anything like Glasgow I would probably carry along my leather jacket or chunky cardi just in case there was a downpour! 🙂
I now get to nominate 5 lovely bloggers to have a go at the competition, remember you don't need to do all 5 outfits! I nominate…
– Mia at Mia Alice In Wonderland
– Claire at
Indigo Girl
– Kylie at
Lazy To Lovely
–
Sarah Nunn
– Claire at
Swigdigs
I love all of your blogs so can't wait to see your entries if you decide to give it a go! Good luck to everyone who decides to enter 🙂
I hope you enjoyed reading my entries for the competition, what do you think of my outfits?? 🙂
Images sourced from: www.zara.co.uk, www.riverisland.co.uk, www.topshop.co.uk, www.missguided.co.uk, www.boohoo.com, www.asos.com