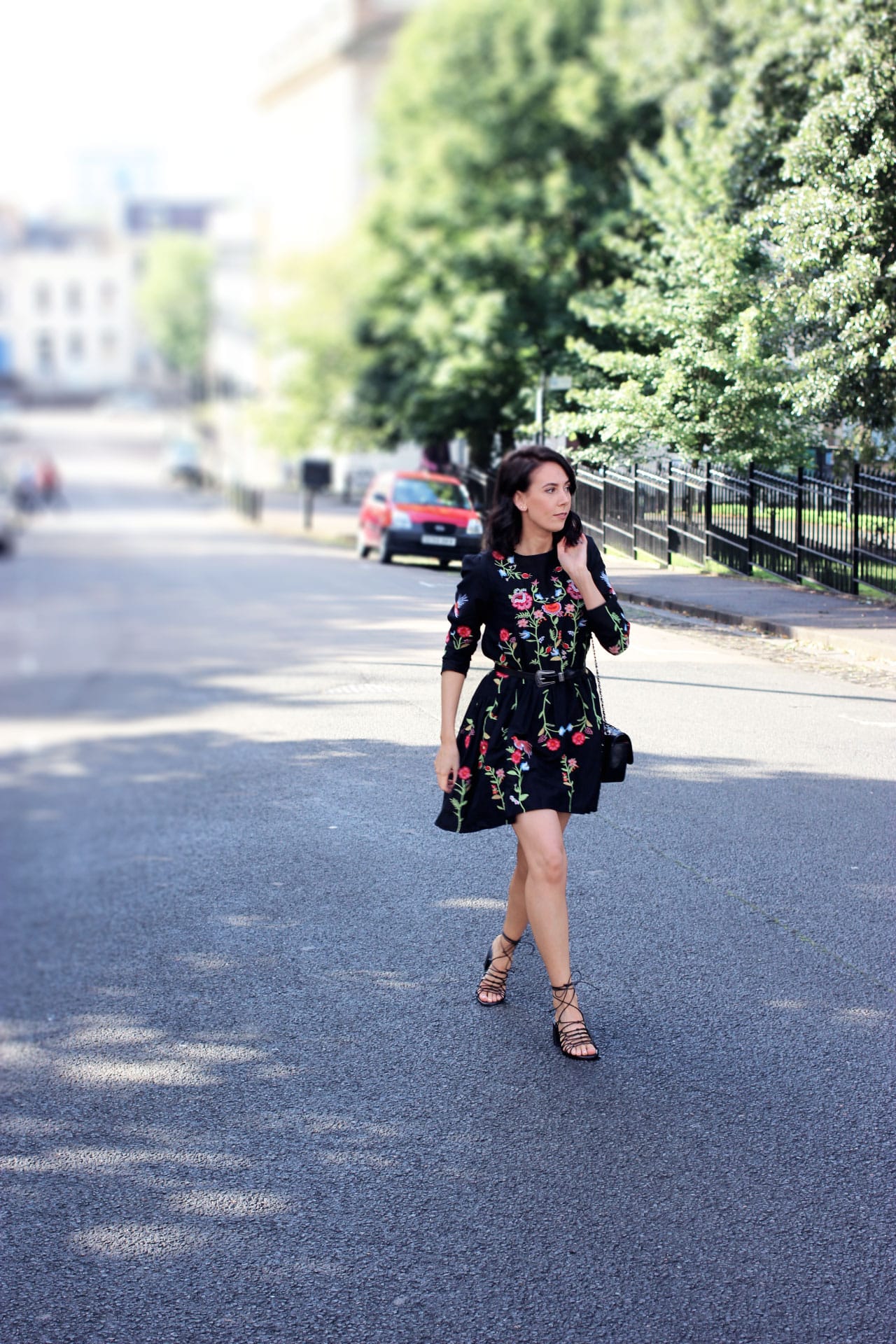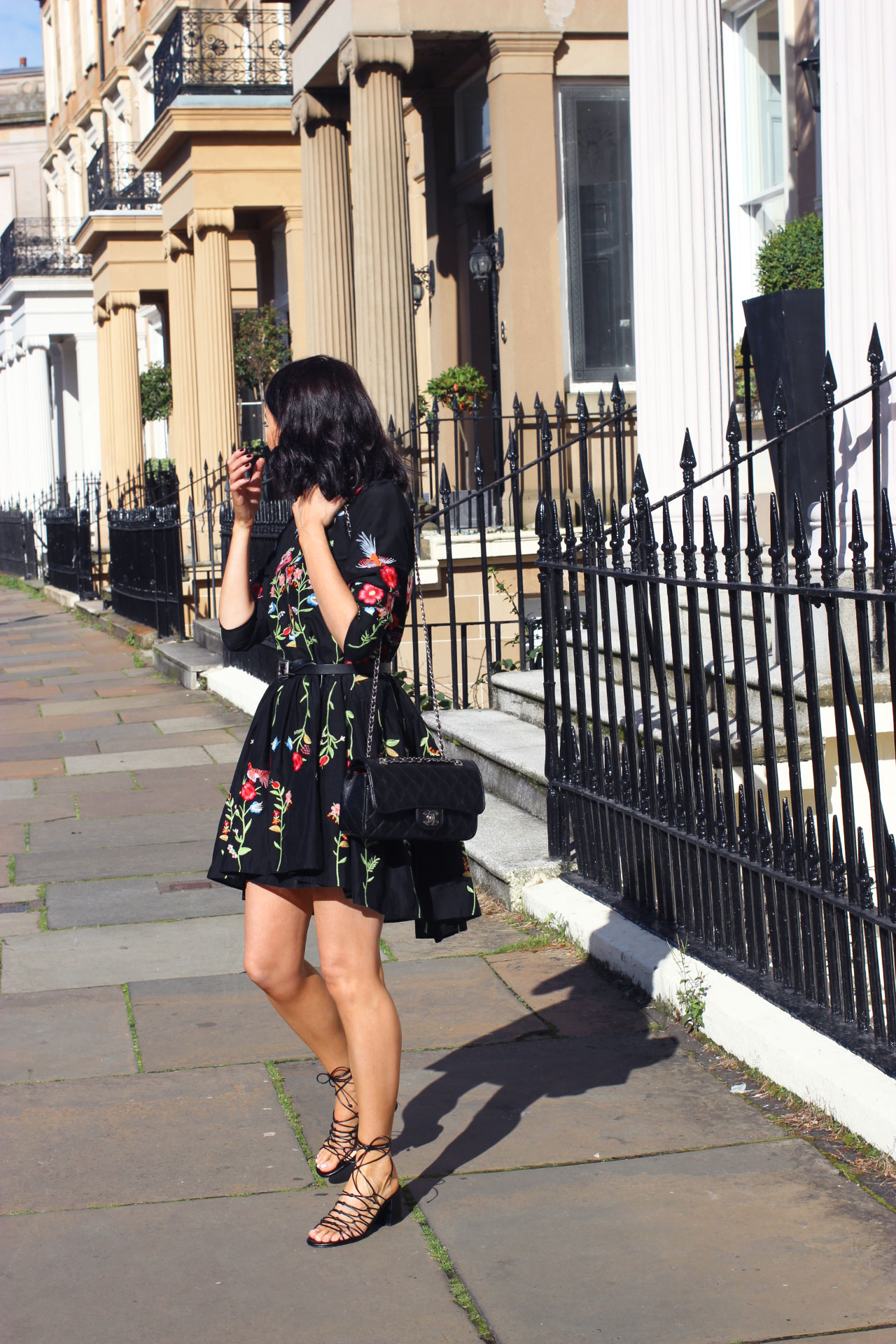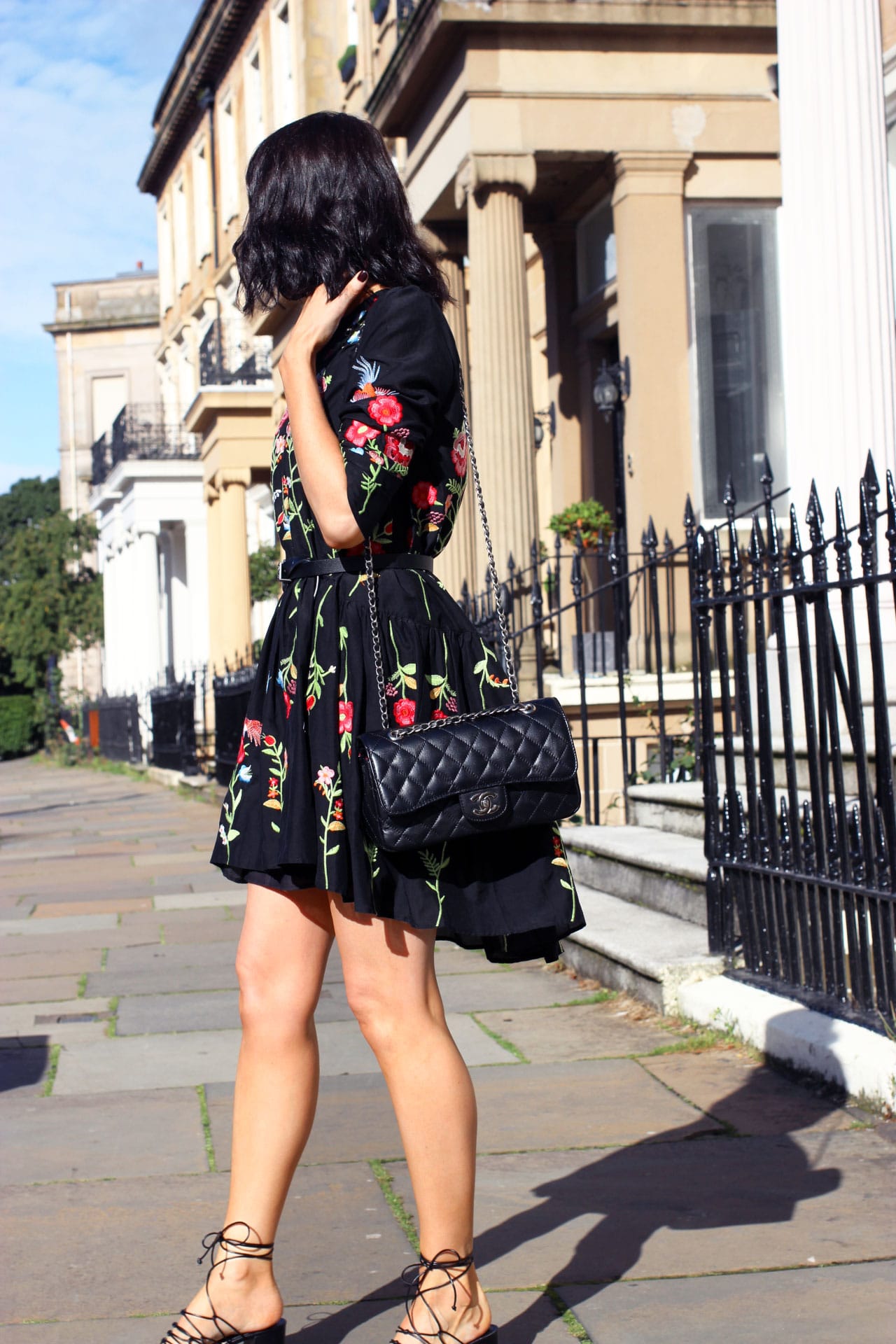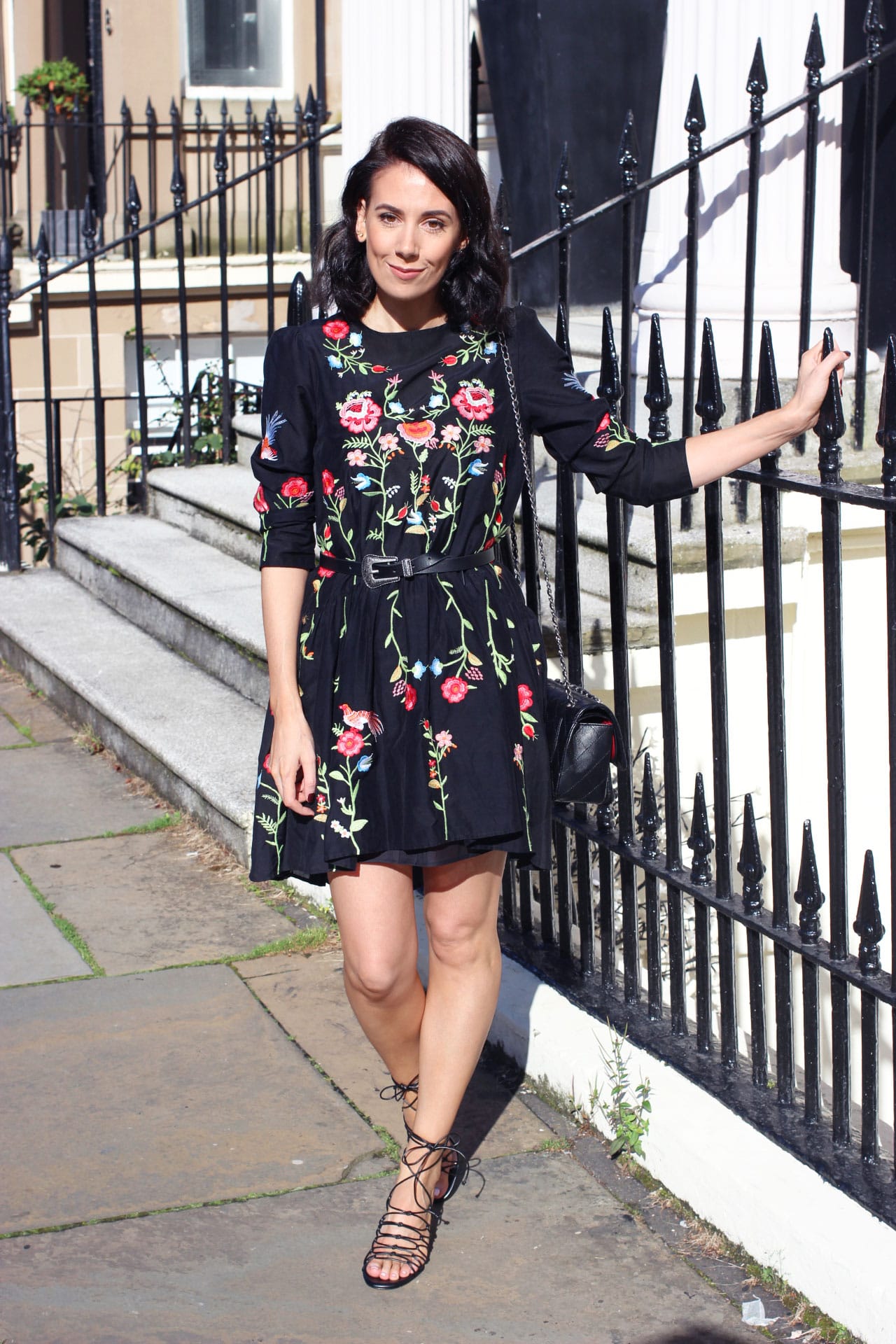 Zara embroidered dress | Mango strappy sandals | Topshop Western belt | Chanel bag
The embroidered trend is everywhere at the minute and I'm absolutely loving it. You've probably seen this dress doing the rounds on instagram. For me, it was love at first sight! Thinking that it probably wouldn't hang around for long, I snapped it up online. Swing style dresses don't tend to do a lot for my body shape – I'm not curvy in the slightest, so dresses with no shape can 'hang' on me sometimes and swamp my frame so I wasn't sure it would suit me. Nonetheless I went ahead and ordered it. Now, when it arrived I wasn't sure about it. At all. I think it's just because I'm not use to wearing swing dresses…and the fact that Darren said it looked like a parachute (which it kinda does). I absolutely love the print though and I wanted to make it work for my body shape so I threw on a belt and hey presto! It's amazing how a little bit of accessorising can immediately change the look of an outfit!
I also need to give a little shout out to these strappy sandals I got from Mango in the sale which are a perfect dupe for the Chloe Jamie sandals but at a fraction of the price. At £14 how could I resist?! In fact I loved them so much I also got them in nude – sorry not sorry. Unfortunately I think they've now sold out online but you might be lucky and find a pair if you pop into your local store, fingers crossed!
Back to the dress…I think this without doubt has to be my favourite dress in my wardrobe at the minute. I just love how easy it is to work for both day and evening! For an evening look (or slightly dressier day time look) I think for me, a belt is essential to just give it more shape. This is just my preference though because it looks really pretty beltless too.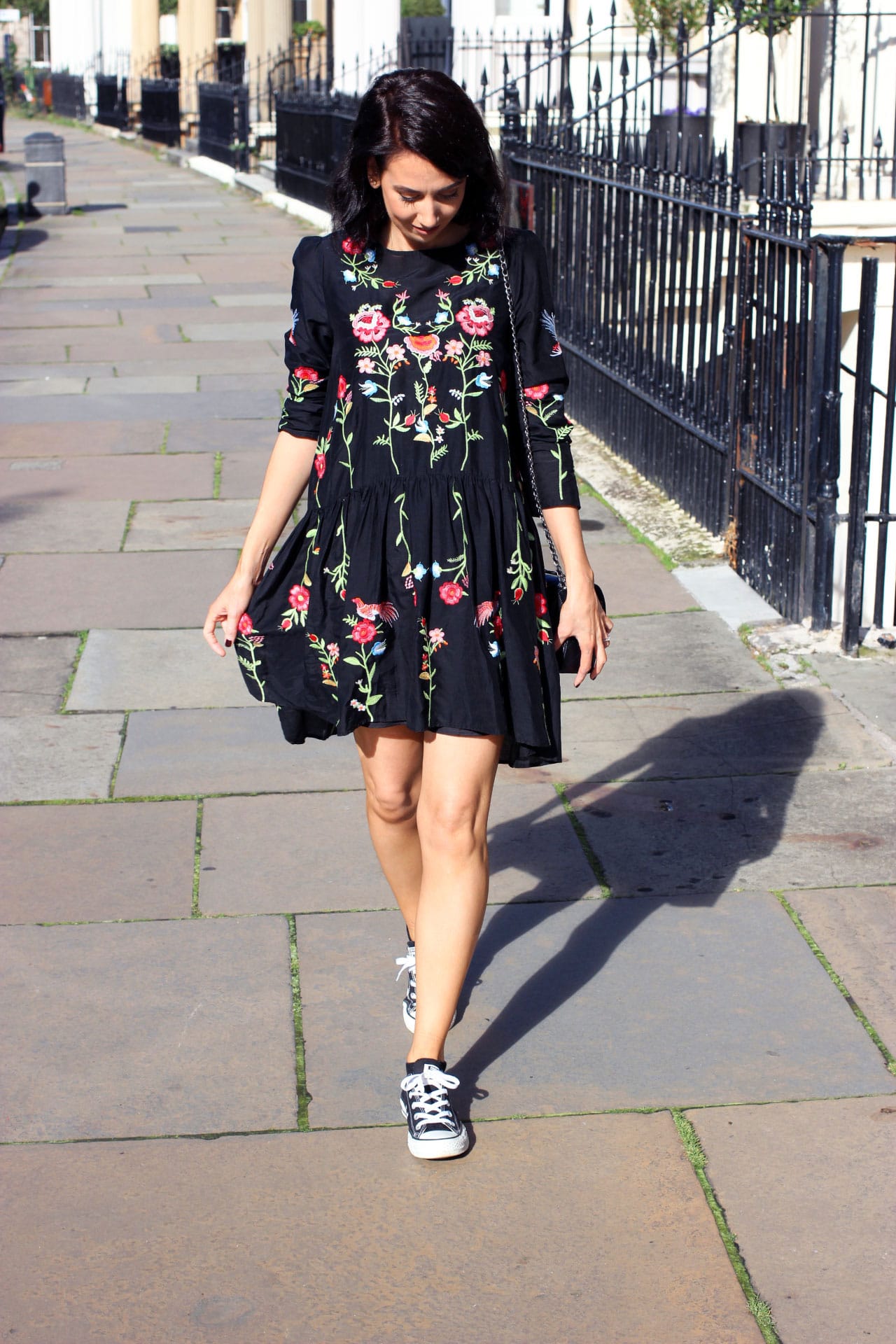 Outfit details as above | Converse | Ray Ban Round sunglasses
Casual Daytime look
I must admit, I do prefer teaming this dress with a pair of heels but who has time to run to the shops for a loaf of bread in a pair of strappy heeled sandals?! Let's be real. For a more daytime casual look I've been ditching the belt and heels and throwing on some converse and I'm good to go. The fabric is a lovely light, breathable cotton which is perfect for warmer days. However, now that Autumn is just around the corner I think it'll also be equally easy to wear layered up with some tights, boots and a chunky cardigan! I actually think this print will be perfect for Autumn!
Is it just me who's excited for Autumn/Winter?! Bring on the cold weather, I can't wait!!
What's your thoughts on the embroidery trend? I can't get enough of it!
Remember to follow me on Bloglovin and subscribe to my youtube channel so that you never miss a blog post/video!
Lots of love,
Chantelle
This is not a sponsored post.
Some of my favourite embroidered dresses: