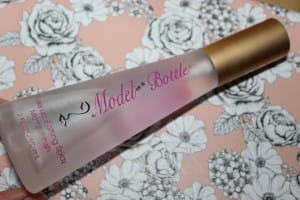 Happy Bank Holiday Monday everyone! Today I've decided to do a quick review on the makeup setting spray, Model In A Bottle. I bought this a couple of months ago and have enjoyed using this on days where I know I'm going to be out all day and need my makeup to last without worrying about touch-ups half way through the day.
This is actually the first makeup setting spray I've ever used – I don't know why, I think I was always just really dubious about spraying something wet onto my skin after spending time doing my makeup, afraid that it would just ruin it! However ,after watching one of Nicole Guerriero's videos where she used this, I was intrigued to try it out. I could easily have picked up one of the Urban Decay or Mac makeup setting sprays but you know that way when you get something into your head and you need to buy it…NOW? Well that's how I felt, so after discovering that it is made in the USA and isn't easily available in the UK, I ordered it from Amazon. The supplier is based in the UK and it only took 2-3 days to arrive (delivery was also free).
What Model In A Bottle say: "…seals your makeup and will last as long as you do. No more touch ups…resistant to smudging, humidity, water and tears."
How to apply: apply makeup as usual, allow mascara to fully dry then spray evenly (I usually use about 3 sprays) around 10-12 inches from my face, then allow 20-30 secs to dry before opening eyes.
As I had never used a makeup setting spray until now, I was worried this was going to feel like hairspray and make my face feel stiff but it is actually surprisingly light. On initial application I can definitely feel it setting my makeup but it's not an unpleasant feeling and once dry it doesn't make my face feel stiff or anything. It is said to "last as long as you do"…typically my makeup is only on for around 10-12 hours maximum and usually by lunchtime I want to check my makeup to make sure I don't have any oily patches around my t-zone but I definitely think this setting spray reduces shine and the need for touch ups. When using it I actually don't feel the need to touch up my makeup at all during the day.
One thing I'd say with this setting spray, is I think it is important to note that foundation is key to the finish. The finish of the setting spray is matte, and when I first tried this out I was wearing
NarsSheer Glow foundation
. Model In A Bottle works a treat with this foundation, and doesn't dull down the glow factor I get with this foundation. However, when used alongside
Laura Mercier Silk Creme foundation
, something just didn't
work
, it's hard to describe but I think it was due to this foundation being quite dewy? I'm not quite sure but something just didn't mix well with both of them and after an hour or so I felt like my makeup was rubbing off…not a good look! I don't have any other setting sprays I can compare Model In A Bottle to, but I do enjoy using it and if you do prefer a matte finish I recommend trying this.
All in all I do think this is a good addition to my makeup collection but it's not a 'suitable for all' type of setting spray as I don't think it works particularly well with dewy finish foundations (or maybe just Laura Mercier silk crème?), so it has made me more eager to try out other setting sprays such as the Urban Decay All Nighter and Mac Fix+.
Do you use makeup setting sprays? Have you tried Model In A Bottle? What setting sprays would you recommend?