My search for the perfect illuminated glowy skin is one that tends to go around in circles, one minute I'm loving a product, the next I've substituted it for another promising more glowy goodness than the last. For the timebeing however, my hands are firmly gripped around the Clarins Instant Light Complexion Perfector.
What Clarins say:

"

A radiance-boosting complexion perfector that smoothes and evens skin tone for a more luminous glow and a fresh, radiant, healthy-looking complexion

".
This tube of glowy delight promises to leave you with instantly luminous glowy skin and it definitely doesn't disappoint. The great thing about this product is that it can be used in a variety of ways: alone, under foundation or mixed in with foundation. I prefer to use this either as a primer or sometimes mix this in with my Nars Sheer Glow foundation as this is quite a thick foundation so it thins it out quite a bit and makes it easier to apply with my Real Techniques buffing brush.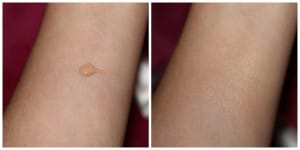 It also looks amazing under my foundation of choice at the moment which is Laura Mercier Silk Creme Foundation (review
here
) and just leaves my skin looking really fresh, healthy and glowy. I find that when applying underneath foundation, it is best just to use my fingers. The tube also has a pump and I find that one pump is enough to do my whole face. It also feels extremely light on my skin and doesn't feel oily or cakey in the slightest. The complexion perfector comes in three shades: Rose Shimmer, Champagne Shimmer and Bronze Shimmer. I chose No 02, Champagne Shimmer as I felt the shimmer was more golden in comparison to Rose Shimmer which was more pink, and I felt the colour of No 03 might interfere with my foundation.
If
When I repurchase this, I will definitely go for the same colour again. It is quite pricey but as I only need to use one pump to do my whole face I can see it lasting quite a while, plus it does do exactly what it says on the tin (or tube!)
All in all, I am on my way to becoming a glowy goddess…well not quite, but I'm definitely getting some good glow on!
Have you tried the Clarins Instant Light Complexion Perfector? What do you think of it? What are your favourite products for radiant skin?
As always, thank you so much for taking the time to read my blog, I really do appreciate it and love hearing your thoughts 🙂