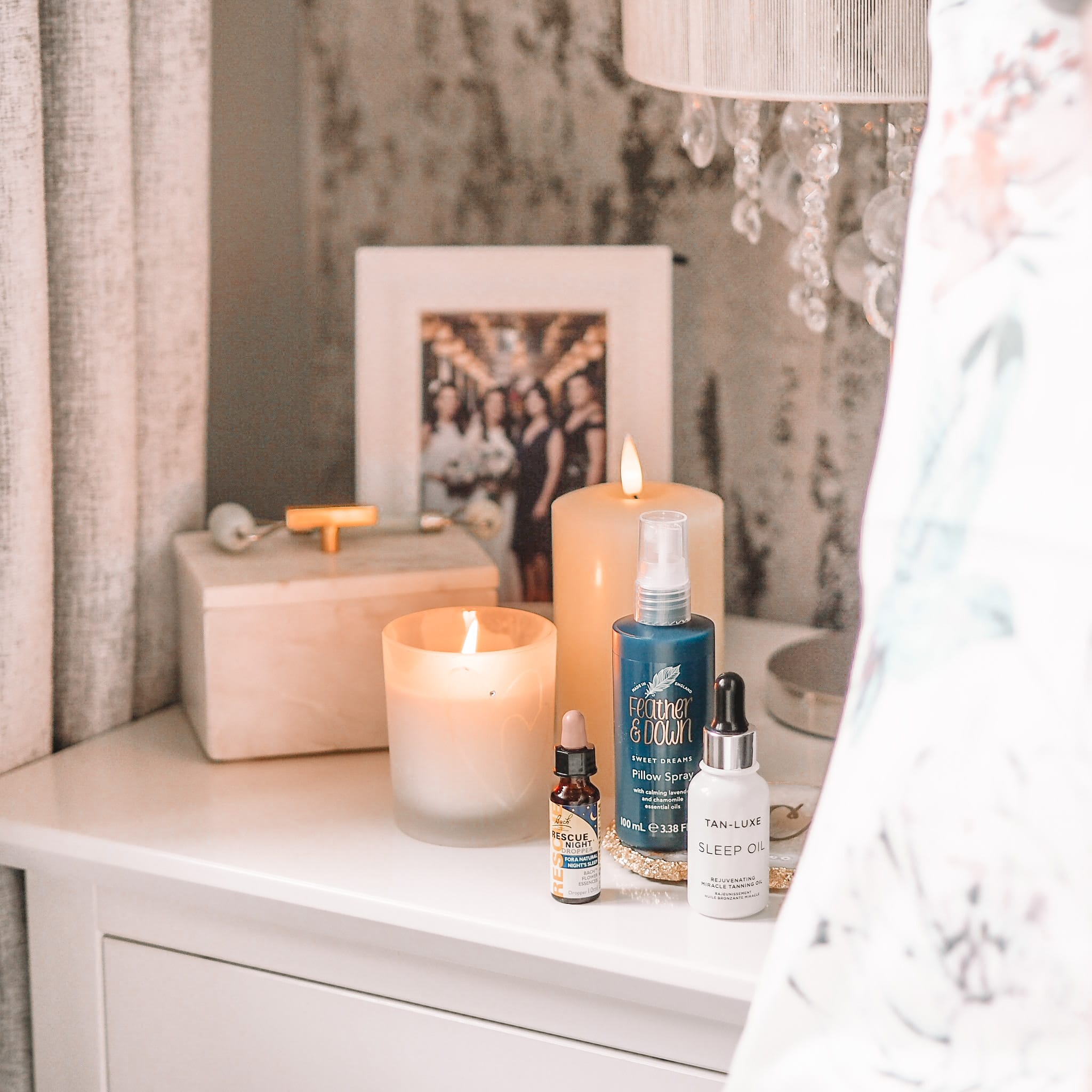 Today I'm sharing my top 6 tips for a better nights sleep. I feel like today's post couldn't have came at a better time. With months of pre-wedding stress, wedding date changes and everything else that goes along with said date changes, it's safe to say my sleeping patterns have been a bit ropey. A good nights sleep is just as important as a healthy diet and regular exercise. It's no surprise then that lack of sleep has negative effects on brain function, exercise performance and hormones and it can leave us feeling a bit worn out, irritable and well, pretty grumpy. I've been making a real effort the past few weeks to get into better pre-bed habits and luckily Boots are also here to help with their Rebalancing Rest campaign. They've shared some expert approved advice on ways to help you sleep better and have asked me to share some of my own top tips on creating the perfect pre-bed routine!
This blog post is in collaboration with Boots.
PRE-BED SKINCARE ROUTINE
I find that having a pre-bed routine is super important in helping me relax and prepare my body for sleep. Part of my routine is skincare. Now this can involve as many (or as little) steps/products as you like. The key here is to build up a self care routine you enjoy. It doesn't have to be over complicated. I actually find the whole process of my evening skincare routine very relaxing so I do include a few steps. There's nothing that de-stresses me more than a good mini facial followed by some pampering with gorgeous skin loving products. If I feel like my skin needs it I'll apply a face mask whilst I read a book, followed by a face oil (my current favourite is the Tan Luxe Sleep Oil), evening moisturiser and eye cream. Trust me when I say your skin will thank you in the morning too…glowy, bouncy, well rested skin? Yes please.
A RELAXING BUBBLE BATH
This ties in with my skincare routine above and another step that I love. Now this isn't something I do every evening but rather save it for a few nights during the week. This means that when I do indulge, it's always a real treat and probably one of the easiest and best ways to help me unwind. I use a mixture of either relaxing bath soaks, bath salts or some aromatherapy oils. Lavender is easily my favourite and is an excellent natural remedy to help get a good nights sleep.
PILLOW MISTS & NATURAL SLEEP REMEDIES
Pillow mists are something I wish I had started using sooner. I couldn't be without them. Again, it's no surprise my scent of choice usually includes lavender essential oil. Rather than spray just before I go to bed, I'll do this step either before I soak in the bath or an hour or so beforehand to create the perfect atmosphere ready to snuggle in bed with my book. During this time I've also started taking some Bach Rescue Remedy which is made from natural flower essences and said to "help switch off the mind from unwanted repetitive thoughts". I've tried Bach Rescue Remedy before in the past (and really love the comfort and reassure version) but this is my first time trying the 'night' one. I do really enjoy using these though and I find it's a nice step in my evening routine to promote a sense of calm in addition to the pillow mist.
CREATE A COSY ATMOSPHERE
Candles are probably one of my favourite things to create a cosy atmosphere. I have tonnes. However if you aren't a fan of flames fear not as you can pick up some LED candles that look just as good as the real thing. I actually use a mixture of both to really amp up the cosiness! I'll usually have some lit in the bathroom as I soak in the tub and also in my bedroom as I read my book. There really is nothing better than curling up in bed with some candles and a good book. I do feel like I sleep so much better after reading a few chapters of my book too rather than watching TV before bed.
**Never leave candles unattended and always make sure to blow them out before going to sleep.
REDUCE BLUE LIGHT EXPOSURE
We hear this one all the time but it really does make a huge difference to our sleep patterns. I've actually noticed how much better I sleep after storing my phone away in a drawer a couple of hours before bed.
RELAXING MUSIC
This is actually a reasonably new routine of mines but one that I love. I set a timer for thirty minutes to play some relaxing music just before I doze off and it works every time! Some of my favourites are 'sounds of the rainforest' and 'crashing waves'. If you're one of those people who can easily doze off whilst having a massage then I also recommend playing some general spa music. I'll sometimes just have this on in the background whilst I go about my pre-bed routine.
And that's some of my top tips on creating the perfect pre-bed routine! I hope it's helped you in some way. If you have any tips of your own I'd love you to share them in the comments section below.
All items mentioned in this post can be purchased from Boots:
Radox Stress Relief Bath Soak £1.20
Tan Luxe Sleep Oil £34
Feather & Down Pillow Spray £7
Bach Rescue Remedy £8.50
Chantelle xx
Remember to follow me on Instagram!
This post is in collaboration with Boots. All thoughts and opinions are my own.